On July 5, 2009, a man decided to use his metal detector on a field in the village of Hammerwich, Staffordshire, England. He asked the owner of the field for permission and then set about his business. His hobby had garnered some success: in the past, he had recovered a piece of a horse's ornament from Roman times.
At first, the detector found nothing, but eventually, it began to beep. Curious, the man dug down and was shocked to find the gleam of gold amongst the dirt.
He kept digging.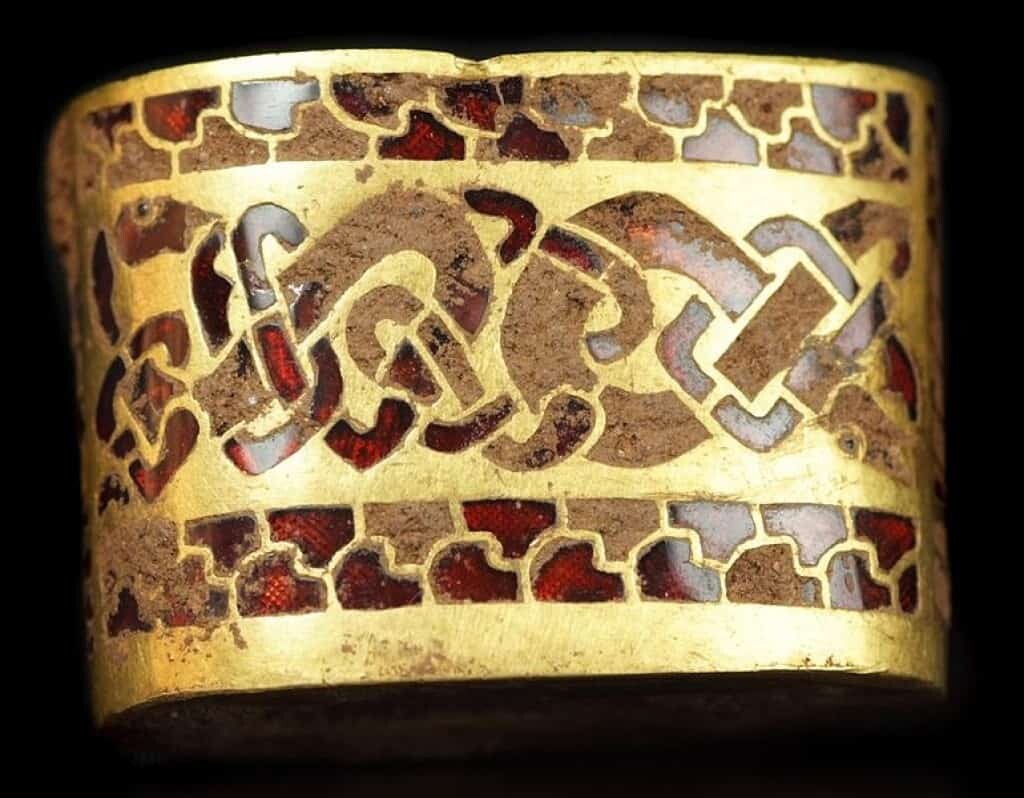 After being notified, local archeologists began an informal excavation. Over the next several days, they found enough gold and silver to fill almost 250 bags. The total number of artifacts would eventually total a staggering 3,500 objects. The experts proclaimed that it was easily the largest collection of recovered Anglo-Saxon items in England.
Once it was determined that there were no further buried items, the analysis began. The collection was primarily war armor: sword hilts, scabbards, helmet pieces, and such. There were also a handful of decorative crosses and a single gold band with the engraving of a biblical phrase — "Rise up, Lord; may your enemies be scattered and those who hate you flee from your face" — but there were no other religious items.
What was curious was the absence of any jewelry or other adornment for women and the lack of coins of any type.
Scientists can answer some of the riddles of the Staffordshire hoard, including when they were made (the 7th century C.E.) and what they are made of, but nobody has answered the big question of why these valuable items were buried in the first place. What would cause an army of soldiers to strip down and bury their armor? Experts have suggested theories ranging from an offering to the god(s) or that the items were hidden temporarily by a group of men who were later prevented from retrieving the objects.
It seems unlikely that the hoard is a direct result of some kind of battle, as there are no bodies accompanying the items. And a victorious army would be unlikely to just leave the conquered army's golden armor lying on the field of battle, just as a victorious army would be unlikely to leave their own armor on the field.
This riddle may never be solved. In the meantime, the artifacts have been displayed in various museums throughout England and in the USA.
Sources
"Magical Mystery Treasure" National Geographic website (pulled 11/17/11)
"Staffordshire Hoard" Wikipedia (pulled 11/17/11)
"Largest ever hoard of Anglo-Saxon gold found in Staffordshire" Guardian.co.uk, September 4, 2009 (pulled 11/17/11)