On July 17, 1996, at 2031 EDT, a Boeing 747-131 exploded in the air and crashed into the Atlantic Ocean off the coast of East Moriches, New York after 12 minutes in flight. TWA Flight 800 was flying from New York City to Rome, Italy, with a scheduled stop in Paris, France. All 230 passengers were killed.
The National Transportation Safety Board (NTSB) arrived on the scene the following morning, and it quickly became apparent that this tragedy may have been a deliberate terrorist attack or even worse, a military strike on a civilian aircraft. Multiple witnesses described a streak of light heading towards the sky causing a fireball in the air. Because of these witness accounts, the Federal Bureau of Investigation (FBI) opened a parallel criminal investigation to that of the NTSB.

The FBI dispatched 80 Special Agents who interviewed 130 credible witnesses such as school teachers, military personnel, pilots, business executives, and scientists. Between the FBI and NTSB, a total of 736 witness accounts were obtained. Two hundred fifty-eight of the witnesses saw a streak of light and 38 of them stated the streak of light was ascending not descending. Notably, two witnesses said the following:
[blockquote align="none" author="Lou Desyron, Flight 800 eye-witness; ABC World News Sunday; 07/21/96.""]We saw what appeared to be a flare going straight up. As a matter of fact, we thought it was from a boat. It was a bright reddish-orange color. Once it went into flames I knew that it wasn't a flare.[/blockquote]
[blockquote align="none" author="Tom Dougherty, Flight 800 eye-witness; interviewed on Hard Copy, 1996″]I looked up because it sounded like thunder. I kept looking trying to figure out what it was. And that's when I saw a flare come off the water. The flare, trailing orange flame, shot up roughly at a 45-degree angle, then rapidly increased its angle of ascent. Then it appeared to strike something. This was the strangest thing I ever saw. Everyone calls it a 'missile theory,' but when you see something, you know what you see, and I didn't see a 'theory'. [/blockquote]
Evidence recovered gave credibility to the claim that explosives brought down TWA Flight 800. The forensic analysis resulted in the detection of trace amounts of explosive residue in three separate sections of the aircraft. The residue consisted of cyclotrimethylenetrinitramine (RDX), nitroglycerin, and the third showed a combination of RDX and pentaerythritol tetranitrate. Initially, investigators believed these trace chemicals were left over from 1991 when the aircraft was used to transport soldiers during the Gulf War. It was also discovered that the aircraft may have been used as a platform to train dogs for the detection of explosive devices about a month before the tragedy. All these theories were discounted when it was determined that any residue left behind during both those events would have dissipated after 48 hours of being submerged in the ocean.
From the onset, families were frustrated with the recovery of bodies and the investigative process. They believed the NTSB and FBI were not being truthful and withholding information from the public. The FBI and NTSB were also at odds due to differing agendas and practices. The FBI was pursuing a criminal investigation and felt the NTSB was not providing them adequate information to help their investigation. It took until February 1998 for the FBI to finally close its case. Its conclusion was that there was no evidence suggesting a bomb or missile took down TWA Flight 800. The NTSB also presented its findings on August 23rd, 2000, when it determined that the aircraft was brought down by a fuel/air explosion due to excessive voltage in the center wing fuel tank (CWT).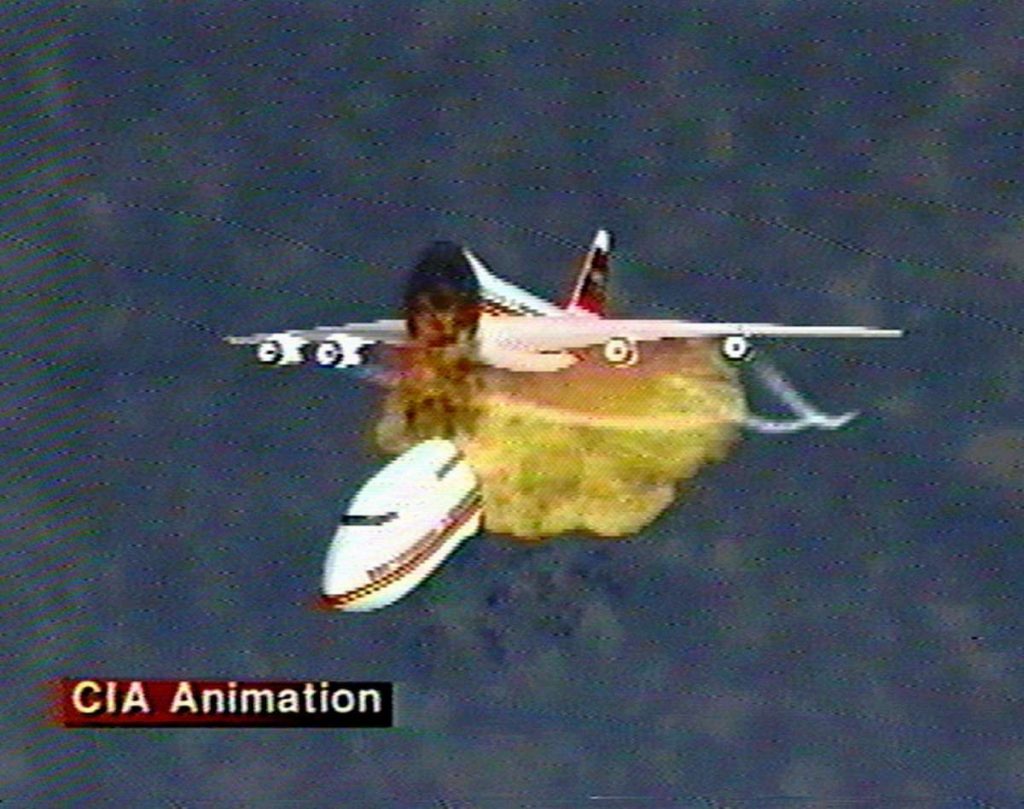 Despite recovering 95% of the aircraft and both agencies concluding there was no foul play involved in the crash of TWA Flight 800, many still insist that a government conspiracy exists in hiding what actually brought this aircraft down.
Through intense pressure, the U.S. Navy admitted to having three submarines in the crash area and the Navy was also known to be conducting live missile firing while testing it's Cooperative Engagement Capability (CEC) system along the Atlantic coast all summer. However, no evidence could be found of a Navy missile being fired on the aircraft.
But even though the United States Navy was ruled out as being responsible for bringing down TWA Flight 800, the enormous amount of credible witness accounts stating they saw a streak of light coming from the ocean into the air had to be investigated further. After all, the 1990s saw a spike in terrorist attacks on western interests. And if the Navy didn't launch a missile towards the aircraft, then perhaps the attack originated from terrorists looking for targets of opportunity from the waters of known flight paths.
Could this have been a terrorist attack from the sea? The Inslip, Long Island radar facility disclosed interesting details of a 30-knot radar track that was recorded in the vicinity of the final moments of the aircraft. This track was never identified. In fact, sources found this radar track to be highly suspicious since it never diverted its course or proceed to the crash site. The FBI determined that the doomed aircraft would have been behind the vessel that created this mysterious radar track and its crew was likely unaware of the unfolding situation behind them. Although the radar track was never identified, its signature is believed to be consistent with that of a commercial fishing, cargo or recreational vessel.
However, no smoking gun could ever be discovered.  And to this date, skeptics and conspiracy theorists still claim some nefarious activity took place to bring down TWA Flight 800.  As for the witnesses who claim they were certain something shot up for the water to hit the plane, NTSB insists it must have been an "optical illusion".  Unfortunately, NTSB doesn't offer the surviving family members much comfort in their own explanation.  A caption of their final report discloses that even they do not know what caused the fuel tanks to explode.
[blockquote align="none" author="NTSB Report"][An] explosion of the center wing fuel tank (CWT), resulting from ignition of the inflammable fuel/air mixture in the tank. The source of ignition energy for the explosion could not be determined with certainty, but, of the sources evaluated by the investigation, the most likely was a short circuit outside of the CWT that allowed excessive voltage to enter it through electrical wiring associated with the fuel quantity indication system.[/blockquote]
Sources:
TWA Flight 800 on Wikipedia
What Really Happened