Rudolf Hess was Hitler's Deputy Fuhrer. In theory, he was the one man who could act on behalf of Adolf Hitler, should the Fuhrer be unable to act for himself. Allegedly done without Hitler's knowledge, Hess flew a Messerschmitt BF110 to Scotland on 10 May 1941 in an attempt to offer peace negotiations with Britain. Upon parachuting into Scotland, British authorities arrested Hess, where is was tried and imprisoned.

Was Rudolf Hess crazy? Was his last act before life imprisonment to defy the Fuhrer? Had he, in his seemingly boundless devotion to Adolf Hitler, acted on behalf of the Fuhrer and then spent the rest of his life hiding his dead leader's secrets?
About Rudolf Hess
Rudolf Hess was born in Alexandria, Egypt on April 26, 1894. He later moved to Germany where he was educated, worked and eventually joined the German Army. He fought in World War I as an infantry soldier and then a pilot. After the war, he went back to school to study history and economics. In an essay written by Rudolf Hess, he describes a hypothetical man that is very much like Adolf Hitler.
[blockquote align="none" author="Rudolf Hess"]When necessity commands it, he does not shrink from bloodshed. . . In order to reach his goal, he is prepared to trample on his closest friends.[/blockquote]
If some of the theories are right, this description foreshadows Hitler's treatment of Hess.
Hitler convinced Rudolf Hess, as he did so many others, of the necessity of him coming to power in 1919 and the early 1920s. Hess was one of the men who tried to help Hitler overthrow the government in the famously failed Beer Hall Putsch. He went into hiding but was later arrested and jailed for a year and a half. When Hitler and his cronies were released and Hitler rose to power, so did Hess, but in a far less dramatic manner.
But it's the end of his career with Hitler that was quite dramatic.
Flight to Scotland
On May 10, 1941, Rudolf Hess flew solo to Scotland. Instead of landing the plane, he jumped out with a parachute. He was captured immediately upon hitting the ground. His captors later described him as obviously having some business in the area. He asked to be escorted to the Duke of Hamilton's home, which was nearby. Hess also asked his captors if they were friends with the Duke. He said, "I have an important message for him." Hess was not granted an audience with any of the important men who are now presumed to be a part of the reason he risked his life to enter the U.K. He was taken to the Tower of London and imprisoned there.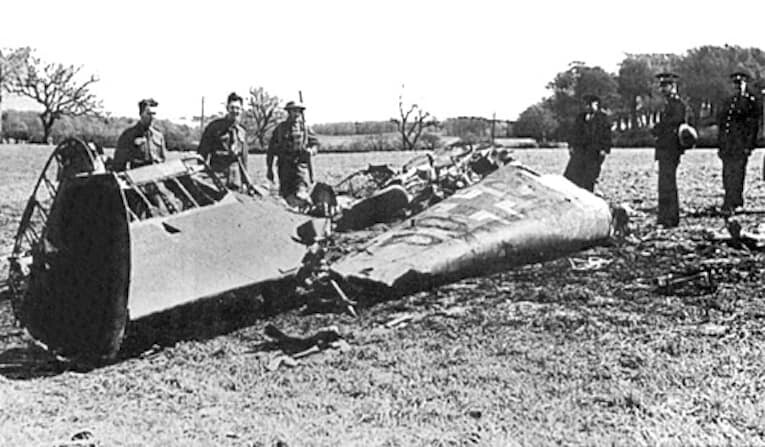 We now know that before Rudolf Hess' flight to Scotland there was talk of peace talks between Britain and Germany. Whether these peace talks took place or any minimal agreements were made is a matter of debate. At the time, Winston Churchill was not a favorite of King George VI and vice versa. Because it is believed that Hess was relaying a message to the Duke of Hamilton, it is thought that negotiations may have been occurring between Germany and the royal family. However, Churchill's actions after the odd capture of the Deputy Fuhrer suggest that he may have had some hand in the situation as well.
It has been reported that Hitler acted as if he were not surprised when he heard the news that Rudolf Hess had been captured on enemy soil. Even though Hess was the Deputy Fuhrer, Hitler would most assuredly have been furious if Rudolf Hess had been attempting peace talks without his consent. He was not furious, yet that is exactly what he conveyed. He said that Hess was not in is right mind and that he acted without orders from himself. Churchill relayed basically the same message, except he said that Hitler sent Hess to usurp him (Churchill) and negotiate peace. Oddly, Hess said that he had acted without orders as well. He even seemed a bit crazy, or he was covering up for Hitler long after Hitler died. He never seemed crazy before his flight to Scotland.

Rudolf Hess stayed at the Tower of London until the Nuremberg Trials in 1945. Despite the fact that he was displaying symptoms of amnesia (whether real or false), he was declared fit to stand trial. Some conspiracy theorists say that his memories were erased. He was tried and convicted of crimes against peace, but not against humanity like some of his comrades.
Rudolf Hess never once fully revealed the nature of his flight to Scotland. Furthermore, he continued to say he went of his own volition until the day he died of an apparent suicide at Spandau Prison. He supposedly hung himself with an electrical cord. He was a virtually invalid 93-year-old man at the time.