Gebhard Leberecht von Blucher is not a familiar name to many modern readers. This may be a historical injustice however, as the grand old man of Prussian warfare led an army twice against Napoleon. He deserves more than a small share of the glory for the victory of the Allies at Waterloo.
Nicknamed "Marshal Forwards" by his men, he was one of the most seasoned officers the Prussian army ever produced, and he was not one to shy away from combat. Forced out of retirement in 1813, he fought at Waterloo two years later at the age of 72 where his intervention was crucial in securing Napoleon's defeat.
The impression that survives is that of a famous Prussian general who has been immortalized in war stories, taking his place in the records of ferocious soldiers of a bygone era. The general was almost single-handedly responsible for establishing the Prussian way of war.
Marshal Blucher served the Prussian military service over a period of almost 50 years, and fought many battles. As a general, he was known for his courage, energy and controlled aggression. However, rumors swirled around the grandee of Prussian warfare: as a person, was Marshal Blucher a bit mad?
The answer may lie in the events of his life.  Those who pursue war and violence have different mindsets and thought processes than the commoners who choose peace. Could it be that leaders of wars such as Marshal Blucher need a tinge of madness to emerge victorious on the battlefield.
If a person is not mad when he enters the battlefield, by the time he leaves the military as a seasoned soldier, he will certainly have been changed and not necessarily for the better. This was truer for soldiers and generals of the past eras when veterans would rarely receive help after wars. The psychological trauma of warfare was poorly understood.

It is possible that as a war-hardened veteran, Marshal Blucher was showing signs of mental strife and insanity towards the end of his military career. Was it battlefield exhaustion, a stark understanding of the horrors of war, or an ailment that led him into the dark parts of his later life?
The Grand Old Prussian 
Marshal Blucher was born on 21 December 1742 in the family of an army captain. Born in a military family, his inclination toward joining the army and pursuing the thrill of war was natural.
His military career began at the age of 16 in 1758 when he joined as a young hussar in the Swedish Army. He was promptly captured by the Prussian Army in 1760 and later joined them as a hussar. Ironically, Blucher's military career hit a temporary dead end when he was forced to resign in 1773 for insubordination. After resigning, he chose the life of a farmer for quite some years. 
However, the quiet life of a farmer was not for him as in 1786, he rejoined the Prussian army and was promoted to the rank of colonel. France was going to pieces at this point and the opportunities for a brave man were great indeed, and Blucher found a role in the French Revolutionary wars.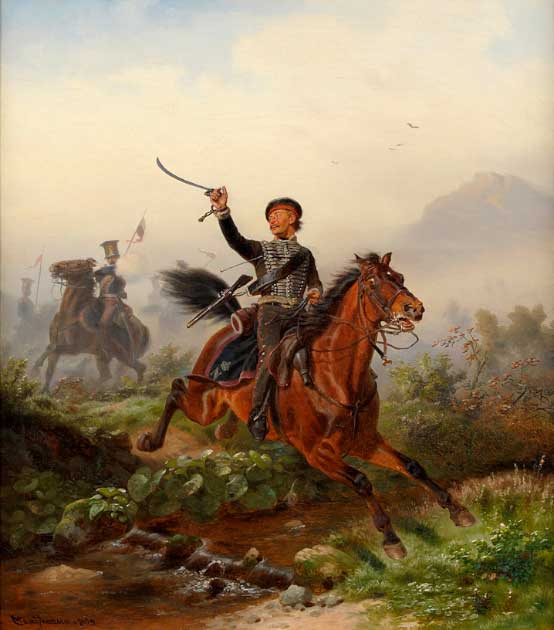 His success in the French Revolutionary wars brought him another promotion to the rank of Major General. His military career peaked in the early 19th century when he took part in the Napoleonic wars. He fought against Napoleon's forces as a general for the Prussian Army. 
Marshal Blucher v Napoleon 
Blucher met Napoleon twice in battle. The first time, at Jena-Auerstedt, he was roundly beaten, unable to find a victory even after repeatedly leading his men personally on the attack. By the time Marshal Blucher fought the Battle of Waterloo, he was near the end of his long life, but few had ever seen as much military service as he in his illustrious career.
The Prussian Army had a reputation for being ruthless on the battlefield, and this reputation was largely due to the actions of Frederick the Great and Marshal Blucher. Marshal Blucher belonged to the old military school and had seen both the rise and fall of the Prussian Army in its military history.
Marshal Blucher's may have been old and perhaps even a little senile by this point, but his battlefield intelligence and situational awareness had apparently not been lost. The Prussian forces had defeated the French several times under the leadership of Blucher by this point, most notably at the Battle of Katzbach. For his role in these battles, the general was honored with the title of Prince of Wahlstatt.
But he had never defeated Napoleon in person. Waterloo was to be his final test and would come to define his legacy. And, when the chips were down, the old man of Prussian warfare was not found wanting.
The Dance of Madness 
Despite his passion for war and his strategic intelligence, there was no denial that the old general was struggling with his mental health in later life. Physically, his pain tolerance levels were very high, and he could carry on fighting in a wounded state.
However, he also suffered from fits as he approached old age. He was not that stable and apparently suffered from delusions. These often revolved around fear of the French attacking or assassinating him, suggesting a certain amount of traumatic stress from his years of fighting.

He was so preoccupied about sabotage and defeat that he became fixated on the somewhat implausible idea that the French army had heated the floors of his room, and he would walk tip-toeing on the floor at night. His fear of defeat at the hands of the French had certainly taken a toll on his mental health.
The strife of battle and his mental strife combined to give him no rest, but it seems that he responded in a positive way. Unable to find peace, he would counter his dark moods and his paranoia with a single-minded determination to win the war at any cost. 
By the end of the Napoleonic wars, accounts say that Marshal Blucher had become depressed and irritable. He was always in a low mood when he was not on the battlefield, and it was only by sheer will that he roused himself led his men with enthusiasm.
It got worse, however. Blucher developed a conviction that he had been impregnated by a French soldier, and had an elephant in his belly for a child. There are also claims that he had dementia in his later years.
There is also evidence that the Prussian defeat to the French in 1806 had led to a very public panic attack from Blucher. All these pieces of evidence and accounts show that Blucher had a gradual decline in mental health and could have been a little eccentric and mad, the madness intensifying in his old age. 
Despite the claims that Marshal Blucher was a mad man, it cannot be dismissed that the man was a feared general of the Prussian Army and played a vital part in shaping the country's military history. His people had asked for the impossible from the old man, and he had delivered. Can he be criticized for falling apart in the process?
Top Image: Brave: certainly? Insane: maybe. Did Marshal Blucher's advancing age and trauma from years on the battlefield drive him mad? Source: Simon Meister / Public Domain.
By Bipin Dimri