In the centuries before the birth of Christ, the pre-eminent power of the northern shores of the Mediterranean was the Roman Republic. Stretching from Spain to Cyprus, this vast empire was controlled by the Roman Senate and its elected leaders.
All this came to an end when Julius Caesar, a successful and popular Roman general and governor, famously crossed the Rubicon river and descended on Rome with his army, something expressly forbidden. Caesar installed himself as perpetual dictator, as an emergency action in response to a perceived crisis.
Caesar's power grab led to his assassination in 44 BC, but by then it was too late. Caesar's adopted son Octavian became the next "caesar" and the Roman Empire was born. Rome would never be a republic again.
There were certainly some advantages to imperial rule. Roman territories continued to expand for another 150 years, and wealth poured into the capital. However, the Roman Empire was only as good as the caesar at its heart, and the Romans would soon find out that this could be very, very bad.
The Emperor Caligula
In fact, they found out almost immediately. Caligula was only the third Roman emperor, ascending to the imperial throne in 37 AD. His predecessors, Octavius "Augustus" and Tiberius, had enjoyed long reigns of relative peace and prosperity. So it was hoped would be the case with Caligula.
At the start, it looked to be that way. However, shortly after his installation as emperor, Caligula fell ill. Although he recovered, his mental condition seemed quite changed, and his descent into madness began.
Caligula proved to be quite dangerous for the senators and people of Rome, driven by this sudden change in personality. But its cause is ultimately unclear. Can his madness be blamed on this illness? Or, faced with absolute power, did he allow himself to be corrupted absolutely?
Born Gaius Julius Caesar Augustus Germanicus on 31 August 12 AD in Antium, Italy, Caligula was the third child among the six surviving children of the Roman general Germanicus and Agrippina the Elder.
The two older brothers of Gaius were Nero and Drusus. His younger sisters were Julia Drusilla, Agrippina the Younger, and Julia Livilla. Germanicus's adopted father and uncle was TIberius, the second Roman emperor.
When Gaius was just two or three years old, he accompanied his father on his military campaigns in north Germania. He amazed the soldiers as he dressed up in a miniature outfit of the soldiers and also wore armor and boots.
Soon the soldiers gave him the affectionate nickname Caligula, which meant "little boots" owing to the caligae or small boots that he wore. But in 19AD, while campaigning in Syria, Germanicus took ill and died, rumored to have been poisoned. 
Early Reign of Caligula
After the death of emperor Tiberius, the great uncle of Caligula, he took over the position as emperor. Caligula's accession to the throne brought much joy to the people of Rome.
In his early reign, Caligula is often described as the first Roman empire admired by everyone in "all the world, from the rising to the setting sun." He charmed the people of Rome. Moreover, like his father, Germanicus had been very popular among the Romans, seen as another Alexander the Great due to his military victories and early death. The same affection was carried down to Caligula. 
However Caligula had very little practical experience in terms of governing. At the time of his accession, he was just 25 years old. Most years of his youth were spent with Tiberius or in the palace, where he grew up in an unhealthy environment of paranoia and plotting.
However, Caligula was successful in charming the people, the Senate, as well as the army through his behavior in the initial ruling days. He was known to distribute a lot of cash among the soldiers and the people of Rome as gifts.
He staged a number of chariot races, beast hunts, entertainments, and spectacles in order to amuse the inhabitants of the city. His gesture of lowering the taxes on sales of the slaves pleased the upper-class Romans as well as the Senate.
So, what went wrong?
The Illness of Caligula
After nearly six months on the throne, Caligula fell ill. There are a number of speculations about what the illness exactly was. While some sources state that it was a kind of brain fever, others believe it could be a virus, lead poisoning, or even an assassination attempt.
Everyone was prepared for the worst when Caligula fell ill. However, apparently against the odds Caligula recovered from his illness. But, after his recovery, there was a striking change in his behavior.
Before falling ill, he was known as the "baby," the "star" of the empire of Rome. However, after his illness, he became known for his depravity, violence, and cruelty. Some people speculate that the illness affected his mind, which is why his personality changed completely. 
On the other hand, there are some historians who believed that after recovering from illness, Caligula had seen that everyone was prepared for his death. This made him feel betrayed. He felt paranoid, visualizing how easily his position could be replaced and another person would occupy his place. So, he may have decided to punish people who were a threat to him and his position.
The Personality Shift
After his illness, his personality completely changed. He became cruel and erratic. He executed close and loyal advisors and compelled Gemellus, his potential rival and fellow joint-heir, to commit suicide.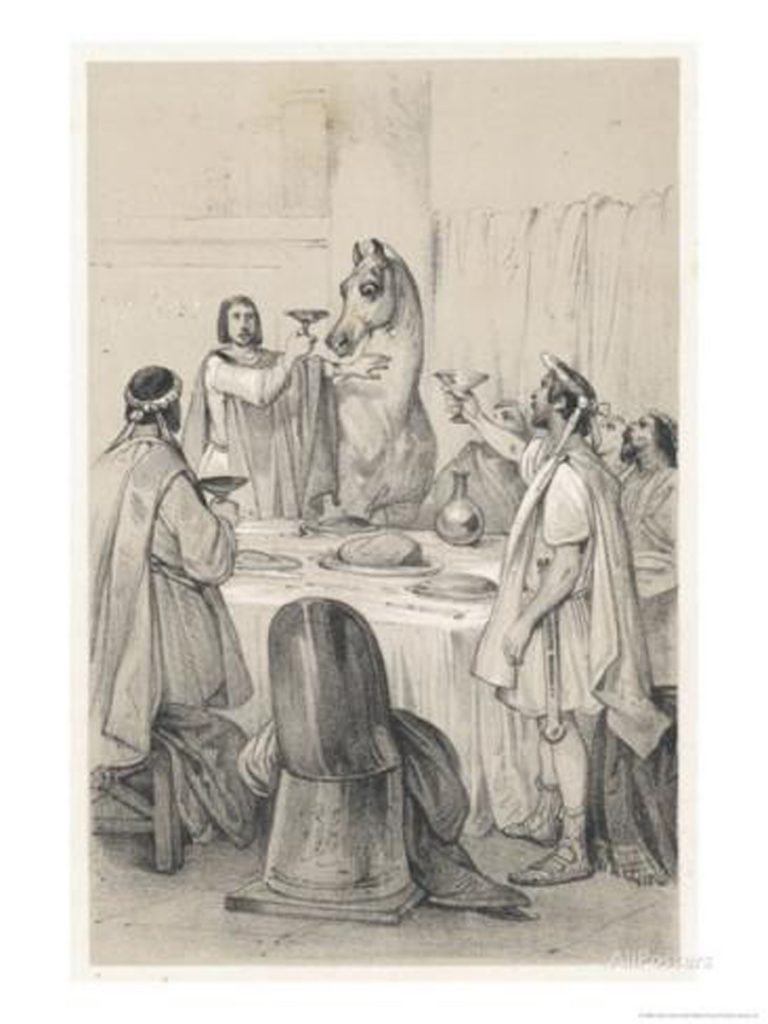 He humiliated and terrorized the members of the Senate, making them run by the side of his chariot. He was accused of raping the wife of one of the eminent senators, and was known to have sexual relationships with his own sisters. He ordered a number of citizens of Rome murdered under the flimsiest of pretexts, torturing the victims and taking pleasure in their pain. 
Caligula's edicts became more and more arbitrary and capricious in nature, and baffled his Senate. One of his insane acts was the idea of making a horse a Senator. He had a horse named Incitatus, who was his favorite.
He adorned the horse with various honors as well as awards, and ultimately decided to make Incitatus the head of the Senate. Caligula even considered himself to be a god and wanted people to worship him.
And why not? He was all-powerful under the new Roman order, he could do what he wanted, and so he did. If the illness caused his madness, then it is easy to see how dangerous it can be to concentrate power in one man. If not, then the corrupting influence of such power should teach a cautionary lesson to those who desire such a system today.
Much too Much
But, in the end Rome would not stand for such a leader. After about four years of depravity, dramatic stunts, and cruelty, Caligula was assassinated. Caligula was accosted in his palace on 24 January, 41 AD by officers of his Praetorian guard, and stabbed to death.
There is some evidence that his assassination had political motives, and that some of the assassins sought advancement for themselves in the removal of Caligula. And here, an intriguing possibility arises: were the worst excesses of Caligula a fictitious smear campaign, put about to justify his death?
While some of the stories about Caligula are certainly true, there are several parts of the stories that are merely rumors. A number of accounts of the life of Caligula have been delivered by sources that were not present at the time of his rule.
So, there are chances that some rivals and historians may have incorporated falsehoods and personal biases to defame Caligula. Whether all the cruel acts of Caligula are completely or partially true is a question that remains unanswered. 
Top Image: What caused Caligula's strange transformation? Source: Денис Кабелев / Adobe Stock.
By Bipin Dimri