Henry Stuart, Lord Darnley, lay murdered in the orchard at Kirk o' Field, Edinburgh, wearing only his nightclothes. Moments later, the house from which he fled exploded with the force of two barrels of gunpowder. That event in February 1567 began the fall of Mary, Queen of Scots, and the beginning of the end for the Scottish monarchy. Those responsible for killing the King Consort of Scotland remain a mystery to this day.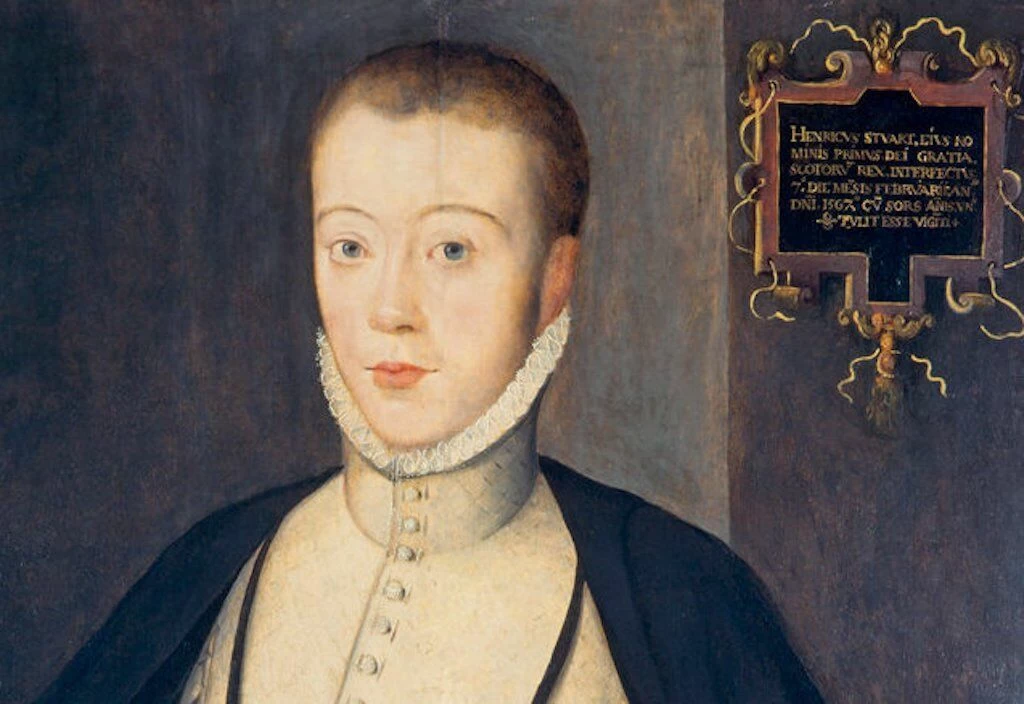 Groomed for the crown since childhood by his devious mother, the reviled Lord Darnley was no stranger to intrigue. Suspicion, violence, and a ruthless power struggle marked his marriage to Mary, Queen of Scots. Throughout history, secrets and rumors cast long shadows on the death of Lord Darnley.
Lord Darnley's Death
Historians believe Lord Darnley and his lifelong valet William Taylor discovered the plot against Darnley's life. Just moments before the gunpowder exploded, the two men escaped out a window of Provost House. But they didn't make it far. A group of men discovered Lord Darnley and William Taylor slipping away. Quickly, they captured and strangled them to death. Then they left their bodies in the neighboring orchard. The gunpowder ignited, blowing the house apart with a second valet still inside. Witnesses described seeing a dozen men fleeing Kirk o' Field.

Was Mary, Queen of Scots Involved?
Lord Darnley's wife, Mary, Queen of Scots, was staying a few hundred yards away at Holyrood House with their son, James. Some sources say she was away at a wedding that evening. Polite history describes Lord Darnley as recovering from smallpox in the winter of 1567, and to protect the eight-month-old James, Darnley was staying in separate quarters. In actuality, he probably had a seamier ailment. Most historians think he contracted syphilis that winter because of his rampant promiscuity.
Mary was distraught over her husband's death. But she was also under immediate suspicion. Many believed she was close to the prime suspect James Hepburn, 4th Earl of Bothwell. It was Bothwell, some thought, who supplied the gunpowder for the assassination. Also, the friction in the marriage and Mary's contempt of her husband were common knowledge. Then, to confirm the conspiracy for many, she and the 4th Earl of Bothwell married later that year.
Why Did Mary, Queen of Scots Marry Lord Darnley?
Lord Darnley secured Mary, Queen of Scots' hand in marriage and the Scottish throne with two things. First, he was handsome and unusually tall for that time, over six feet. Mary described him as the "lustiest and best proportioned man" she'd ever seen. Second, he was politically valuable from the moment of his birth. His mother, Lady Margaret Douglas, spent her life engaged in plots to usurp Queen Elizabeth. Realizing Lord Darnley's good looks and potential as a child, she began grooming him for the throne at a young age. It's no surprise he grew up "a narcissist and natural conspirator," according to the historian Jon Guy.

The potential Margaret Douglas saw in her son was his claim to both the Scottish and English throne. His royal lineage came through his father, the 4th Earl of Lennox, and his maternal grandmother, Margaret Tudor, daughter of King Henry VII. He was also Catholic. Both his gender and religion made him an appealing ruler to Queen Elizabeth's detractors. Besides, Elizabeth was unlikely to have any children of her own. A son of Mary, Queen of Scots and Henry Stuart, Lord Darnley would be a Catholic, male heir to the English throne.
Hatred, Power, and Scandal
Lord Darnley was next in line for the English throne after Mary, Queen of Scots. Historians describe him as vain, selfish, and manipulative. "People reviled him for his arrogance, drunkenness and promiscuity" (Knapton 2016). Tensions arose in the marriage soon after the wedding because he wanted Mary to be submissive to him.
Seeing his behavior, Mary only granted the title of King Consort to Darnley. In essence, he was only the husband of a ruling queen. As a result, he would lose his title as soon as an heir came of age or if Mary died before she could produce an offspring. It placed Darnley in a unique position of having his power and position threatened by his child. Power-hungry and entitled, Darnley resorted to conspiring with the Protestant Confederate Lords, who opposed Mary, Queen of Scots.
You May Also Like: Did Queen Elizabeth Murder Robert Dudley's Wife?
Darnley and the lords planned a coup, beginning with the murder of Mary's private secretary, David Rizzio. Darnley hated Rizzio for his close friendship with Mary. Also, rumors suggested that Rizzio was the father of the child that Mary was carrying inside her.
Darnley and the group of nobles stormed into the queen's private chambers where Rizzio and Mary were dining. The lords stabbed Rizzio over fifty times. Darnley hoped the shock of witnessing the murder would cause Mary, then six-months pregnant, to miscarry. In part, the coup failed because Lord Bothwell came to Mary's aid.
Who Killed Lord Darnley?
Mary had plenty of motive for Lord Darnley's murder. There was the coup and his assassination of David Rizzio. Plus, his promiscuity, foul-temper, and ongoing plots to seize power earned him great disdain. But the motive wasn't the most damning evidence against her.
The most damaging support of conspiracy was a small silver casket in Lord Bothwell's possession. Within it was eight unsigned letters, love sonnets, and two marriage contracts, collectively called the Casket Letters. They have been the subject of inquiry and speculation through the centuries. However, Mary maintained the Casket Letters were forgeries. They were possibly a mash-up of her own words combined with fakes. A commission that investigated the murder agreed with Mary, Queen of Scots, ruling the letters proved nothing. They found her innocent of conspiracy.
You May Also Like: The Secret Prince John Charles Francis
Even today, Mary isn't the most plausible suspect. In 2015, the Royal Society of Edinburgh held a panel that used modern techniques to investigate the murder. It comprised a historian, a pathologist, and a fire and explosion expert. Together they put forth a more credible theory; both Mary and Darnley were targets of the explosion. Rather than a plot by a vengeful wife, it was a conspiracy by Queen Elizabeth to eliminate a threat to her throne. (Kennedy 2015).
The End for Mary
If the murder was a scheme by Queen Elizabeth or her associates, it only worked in part. The threat from the north, James VI, son of Mary and Lord Darnley, succeeded Elizabeth on the throne. But the murder did end up destroying the Scottish monarchy. Following Lord Darnley's death, Mary went into 40 days of mourning, returning to her birthplace, Linlithgow Palace. When she returned to Edinburgh in April 1567, the 4th Earl of Bothwell and his men stopped her on the road. There was danger ahead. Insisting it was for her protection, Bothwell escorted Mary to his home at Dunbar palace.

There's no way to be sure about what happened next. Either Mary fell in love with James Hepburn, Lord Bothwell, or he raped her to force her to marry him. Either way, they returned to Edinburgh together and wed. But the 4th Earl of Bothwell was unpopular with the Confederate Lords, having clashed with them during their earlier coup attempt. This time the lords seized control of Edinburgh, capturing Mary and Bothwell. They installed Mary's half-brother as regent until her son James VI came of age (Weir 2009). Mary fled to England. However, Queen Elizabeth arrested and imprisoned Mary for the next 19 years.
The murder at Kirk o' Field changed the course of history. Mary, Queen of Scots, was the last monarch of Scotland and abdicated her throne to her one-year-old child from her imprisonment in Loch Leven Castle. She remained in English custody until 1587 when the conference at Westminster found her guilty of treason and executed her. Her son aligned with Elizabeth and became King James VI of Scotland and King James I of England.
Bibliography:
Magnusson, Magnus. Scotland: the Story of a Nation. New York: Grove Press, 2017.
Ridgway, Claire. "10 February 1567 – The Murder of Henry Stuart, Lord Darnley." The Tudor Society, June 3, 2015.
McGrigor, Mary. "Margaret Douglas: The Other Tudor Princess." The History Press. Accessed May 21, 2020.
Knapton, Sarah. "Face of Lord Darnley Revealed – Mary Queen of Scots' 'Lusty and Well Proportioned' Husband ." The Telegraph. Telegraph Media Group, August 15, 2016.
National Archives, Kirk o' Field; What Happened in 1567. The Murder of Lord Darnley. On This Day in Tudor History, 2019.
Guy, J. A. My Heart Is My Own: the Life of Mary Queen of Scots. London, UK: Harper Perennial, 2004.
Weir, Alison. Mary, Queen of Scots, and the Murder of Lord Darnley. New York, NY: Ballantine Books, 2009.