The allure of a royal family is an easy one to accept. Tales of handsome princes and beautiful princesses do not always belong in fairytales. The Royal Family of today's UK is among the most talked about and captivating of all monarchies. For centuries, stories of prowess on battlefields and with political machinations have made the royal lineage popular the world over. Some members have proven to be more fondly remembered than others. The Tudor dynasty is a fine case in point. Most people know of Queen Elizabeth I. However, what few people are aware of is that she may have been complicit in a murderous scandal involving her intimate friend and possible love interest, Robert Dudley, and his wife Amy Robsart.

[blockquote align="none" author="Queen Elizabeth I"]I know I have the body of a weak and feeble woman, but I have the heart and stomach of a king and of a king of England too.[/blockquote]
The aforementioned comment is among the most famous of all speeches by royalty. Having the heart and stomach of a king – even one comparable to a king of England – is one thing. Could Elizabeth also have had the heart and stomach of a murderer? A cold-blooded one at that. Some armchair detectives have cast an ever-increasingly suspicious eye over the events of September 8, 1560. As a result, they have come to the conclusion that the death of Amy Dudley (nee Amy Robsart) is not such an open-and-shut case.
The Beginning: Amy Robsart and Robert Dudley
Several days before her 18th birthday, Amy Robsart married Robert Dudley. No sooner had they issued their vows, the more cynical members of Tudor society began to question the marriage. Both of the newlywed's parents were nobles in their own right and, like many of the time were always seeking ways and means to consolidate and improve their fortunes. A marriage of convenience suited both sets of in-laws. Both would improve their standing in the courts of the monarchy. Additionally, their collective influence would increase. The marriage took place on June 4, 1550, at the royal palace of Sheen. Edward VI was a guest of honor.

The couple had an eventful marriage. Much of the time they shifted addresses between numerous palaces and mansion houses – sometimes together, sometimes separately. A little over three years into their marriage, Robert was imprisoned in the Tower of London and sentenced to death when his father, the Duke of Northumberland, tried to install Lady Jane Grey on the English throne. Amy could visit on a regular basis for the final year of her husband's confinement. Dudley only spent 15 months in the Tower but had suffered financially at that time. When he was released in 1554, he made efforts to resurrect his name and fortune. Within a year of being released, Robert's father-in-law passed away. Several years on, he lost his mother-in-law as well. Amy's marriage contract, still in effect, meant that she inherited her parents' considerable wealth.
Scandal in the Royal Court
As the marriage between Amy and Robert continued, outside events began to shape the destiny of England. Elizabeth and Robert had known one another from childhood. When she ascended to the throne in November 1558, one of her first proclamations was to create the new role, Master of the Horse, and give the position to Robert Dudley. In the new court, this was among the most privileged of all roles. No-one else but the Master was able to physically touch the young Queen. Robert closely attended to her travels, accommodations, and everything to do with the Royal Stables and horses.
Additionally, Robert's living quarters were adjacent to the queen's bedchamber. This put him within scandalous proximity of her, and it may be that the two took advantage of their close living arrangement. Eighteen months before the unfortunate death of Amy Dudley, on 19th April 1559, the Count de Feria wrote the following:
"During the last few days, Lord Robert has come so much into favor that he does whatever he likes with affairs. It is even said that Her Majesty visits him in his chamber every day and night. People talk of this freely that they go so far as to say that his wife has a malady in one of her breasts and that the Queen is only waiting for her to die to marry Lord Robert."
Also in 1559, the Ambassador to the Republic of Venice wrote, "My Lord Robert Dudley is … very intimate with Her Majesty. On this subject, I ought to report the opinion of many but I doubt whether my letters may not miscarry or be read, wherefore it is better to keep silence than to speak ill."
The Queen's Infatuation
Although there were many suitors to Queen Elizabeth, many people believed that she was indeed waiting to marry Robert once Amy was out of the way. It was obvious to everyone present that Robert was the queen's favorite consort. Some say she was in love with him. She was also quite possessive of Robert's time and attention, and some say that her well-being depended on his presence. At one point, when he wanted to go overseas to take part in military affairs, she forbade it.
Spouses could not attend court or official matters of State, therefore, Amy was never around when Elizabeth and Robert were together. Some have also suggested that Elizabeth warned Amy to stay away or risk some kind of retribution.
The Death of Amy Dudley
Robert Dudley was rapidly rising in power within the court. In 1559 the queen appointed him, "Knight of the Garter," a highly restricted society of chivalry and honor. Meanwhile, Amy Dudley was dealing with the onset of depression. As well as the potential infidelity involving the reigning sovereign, there is also a theory that she might have been suffering what was called 'a malady in her breast'. Amy allegedly convinced herself that her breast cancer was terminal. One of Amy's Ladies in Waiting claimed that Amy would to "pray to God to deliver her from desperation".
Sunday, September 8, 1560, was a day of celebration. Our Lady's Fair was taking place in Abingdon, close to Amy's residence, Cumnor Place. The day began normally; Amy gave all her servants time off to enjoy the day's festivities while she remained at home. It was only when the servants returned that they found the body of Amy Dudley laying at the foot of the stairs with a broken neck and a pair of deep wounds. Given how and where they had found her, plus the injuries that she suffered, it was only natural to conclude that death occurred by means of an accident or misadventure. However, some strange contradictions immediately challenged this logical conclusion.
Suspicious Events
Researchers have produced an original coroner's report with no mention of a broken neck. The pair of lacerations were in this report but no other injuries. This is enough for some people to doubt that her death was merely an accident. Another curious development followed two days after Amy's death. Elizabeth insisted that the news should be released to the public and that they officialize the cause of death as an accident. On the day of his wife's death, Robert Dudley was performing his official duties far away from home. However, his behavior was curious after he learned of Amy's death.
There is some evidence of possible jury-rigging going on behind the scenes. Dudley was rumored to have given Robert Smith, the jury foreman, a substantial quantity of velvet for tailoring. The new widower also requested a jury of discreet men. One of the jury members who went by the name of John Stevenson was an employee of Dudley. Additionally, Anthony Forster, who happened to own Cumnor Place (Amy's home), was given a payment of over £300 not long after Amy was found. This amount today would be £65,000.
Tudor Rumors
Other rumors circulated about Amy's death. Poison was a consideration alongside divorce. Some even went as far as to claim that Dudley and Elizabeth had as many as five children together. Maybe some or all of these rumors were silly or idle gossip. What can never really be in doubt is Dudley's desire to become a consort to Queen Elizabeth. Like his father before him, Dudley was intent on gaining as much power and influence that he was able to. Perhaps this was unacceptable to someone who went too far and decided to take matters into his own hands. If this was the case, then who could that someone be?
Plots Against Robert?
A common trend among Heads of State is to have a circle of trusted individuals who oversee various political duties. Elizabeth was no different and would often seek the advice of the most loyal of all loyal subjects. Fewer were more loyal than Robert, but that could have posed a problem of its own. Queen Elizabeth's Privy Court was well-aware of the queen's apparent feelings for Robert Dudley. Perhaps some members of the Privy Court managed to persuade the Queen that a relationship with Dudley was not best for the nation. This cloak and dagger plot and counterplot might have been a ruse to get Elizabeth to play some role in the death of Amy Dudley in order to drum up a scandal that would discredit Robert. According to the Wikipedia entry Elizabeth I of England:
Elizabeth seriously considered marrying Dudley for some time. However, William Cecil, Nicholas Throckmorton, and some conservative peers made their disapproval unmistakably clear. There were even rumours that the nobility would rise [up] if the marriage took place.
Outright execution or injury could ultimately end up causing more harm than good. If Elizabeth was actually complicit in the death of Amy Dudley, by choice or coercion, it would prove to be a much more effective manner of halting Robert Dudley's rise toward the throne. Merely executing him for no real reason would surely have undermined Elizabeth's own position. By engineering an outcry of this magnitude, Elizabeth may have proven at an early stage of her sovereignty that she was the astute politician that history remembers.
Did Robert Do It?
Any modern investigation into a death that has suspicious overtones to it will always begin with the immediate family or relatives. The police would have to determine the type of person that the victim was and do as much research into that person as possible. From there, the investigation would focus on those closest to the victim. In Tudor times, there was hardly a police force worthy of the name, but there were still professionals who dedicated themselves to this purpose. Robert was an obvious suspect in any wrong-doing.
Robert Dudley was nowhere near the house when Amy's life ended, but that doesn't mean that he was innocent of it. As alibis go, being in the presence of the Queen of England miles from the scene of a possible crime is quite a hefty one. It's not beyond all realms of possibility that Dudley hired or asked a person or persons unknown to act on his behalf. Without forensics, it would have been easy enough for someone to conclude that the young woman's neck broke in her fall or tumble. That would pretty much be the start and end of the investigation.
William Cecil
One trope that is often used in detective fiction is the axiom: who had the most to gain by the death of the deceased? Historian Alison Weir proposed that the one-time courtier of the Elizabethan court, William Cecil, had a hand in the death of Amy Dudley. As the royal popularity of Robert Dudley increased, that of William Cecil began to wane. It is entirely possible, and very likely, that the men became bitter rivals to the point of obsession. Perhaps Cecil devised a plan against Dudley and used Dudley's own favoritism as a weapon against him.
The announcement of Amy's death shocked the nation. Cecil might have seen the potential of a royal wedding and took the necessary steps to prevent that from happening. Even if the limited capability of the investigating team had managed to find proof of intent, the more popular consensus of opinion would point the finger of blame directly at Robert Dudley. If this was Cecil's gamble, then it paid off. Dudley never did marry the Queen. In that aspect, Cecil's plan worked, if he had a plan.
Suicide?
One of the last things Amy Dudley did in her life was to insist that all servants take the day off to attend the fair taking place in Abingdon. Not all of them considered this to be acceptable behavior for a Sunday and some of them initially refused to go. However, Amy was insistent. Of all the servants, only one – Mrs. Odingells – refused to leave the house. She did retire to her room and left Amy alone for the day.
The main problem with the suicide theory is that, at the time, it was considered to be a mortal sin and would lead to eternal damnation. Perhaps with the combination of depression, pain, illness, and abandonment, it seemed to be the most viable option for her. Another problem with this idea is the actual execution of it. There are more effective ways in which to take one's own life. Throwing oneself down a 'dog-legged' staircase with just 8 stairs and a landing in the middle doesn't seem to be the most foolproof method in the world. Modern medicine has indicated that a woman with a similar strain of cancer that Amy perhaps had might have a side-effect of brittle bones. Suicide would be a more bonafide solution if the servants had found Amy on the landing instead of the bottom of the staircase.
An Enemy of the State
Perhaps one point in the overall popularity of the Royal Family as a group is the intrigue that surrounds them. This is not really true in today's world, but in centuries gone by, the Royal Family is almost synonymous with tales of war, battle, and espionage. If a foreign national were to infiltrate the aristocracy and intentionally kill one of their number, thus forcing Elizabeth to change her plans on a more personal level, it might have weakened her on an international level.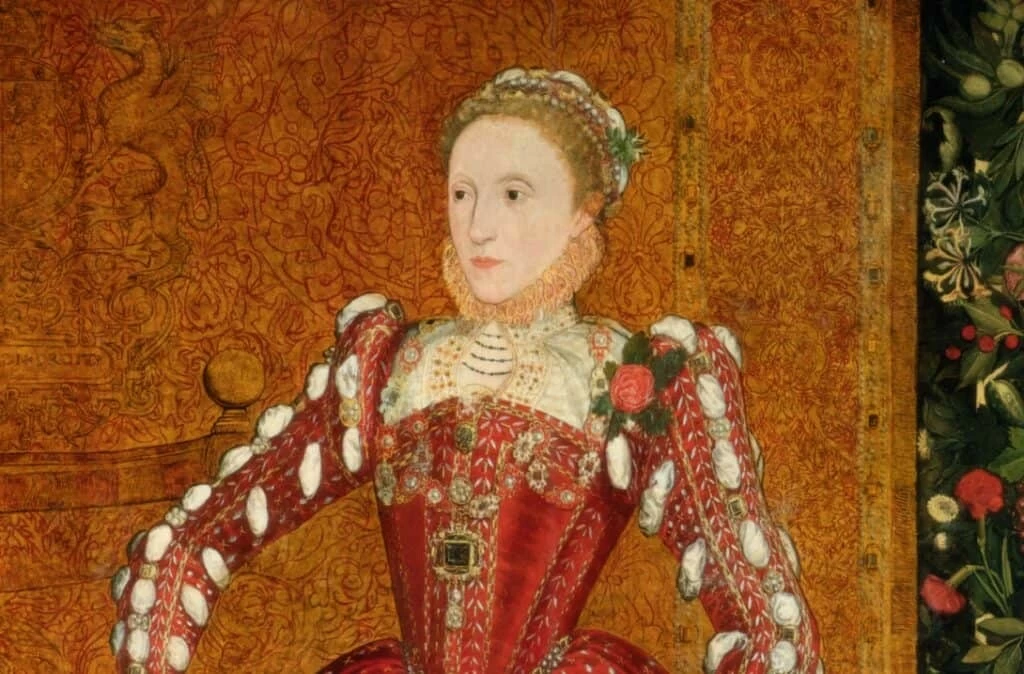 The scandal that did follow the death of Amy Dudley made it virtually inconceivable that Elizabeth could marry Dudley after all. Elizabeth no doubt realized this and was forced into keeping her distance. This could explain why Mrs. Odingsells refused to leave that morning. This plot would really have needed someone to oversee matters, perhaps even in a hands-on fashion.
With so much political intrigue muddying the waters, it is easy to overlook that a life ended. Maybe it ended in a way that a few people tend to believe. This was nothing more sinister than a tragic accident. It is entirely possible that Amy lost her footing or suffered a dizzy spell for a second and overbalanced. However, the coroner's report included interesting wording. The wounds of Amy's neck were referred to as 'dyntes'. This is a Middle English term that is no longer in use.
The most suitable modern terminology could be blunt force trauma.
You May Also Like:
Was Queen Elizabeth I a Man?
The Princes in the Tower
References:

Jessica Jewett Online
On the Tudor Trail
The Tudor Enthusiast
Sites pulled: June 27, 2017