Anna Ivanovna, Empress regnant of Russia from 1730-1740 has been remembered by history as a cruel and mad woman. Her period in control has been referred to as the dark era of Russia, a period when a severe and universally unpopular government dictated by her personality flaws led to questionable acts towards her subjects.
This was exemplified by her construction of a lavish ice palace in 1739-40, although recent research has raised some interesting questions. This article will explore what situations led to the creation of the ice palace and how it has been interpreted over time. 
Anna Ivanovna
Anna was born in Moscow in 1693 to Tsar Ivan V and his wife Praskovia Saltykova. Ivan was the co-ruler of Russia alongside his younger brother Peter, later named the Great. However, due to the mental incapability of Ivan, Peter was effectively allowed to rule alone, administering the country as he saw fit.
Ivan died in 1696 and Peter took complete charge. Praskovia removed Anna and her sisters from court, educating them herself. Anna was instructed in French, German, religion, folklore, and music. Above all else, her mother sought to imbibe Anna with a sense of morality and virtue.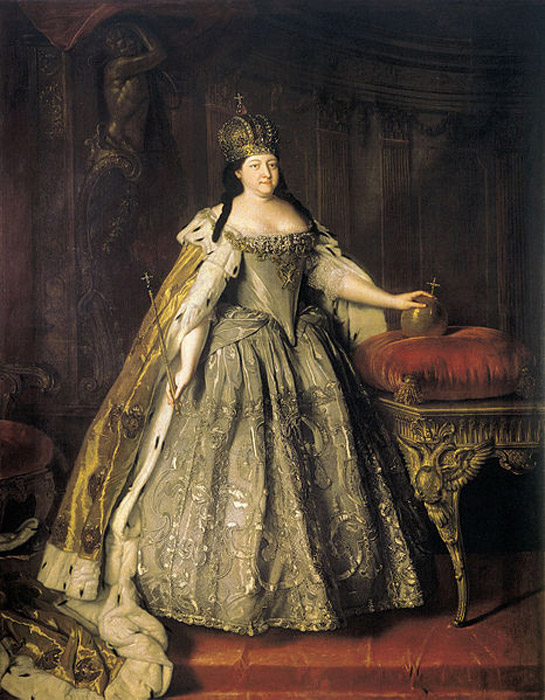 Anna remained away from court until Peter the Great recalled her family back from Moscow to move to St. Petersburg. It was here that Anna and her family were reintroduced to the lavish courts and entertainments that were on display, such as theater and masquerade balls. 
Marriage
In 1710, Peter utilized his connections with Anna and arranged a marriage to Frederick William, the duke of Courland  (in modern-day Latvia). They were of similar age, around 17, and the letters that she wrote to him suggest they were deeply in love.
Their marriage was a grand and luxurious affair, befitting a niece of the emperor. In fact, Peter donated a dowry of 200,000 roubles. This is worth an equivalent of approximately £20,000 in the 18th century, which in today's money is somewhere near £1.5 million. The entertainment was lavish and exotic, and even included elements of a "human zoo."
But it did not last, and Frederick passed away only months after the wedding. Whilst the causes are uncertain, it has been suggested that the effects of the cold or alcohol may have contributed to his death at such a young age.
Anna remained the de-facto ruler of Courland and went on rule there for nearly 20 years from 1511-1530. She never remarried, though her enemies suggested that she had affairs with certain courtiers. 
Anna in Russia
Peter II, Grandson of Peter the Great and ruler of the Russian Empire, died childless in 1530. `This left five possible candidates as heir to the empire: Anna, her two sisters, and the two daughters of Peter the Great.
Peter's daughters had been born out of wedlock, and their illegitimacy weakened their claim. In addition Ivan, Anna's father, had been Peter the Great's older brother, which made Anna the obvious candidate. Anna was also a childless widow and an experienced governor of a territory.
The Russian Supreme Privy Council, a group of advisors and nobility that had supported the emperor, therefore chose Anna to become the leader. Hoping to manipulate Anna and place her in their debt, the leader of the council Prince Dimitri Golitzyn approved the choice, on the provision that she signed a declaration of Conditions. 
On the 18th January in 1730, Anna agreed to the conditions and was pronounced Empress. These conditions included not being able to declare war or peace, impose taxes or punish nobility without trial.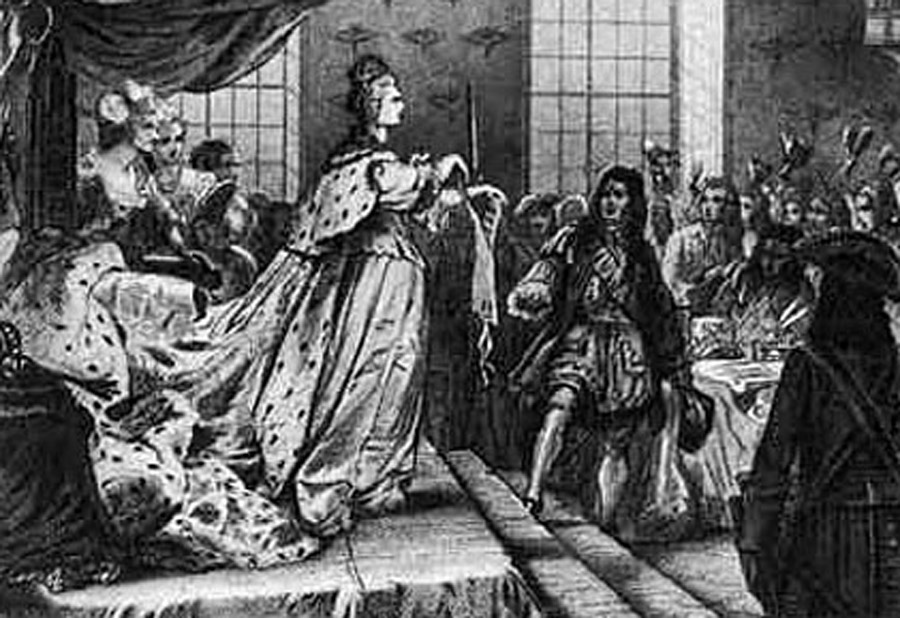 However, Anna had no intention of playing by their rules. Upon her arrival, she immediately dismissed her Privy Council or advisors and dissolved it. She promoted princes from around Russia that supported her right to autocracy, and sent many of the Supreme Council to Siberia, to exile and almost certain death. 
Anna followed aspects of the regime started by Peter the Great. She completed some of his architectural designs for St Petersburg and continued his expansion of a canal network throughout Russia. Equally, she advocated and aided the Russian Academy of Sciences founded by Peter.
These may not seem to be the activities of a mad despot, and claims of a Russian dark age seemed far away, However, her harsh treatment of her nobility quickly garnered her a reputation. 
The Ice Palace
Anna is probably most famous today for the way she chose to manage her nobility. One member of a royal and noble household, Michail Golitzyn (perhaps a relation of the leader of the Supreme Privy Council), was stripped of his title and name by Anna as she made him a court jester.
The reason for this has been recorded as that he had married an Italian princess and converted to Catholicism despite Anna forbidding it. To retaliate, she forced him to marry one of her "ugly and old" maids.
To further humiliate him, Anna also made him consummate the marriage in her ice palace, that she had recently constructed to celebrate her victory against the ottoman turks. The newly married couple were forced to stay the night, surviving only because they bribed the guards. 

The actions of a tyrant, or political cunning? Some historians have argued the latter noting that the ice palace serviced as a warning to Russian aristocracy. It was also beautiful, displaying an architectural achievement on par with anything happening in Western Europe at the time. In one bold stroke, she had disciplined her nobility and sent a message to the rest of the ruling elite.  
A Legacy of Ice
Within Russia Anna was remembered as an eccentrically cruel woman with a taste for luxury. Outside of it, she was recognized as a ruler that followed in her predecessors' footsteps to push Russia to modernize. Her creation and use of the Ice Palace perfectly encapsulate these two sides to her character. A woman with eccentric and lavish tastes that would not be manipulated and pushed around. A remarkable woman, but perhaps not a mad one. 
By Kurt Readman
Top Image: The Ice Palace. Empress Anna, dressed in gold, mocks the nobles she has imprisoned, left. Source: Valery Jacobi / Public Domain.