Joan of Arc is one of the most famous figures of French history. A humble peasant girl, she claimed to have heard the voices of angels and saints and inspired the French defenders of Orléans to defeat the English besieging the city.
This pivotal moment in French history turned the tide of the war and led to the eventual French defeat of the English invaders, although it would take a further 20 years and Joan would not live to see it. Canonized as a saint after her death, she remains an enduring icon of French resistance, victory, and piety.
Throughout her life she claimed that divine figures had spoken to her, including the Archangel Michael and several female saints. She certainly seemed convinced she heard these voices. Was she truly touched by God, or is there a more rational explanation?
A Humble Peasant Girl
Joan was born into a peasant family living in the village of Domrémy, located in north-eastern France in around 1412. Her mother was Isabelle Romée and her father was Jacques d'Arc, a farmer and minor local official.
France at this time was divided and at war with England, caused by a dispute over who should succeed to the French throne, Many Burgundian nobles from north and east France supported the English claim. But in spite of being surrounded by a number of pro-English Burgundian landowners, Joan's family were loyal to the French crown.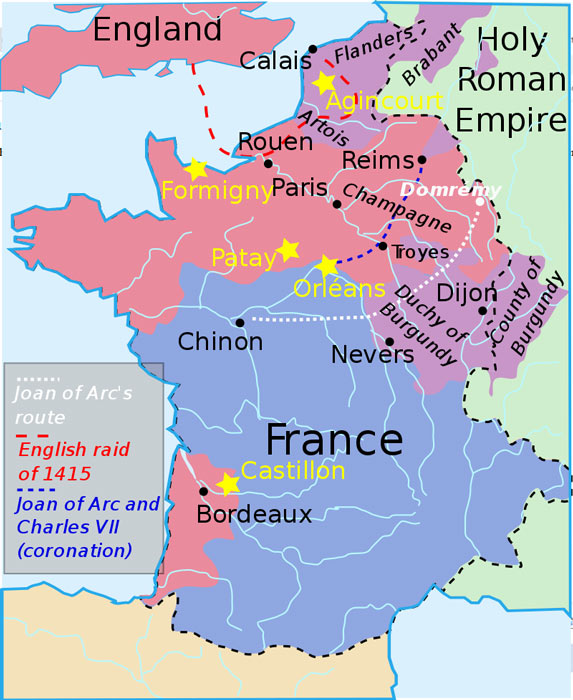 Her early biography is obscure, and modern historians are even unsure as to her real name. While she claimed to be called Jehanne la Pucelle, she also said that she was unaware of her last name. Some historians even believe her real name was Jehanne Tarc, or Jehanne de Vouthon.
The sheer scale of her achievements and her obvious talents have led historians to question this narrative as to her birth and upbringing. Generally, peasant girls at this time lived indoors and were highly domestic, principally involved with weaving and spinning.
By way of contrast, at some point Joan had learned to ride warhorses and use a sword, an unexpected and implausible skillset. Although we see evidence elsewhere as to her likely peasant origins, such as her illiteracy, this disconnect between her origins and her talents remains puzzling. 
Divine Voices and Corporeal Tests
In 1425, at the young age of 12 or 13, Joan started hearing voices and seeing visions, which she believed were sent by God. During her later trial, she said that the saints and angels had told her to live a pious life and to attend church.
She saw visions of St. Margaret, St. Michael, and St. Catherine, accompanied by the sounds of bells and bright light. She claimed that the saints and angels asked her to save France from the English invaders and establish Charles VII, the French claimant, on the French throne as the rightful king of the country. 
When Joan was 16 years old, she asked Durand Lassois, a relative, to take her to nearby Vaucouleurs. There she petitioned the garrison commander, Count Robert de Baudricourt, for permission to visit the royal French court at Chinon, south west of Paris.
After hearing of her visions and predictions of French victory, she was granted an escort by Baudricourt in order to visit the royal court. She disguised herself as a man and made her journey through the Burgundian territory.
Once at court, Joan was granted a private audience with Charles VII, whom she impressed. Charles ordered a background inquiry to verify her claims and ensure she was both loyal and sincere. 
In order to test Joan, Charles VII swapped places with one of his courtiers. He said that if Joan was actually sent by God, she would be able to identify the true "dauphin" (French royal heir).
On entering the assembly, Joan saw through his disguise, directly approaching Charles and addressing him as the dauphin. He accused her of being mistaken, trying to convince her that he was not the dauphin, but she stood firm to her ground.
Her legitimacy was further proved to Charles's satisfaction when she told Charles VII about what he had said to God in his private prayers. Convinced that she was sincere, Charles accepted her as an orthodox and devout Christian and a loyal subject.
The Prophecy Fulfilled?
Yolande of Aragon, Charles VII's mother-in-law, was funding an expedition to the besieged city of Orléans at that time. Joan petitioned for permission to bear the equipment and arms of a knight and travel along with the army. As she had no funds, she relied on donations for horses, swords, armor, entourage, and banner. 

For years, there had been prophecies in France that a maiden in armor would rise and save the country from the English invaders. Joan, given leave to travel to Orléans with the French army and in full battle gear, seemed every inch the fulfilment of the prophecy.
While she had not yet been involved in any military engagement, the prophecy made her popular as a hero in the city and an inspiration to the defenders. It seemed that, despite appearances given the grim state of the war, God was on their side. 
On April 29, 1429, the 16 year old Joan arrived at the siege of Orléans, where she was promptly excluded from the war councils by the acting leader of the French defenders, Jean d'Orléans. Nevertheless, she was determined to be involved.
Even though she wasn't invited, she used to burst into meetings, disputing and criticizing decisions made by the veteran commanders present. She appealed to the population of the town at times, turning the siege into a religious war with God on the side of the French.
What her actual leadership position in the military was, remains a matter of debate. While some historians see her as primarily an standard-bearer, others believed that Joan was a successful strategist and a skilled tactician, again unusual talents for a peasant girl.
Joan of Arc certainly embraced the role of a heroine in her interactions with the citizens of Orléans. She went among them daily in order to inspire, encourage, and provide them with food and other supplies. And, miraculously, within nine days of her arrival the siege of Orléans was successfully lifted. 
The Liberation of France
Following this victory, Joan of Arc spearheaded the French counterattack against the English, paving the way for Charles VII to win back his crown. While the campaign was successful, she came across continuous objections and a number of oppositions.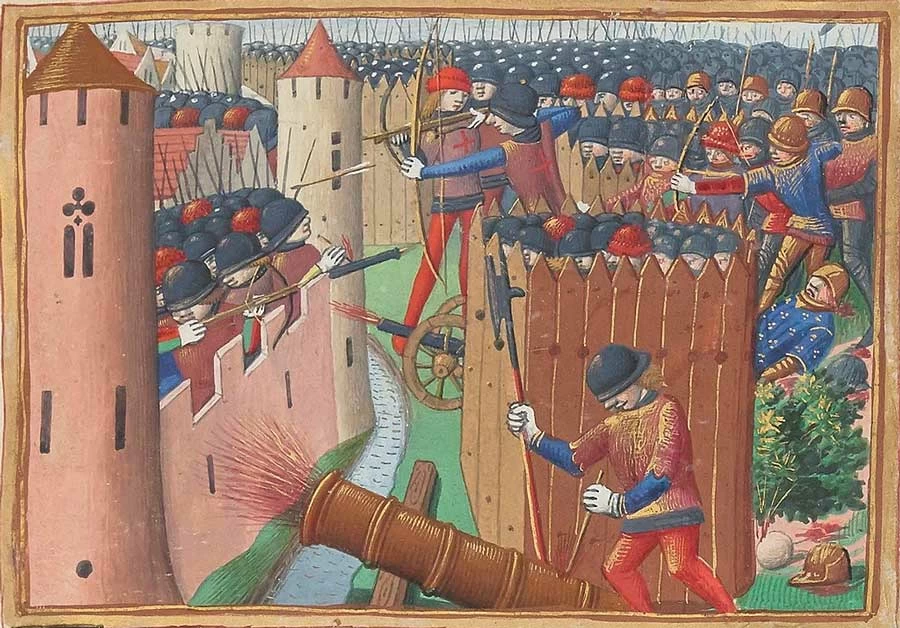 After lifting the siege of Orléans, the next major target for the resurgent French was Rheims, a city occupied by the Burgundian allies of the English. Joan of Arc, despite skepticism from the French commanders, intended to simply march in and take the land relying on the strength and protection of God.
It seemed almost impossible to believe her plan would work. The other commanders pointed to the lack of sound military planning and Joan's inexperience. The fact that she was a teenage girl also led to her advice being disregarded.
However, she was ultimately successful in convincing the commanders to accept her suggestions as Joan's victory at Orléans had brought a number of recruits from different parts of the country to fight for the French cause. Inspired by her victory, this had already resulted in several successful battles in Jargeau, Beaugency, Meung, and most notably in the rout of the English at Patay.
In the event, Joan's tactics for taking Rheims were never truly tested. The French had become so successful in reclaiming territory that the Burgundians had to surrender the city. They even opened the gates without any kind of opposition, and Charles VII was crowned officially as the king of France in July 1429 in Rheims cathedral, with Joan at his side. 
Joan was now a fully-fledged hero of France. Christine de Pizan, the popular medieval French writer, wrote the Tale of Joan of Arc in celebration of Orléans' liberation, with Joan firmly at the center of the account.
There was celebration everywhere in France due to Joan's unexpected successes, and it seemed that only Paris needed to be captured to hand victory to the French. But it was not to be. Following an unsuccessful assault on the capital, during which Joan was wounded, a ceasefire was negotiated.
And during this brief moment of peace, Joan of Arc was captured by the Burgundians in 1430, and sold to the English. With her capture, the hopes of the French seemed in the balance.
The Trial of Joan of Arc
Held as a captive in the English-controlled city of Rouen, Joan of Arc faced trial, accused of heresy. It had been intended to place her in an ecclesiastical prison which was guarded by women. However, she was held in a secular jail, where she was continuously threatened as well as harassed by the male guards.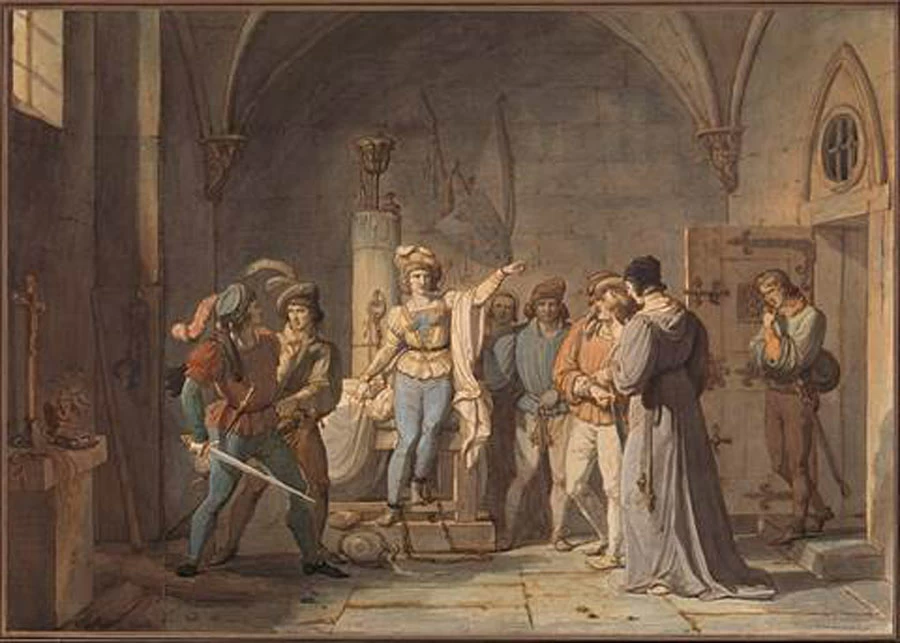 Right from the beginning it was clear that this was to be a show trial, and many religious leaders refused to be involved until the English authorities threatened them. It was a difficult position for the clergy to be in, as without any military or leadership experience, Joan of Arc had proved herself as an exceptional strategist, victorious in every engagement.
If, as these successes seemed to suggest, Joan of Arc was telling the truth, this meant that the English were out of God's favor for continuing the war. The English clergy would also be considered in the wrong as they supported it. 
The judges also knew she had been previously tested for her purity and orthodoxy and was found to be a virgin and a good Christian. However, all of this was irrelevant for the English leadership, who were determined to convict her of heresy. 
Some of the most sophisticated legal professionals of that time were involved in her questioning. She tried her best to defend herself, and was successful in evading several theological traps in her interrogation.
Most famously, she was asked whether she was in God's grace. This was a deliberate trap, as church doctrine at the time held that nobody could know this, and so if her answer was "yes" she would be considered guilty of heresy. However, if she answered "no" then it would prove her visions false.
Either way, she would be proved guilty. However Joan slipped the trap and, with surprising sophistication for an illiterate peasant, answered, "If I am not, may God put me there and, if I am, may God keep me there." 
Threatened with death by fire and in mortal fear for her life, Joan of Arc eventually denied her claim of being directed by God. However, her visions again came to her, denouncing her for rejecting the truth in order to save her own life. She withdrew her denial.

She was found guilty of heresy and sentenced of death under ecclesiastical law. On May 30, 1431, she was executed by being burnt at the stake.
She held an image of Jesus on the cross in her hands during her execution, and called upon the name of Jesus as she was being burned. In order to ensure she was dead, her corpse was burned twice, and the ashes were thrown in River Seine. 
Divine Inspiration or Mental Illness?
And so ends her story, but the question remains: what did she hear, and how was she able to defeat the English? Joan of Arc certainly experienced a number of religious visions, and sincerely believed that angels and saints were communicating with her.
 However, modern doctors have a different view, and believe that she was suffering from some form of mental illness. The sounds of bells and bright lights that accompanied her visions are characteristic of illusions or hallucinations. They concluded that she could be suffering from bipolar disorder, brain lesions, migraines, or schizophrenia.
This may be the case, but her achievements in inspiring the French to defeat the English and take back their country stand testament to the power of her visions. Was she divine, or was she ill? In the end it doesn't matter: she was the hero France needed, and her successes have passed into legend.
Top Image: Joan of Arc by Dante Gabriel Rossetti. Source: Dante Gabriel Rossetti / Public Domain.
By Bipin Dimri