Yang Guifei, lover of Emperor Xuanzong of the Tang Dynasty, was one of the most beautiful and renowned women in Imperial Chinese history. She was famous for her love story with the Emperor, although she was initially married to his son Li Mao.
Even though she was the wife of his son, the Emperor was smitten with her beauty, and eventually, he made her his imperial consort. Yang enjoyed a lavish life after becoming the consort of Emperor Xuanzong. However, she soon became the victim of courtly intrigue, which ultimately led to her death. But the legendary story of her romance with the Emperor would last forever.
Yang Guifei
Yang Guifei was born in 719 AD during the reign of the Tang Dynasty and Emperor Xuanzong, and her original name was Yang Yuhuan. She was born to a Sichuan official from a line of officials dating back to at least her great-grandfather Yang Wang, who was a notable official during the Sui Dynasty.
Her birthplace is a debatable topic among historians. Some believe that her birthplace was Yongle, Puzhou, whereas others believe that she was born in Shu. However, she certainly grew up in the region Yongle, in northeastern China.
Yang's father, Xuanyan, was a census official, and had no son and had four daughters. When he moved to Shu prefecture his family went with him. After her father died at quite an early age, her uncle, a low ranking official of Henan Municipality, took care of her.
From Shu Princess To Taoist Nun
In 736 AD, Yang Yuhuan married the 16-year-old Shu Prince Li Mao, the 18th son of Emperor Xuanzong. The prince's mother was Consort Wu. As the mother of Li Mao had accused three sons of the Emperor of treason, his father never made him heir apparent.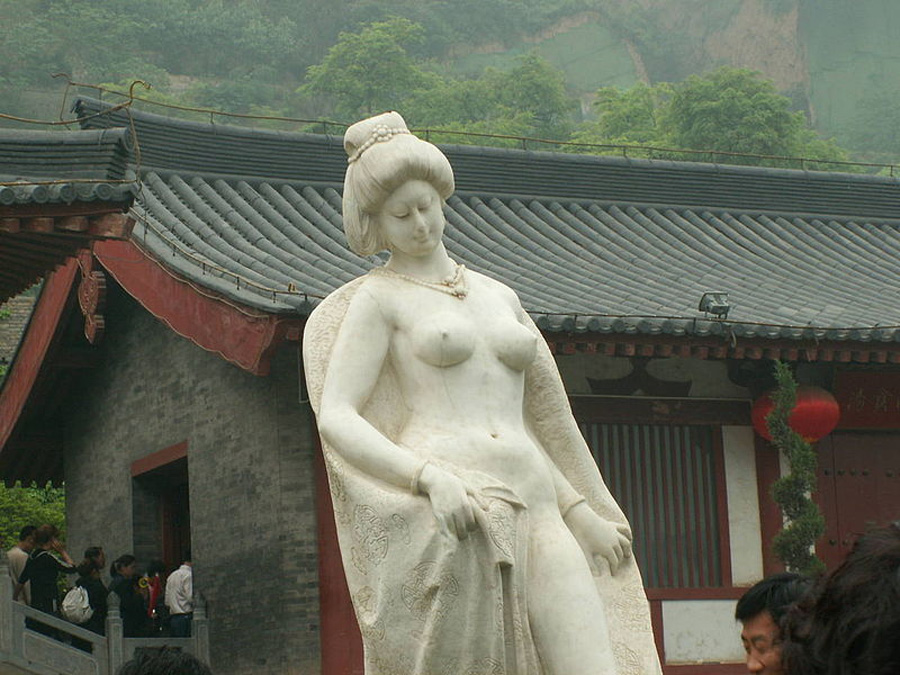 After Wu died, Emperor Xuangzong was saddened. In the midst of his grief, he met Yang Yuhuan. She was 19 when she met the Emperor, and he was 53 years old. He was instantly smitten by her beauty and decided to keep her for himself. 
But by then, she carried the title of Shu Princess. After the Emperor fell in love with her, he decided to make the marriage of Yang Yuhuan null and void. As he feared that there might be an outrage by the court due to taking his son's wife, Emperor Xuanzong decided to make Li Mao give her up and then made her a Taoist nun.
The Emperor's plan was simple: allow some time to pass and then make Yang Yuhuan his own concubine. Yang Yuhuan stayed in the Taoist Temple in the grounds of the Imperial palace. In disguise, she was able to make visits at night to the bed-chamber of the Emperor, which she did for almost seven years.
Imperial Consort
In 745 AD, Li Mao married again, and Yang Yuhuan was shifted officially to the harem of Emperor Xuanzong. There she was honored with the title "Guifei," which meant that she was the imperial consort who was the favorite of the Emperor.
After becoming Yang Guifei, she sought advancement for her family. Her three sisters were given titles, and other family members were also honored, enjoying a privileged and luxurious lifestyle.
Yang Guifei's cousin was particularly favored, becoming the prime minister. However, historians believe that the cousin was ill-suited for the prime minister's role and precipitated the decline of the empire and rebellion.
From her position without rivals, Yang Guifei lived an extravagant life. She had 700 embroidery workers and silk weavers to specially design her garments. She was given the strongest eunuch to hold her bridle if she rode horses.
Emperor Xuanzong doted on his consort. He would send imperial edicts for officials to bring lychees from far away for Yang Guifei, as she loved lychees. The haste required to meet this edict exhausted the officials.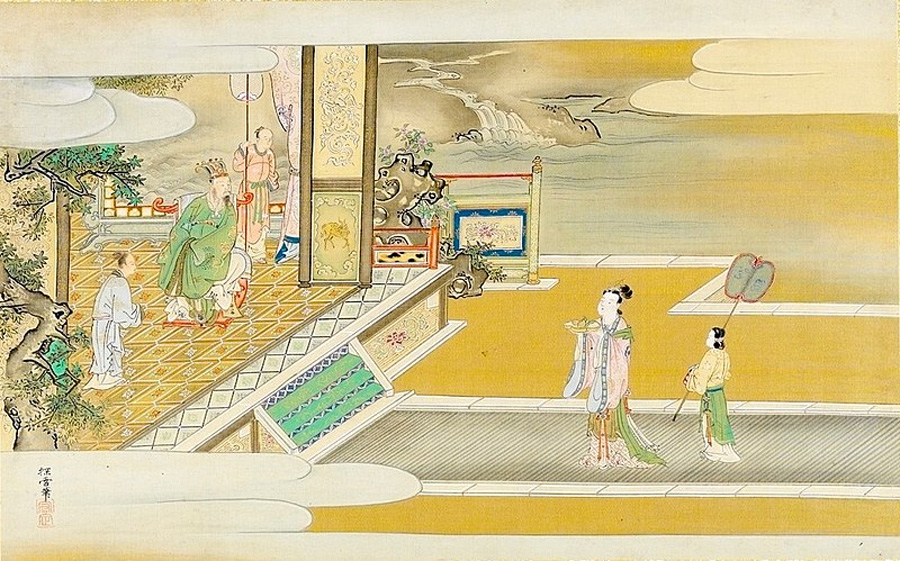 The Emperor also gave her lavish gifts, such as a rare white bird. Yang Guifei and the Emperor also shared a love of the arts, and she wrote several musical compositions for him. She was a great dancer and player of the pipa, a musical instrument similar to a lute. 
Trouble In Paradise
Although Yang Guifei had the favor of the Emperor, she was also banished from the palace on two occasions when the Emperor was displeased with her. Her first banishment came about because of her jealousy of any palace lady the Emperor showed an interest in.
Due to her jealousy, she was forced to go to her cousin's mansion. However, this banishment was brief, as the Emperor realized that he could never live without Yang, so she was soon called back.
The second time she was banished when she crossed the line and played a jade flute, which belonged the Emperor's relative. This banishment was also brief. Yang sent a lock of her hair to Emperor Xuanzong, and fearing that she might harm herself he called her back. The Emperor had found that he could not bear to be parted from Yang Guifei.
Yang Guifei's Tragic Death
Due to her influence on the king, court officials always tried to get her support in order to advance their own position. An Lushan was one such official, the military governor and general of frontier districts. She promoted him thinking that he was amiable and harmless.
But An Lushan wanted the throne, and he started recruiting his own army. After a series of natural disasters in 755 AD, he launched a rebellion to get rid of the evil ministers of the court. His army conquered the capital of Chang'an, and he proclaimed himself Emperor. 
Yang Guifei, Emperor Xuanzong, and his prime minister went to Sichuan. An Lushan's army captured all of them and killed the prime minister, Yang Guifei's cousin. They intended to kill Yang Guifei too.
The Emperor feared for his death and was forced to come to terms with the fact that Yang Guifei had to die. Yang Guifei then bade farewell to the Emperor for the last time, and then either hanged herself or was strangled by one of the Emperor's attendants. She was just 38 years old.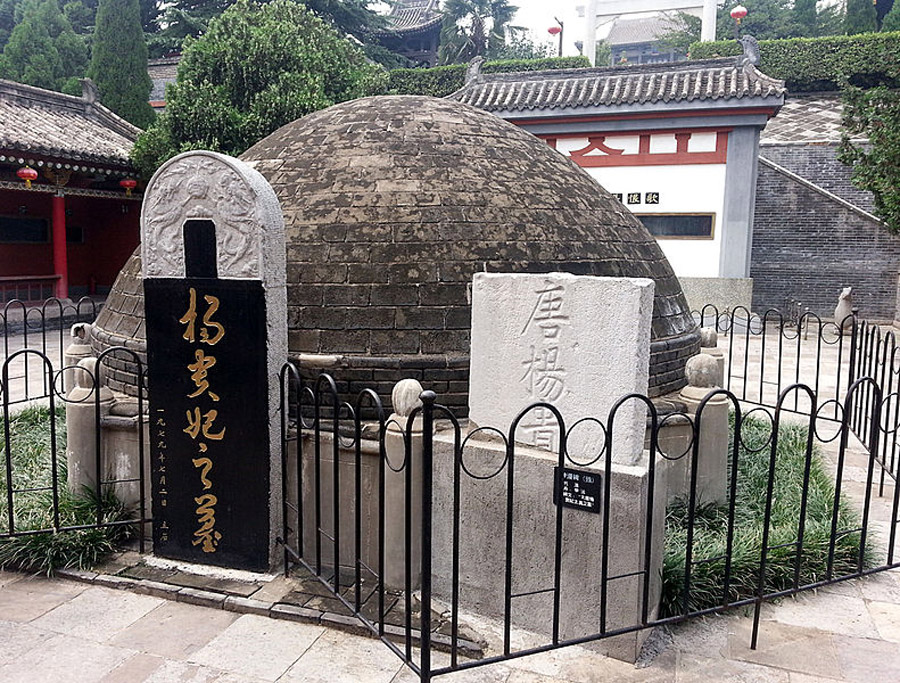 She was buried by a roadside without a coffin, before being again buried in Chang'an by the new Emperor of the Tang Dynasty. 
Top Image: Yang Guifei, Japanese woodcut, 19th century. Source: Yashima Gakutei / Public Domain.
By Bipin Dimri
References
Imperial Consort Yang Guifei- The tragic love story that inspired The Tale of Genji. Available at: https://www.historyofroyalwomen.com/the-royal-women/imperial-consort-yang-guifei-tragic-love-story-inspired-tale-genji/#ftnt4
The face that ended a dynasty? The imperial concubine Yang Guifei. Available at: https://supchina.com/2020/11/02/the-face-that-ended-a-dynasty-the-imperial-concubine-yang-guifei/