A Strange Man From A Small Village
Think of a brutal crime that has remained unsolved for over 70 years and the villages of Upper and Lower Quinton in Warwickshire will not immediately spring to mind. Both villages are about as rural and sleepy as any other village throughout the whole of England.
On Valentine's Day 1945, 74-year-old farm laborer, Charles Walton, made an early start to remove the hedges from the slopes of Meon Hill. Walton had lived and worked in Lower Quinton for his entire life and, despite his seniority and the onset of rheumatism, he continued light farm duties whenever possible. The popular and well-liked pensioner had his eccentric side but there were some people that regarded him with suspicions. In a village where everyone pretty much knew everyone else, all villagers knew that Walton had some quirks that set him aside from all others.
Wild birds would flock towards Walton and feed on seeds direct from his hands. It is also said that he could tame and control wild and/or rabid dogs simply with the use of his voice. Walton was very much versed in the traditional ways of rural lore; too much for some people. Despite this, Walton could likely count the number of enemies on the fingers of one hand.

Somebody did hate him though.
The Murder of Charles Walton
Walton shared his home with his adoptive niece, Edie. When she returned from her own job at 6 pm that evening, she was alarmed to discover that she was alone in the cottage. Fearing that perhaps he had fallen ill or worse, Edie and neighbor Harry Beasley set off to look for him. One witness at another farm did report seeing someone that was assumed to have been Walton trimming hedges off in the distance. The witness joined in the search and headed off towards where the person was seen.
The search was a quick one and Walton was found horribly murdered in a ditch. His trouncing hook was embedded in his throat. He was impaled to the ground by the pitchfork so strongly that it took attending police officers to remove it. A large crucifix had been carved into his chest and blood from this wound had soaked into the ground beneath him.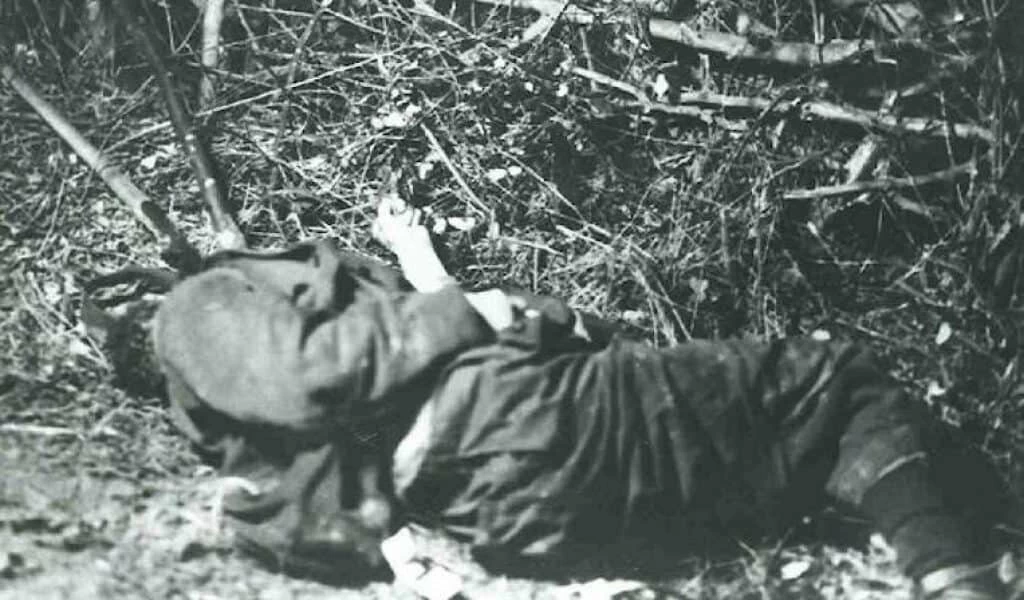 The investigation was initially handled by local superintendent Alec Spooner but a few days into the inquiry, Scotland Yard was contacted. Two senior Metropolitan detectives were sent from London and tasked with helping the local investigation. Detective Superintendent Robert Fabian and Sergeant Albert Webb met with Spooner and the trio eventually turned to the type of murderer they were after. Fabian was in agreement with Webb that whoever was responsible was simply a maniac.
Folk Lore, Old Customs and Superstitions in Shakespeare Land
Spooner added his own take on who they were after by producing a book entitled Folklore, Old Customs, and Superstitions in Shakespeareland.
Related: Witch Prickers of 17th Century Inquisition
One part of this book had been highlighted by Spooner before the pair arrived from London. This passage recounted a similar event that took place in 1875. "A weak-minded young man killed a woman named Ann Turner with a hayfork because he believed she had bewitched him". Another passage in the same book told of a boy called Charles Walton who reported an encounter with a black dog for nine days running, a decade after the original death. On the final day it is seen, a headless woman accompanied it.
Stories of black dogs are frequently made, especially in rural areas. Meon Hill is no exception and this phantom was supposed to herald the death of the witness. Is it possible that both Charles Walton's were the same person?
Ann Turner met her death at the hands of a local man called John Hayward. At his trial, Hayward believed he acted for the behalf of the whole community and that Turner had bewitched the land of the local farmers. Hayward admitted to pinning Turner to the ground with a pitchfork and cutting a sign of the cross into her neck. In Anglo-Saxon England, this was a traditional way to kill a witch.
Even a pair of hardened big city detectives such as Fabian and Webb still felt chills at the stories Spooner revealed to them. However, they were still officers of the law and proceeded to investigate the crime through the eyes of 20th-century police officers.
Evidence and the Investigation
An incident room was set up in Stratford. One of the first things that was done was to take aerial photographs of the crime scene. Bloodstains were clearly visible on the grass even from an altitude of several hundred feet. A ground search was also organized using metal detectors. Walton's pocket watch was still missing and it was hoped that it would not only be found, but have the added bonus of the perpetrator's fingerprints on it. Despite an exhaustive search, the watch was not found.
When Fabian questioned the farmer regarded as being the last man to have seen Walton alive, Albert Potter, an anomaly was discovered. Potter said that the person he saw was wearing a shirt with sleeves. But when Walton's body was found, he was dressed in a sleeveless work shirt. Did Potter really see Walton or the killer? Fabian's investigation of the murder was beginning to stall and he turned his attentions to learning more about ancient witchcraft.
Fabian quickly discovered that in the old Julian calendar, February 14th actually fell on February 2nd. Local superstition claims is the ideal day to perform a blood sacrifice. Earth was recovering from winter and a ritual sacrifice was considered a certain way to provide a good harvest. None of the villagers would confirm this to Fabian when asked about it. One man allegedly proclaimed that "Walton was dead and buried, so there was nothing to worry about!"
Missing Money
Fabian did look into Walton's past but found nothing that really shed any light on his murder. One curious fact was the disappearance of Walton's wealth. In 1927 he became a widower and he had a net worth of £297 – quite a considerable sum of money at the time. All this cash was put into a building society account but only a little over £2 was credited to the account after his death. No-one knew where the rest of his money went.
A Dog is Hung
The UK's top detective admitted defeat and prepared to return to London. Before he did though, he took one final trip to the scene of the crime and saw a big black dog sprint past him. Fabian mentioned this to a boy who appeared not long afterward. The boy turned and scurried down the hill in horror. Before the day ended, a similar-sized dog was found hanging from its neck from a tree adjacent to the murder scene.

Later Discovery
In August 1960, the outhouses behind the cottage rented by Walton were being demolished. One workman spotted something glinting and discovered an old tin pocket watch. It was later identified as Walton's. Inside the watch, a piece of colored glass was found. Walton never let this watch out of his possession. Villagers reckoned that the glass found was witch glass – used to absorb or deflect evil thoughts aimed at its owner. Police revealed that during the early days of the investigation, they searched the same place and found nothing there.
Who murdered Charles Walton and why? The file remains open to this day.
Sources
White Dragon
Real Crime Daily
BBC
Sites pulled: 31 August 2016