The stories of war heroes have been inspiring many generations and will continue to do so for years to come. General Custer is one of the most popular war heroes in American history, and his death at Little Bighorn is entrenched in the development of modern America.
He laid down his life in a war against Native American tribes alongside all the soldiers in his company. The Battle of Little Bighorn may have seen his death, but it cemented George Armstrong Custer as an American hero.
Who was this American general, and what had he done? And was it his ego which led to his death?   
General Custer, Civil War Hero 
General Custer emerged from the American Civil War a hero, but he was renowned for his post-war exploits rather than his career during the Civil War. He had gained fame during his time in the Union Army where he was noted for his extreme bravery and audacity on the battlefield in every circumstance.
Custer has been described as a reckless, gallant and aggressive person in many accounts, and tales of his exploits meant to easily emerged as one of the most popular and controversial names in the Civil War. His bravery led to his fame, but did his fame lead to recklessness?
George Armstrong Custer was born in Ohio on December 5, 1839, to Emanuel and Maria Custer. He had four younger siblings and two older half-siblings from his mother's first marriage. Custer spent most of his boyhood in Michigan, where he lived with his half-sister and brother-in-law.
After graduating, he taught in a school for around two years before being admitted to the United States Military Academy. George Custer graduated from the military academy in June 1861, albeit being ranked last in a class of 34 cadets.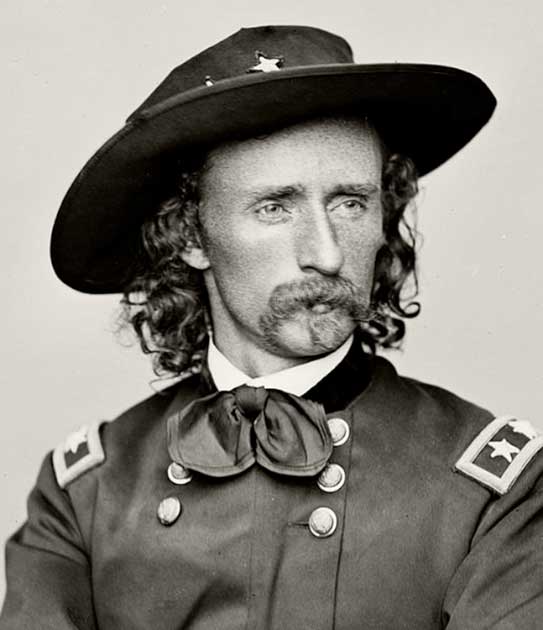 His classmates described Custer as an individual who was never worried about not understanding his class lessons. Custer had developed a reputation for maintaining an attentive and focused façade on the outside while he pondered over multiple disruptive ideas in his mind. 
George Armstrong Custer was also popular as a trickster, and his practical jokes on classmates had pushed him close to expulsion many times. However, Custer had luck on his side as the Civil War broke out around the time of his graduation. Therefore, he was commissioned as a second lieutenant in the 2nd United States Cavalry for the war. This was the beginning of a life of fame and accolades for Custer, who would eventually rise to the rank of general.
Why Did He Choose to Attack at Little Bighorn?
The infamous move of General Custer to attack Little Bighorn has been debated by historians for a long time. Accurate accounts of the day's events present a coherent account of what led to the attack, but offer very little of the possible motives of General Custer behind the attack.
A closer look at Custer's career as a war hero might offer a brief impression of what could have triggered the decision to attack a massive encampment of Native Americans. The facts as we know them are simple: coming across a large encampment of Lakota Sioux and Cheyenne Americans, Custer opted to surprise his enemy with an immediate attack rather than wait for reinforcements.
Dividing his forces into three, he attempted to encircle the camp and attack from multiple directions. However his forces did not attack in a sufficiently coordinated fashion, and were overwhelmed by the Native American forces and defeated in detail.
Custer seemed to lose battlefield awareness and to be too dismissive of his enemy. He did not keep track of what his other divisions were doing during the fighting, and if he did he did not adjust his tactics. Many tactical problems were brushed over, such as the need to ford a river in the face of Sioux snipers.
Custer had never been the brightest in his class at the military academy. He had to serve on staff duty in his initial days with the Army of the Potomac and built a reputation for risk-taking and volunteering for activities. It was his bravery rather than his tactical acumen which won him promotion, but promotion still came swiftly: after two years, Custer was promoted to Brigadier General of Volunteers in command of the Michigan Cavalry Brigade.
By the Civil War's end in 1865, Custer had been made the commander of a whole Cavalry Division with the rank of Major General. Promotion is always swifter in wartime but the reputation of Custer as a fearless commander made him quite popular among his troops. He always distinguished his identity as a leader who commanded his troops from the front. 
Escalating Tensions, Escalating Pressure?
Custer had led a successful campaign against the Southern Cheyenne Native Americans as he ventured west after the war. Despite being suspended from the army with a court-martial in 1867 for abandoning his post, he was called back to duty again as conflicts with the Cheyenne increased and the army needed as many fighting men as they could get. 
Upon his return, George Custer played out a grand plan to win the fight: an expedition in 1874 into the heart of Lakota Sioux territory, the Black Hills in Dakota. General Custer confirmed the discovery of gold in the region, which spurred a gold rush, and conflicts between the white miners and Native Americans sharply increased.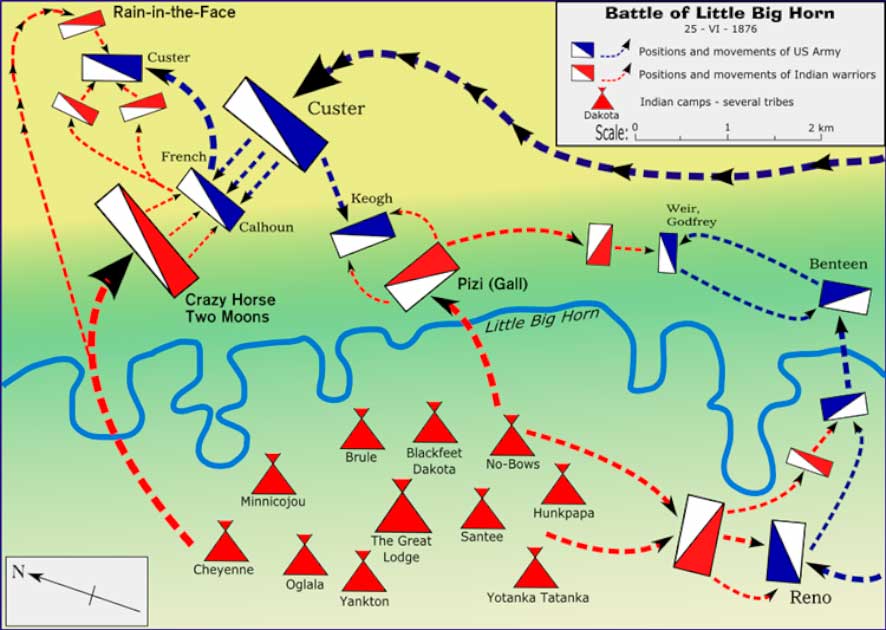 While President Ulysses S. Grant focused on honoring the Treaty of Fort Laramie which recognized the Sioux right to occupy the Black Hills, miners pressurized the president for permission to search for gold. On the other hand, the Black Hills were sacred hunting grounds for native tribes.
The Grant Government, bowing to pressure, ordered all Native Americans to migrate to their allocated reservations or risk being considered hostile. However, when the Sioux and the Cheyenne disregarded the order, Grant decided to mobilize troops to fight then. 
The Grant Government recognized the need for more troops to manage the escalating conflict, and sent further divisions under the command of General John Gibbon, General George Crook and General Alfred Terry to Dakota. While Custer's name was not considered for the force initially, he came into the picture later on with the recommendation of Grant's friend Phillip Sheridan.
This was the nail that would seal Custer's coffin as he marched to death. The US troops in Dakota and Montana started a multi-pronged attack on all Native Americans who had not moved to reservations. 
However, Custer, always impulsive, had arrived in Sioux territory before his peers General Crook and General Terry. Rather than waiting for additional forces, the reckless General Custer commanded a force of around 200 men to attack the camp of the Sioux Chief on the Little Bighorn River. Custer was hopelessly outnumbered, outgunned and underprepared, and was killed alongside his men.
Custer was noted for his flamboyance, dressing in bright colors and taking great care of his attention. It is a historic irony therefore that the Native Americans who triumphed at Little Bighorn probably didn't even realize at first who they had killed. This great fighter ended his life as a common soldier, cut down and stripped for ammunition with his men.  
His battlefield bravery had won him fame and promotion. How, his battlefield bravery had gotten him killed.
Top Image: General Custer, distinctive in his white hat, in the thick of the fighting at Little Bighorn. Source: Library of Congress / Public Domain.
By Bipin Dimri