The President of the United States is one of the most important and powerful people in the world. Such a person attracts admiration and respect, but can also draw hatred and some even say that the office has been cursed.
The curse of Tippecanoe or Tecumseh's Curse has been linked to the death of no fewer than seven of the Presidents of the United States. All of the presidents were elected in years ending in zero and all of them died in office.
The legend goes that the Shawnee chief and warrior Tecumseh created the curse due to a dispute with William Henry Harrison, future President of the United States. Was it just a coincidence or was there something more sinister at work? 
The Origins of the Curse
Before William Henry Harrison was president, he was the governor of Indiana. Whilst in that role he opened up many negotiations with indigenous peoples to gain more land for the United States administration.
He hoped that this land would allow for future settlement and increase the population of his territory. The increase in population would give him a case for statehood for Indiana. This would not only be good for the US citizens living there but also personally for Harrison and his associates. 
In 1804, William Henry Harrison was able to conclude the Treaty of St. Louis with chiefs of the local Native American population such as Quashquame, which required the tribes of Sauk and Meskwaki to cede much of their lands in Western Illinois. Unsurprisingly, many resented this treaty, and tensions between the two sides were fraught throughout the next few years.
However Harrison continued with his divisive plan unchecked for more than 6 years. Finally, he faced serious resistance from the Native American population in 1810. 
Tecumseh and the Battle of Tippecanoe
By 1810 the Native Americans were sick of the greed and aggression of Harrison, and two Shawnee brother leaders named Tecumseh and Tenskwatawa gathered forces to launch a resistance. Tenskwatawa, which means the prophet, promised his troops that they would come under no harm as the "Great Spirit" would protect them. 
One way in which they sought to stir up problems was to encourage a trade war. They said to their troops only to pay half of what they owed to the "white man" for goods such as muskets, whiskey, and clothing.
It did not take long for Harrison to hear of this. He had established a spy network throughout the tribes and upon hearing of this resistance sought to get the president to intervene. James Madison, the president at the time, was less keen to get involved.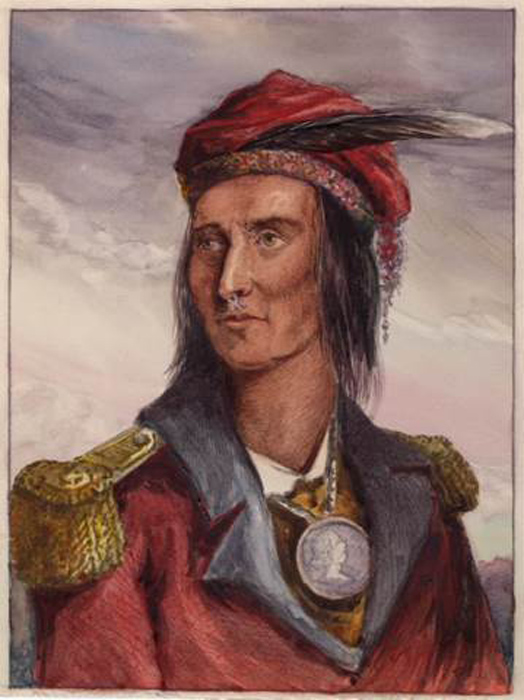 Harrison was left with nowhere else to turn and as such chose to negotiate. However, the letters that he sent to the brothers were quite provocative. He boasted of the number in his army and that he had voluntary militiamen that were "like the leaves of forests or the grains of sand on the Wabash". 
Tecumseh responded by leading 400 men down the Wabash River to meet Harrison. They were in the attire for war, painted to inspire fear. It worked as when they approached Vincennes, where Harrison was located, the warriors frightened the US troops.
Tecumseh was escorted to meet Harrison so that they could negotiate. When he arrived, he berated Harrison and told him that all treaties regarding land had to be agreed upon by all tribes and as such all treaties conducted by the US government were void. 
Harrison responded in kind by saying that if tribes wanted to negotiate separately, they could, and if the Great Spirit wanted the Indians to form a nation, then they would all speak the same language. Tecumseh was not amused by this and began to create a stir with his impassioned response. Calm only came when the US troops raised their weapons and forced the Native Americans to stand down. 
Tecumseh sought help from the British and left his cohort under the command of Tenskwatawa. Harrison utilized this opportunity to attack. However, before he could, the tribe's forces ambushed the US troops.
After a hard-fought battle at Tippecanoe, the US came out on top, and Harrison was hailed as a US hero. Tenskwatawa fled to Canada with his promise of protection destroyed and his forces scattered. 
The Curse
Tecumseh was not put off by the loss at Tippecanoe and continued resistance for a couple of years. It is suspected that he was killed at the Battle of the Thames in 1813. When Tenskwatawa heard this news, he cursed the United States Government.
The curse targeted presidents who were elected in years ending in 0, and under the curse all such presidents would die in office. So far the curse has claimed the lives of seven presidents, the first of which was William Henry Harrison who was elected in 1840 and died only one month later. 


Abraham Lincoln was elected in 1860 and was assassinated in 1865 whilst James Garfield was elected in 1880. He only lasted four months before dying after an assassination attempt. William Mckinley won his second term in 1900 and was assassinated the following year.
Warren Harding was elected in 1920 but died of a stroke in 1923. Even Roosevelt who won his third term in 1940 suffered a brain hemorrhage in 1945 causing his death. The most famous example is John F Kennedy who was elected in 1960 and was murdered in 1963 by Lee Harvey Oswald. 
Is It True?
Whilst it can be easy to pick out examples of presidents who were elected on years with a 0 and who died, it can just be a coincidence. Ronald Reagan was elected in 1980 and despite being shot in 1981 survived as did George Bush who was elected in 2000 and survived two assassination attempts.
It is yet to be seen if Joe Biden, elected in 2020, will survive the curse but all evidence seems to suggest that the curse is merely a coincidence or was broken by Reagan. 
It is not surprising to hear of presidents being assassinated or at least attempts being made. It is thus hard to conclude that a legend of a curse is killing presidents depending on their inauguration years. Whilst it may be an exciting story, life tends not to be so simple or superstitious. 
Top Image: The battle of Tippecanoe, where the losing Native Americans cursed William Henry Harrison. Source: Library of Congress / Public Domain; Albert Sands Southworth / Public Domain.
By Kurt Readman