Death of Elvis Presley
At 2.30 PM on 16 August 1977, an urban legend began. It started immediately after the discovery of a real-life legend motionless on the floor of his luxurious bathroom at Graceland. An hour later, the King of Rock and Roll was pronounced dead. But conspiracy theorists think otherwise. Is Elvis Presley alive? Why do some people believe Elvis never left the building after all.
An Unbearable News Fans Refused to Accept
When the shocking news first broke, many fans refused to believe it. Some went as far as to insist that they had seen him beyond the given time of the announcement. The majority of these sightings were considered to be honest mistakes or even wishful thinking on the part of the witness(es).
At the time of Elvis's recorded death, he was just 42 and half of his life firmly spent in the limelight. The official cause of death was given as heart failure, but there are some that believe that his abuse of prescription drugs ended his life.
A Misspelled Gravestone
On the day of the funeral, hundreds of thousands thronged the streets in an effort to catch a glimpse of the cortege. Among these people were fans, celebrities, and the media. The funeral was one of the first red flags for many fans and believers of the conspiracy. The huge gravestone prominent at Graceland actually has a typo upon it. Presley's middle name was Aron but on the gravestone, it is embossed as Aaron. Opinion on this is divided even to this day. On the one hand, are those that swear Aaron is the correct interpretation of his middle name. On the other hand are those who believe that this is a deliberate message or signal.
Sightings of Elvis Presley Alive Since The Reported Death
Buoyed by this possibility, over the last 30 or 40 years, numerous sightings of Elvis Presley have been reported from all corners of the world. Among the more famous are the multitude of reported sightings in Kalamazoo, Michigan.
Mike Joseph visited Graceland and took a snapshot of one of the windows of the Pool House behind the Meditation Gardens in January 1978. Clearly seen inside was a middle-aged man resting on a chair. This man was dark-haired and looked suspiciously like the former resident. This is five months following the King's reported death.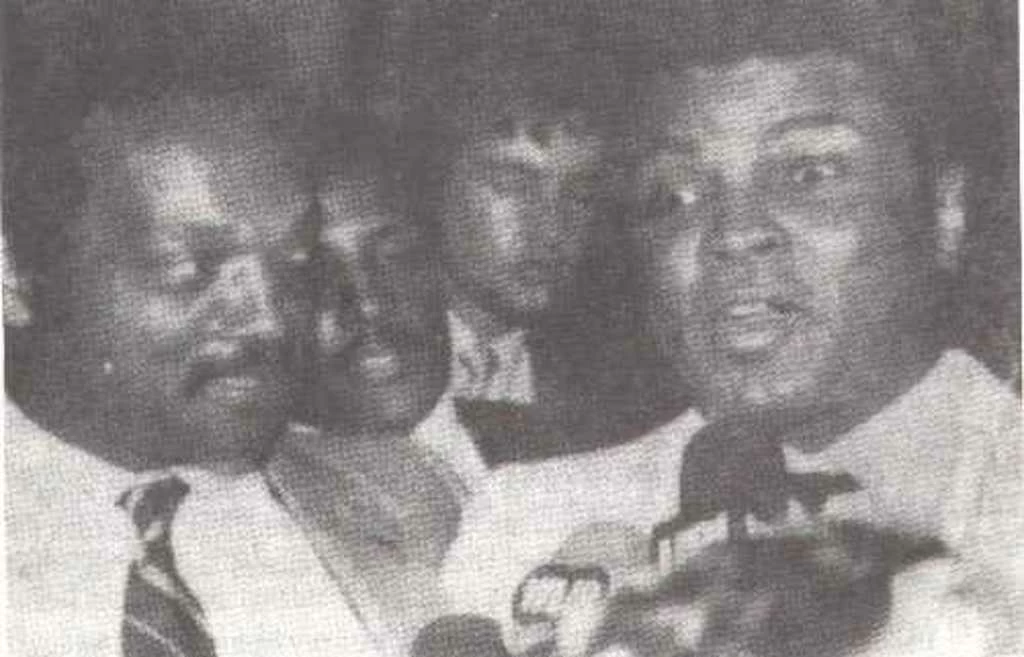 And here is a 1984 photograph of Jesse Jackson and former Heavyweight World Boxing Champion Muhammad Ali. Exactly who is that man in the background?
A Wax Sculpture in the Coffin
When Elvis lay in state prior to his funeral, some who saw him stated on record that many of his features were wrong. Noted irregularities included the eyebrows, chin, and fingers. Others who looked at the image of Elvis the coffin insist that the occupant of the casket wasn't human at all. This is in reference to the famous National Enquirer image that, allegedly, cost the magazine $18000 paid to one of Elvis's cousins.
They surmise that it was a wax dummy laying in the coffin.  Additionally, an air-conditioning unit was allegedly installed inside the coffin to keep the wax cool in the Memphis heat. The entire coffin weighed close to a ton… literally.
Colonel Tom Parker's Statement
Who could also forget what Colonel Tom Parker said in a press conference shortly after the announcement of Elvis's death?
[blockquote align="none" author="Colonel Tom Parker"]Elvis didn't die. The body did. We're keeping up the good spirits. We're keeping Elvis alive. I talked to him this morning and he told me to carry on.[/blockquote]
These comments can be interpreted a number of ways. Did he mean this literally?
New Elvis Presley Album?
As late as 2001, a new album of Elvis material went on sale. Released on an independent label, the album is called Kingtinued and features a host of cover songs such as Tears in Heaven (Eric Clapton), Livin' La Vida Loca (Ricky Martin), Crazy Little Thing Called Love (Queen), and the Princess Diana version of Candle in the Wind (Elton John).
As music fans know, many of these tracks came about long after 1977. The producer of the album denied claims that Elvis had somehow returned to the recording studio. He stated the voice is actually that of Elvis impersonator Doug Church.
Lack of Tour Preparation and Lay Offs
Elvis should have been readying for a new tour. But for some reason did not request items such as costumes that are considered to be standard procedure for an upcoming tour. According to some reports, Elvis fired several old friends from their roles within his entourage. Rumor has it that these individuals were working on a book based on their time within Elvis's inner circle.
AKA: John Burrows
On August 17, 1977, at the Memphis Airport, a man calling himself John Burrows bought and used a one-way ticket to Buenos Aires, Argentina. Not only did he look and sound like Elvis Presley, but Burrows is a pseudonym of Elvis Presley for booking hotel rooms.
Whether or not Elvis grew tired of his fame and decided to assassinate his public self, there can be little doubt that the aura of his legend has more than took over. His music and films still live on and are as popular now as they have always been. Elvis is an icon who helped propel a cultural revolution that ushered in the era of rock and roll. He came along when history needed him most and burned brightly for over two decades.
It's pleasant to think Elvis Presley is alive and sunning on a tropical beach somewhere. Perhaps he still uses his trademark "Thank you! Thank you very much!."
Sites pulled 2 January 2016