Most Famous Alleged Axe Murderer
Lizzie Borden is one of the most infamous suspected murderers in United States history. She is so infamous in fact that a gruesome rhyming song about her murdering her parents with whacks from an axe is still sung by the local children today. The fact is that she was acquitted of the Fall River, Massachusetts murders and is therefore innocent in the eyes of the law. However, no one else was ever charged with the murders of Mr. and Mrs. Borden and some of the evidence indicates that it could have been Lizzie, after all.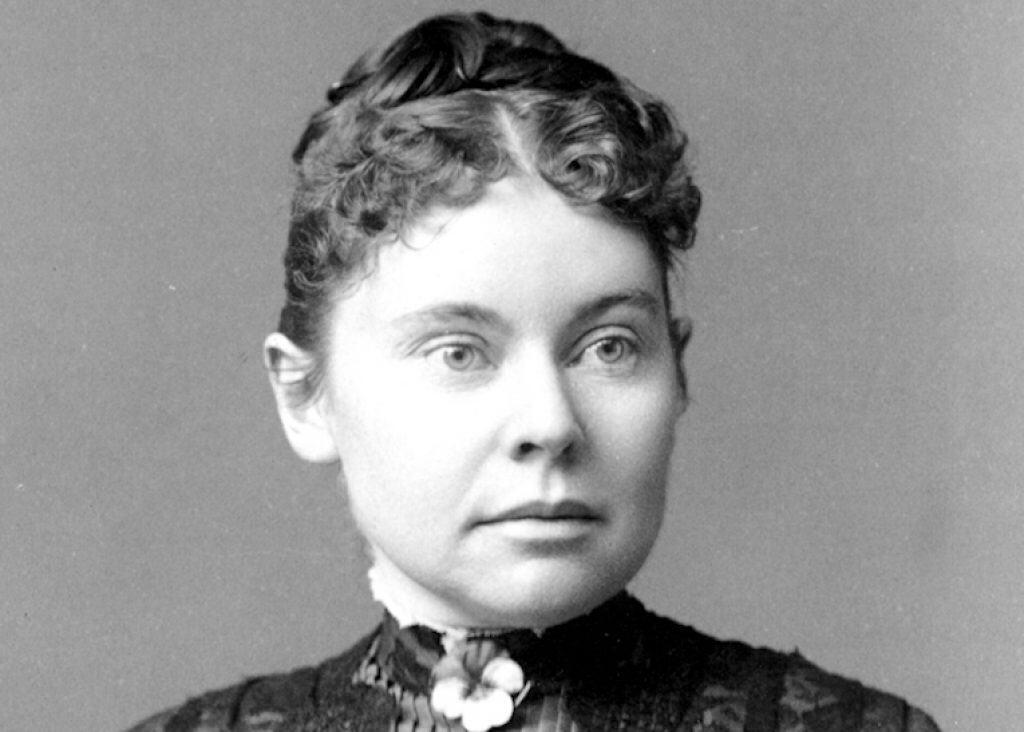 From that moment shortly before noon on 4 August 1892, a debate has raged over who hated Andrew and Abby Borden sufficiently to take up an axe and use it against them in a devastating example of overkill.
A Family Suspicious of Her Activities
Because of a break-in not long before the murders in question, there was much to-do about the locking of doors in the Borden household. They locked both the outside doors and the inside doors whether they were home or not. More rumors suggested that this was because Lizzie was suspected of being the thief. Whether the rumors were true or not, they painted Lizzie in a bad light. Hannah Gifford also claimed that Lizzie called her stepmother mean. So, there seems to be a motive and a suspicion of bad character on Lizzie's part. Another suggested motive is that Mr. Borden killed a group of pigeons that Lizzie had been tending in the barn loft.
You May Also Like: H.H. Holmes: The Story Behind Chicago's Brutal Murderer
A Previous Attempt at Murder?
During the week of the Borden murders, everyone in the house became ill. Abby told her doctor that she suspected she had been poisoned. Lizzie allegedly told a friend that she thought her father had enemies, that she had seen suspicious people near the house, and that she feared something "would happen." Abby's doctor said the family had been stricken with food poisoning.
In the days leading up to the murders, it is claimed that Lizzie was in the market to purchase prussic acid, a poisonous substance used as a cleaning agent. According to the local chemist, Lizzie was going to use it for cleaning. He did not sell it to her.
Several days after, Lizzie's friend Alice Russell spotted her burning old clothes that Lizzie said were stained with paint. Russell did mention that this was a suspicious thing for her to be doing since bloodstains would be prevalent on clothing worn during the brutal assaults.
Dispute Over Property
Lizzie Borden was two-years-old when her mother died. Roughly three years later, her father — Andrew Jackson Borden — married Abby Durfy Borden. Rumor has it that, when she was in her twenties, Lizzie had a falling out with her stepmother that was never resolved. There were also rumors that she was angry with her father regarding a property he was bestowing on Abby's family that Lizzie thought should rightfully belong to her sister Emma and herself.
You May Also Like: Unsolved Villisca Axe Murders of 1912
Later, Lizzie would deny that she was on bad terms with her parents, as would the family maid and Emma. It has been speculated that after Abby's relatives received a new home courtesy of Mr. Borden, both his daughters demanded the same. Both were granted a rental property that was sold back to their father for cash.
Not long before his life ended, John Vinnicum Morse, a brother-in-law from his first marriage, came to visit Andrew Borden to discuss what some believe to be another property transfer. This is generally believed to be the motivation regarding what happened the following morning.
Day of the Alleged Lizzie Borden Murders
On the morning of August 4, 1892, Lizzie came downstairs in the Borden home around 9 a.m., according to her testimony and the testimony of their maid — Bridget Sullivan. Shortly thereafter, Mr. Borden left, Bridget vomited outside of the house and then the three women in the house, Lizzie, Bridget, and Mrs. Borden began going about their chores. Mr. Borden arrived home sometime around 11 a.m. and Bridget let him in the house, as the door is locked and he forgot his key. She later claims she heard Lizzie laugh from upstairs at that time. Lizzie claims that she was downstairs in the kitchen when her father came home.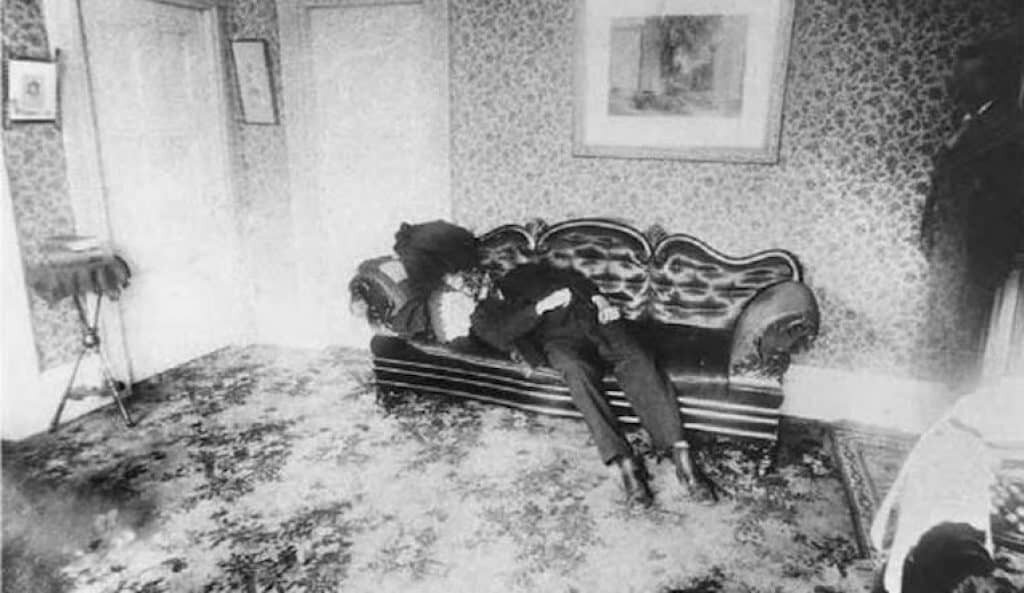 Shortly after Mr. Borden came home, Lizzie shouted to Bridget, who was trying to take a nap in her upstairs room. She told her that her father was murdered. He had, in fact, been struck with a hatchet 11 times on a sitting room couch. Bridget was sent to grab a doctor. As the police and others begin to arrive, Bridget was sent upstairs to look for Mrs. Borden, whom Lizzie claimed had said she was going out but was unsure whether she had or not. Mrs. Borden was found beneath the bed in the spare room upstairs. She was struck with a hatchet 19 times.
The Investigation
Forensically there was nothing to directly link Lizzie or Emma to the murders. The apparent murder weapon, a hatchet and not an axe, was discovered in the cellar and was free of any incriminating evidence. The hatchet's handle was broken off, but there was nothing else linking it to the murders. The investigating officers believed this was the weapon used simply because it was inside the house. Some of Lizzie's activities either side of the day of the deaths is cause enough to suspect her of perpetrating the crimes.
There was no bloody clothing in the house, nor did Bridget note that Lizzie wore bloody clothing. Nonetheless, there were no other suspects. Lizzie was indicted on November 31, 1892, and the case goes to trial in June of the following year.
Prime Suspect
The accusation that Lizzie Borden took an axe to commit this heinous act was quite an easy conclusion to draw upon. Like her elder sister, Emma, social gossip of the time identified them as oddities. Besides what has already been discussed, both were into their 30s and never married. Another thing the sisters had in common was their relationship with their father. Neither really got along with him and tensions between the trio had grown all summer long.
Her Story Didn't Add Up
Lizzie proved to be less than reliable when questioned by the investigating police officers. Answers to their questions proved inconsistent at best. Borden senior was famous for being frugal with his substantial wealth. The home he shared with his immediate family was modest in comparison to someone else of similar standing. Detectives had a difficult time believing that Lizzie Borden failed to witness anything during the murder. Even after she freely admitted being inside the house at the time.
You May Also Like: Papin Sisters: The Shocking Housemaids' Crime Shook France
Lizzie was the only person known to be within the house during the first murder of Abby. Lizzie said she was inside the barn behind the house looking for fishing sinkers while eating pears. Her father returned from his errands around 11 am and literally walked into history. If another culprit was responsible, then that culprit would have either had to hang around the house for an hour or two, or leave and return shortly after Borden himself returned. All without being seen by anyone.
When Lizzie's alibi was checked, the hot August climate would have made it highly unlikely that anybody would willingly remain in such sweltering conditions for at least 20 minutes. In addition to that conclusion, no footprints could be found that corroborated her statement.
Did Lizzie Have a Premonition?
Another report that went against Miss Borden came the day before the murders. As well as the episode with prussic acid, Lizzie confided more with her friend Alice about a possible threat against her father that she simply could not shake off. The agitated Lizzie looked extremely concerned that something was about to happen to him, citing his enemies. Either Lizzie Borden was the greatest seer since Nostradamus or she had personal knowledge of tomorrow.
The Trial
The trial of Lizzie Borden lasted 15 days. When the trial began in June 1893, the prim Sunday School teacher gained sympathy for her own cause when reacting to the more sensational moments of her trial. When the skulls of her parents were produced. Lizzie fainted. People were also starting to wonder how a petite woman could have brazenly done such a thing. At no time during the two-week trial did Lizzie take the stand. The collected evidence and statements, such as the prussic acid, and Borden's own conflicting statements were all ruled as inadmissible.
Deliberations of the jury took 90 minutes and they found her not guilty. Most of the evidence against her was hearsay and a lack of other evidence pointing to someone else being in the house.
Part of this decision was based on a medical prescription of morphine given to her as a means to calm her nerves. Without these accounts being entered into evidence, there was virtually nothing else to link Lizzie to the deaths of her family.  and a Not Guilty verdict announced. Lizzie walked out of court a free woman, but the stigma surrounding the murders never went away.
Modern suspicions have pointed to the maid and the sister Emma. However, Emma was out of town and it would seem that Bridget was simply ruled out. Lizzie claimed she was in the barn when the murder of her father took place, so, if she is telling the truth, someone else could have entered the house while she was out, but it would seem Mrs. Borden was murdered while she was still in the house. Lizzie Borden will forever be remembered as the girl who killed her parents, simply because there is no way to prove she did not.
What Happened to Lizzie Borden After the Trial
After a change of name to Lizbeth, the two sisters bought a mansion in Fall Rivers more exclusive neighborhood. They lived out the rest of her life in relative obscurity. On June 1, 1927, Lizzie Borden passed away at the age of 66.

Lizzie Borden Took An Axe…Or Didn't She?
For the last 120 years or so, a lot of people have all had their say or drawn their own conclusions. Books and documentaries have covered the story. Even psychic investigations have taken place all to help answer that one burning question: did Lizzie Borden really get away with murder?
In 2014, the American Lifetime channel also tackled that question. Christina Ricci took on the lead role in this television movie and the subsequent 8 part mini-series early in 2015. It centered around the life of both sisters in the aftermath of the trial.
In the eyes of the law, Lizzie Borden was not responsible for the deaths of Andrew and Abby Borden. But the overwhelming belief is that she was. The murder remains officially unsolved. No further arrests or charges have been made.
Additional contribution by Les Hewitt.