Born in Pittsburgh, Pennsylvania in 1937, Grady Stiles Jr., also known as Lobster Boy, led an interesting life and suffered a death that was just as intriguing. Grady was born with a rare medical condition known to run in his family called ectrodactyly. More commonly known as Lobster Claw Syndrome, ectrodactyly is a condition in which the middle fingers are missing and the fingers on either side of where they should be are fused together. The result is that the hands look like lobster claws. The feet are also sometimes affected, as was the case with Grady. Grady's father also suffered from the condition and toured the country in sideshows as the Lobster Man. He wasted no time introducing Grady to show life, billing him as the Lobster Boy and starting him in the freak show business at the tender age of 7.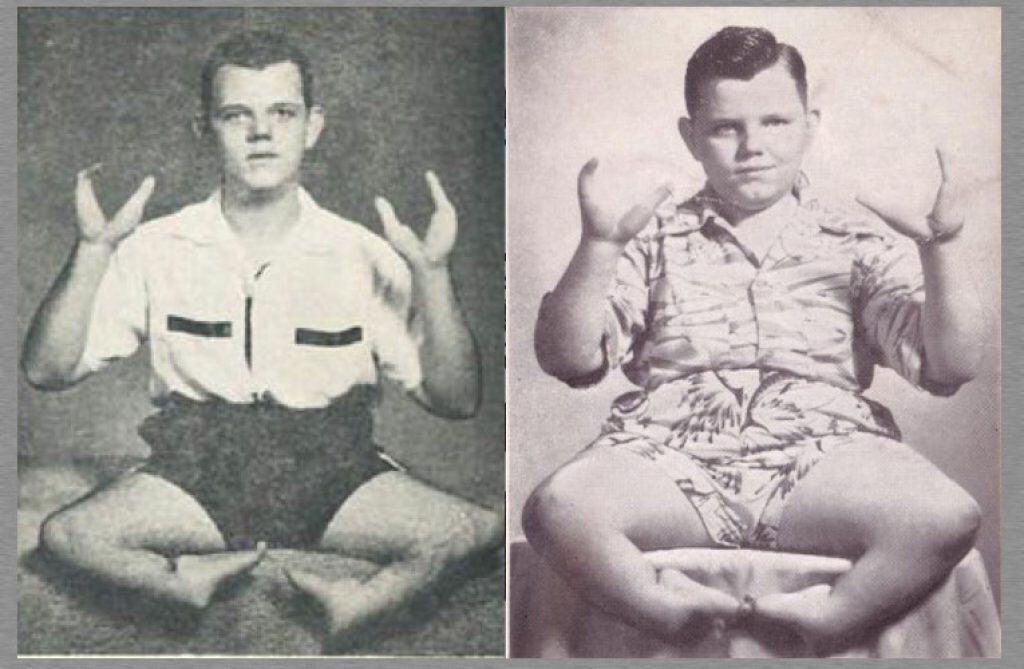 The Life of Grady Stiles
Grady Stiles was an instant hit on the carnival scene and grew up to be quite strong. Though he could not walk, he pushed himself around in a wheelchair and learned to crawl on his limbs, which led to him developing incredible upper body strength.
Related: Frank Lentini: Three Legged Man and Circus Superstar
While working the carnival circuit, Lobster Boy met a young woman named Mary Teresa. Though she did not suffer from any mutations, she ran away to join the carnival at 19 and fell in love with Grady. The two married and had several children together, two of which inherited Gray's ectrodactyly. For awhile they toured as the Lobster Family, but life turned ugly when Grady began drinking. Reputed to be a mean drunk, Lobster Boy reportedly beat his wife and children for years until one night in 1973. On that night, Grady fought with Mary, threw her to the ground and ripped her IUD out of her body with his bare hands. She promptly divorced him. Grady Stiles eventually remarried, though his second wife, too, divorced him.
Related: Adam Rainer: The Giant and the Dwarf
Though still a mean drunk, Grady Stiles lived a relatively quiet life until 1978. At that point, he thrust himself into the spotlight again. When his eldest daughter fell in love with a man Grady did not approve of, he killed her would-be groom with a shotgun the day before the wedding.
Lobster Boy Goes Free
There was no doubt about Grady's guilt as he freely confessed to the crime, but he never served time for the crime. Though he was found guilty in 1979, Grady's life of alcoholism and cigarette smoking had taken a toll. He had cirrhosis of the liver and emphysema in addition to his ectrodactyly. Therefore, it was determined he would not receive adequate medical care in prison. Although he was convicted of murder, Grady was sentenced to only 15 years probation.
Escaping prison made Lobster Boy cocky, and he reportedly told others he could kill them and get away with it since he already had. The verdict had a large impact on Grady's first wife Mary, who inexplicably remarried him in 1989. His ill-tempered drinking coupled with a feeling of invincibility from getting away with murder made Grady even more abusive than he was before.
Killing Grady
In 1992, Mary decided she had enough of Grady's abuse. She paid her friend and neighbor Chris Wyant $1,500 to kill her husband. Wyant committed the murder, shooting Grady in the head while he watched television in his Florida home. Like Grady Stiles, Wyant went to court for the murder and was found guilty. Unlike Grady Stiles, Wyant was sentenced to 27 yeas in prison for the murder. Mary also stood trial and received a sentence of 12 years in prison.
And the Lobster Boy? In death, his reviews have been mixed. Some in the carnival community confirm that he was an ill-tempered man and go so far as to compare him to Satan. Others revere him as a smart businessman who went from appearing in sideshows to owning them. These people contend that Mary should simply have walked away. Perhaps the final verdict lies with his children. Several of them admit that shedding a tear for their father
Sources:
Huffington Post
LA Times
The Human Marvels