Giles Clift was blind. The 53-year-old lived in lodgings that he shared with his spouse at 1 Little Street, St James, Bristol. The debate regarding how long Clift was married varies between 4 and 12 years, depending on what account is accurate.
Giles Clift's Unhappy Marriage
However long his marriage was, it was a less than successful one, despite the birth of their 3-year-old daughter. The couple was routinely and invariably at one another's throats. All of this bickering eventually led to a local Magistrate getting involved. Several sessions with the Magistrate led them to separate. Clift retained his lodgings while his estranged partner went to live with Clift's Great Nephew, Thomas Farrant.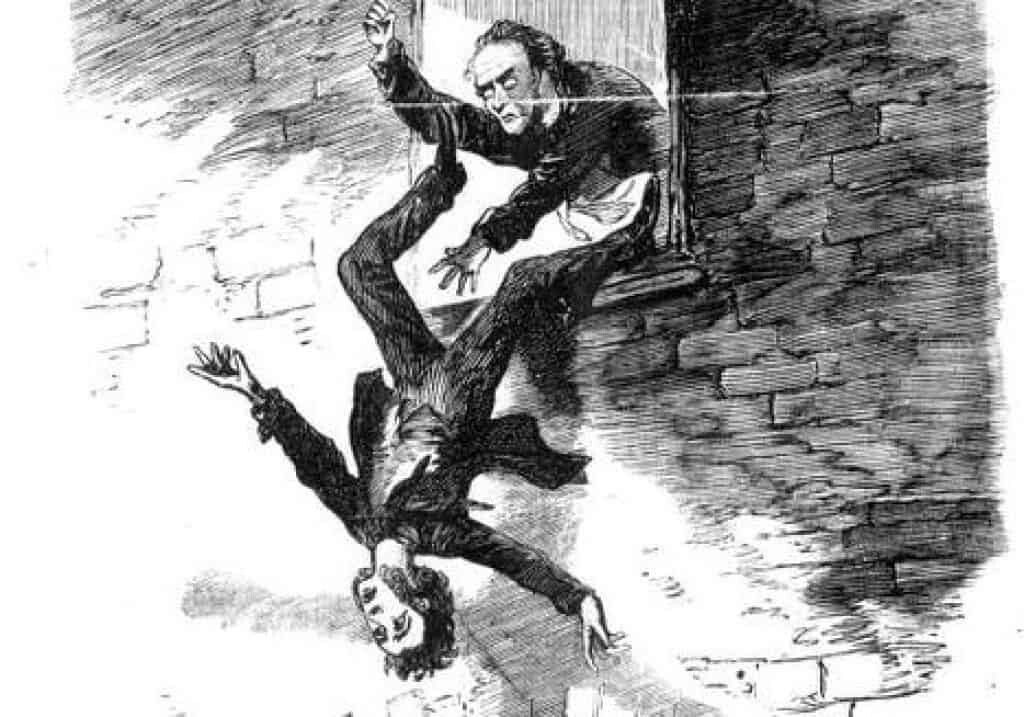 She Moves in With Thomas Farrant
Farrant earned his living selling fruit and at the time was in the prime of his life at 25 years of age. Farrant also lived in lodgings in Bristol, but his address was the Colston Arms, Hotwells Road.
According to local gossip, Clift was less than thrilled at his ex's new address and was even less than impressed with her apparent kleptomania. He was of the opinion that she had improperly acquired some of his personal possessions and on Boxing Day 1867, Clift persuaded one of his current lodgers – a man known only as Mr. Lyons – to escort him to the home of Farrant.
Commotion in the Room
It was about 6 pm when the pair arrived. While Lyons remained downstairs, Clift went upstairs to see his former wife. Only a few minutes after Clift went upstairs, Lyons heard a loud commotion coming from the room directly above him. Assuming that the shouting and hollering were just the latest in a long line of arguments the couple had, Lyons made his way up.
You May Also Like: Who Was Sir Thomas Malory?
When he got access to the room itself, he was horrified by what he saw. Clift had somehow removed one of the legs of the bedstead that was in the room and was using it to assault the unfortunate woman. Lyons didn't think twice about wading in to save the poor woman. The doting mother was more concerned, naturally, about her young child and repeatedly tried to head back upstairs.
Thomas Farrant Falls Out The Window
While all of this was taking place inside the lodging house, a couple of passers-by outside saw someone fall from the window of Farrant's room and land head first on the ledge of the basement before tumbling onto the pavement. The victim was bleeding from wounds to his nose, mouth, and ears, taking a minute or two to congeal around his body. It was Farrant himself. Nobody could tell whether or not the fall was solely responsible for his death. But it was clear that Farrant would not have survived for very long afterward anyway.
Cause of Death Revealed
A boy was sent to the local police station with news of the deceased. Inspector Attwood, on duty at the time, sent a pair of constables to the scene. When the deceased was brought back to the station via a stretcher, the Police Surgeon was called for. Dr. Bernard examined Farrant and determined the cause of death to be a dislocated neck.
The investigation switched to Farrant's room. PC 179 (Fletcher) took a closer look at the room. There were obvious signs of a struggle and with only one real witness, it appeared to be an open and shut case. Not wishing to take things at face value, Attwood insisted that Clift be brought in for questioning.
A Peculiar Stumble?
During the first sessions, however, very little information came to light. According to their eye witness, Farrant did nothing to prevent the domestic abuse between spouses and even attempted to leave them alone. It was this motion that ended up with Farrant, by Clift's own admission, stumbling with a wooden chair and somehow tumbling through a two-foot square window that most would have problems circumnavigating if they gave it their all.
Questions Arise
That was just one problem that greeted the investigations team. Another was equally as bizarre. How could it be possible for a diminutive and spindly man such as Clift to overcome and subdue a strapping young man less than half of his age and twice his size in a matter of seconds? Then tossing him through a tiny window barely adequate for the job? And more to the point, why? Clift's quarrel was clearly with his former partner, who was out of the room at the time.
Mrs. Clift was also questioned about the events leading up to the death of her room-mate. In her version, Thomas Farrant took a much more active or prominent part in proceedings. When Farrant tried to step in, Clift's sense of outrage intensified. He was quoted as insisting that 'I will break your neck out of the window'. If Lyons was to be believed then Clift clearly had anger management issues and perhaps, when riled, was more than capable of holding his own. Mrs. Clift's involvement did little to clarify precisely what took place. Being the only other real witness and not in the good books of the other main witness, it seemed to be a classic case of 'he said, she said'.
Given the diversity of the two accounts and the apparent ulterior motives of both sides – he was angry and prone to lash out; while she perhaps saw this as a chance to finally rid herself of a brutal thug, even if he was blind and aging.
Inquest Begins
When the inquest opened on Saturday, 28th December, the key consideration was to examine the window that Farrant had fallen out of. While the frame was two feet square, the actual window itself only measured 17 inches across. Such a tiny opening made any accident almost impossible.
The fall was a deliberate act on the part of someone. Perhaps Clift was correct after all; Farrant may have eased himself through the tiny window, hoping to lower himself onto a lower ledge but slipping and falling to his death in the process. Outside the window, a heel mark was reported to have been discovered. As well as that mark, others were reportedly found which may or may not have been fingerprinted. When Clift was examined by a medical expert – Clifton Union medical officer, Dr. Steele – no marks were found on his person, which would indicate that he was not involved in a physical altercation.
Mystery is Unsolved
What did happen to Thomas Farrant the day after Christmas 1867? Did he jump or was he pushed? Only three people knew the answer to that. One was the victim, another was the widow… the third was blind.
Source
On Amazon: Unsolved Victorian Murders