It is the fate of much of human history to be, quite literally, buried and forgotten. Below successive layers of earth, much of our shared journey and many of our achievements lie dormant.
The practice of archaeology and excavations has helped us unearth our earliest roots, and many of the world's rare treasures and archaeological ruins have a story to tell. In some cases, the discoveries help bridge a gap in our understanding, to provide an answer which allows us to understand how things came to be, and why things are as they are now.
So it is with the ruins of Ban Chiang, one of the most treasured archaeological ruins in South East Asia. The mounds of Ban Chiang are closely linked with the early development of farming and animal rearing in the area.
Is this the location that taught South East Asia how to farm? 
The Location of Ban Chiang 
The Ban Chiang Archaeological Site is an earth mound situated in northeastern Thailand. Present in the Udon Thani province of Thailand, the archaeological site is also located in the watershed region of the Mekong river, which suggests it must have been well irrigated during prehistoric times.
The oval-shaped mound may look uninteresting to people who are not involved in the history of humanity. However, the oval mound is proof of some of the earliest settlements of prehistoric humans, who developed farming at this place.

The mound has been shaped like this not due to specific design, but as the result of continuous human habitation. The site of Ban Chiang was discovered in 1966, and since then, native and international scholars have studied the remains and soil of Ban Chiang to understand what happened here. 
It is not the shape of the site which is important, however. Prehistoric ceramic pottery, metal tools, jewelry pieces and evidence of farming suggest a flourishing civilization once existed here. Furthermore, the finds at Ban Chiang predate any other evidence of organized farming in the entire region. These people did it first, and they did it well. 
The Discovery 
Although it is recorded that Stephen Young was the first person to officially discover the site of Ban Chiang, in truth, the locals of the district had known about the artefacts and remains of Ban Chiang a lot earlier. While the site was discovered officially in 1966, the locals had known of its existence for at least ten years previously. 
Ban Chiang was already a nationally recognized archaeological site as the Fine Arts Department of  Thailand had listed it as an important archaeological site in 1960. While Stephen Young was not most definitely the first person to come across the site of Ban Chiang, his position as a researcher at Harvard College and his political connections certainly made further excavations at the site possible.
These excavations brought the remains to the international limelight. Stephen Young was in the village on a walk while conducting field research on the topic of politics of northern Thai villages when he accidentally discovered the site.
It is said he had tripped on a tree root and fell on top of a partially buried ceramic pot. He excavated the single pot and took it to his host Princess Chumbote. The Princess, intrigued by what had been found, arranged for the site to be prioritized for archaeological research.
A year later, extensive excavations were carried out at the site, and Ban Chiang was found to contain a treasure trove of human history for South East Asia. 
Ban Chiang's Timeline
Opinions on the origin of Ban Chiang and agreement as to when it was a living settlement have fluctuated over the years. At first, it was thought Ban Chiang dated back to 5,000 BC. However later it was said that the site, while still early, was from the Bronze Age.
This would still make it the earliest Bronze Age agricultural site in Thailand, but later revisions to its dating suggest it contains a Bronze Age settlement on top of earlier remains. The currently accepted timeline of Ban Chiang is that it existed from 2,000 BC to 300 AD.
Although the site of Ban Chiang is not the only prehistoric site in the world to exhibit evidence of agriculture, it has an important stake in the history of South East Asia. The discoveries of Ban Chiang made it clear that the earliest civilizations in South East Asia were advanced enough to carry out activities like farming, metallurgy and pottery.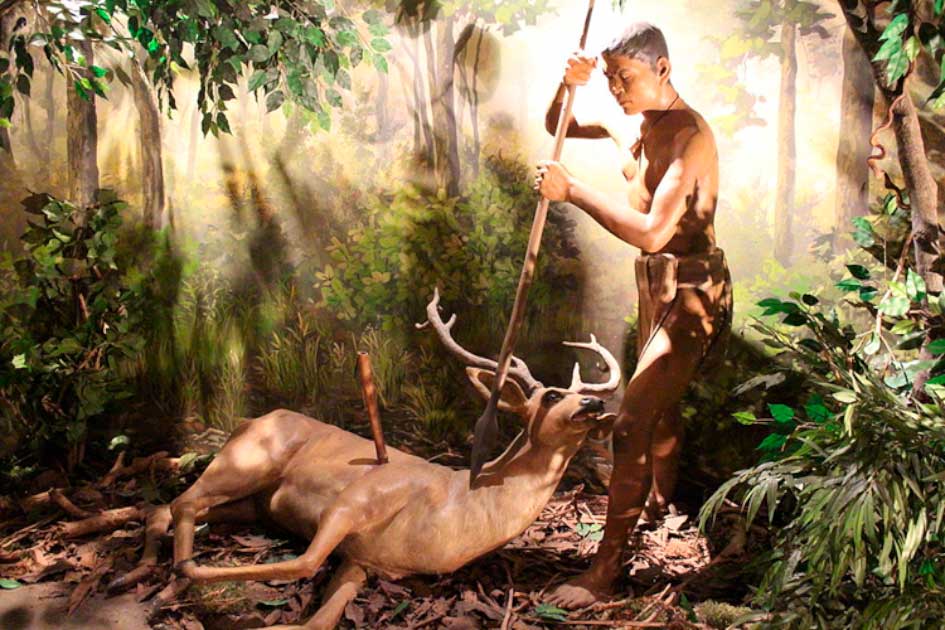 It is believed that Ban Chiang, momentously, is the site where wet rice cultivation was first developed in South East Asia. While other areas might also be sites of early cultivation, none have such definite evidence of cultivation and culture as Ban Chiang.
Evidence suggests that Ban Chiang's settlers were far more advanced than anything else in the region at the time, and were experts at metal crafting, domesticating farm animals, and breeding livestock. Use of ceramic pottery and jewelry crafting shows that the settlers lived in this area for a long time and carried on their lives in peace. 
Furthermore, it appears that the early agrarian society of Ban Chiang developed over its long period of occupation into more organized and successful societies in successive periods. The cultural and occupational practices of Ban Chiang must have been carried forward and spread throughout the land, and developed into a more advanced culture.
The oval mound also has evidence of human burials, which show that the dead were buried with ceramic pottery and bronze jewelry pieces which are characteristics of an advanced society. Historians and archaeologists are amazed as the concentration and diversity of artefacts and remains in the area, accumulated over thousands of years of peaceful farming. 
Where these farmers came from is not clear. However, given their sophistication in pottery and metalworking and the techniques they used in crop management, it seems they were far ahead of their time. Their lessons in cultivation were taught to the rest of South East Asia, and these lessons have never been forgotten.
By studying the remains of Ban Chiang, Thai and international scholars are able to trace a picture of the progress of civilization in South East Asia. These people demonstrated all the advances of civilizations further west or further north, and they achieved this in peace without resorting to violence.
Only 1% of the Ban Chiang site has been excavated to date. When the site is fully excavated, who knows what else might have been found. 
Top Image: Vast collections of the distinctive and sophisticated Ban Chiang pottery have been found at the site. Source: Kiwiodysee / CC BY-SA 3.0.
By Bipin Dimri