The dwarf god Bes might not be ancient Egypt's most famous deity, but he was one of the most popular. While he's often overlooked in favor of Egypt's more majestic deities, Bes held a special place in the hearts of those who worshiped him.
Many of the ancient world's gods were fearsome tyrants, willing to take with one hand what they gave with the other. But not Bes, he existed purely to bring love and joy and to offer protection to those who needed it. Everything about him from his origins as a Nubian god to his role in Egyptian mythology and how he was worshiped makes him stand out amidst Egypt's grand pantheon of gods.
Was Bes the Best?
Bes, the Egyptian protector of households stands out in a lot of ways against the rest of the Egyptian pantheon, starting with his appearance. It's believed that Bes first arrived in Egypt during the Middle Kingdom, around 2055-1650 BC but didn't rise to real prominence until the New Kingdom. During that time, his appearance changed a great deal.
Bes started out as a large cat deity that stood on its hind legs but over time evolved, becoming more anthropomorphic. By the time of the New Kingdom, he had evolved into a short in stature dwarf god known for his fashion sense. He liked to wear a leopard skin around his neck, a throwback to his big cat origins.
Unlike most other Egyptian deities Bes had no need for grand temples or extravagant festivals, he liked to make his presence felt in a rather unconventional domain: the hearth and home. It was here Bes played a guardian against malevolent forces.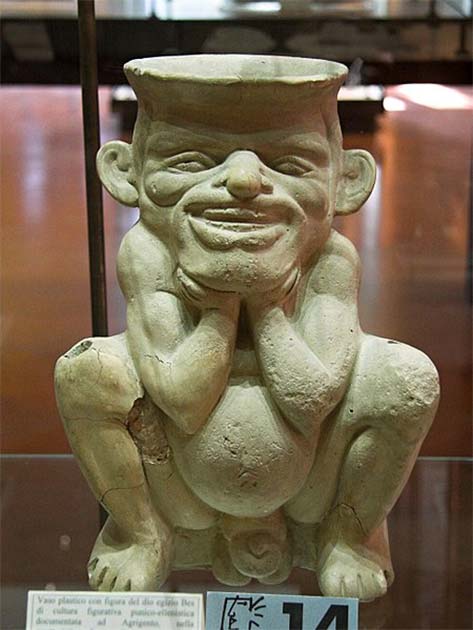 With his lion's mane, leopard skin clothing, bowlegs, and protruding tongue, his image was not one of intimidation but one of reassurance. In a world where ancient Egyptians believed in the constant presence of evil spirits and misfortune, Bes served as a protective talisman.
Bes wasn't some fearsome guardian; he was believed to protect from darkness by bringing joy and merriment. Festivals and celebrations often featured Bes, with his image adorning musical instruments and the costumes of dancers.
This association with music, dance, and exuberance reinforced his role as a bringer of happiness and positivity. Bes's unconventional appearance did not deter the people from seeking his blessings for fertility and vitality, making him an essential part of their daily lives.
Bes's origins also stand out as somewhat unique. He's believed to have originated from Nubia; a region located to the south of Egypt. The Nubian influence on Bes is evident in his physical attributes and some aspects of his mythology.
Nubia, with its diverse cultural and religious traditions, had a significant impact on Egyptian civilization and its customs over the years. Bes is a remarkable manifestation of this cross-cultural exchange.
His interesting fashion sense, lion-like mane, and protruding tongue are all suspected to have been inspired by Nubian art and its symbolism. This fusion of Nubian and Egyptian elements in Bes's depiction highlights the interconnectedness of these two regions in ancient times.
This Nubian connection extends to Bes's association with music, dance, and joy. Nubia was renowned for its vibrant musical and dance traditions, and Bes's incorporation into Egyptian festivals and celebrations, where he was linked to these joyful activities, could be seen as a reflection of Nubian cultural influences.
Bes's journey from Nubia to becoming an integral part of Egyptian mythology speaks to the dynamic and ever-evolving nature of ancient Egyptian religion. He transcended cultural boundaries, reflecting the adaptability and syncretism that characterized the religious landscape of ancient Egypt.
Bes at Work
Bes was certainly one of the harder-working Egyptian gods. He held a significant role in the daily lives of the ancient Egyptians, especially the common folk. He was responsible for a range of important aspects, primarily centered around protection, well-being, and joy.
Guarding Home and Hearth: Bes's primary responsibility was as the protector of households. Families invoked him to safeguard their homes from evil spirits and misfortune, especially during times of vulnerability like childbirth and child-rearing. His presence was believed to ward off malevolent forces and ensure the safety of the family.
Bringing Joy and Festivity: Interestingly Bes was not just a guardian; he was also a bringer of happiness. His association with music, dance, and joy made him a beloved figure in festivals and celebrations. He added a touch of exuberance to these occasions, promoting merriment and positivity among the people.
Fertility and Vitality: One could argue Bes wasn't exactly a looker, but that didn't stop him from being revered as a symbol of fertility and vitality. His role extended to ensuring the well-being of children and pregnant mothers. His unique appearance, with features resembling both human and animal attributes, may have been seen as a representation of the vitality and life force essential for procreation. It's also likely the Egyptians just recognized that when people are safe and happy, they tend to procreate- two things Bes already represented.
Protecting the Weak and Vulnerable: While Bes was known to protect households in general it was believed he had a particular soft spot for the vulnerable, including those suffering from illness and women during labor. He was known as a compassionate god who watched over anyone in need, not just those who worshiped him or offered tributes.
Defense Against Malevolent Forces: Bes's protective role extended to defending against snakes and other harmful creatures, both real and symbolic. He was often depicted as stomping on these creatures, reinforcing his role as a defender against threats and dangers.
A Strange but Beloved God
All of these responsibilities made Bes a multifaceted god who touched the lives of ordinary people in a profound way. He represented the values of protection, happiness, and vitality, emphasizing the importance of the simple yet essential aspects of daily life.
His origins in Nubia and his distinctive attributes set him apart, highlighting the interconnectedness of cultures in the ancient world. Bes remains a symbol of the simple yet vital aspects of daily existence, ensuring that homes were sanctuaries of happiness, protection, and well-being in the hearts of the people. He's evidence that not all ancient gods were terrifying doom-bringers. There were compassionate deities who brought joy to the lives of their followers.
Top Image: Bes, Nubian dwarf god of house parties, was a little different from the rest of the pantheon. Source: Metropolitan Museum of Art / Public Domain.