The thumbscrew, dunking, the boot, the breaking wheel, the list of medieval torture devices is endless. However, the Iron Maiden is amongst the most recognizable and well-known Medieval torture devices.
Although, the argument for its very existence and whether it was used in medieval tortures remains unclear to this day. Was this simply a fear-inducing device, propaganda for the masses?
For those found guilty of breaking the law, and who were unlucky enough to be singled out by the authorities as an example, death by Iron Maiden was possible. A coffin-shaped iron cabinet is wheeled out. Its physical dimensions are those of a human, making it the ideal size for one person to fit uncomfortably. It opens on hinges to reveal an interior surface covered in short spikes.
A death that would be both unimaginable and horrendously painful. And certainly we have evidence for machines such as these after the Middle Ages, where mentions of the Iron Maiden chamber appeared in writings such as those of 1700's German philosopher Johann Philipp Siebenkees.
He recounts a tale of a coin forger who was sentenced to death in 1515 in Nuremberg, Germany. Executed by a device that sounds almost identical to the Iron Maiden device.
The invention began to emerge in museums and display collections across Europe, and even as far as the United States of America, after Siebenkee's mention. The first Iron Maiden is thought to have originated at Nuremberg, however, this cannot be proved since the device was allegedly destroyed during the Allied bombings of 1944.
Origins of the Iron Maiden 
Other accounts of similar devices have surfaced throughout history, making it nearly impossible to pinpoint when and where this contraption was created. In Christian philosophy, there seems to be a machine that is comparable to the Iron Maiden.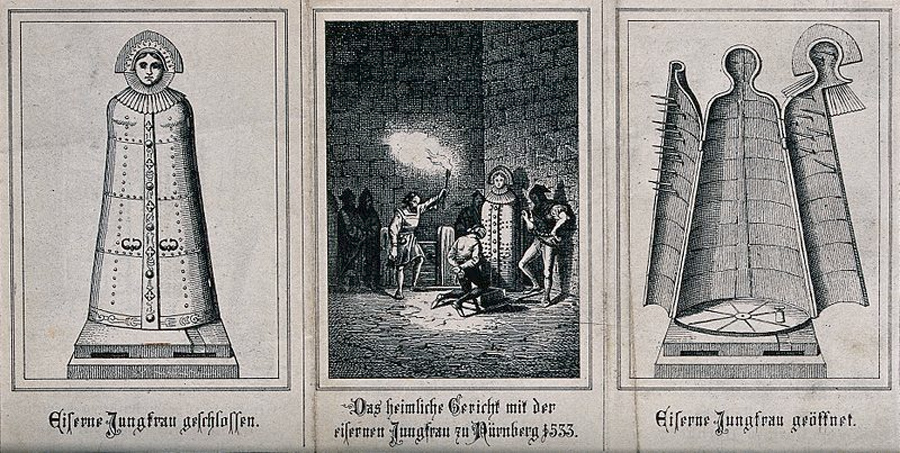 The story of the torture of Roman general Marcus Atilius Regulus is recounted in the Latin book "The City of God," written in the 5th century AD. He was imprisoned in a box with spikes on both sides that prevented him from leaning on the box's walls. He died as a result of sleep deprivation.
Polybius, a Greek historian who lived around 1000 BC, recalls the Spartan ruler Nabis in his writings. Nabis designed a chamber that closely resembled his wife. If the townspeople did not pay their taxes, he tortured them publicly by placing them in his invention. It's unclear whether he saw another device comparable to this one and took inspiration from it.
"When the man offered her his hand, he made the woman rise from her chair and taking her in his arms drew her gradually to his bosom," Polybius wrote. "Both her arms and hands, as well as her breasts, were covered with iron nails … so that when Nabis rested his hands on her back and then by means of certain springs drew his victim towards her … he made the man thus embraced say anything and everything. Indeed, by this means, he killed a considerable number of those who denied him money."
Many suspect that the inspiration for the Medieval Iron Maiden comes from a 13th century device called a Schandmantel. This "barrel of shame" or a "coat of shame" this corporal punishment device was made with wood or sheet metal and similarly encages the subject of its torture inside. Although similar, others believe that the Iron Maiden was a misinterpretation of the Schandmantel. 
The beauty of the barbaric "iron coffin" as the Iron Maiden was also known as was that the spikes were short enough s to not fatally puncture any vital organs. The spikes were also strategically placed to cause the most harm, for example, two spikes were located on the headpiece as to pierce the eyes, and also some places to puncture the genitals. 
Medieval Reality or Later Fiction?
During the 19th the Iron Maiden became symbolic of the brutal and sadistic torture methods used in the medieval period.  The bizarre thing is that other than a few pre–medieval Era accounts, there appears to be little to no concrete evidence that the Iron Maiden was utilized. So, why are these devices so ubiquitous in museums all around the world?
The general opinion is that the rulers of the 19th century wrote the Iron Maiden into existence as a tool for propaganda. If people believed their forefathers were inhumane and uncivilized, the idea of being sentenced to death by hanging, which was common in the nineteenth century, might not have been so terrifying.
Historian Konieczny told Live Science, "You get that idea that people were much more savage in the Middle Ages, because they want to see themselves as less savage,". He noted, "It's so much easier to pick on people who have been dead for 500 years." 
Whether or not this device was a propaganda symbol, its influence carried devastating consequences. An Iron Maiden was uncovered at the Iraqi National Olympic Committee complex in Bagdad by a Time Magazine reporter in 2003.
 According to reports, the device would be used by Saddam Hussein's son (chairman of the national football and athletic committees) to humiliate and torment underperforming athletes. The reporter also indicated that the device was "worn from use," 
The Iron Maiden was a tremendously efficient creation of nineteenth-century rulers. If no one is alive to corroborate the story, they are free to make up whatever they want. How many additional stories like the Iron Maiden have been woven into history years after the fact?
Top Image: Did the Iron Maiden exist as a medieval torture device? Source: Unknown Author / Public Domain.
By Roisin Everard