Francis Bacon was an eminent English philosopher and statesman who came to prominence during the reign of Elizabeth I in the latter half of the 16th century. Popularly known for his innovative promotion of the scientific method, his works and development of science continued to remain influential throughout the later scientific revolution.
Ennobled as Lord Verulam, Francis Bacon served his monarch dutifully as Attorney General and Lord Chancellor of England. But it is for his enquiring mind, his scientific observations, and his rigorous experimentation that he is most remembered today. 
A Nobleman with an Enquiring Mind
Francis Bacon was born in York House, London on the 22nd of January 1561. He was the son of Sir Nicholas Bacon, who was the Lord Keeper of the Great Seal during Queen Elizabeth I's reign, and his family were wealthy. His mother, Anne Cooke Bacon, was a translator and a scholar, and Francis Bacon was their youngest son.
When Francis was just 12 years old in 1573, he attended Trinity College, Cambridge. After completing his education at Trinity College two years later, he entered the Honourable Society of Gray's Inn in order to study the law.
However, once there Francis Bacon found the curriculum to be very old-fashioned and stale. While at Gray's Inn he found more and more that his inclination was towards the new Renaissance Humanism, in comparison to the traditional ideologies of Scholasticism and Aristotelianism. 
After studying for only one year at Gray's Inn, Francis Bacon left the school to work for the English diplomat Sir Amyas Paulet. This work took him abroad and broadened his horizons, but was cut short when, after two and half years, he returned to England due to the sudden death of his father in February 1579.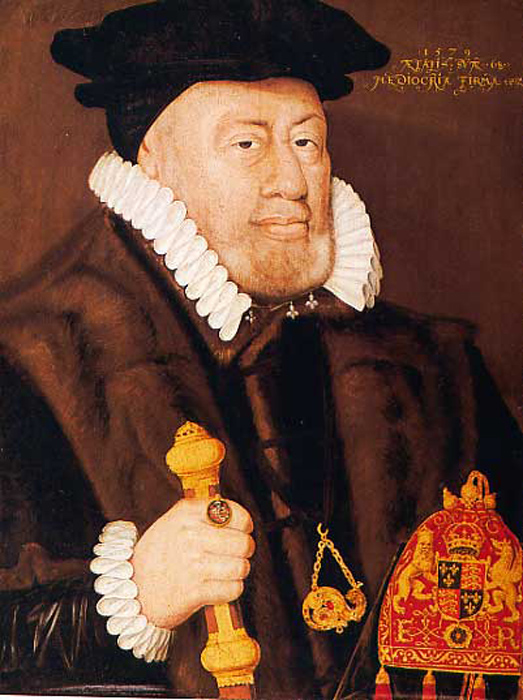 This was a major setback for the 18-year-old Francis Bacon. His limited financial resources were not sufficient to maintain his lifestyle. He turned to Lord Burghley, his uncle, with the hope of finding some assistance and securing a well-paid government official position.
However, his application for a position in the court was turned down, and he struggled to find a source of income to ensure a decent living.
Statesman and Counsel
In 1581, Francis Bacon was lucky to find himself the position of Member of Parliament for Cornwall in the House of Commons. Once there, he returned to Gray's Inn in order to complete his education, becoming a barrister in 1582.
In 1584, his political career received a further boost when he composed "A Letter of Advice to Queen Elizabeth', his first-ever political memorandum. It was the start of a parliamentary career that was to last for a further four decades.
During this time he was a highly prominent figure in the Royal Court of Elizabeth and her successor, James I, as an active politician and lawmaker. During his leisure time, Francis Bacon also chose to pursue his philosophical passions and composed a number of works on science, politics, and legalities. 
By 1591, Francis Bacon had also become a confidential adviser of the 2nd Earl of Essex, then the favorite of Queen Elizabeth. This association drew him even closer to the center of the royal court.
In 1597, he again rose to become the First Counsel Designate of the Queen. He was now Queen Elizabeth's principal legal counsel. 
A Powerful Man with Powerful Enemies
Francis Bacon was knighted in 1603, and continued to acquire a number of political and legal ranks in the court in reward for his dedication and service. In 1607, he became the solicitor general under James I, and after six years, he achieved the position of attorney general.
By 1616 he was at the peak of his career, being elevated to the highest rank among the nobility: the Privy Council. Only a year later he was successful in reaching the position of Lord Keeper of the Great Seal. It was the same position that was held by his father, Sir Nicholas Bacon. 
In 1618, Francis Bacon was even able to surpass his father's achievements when he was promoted to the title of Lord Chancellor. He was now one of the highest-ranking political officers in England. But his journey of success did not end there: he was ennobled further, becoming the Viscount St. Albans in 1621.

But a powerful man attracts powerful enemies. In the same year, a number of accusations were raised against him. He was charged with corruption and accepting bribes.
According to certain sources, the accusations were actually made by the enemies of Francis Bacon in the parliament. However, Bacon was tried and later found to be guilty, after he confessed. He was fined the then huge sum of 40,000 pounds ($7.2m in modern money) and, ominously, imprisoned in the Tower of London.
Luckily, the fine was lifted, and his sentence of was quickly reduced: he was released just after four days of imprisonment. However, he had paid a heavy price in the damage to his long-standing position and reputation in Parliament. 
A Man of Science
After the collapse of his political career, Francis Bacon decided to shift his focus towards his passion for philosophy and science. Unlike the established classical doctrines of Plato and Aristotle, the approach followed by Francis Bacon prioritized interaction, and experimental observation.
The new scientific method employed by Bacon involved the collection of data, detailed analysis of the collected data, and conducting experiments in order to see nature's truth in a more organized manner. According to Francis Bacon, his approach would enable science to be used as a tool for the betterment of mankind.
He also claimed that his empirical scientific method would help shed light on the universe's hidden and unknown secrets. In 1620, he published a book named "One of Novum Organum Scientiarum" outlining his approach.

According to this book, the scientific method must start with the "Tables of Investigation" and proceed to the "Table of Presence."  The publication fundamentally paved the way for a new scientific approach, one which is still used today as the basis for scientific experimentation.
Death and Legacy
In March 1626, Francis Bacon was involved in conducting a number of experiments with ice. Testing the impact of cold on decay and preservation, he essentially built an early freezer.
But he also caught a chill. Ailing, Francis Bacon went to stay at the home of his friend Lord Arundel in London. The guest room was musty and cold, and the unwell Bacon developed bronchitis. On the 9th of April 1626, he died. 
After his death, his theories had a major influence on 17th-century European science. He is still known as a popular figure in natural philosophy and scientific methodology. Without his insight and the breakthrough approach he proposed, science might look very different today.
Top Image: Sir Francis Bacon. Source: Ann Longmore Etheridge / Public Domain.
By Bipin Dimri