Genius is, thankfully, often recognized within the person's lifetime and many famous people were widely mourned when they passed. Throughout history the most prominent figures of their time, be they brilliant minds or simply kings and rulers, were put to rest in grand funerals, their tombs remembered for all time.
Many such graves survive to this day, ruined or otherwise, and these tantalizing glimpses into history allow archaeologists to connect the stories of old with something real and tangible, saying with confidence "here is that person". Often such locations are the only human contact with our past, and it seems the ancients appreciated this also.
From the ancient Egyptian pyramids which came to dominate their entire culture, to the opulent tombs of the European and American civilizations, a funeral of someone important was generally a grand event. But astonishingly some of our most famous figures from history did not receive this treatment, their bodies being lost to this day.
Here are ten famous people whose graves are unknown, perhaps waiting to be found.
1. Genghis Khan
Greatest of the Mongol warlords and with perhaps the most successful expansionist policy in history, Genghis Khan looms larger than life in the public consciousness even 800 years later. His armies of horsemen charged down from the Mongolian steppe and put the world to sword, changing the face of Asia and Europe forever.
When the great Khan died in August 1227 on the eve of another campaign into China, he caused a succession crisis and threw his empire into a moment of disarray. However on the treatment of his body everyone was clear: years earlier, he had asked that his body be returned to Mongolia where it was to be buried without ceremony.
This was apparently obeyed, and it is assumed that he is buried somewhere near the Onon River and the Burkhan Khaldun mountain in the lands of his birth. But the entire funeral escort was killed and with rumors of the river itself being diverted to cover his grave, it is unlikely he will ever be found.
2. Alexander the Great
We know an awful lot about the short life of Alexander the Great. We know his origins, his family and upbringing, and his conquests which changed the face of the world and saw him reach as far as India.
We know he died in Babylon in 323 BC, aged only 32 but having achieved more than almost anyone before or since. We know what his tomb looked like and there are several attestations from antiquity as to its grandeur and magnificence.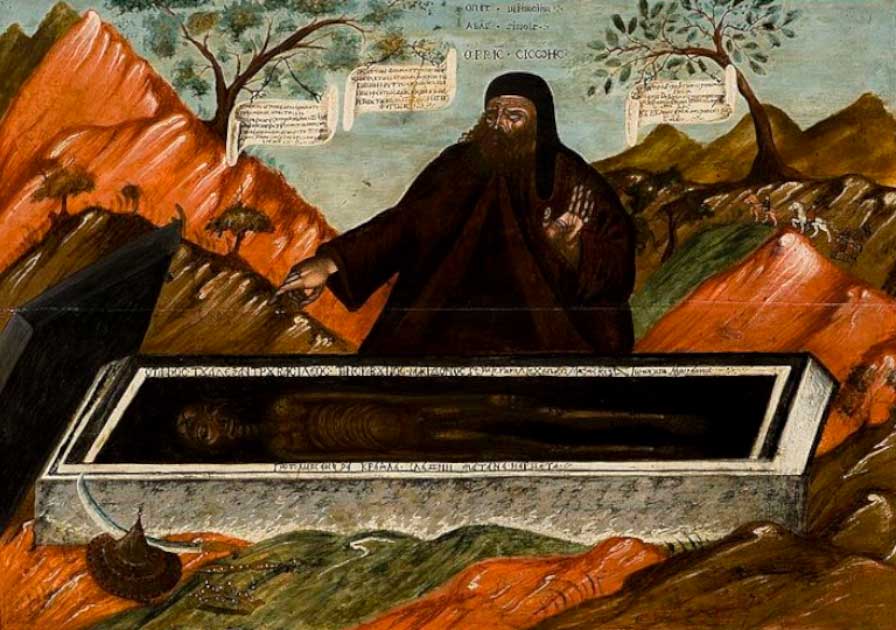 Alexander was initially buried in Babylon before being moved to Alexandria in Egypt, where he remains to this day. But despite over 140 archaeological searches for the tomb of the Great Macedon, his body remains missing to this day.
3. Atilla the Hun
Atilla the Hun died aged 46 on his wedding night in 453 AD, and the ancient world breathed a sigh of relief. The warlord and his huge army had been ravaging the Italian peninsula for decades, and had just set their sights on Constantinople as their next victim.
All this came to an end amidst the infighting which followed his death, with his legacy torn apart by his sons Ellac, Dengizich and Ernak. But first they needed to put their father to rest, buried in nested coffins of iron, silver and gold somewhere in Eastern Europe.
Attila's funeral was described as occurring on a "great plain" and as with Genghis Khan it was said that a river was diverted to hide his tomb and those who built it were themselves killed. But despite occasional claims that the tomb might have been found, it remains lost.
4. King Kamehameha
Kamehameha the Great, first and greatest of the five kings of Hawaii to bear that name, lived from 1758 to 1819. Hidden from childhood and a pawn in Hawaii's civil wars, he ascended to the throne in 1782 aged 24, sweeping aside the current king and taking the throne for himself. It was said that Kamehameha won the support of the island chain's warlords after he fulfilled a prophecy in lifting the Naha Stone, a sacred volcanic rock.
When Kamehameha died in 1819, his body was hidden by two of his closest friends according to the ancient custom of hūnākele (which means "to hide in secret"). In order to preserve the dead king's "mana" or vital power, he has buried in a secret location by these friends, believed to be a hidden cave.
Many attempts have been made to find the body of the dead king, and in the 19th century King David Kalakaua was even successful in finding such a cave containing two skeletons. These bones were moved to the Royal Mausoleum of the kings of Hawaii, but there is no evidence that this is Kamehameha, only supposition.
5. Antony and Cleopatra
In 30 BC Mark Antony and the Egyptian queen Cleopatra, the power couple of the ancient world, were put to rest together by the victorious Roman leader Octavian. Octavian went on to become Augustus, first of the Caesars, and the tomb fell into obscurity.
The burial place is mentioned by Roman historians Suetonius and Plutarch, the latter of which states that Antony was in fact cremated (as was the Roman custom which Augustus himself would follow) and the tomb only contains Cleopatra. The tomb is believed to be somewhere near Egyptian Alexandria, perhaps close by that of Alexander the Great.
Temple excavations of a complex dedicated to Osiris west of the city continue, but the tomb itself remains undiscovered. It is possible that it will never be identified: given how the lovers died Cleopatra may not be recognizable as an Egyptian queen at all.
6. Mozart
Wolfgang Amadeus Mozart, perhaps the most naturally gifted composer in history, lived a troubled life. Burning himself out in his frenetic pace and leaving over 800 compositions in almost every musical style he had access to, he died surrounded by debts in 1791 aged only 35.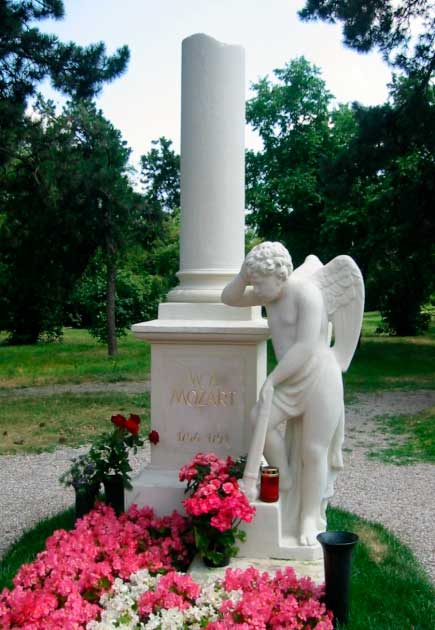 He certainly lived an exhausting life but there is much debate as to the cause of his death. Some believe Mozart was poisoned by his jealous colleague Antonio Salieri or accidentally by his physician's remedies, others that one of the many diseases that plagued his life finally did him in.
Some even speculate that the manner of his burial may be linked to his death, showing deliberate disrespect to the dead composer. Mozart's patron, Baron Gottfried van Swieten, had him buried in a common grave in Vienna as he was not an aristocrat. Mozart's body was dropped into a pit with other corpses and his remains lost forever.
7. Leonardo da Vinci
The last years of Leonardo da Vinci's life were spent in France where the great Renaissance inventor, artist and polymath completed commissions for the French king, Francis I. There da Vinci died in 1519, his body buried in Collegiate Church of Saint Florentin at the Château d'Amboise south of Paris.
Such grand houses were ransacked during the French Revolution 250 years later, and the chapel holding da Vinci's body was no exception. It was destroyed during the purges of the Revolution and only later were the bones of the Italian recovered, rescued and transplanted to another chapel.
Or were they? It is entirely possible that the bones recovered were not those of da Vinci, and no proof is available to confirm this. Da Vinci had no children, making DNA testing problematic, but it is not known where the great master truly lies today.
8. Adolf Hitler
In April 1945 with the Allied forces in Berlin and advancing on the bunker in which the German Fuhrer was hiding, Hitler knew the end was near. His Third Reich in ruins and having lasted barely more than a decade, far less than his grandiose expectations of a thousand years, Hitler shot himself in the head, having first tested that the pistol was working by shooting his dog.
What happened next is the subject of much speculation. The Soviets reached the Fuhrer's bunker first but did not find the body of Hitler. Those present in the bunker said that it had been rolled in a rug, carried out of the bunker to a small garden, and burned.
The garden was the scene of continuous bombardment amidst the Allied assault and by the time it was all over the entire area was almost recognizable. It seems that the Russians may have removed Hitler's body and taken it back to Russia, but this cannot be proven and the secret of the location of his corpse, if indeed it still exists, will likely never be known.
9. Christopher Columbus
A slightly different problem for the world famous explorer who crossed the ocean blue in 1492. We very clearly know where the body of Columbus is buried, but the problem here, as with da Vinci, lies in identifying which bones are his.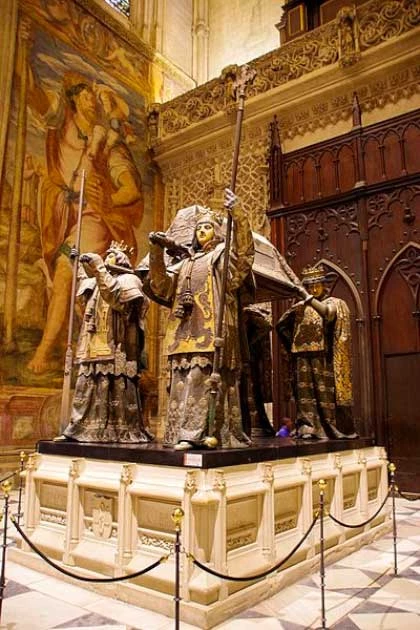 Two rival claimants both insist they have the body of Columbus. After initially being buried in Valladolid in Spain, his remains were moved first to Seville, and then across the ocean one final time to Santo Domingo, capital of the Dominican Republic in the Caribbean.
Santo Domingo claims they still have the bones to this day, held in a grand mausoleum known as the Columbus Lighthouse. Seville also claims they have the bones, and that they were either repatriated following revolutionary unrest in the Caribbean or that they never left Spain. Nobody is sure who is right.
10. Boudica
The Iceni Queen who led a fierce resistance against the Roman occupiers are she and her daughters were raped looms large in the folklore of the United Kingdom. Many statues have been put up in honor of Boudica, including famously the one of her riding her chariot across from the Houses of Parliament.
Boudica was ultimately beaten by the unstoppable legions of Rome, but her successive attacks on Roman strongholds and population centers made Emperor Nero briefly consider writing off Britain as a bad thing and withdrawing all forces back to continental Europe. Only the inspired leadership of Gaius Suetonius Paulinus leading a smaller Roman force to victory saw Boudica defeated, and had she won the history of the United Kingdom could have been very different.
Sadly, nobody knows where this final decisive battle occurred. Boudica died shortly after the battle, perhaps by poison, and her body was buried somewhere in southern Britain. Many other suggestions have been proposed, from sites in Wales to Platform 10 of King's Cross Station in central London.
Top Image: While most of the famous people through history have known burial sites, some of the most famous are still missing and lie in lost tombs. Source: dudlajzov / Adobe Stock.
By Joseph Green
References
Hoekstra, K, 2021. 5 of the Most Mysterious Lost Tombs in History. Available at: https://www.historyhit.com/the-most-mysterious-lost-tombs-in-history/
Carlton, G, 2021. 12 Historical Figures Whose Tombs Have Not Been Found. Available at: https://www.ranker.com/list/historical-figures-undiscovered-tombs/genevieve-carlton
History.com, 2022. 7 Lost Burial Sites. Available at: https://www.history.com/news/7-lost-burial-sites