Natural disasters are one of the few things which remain unshackled by human ingenuity. The sheer destructive power of the natural world and the ease with which we are wiped out should be a salutary lesson to take Mother Nature seriously, should she decide to shrug her shoulders.
Many human lives have been taken away by natural disasters and calamities, but there seem to be always stories of hope hidden amidst the wreckage. Even from the most gruesome disasters, stories of survival and miracles have stood out. 
Volcanic eruptions are a particularly visible and dangerous example of the dangers of the natural world. One such devastating eruption was of Mt. Peele on May 8, 1902. The eruption was one of the biggest natural disasters of all time and wiped out an entire town of Saint-Pierre, Martinique, in the Caribbean.
Leaving 30,000 people dead in its wake, the volcano spared a soul who escaped the hellfire against all odds. This man was Ludger Sylbaris, a man who had spent the evening of May 7, 1902, drinking heavily and was arrested for inappropriate drunken behavior.
As punishment, the man was kept in a dungeon-like cell with poor ventilation and low light. However, this punishment was to turn out to be an extraordinary stroke of luck when Ludger was saved because of his living arrangements that night. The next day, when doomsday arrived in town, Ludger escaped alive.
Signs of Eruption From Mt. Pelee 
Modern volcanologists would have surely seen the warning signs and evacuated, but at the start of the 20th century there was no such expertise, and no attempt was made to warn the locals. There would have been time to save everyone, however, unfortunately, the opposite was true.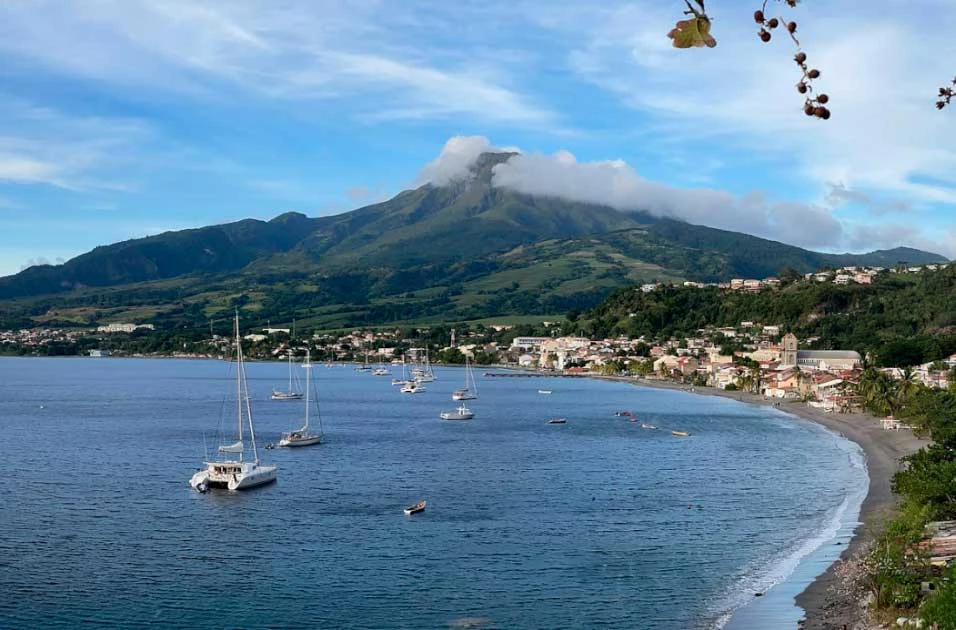 According to modern historians, signs of an impending eruption were there. Mt. Pelee had started showing signs of activity for about a week before the actual eruption. There were ashes in the air, and people had shifted from the foothills of Mt. Pelee to where they felt was more safe: the heart of the town of Saint Pierre.
However, moving into the town offered no hope against the size of the eruption, and the destruction it caused. The scale of eruption was unpredictably huge, and even Saint Pierre did not stand a chance against the scalding gases and superheated air that gushed in, bringing smoke and fire and death. 
According to many sources, when the actual eruption started to happen, ash and smoke from the volcanic peak shrouded the sky for a 50 mile (80 km) radius. Saint Pierre was well under this cloud, but by the time the inhabitants realized this it was too late. The pyroclastic flow of hot gases that was released from the volcano was moving at a speed of up to 420 miles per hour (670 km/h), and even the slower outflow that followed, wiping out all that remained, came down faster than a train.
The inferno killed anyone that came close to the flow in seconds, with the deadly and toxic mixture of gas and volcanic outflow reaching temperatures of over 1,000 °C (1,830 °F). The 30 to 40 thousand residents of Saint Pierre stood no chance, and were either burnt alive or asphyxiated by obnoxious fumes.  
Only a handful of the residents of Saint Pierre survived that terrible day, and Ludger Sylbaris was one of them. The tale of his survival sounds as incredible as it is true. 
How Did Sylbaris Survive? 
Louise Auguste, or Ludger as he was known after the incident, was a 27-year-old man at that time. He had a record with police as a convicted felon who was in trouble often because of his drinking habits, and it is fair to say that local police were unsurprised to find him in their cells again that day.
No doubt tiring of his constant disruptive behaviors, the police threw him into a dungeon-like cell so that he could not create any more nuisance in the town. And in doing so, they seemed to have saved his life.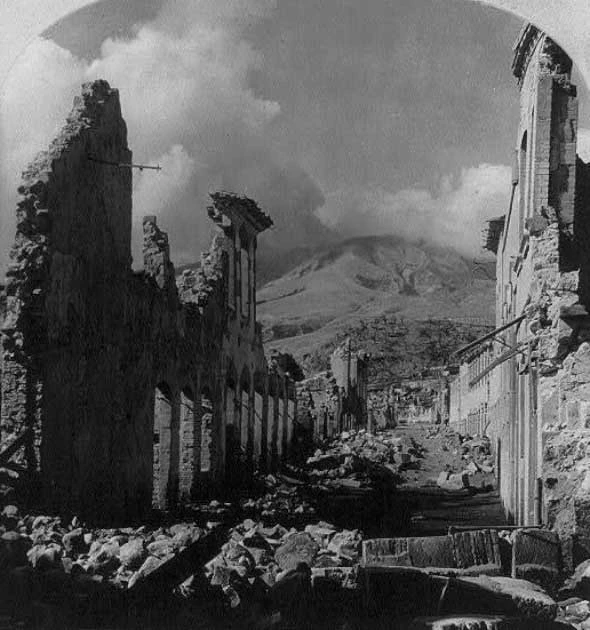 The cell was constructed half underground cell, with no windows and very little internal space: ideal for solitary confinement. There was only a narrow slit in the door which did not face outside but opened instead towards the sea. Dehumanizing to the extreme for anyone imprisoned in there, but also excellent protection against volcanic eruptions.
Although Ludger's cell was quite well protected from the ash and heat because of being half underground, he did not escape completely. He did make out of the cell alive but only after being trapped in the cell for four long days. It was in his cell, in a horribly burnt state, that a rescue team found Ludger and he was finally saved, a miracle amidst the destruction. 
Ludger's Luck 
The dungeon cell did not remain untouched by the flames and hot air of volcanic eruption as the air inside had heated up to 1000 degrees in the blink of an eye. Ludger had not known that the volcano had erupted, but he saw a glimpse of blinding light and very hot ash coming into the small cell. Ludger even soiled his clothes with urine to stop the heat from seeping in, but nothing could save him from being horribly burned by the air.
However, Ludger survived. He was then rescued and, once his burns had been treated, and he was a healthy man again. Ludger's luck had not stopped favoring till this point, as he was then pardoned for his crimes. He was then free from all charges.
Moreover, his horrific experience in the town of Saint Pierre saw him become famous. He was hired by Barnum and Bailey's famous travelling circus to travel with them and narrate his horrific yet miraculous escape from the apocalypse.
Ludger's name was highlighted because he claimed to be the only survivor of that dreadful day on Martinique. However, the truth was that there were other survivors of the incident who escaped from the place in the nick of time.
For example, some sailors had survived the eruption by sailing away from Saint Pierre before the volcanic storm hit its peak. On the other hand, there were many people who had escaped with injuries and burns on their bodies. Most of these survivors died shortly from their burns and injuries.
However, one particular man Léon Compère-Léandre had a more horrific tale to tell that sounded unbelievable. He reached the town of Fort-de-France naked and partially burnt, and it was assumed that he had lost his wits. It could have been possible that he was just shocked by such a terrible happening. He even claimed that he was in a house when the incident happened and did not recall how exactly he was saved. 
Many tales of the horrible day in Saint Pierre have come out. However, Ludger's account became the most famous. He himself became some kind of a celebrity and known figure as the man who survived doomsday; how it must have felt to have risen to fame from the ash of a ghost town!
Top Image: Ludger Sylbaris was saved from the volcano by his solid stone prison cell, although he was horribly burned. Source: Stabbur's Master / CC BY-SA 2.0; Unknown Author / Public Domain.
By Bipin Dimri