Sport is big business, and winning or losing is often said to be a matter of life or death, something that is certainly metaphorically true for many elite athletes. But for the inmates at Wyoming State Penitentiary in the early 1900s winning a baseball game may have meant the difference between life and death.
How did Wyoming state allow this money racket to continue? 
The Early Years of Wyoming State Penitentiary 
The United States state of Wyoming's undulating plateaus were still somewhat of a cowboy country in the late 1800s, with many people owning or working on farming ranches. Many locals still adhered to the vigilantism mentality at the time, and professional bounty hunting was a lucrative and respectable business. Hangings continued to take place in town squares because small local sheriff jails frequently lacked space to detain prisoners.
The Wyoming State Penitentiary was established in 1901, right at the turn of the century. Even though a new construction many inmates referred to the prison's conditions as like something from the "dark ages."
A local millionaire businessman named Otto Gramm was in charge of operating the prison. Gramm had his sights firmly set on the bottom line, as is typical of businessmen who build successful empires. It seems that "for profit" prisons are nothing new, nor are the injustices they create.
The prisoners of the state-owned facilities lived in appalling conditions without running water or electricity. Only the bare bones were provided. Gramm even went so far as to set rigorous guidelines for how much food each prisoner received, right down to the number of beans on each prisoner's plate.
A Handy Source of Cheap Labor
Not only did Gramm show little to no compassion for the prisoners, he also exploited them to further his own financial interests. The scheme was straightforward: Gramm would build a factory for the production of wooden brooms, situated right inside the prison. The prisoners' days were spent building brooms that were then sold for a profit, profits which landed solely into the pockets of Gramm. 
This convoluted money grab made the businessman $250,000 over a ten-year period, which is equivalent to over $6 million today. In 1911 the state finally acknowledged the injustice of the treatment of the prisoners. The Big Horn Country sheriff Felix Alston was appointed warden in the hopes that he would make the jail more humane and habitable for its inmates.
Alston, who had greater compassion than his predecessor, was committed to providing options for rehabilitation for those who were confined. His new plans focused on giving the prisoners opportunities to improve themselves through education, physical activity, and the acquisition of new skills.
For anyone who knew the warden well, it came as no surprise when he concocted the idea of forming a baseball team made up of convicted prisoners. Alston was known to be a big fan of Ty Cobb, a star of the Detroit Tigers baseball team.
His community's needs were another factor in his decision to choose baseball as a recreational activity in the penitentiary. Nearly every business in the area had amateur teams registered in the local leagues due to the citizens of Wyoming's insatiable appetite for sporting activities, so why should Wyoming State Penitentiary be any different?
Rehabilitation at a Cost
Luck was on Warden Alston's side. He first had to obtain approval from the governor of Wyoming before his baseball team could play against outside teams.  When he pitched the idea to Governor Carey, a man known for his proclivity for gambling, he was successful.
The governor figured that this "rehabilitation program" not only made the state appear progressive but would also, and more significantly, it would attract gamblers and punters. It seemed to be a win-win for the system.
The masses that gathered to witness the game found it to be both intriguing and amusing. The all-star team marched in a chain gang across the field. Once they reached the dugout, the guards removed the restraints and created a tight perimeter around the field with shotguns aimed directly at the prisoners.
Alston reasoned that by selecting the men with the most to gain, they would also be the most determined to succeed. To support this theory, it was said that guards warned players that their execution dates would advance if they performed poorly.
This morally bankrupt attempt to motivate the prisoners with their own lives was done while numerous guards were actively betting on the games and covertly making considerable fortunes for themselves. Joseph Seng, the team's captain, wrote: "He [another convict named George Saban] told us that prisoners who make errors that cost the team a game would have more time added to their sentence. Winning would lead to reduced time and stays of execution."
The killer team was made up of the most hardened inmates; a pitcher who stabbed his father to death with a letter opener, a catcher who shot dead his brother-in-law, a baseman who bludgeoned a barber to death, and a few outfielders who had been convicted of murder and rape.
George Saban: Convicted Murderer and Baseball Celebrity 
George Saban, one of the players. had established himself as a talented athlete and quickly attracted the attention of the excited spectators. He received a different kind of attention from the other players, with many showing sympathy for him. At the time, Wyoming was still a region where vigilantes roamed, and where many people thought that enacting one's own justice was permissible.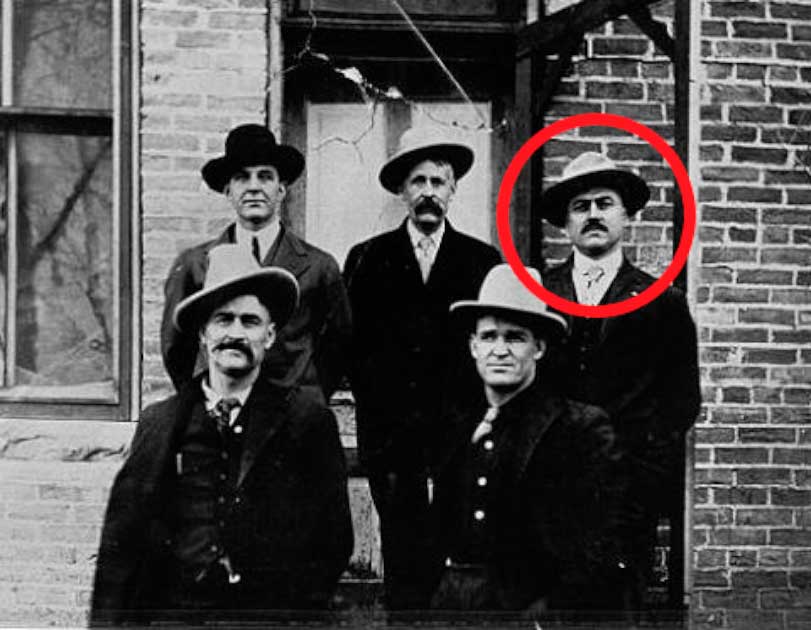 Intruders had trespassed on Saban's land during the Wyoming "turf wars" and caused damage. This was his primary source of revenue. In retaliation, he sought to defend what was his and in the course of doing so he killed several men. Even though he was serving a twenty-year sentence he was given special privileges. 
Dressed in civilian clothes he could come and go from the prison as he liked. In many senses, he was a free man as long as he was accompanied by a guard and returned at night. And he apparently found a way to leverage this and his burgeoning baseball career to his advantage, as Saban was rumored to spend his time in salons passing along team-related insider information and setting up wagers for which he claimed a 20% cut of the wins. 
As the popularity of the games increased, so did media interest. It's difficult to pin down exactly what prompted Senator Francis Warren to interject, but there are a few likely scenarios. The first was that Otto Gramm, the former warden, was a whistleblower and had become envious of the newfound success of the gambling ring.
The second option rested on Joseph Seng, team captain and a first-degree murderer, who was continuously granted a stay of execution. Warden Alston reportedly offered a wide range of explanations when asked why his date had been changed. The most likely explanation was that he wanted his best player to continue playing and thus continue lining his pockets. 
In any case, the tales that were circulating started to reflect corruption, which alarmed both the warden and the government, which clamped down on state gaming. Alston disbanded the baseball club, initially telling the community that it was only temporary, but he understood that this had to be the end if he wanted to continue in his profession.
To improve the prison's negative reputation, he invested the baseball money into educational programs. Furthermore, a year after his original execution captain Seng was hanged, proving that he had not been offered a commuted sentence for his efforts on the field. For a short period of time these prisoners had a taste of what it was like to be admired, awed, and heroes to the crowds that came.
Top Image: Wyoming State Penitentiary would grant prisoners stays of execution if they performed well on the baseball field. Source: DCrane Photography / Adobe Stock.
By Roisin Everard