Sometimes, legends refuse to die. But in the Wild West of the late 19th century United States, life was certainly cheap and many of the famous faces from that era never made it to old age.
This was an era made famous by daring outlaws and the lawmen who hunted them. One such from that long-gone time of frontier justice and the great push westward across the continent of North America was Henry McCarty, better known as Willliam Henry Bonney, and even better known as Billy the Kid.
Billy the Kid was born in either September or November 1859, and the history books record that he died fewer than 22 years later on July 14, 1881. In his brief career as a criminal between his first arrest aged 16 for stealing and his death aged 21, he had killed at least eight men.
But a persistent rumor, perhaps sparked by his obvious skill as a gunfighter and his larger-than-life persona, swirled around him in the weeks and months after his death, stubbornly refused to go away. There were whispers that he had not died on that fateful day, and instead that he had made his escape and lived to fight on.
Who was this man? And had he, somehow, escaped justice for his crimes?
"The Kid"
Henry McCarty was born in New York City to Irish Catholic parents, Catherine and Patrick McCarty. While his birth year has been established as 1859, the actual day of his birth has been debated, with September 17 or November 23 being the most popular choice.
After her husband died, Catherine McCarty and her sons relocated to Indianapolis, Indiana, where she met William Henry Harrison Antrim. In 1870, they all moved together to Wichita, Kansas, and Catherine married Antrim on March 1, 1873.
The family was always on the move in these years, travelling to Santa Fe and then on to Silver City, New Mexico. However, the union did not last and William Antrim abandoned the family after less than a year of marriage. When Catherine died of tuberculosis on September 16, 1874, Henry and his brother Joseph were left as orphans.
McCarty at this point was only 15 years old, and soon turned to crime. At the age of 16 in late 1875, he was arrested for stealing food, and only ten days later McCarty and his accomplice George Schaefer looted a Chinese laundry, making off with garments and two firearms.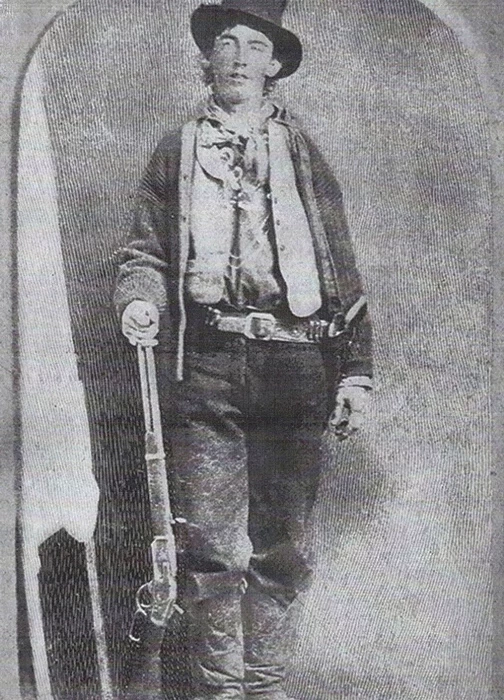 He was captured again but stole a horse and fled two days later, crossing from New Mexico into Arizona and making himself an outlaw and a federal fugitive. When he was accosted by Apaches, his horse was taken away and he was forced to travel many miles to the nearest settlement.
Wanted by the federal authorities, McCarty changed his name to William H. Bonney in 1877. However by this point he was known by a different name, which started as mockery: he had been known as "The Kid" for some time before a local blacksmith in Bonita, Arizona, where McCarty was working as a ranch hand, started calling him Billy the Kid Goat.
This name was to prove fatal. McCarty, during an altercation with the blacksmith in a saloon, drew his pistol and fatally wounded him before making his escape. As he ran for the door an onlooker shouted "Stop him! Put that Billy the Kid on a leash!"
Back to New Mexico
Fleeing justice, Billy the Kid again crossed the border into Lincoln County, New Mexico. Here, he was able to stay ahead of the authorities and his obvious skill with a pistol and his bravery earned him employment with John Henry Tunstall, a rancher.
Tunstall was at loggerheads with another faction of cattlemen in the county, and when Tunstall was murdered by their men in 1878 a conflict known as the Lincoln County War began, with the Kid at its heart.
The local sheriff, William Brady, has aligned himself with the men who had killed Tunstall. Billy, along with Tunstall's business partner Alexander McSween and his men, ambushed Brady on April 1 1878 and killed him.
Warrants were issued for the killers and, in what became known as the Battle of Lincoln, a shooting war broke out between the new sheriff and McSween's men. McSween was killed and although Billy in turn killed the killer, he was forced to flee when the building he was in was set alight.
Capture and Death?
For the killing of a sheriff, Billy the Kid was now truly an outlaw. However, he was able to evade justice and even allowed himself to be captured on one occasion, until he shot and killed another man in January 1880.
Pat Garrett was elected Sheriff of Lincoln County, and he immediately went after Billy. Billy was apprehended by the officer and finally charged with the murder of several men, including Sheriff Brady.
Sentenced to hang for his crimes, Billy eluded the hangman ten days before his scheduled execution by shooting and killing two guards, making his escape. Running him down to a homestead called Maxwell Ranch, Sheriff Garrett fired twice into a darkened room after hearing a voice he recognized as belonging to Billy the Kid.
Someone certainly was killed that day, but the details were foggy. Garrett stated that Billy the Kid had been killed but his account lacks in details. For example, it is now known whether he was killed outright or died of his injuries.

From the start Garrett's account was questioned, and many refused to believe that Billy the Kid could have been ambushed in that way. Furthermore, much about the Kid was mysterious and there was a lot of information which has been later proven incorrect. For example, based on the only known photo of Billy it was widely accepted he was left-handed, until it was discovered the photograph had been mirrored.
No one knows for sure which body is Billy's of the three men in the grave that bears his name. In the years following his death, there were several men who claimed to be Billy the Kid. Most were exposed as liars, but there are at least two men who could plausibly have been the Kid in later life.
Sadly, no answers are yet forthcoming, but there is hope for a resolution to the mystery. The grave of Billy's mother Catherine is known, and a DNA match between her and any of the three men in Billy's grave might put to rest the story once and for all.
Maybe, in the future, an answer will be found for this mystery. But if none of the men in that grave are the natural born son of Catherine, then the question must be asked: did Billy the Kid cheat death?
Top Image: Billy the Kid was one of the most famous outlaws of the Wild West. Source: Chinnachote / Adobe Stock.
By Bipin Dimri