Arkle, Dawn Run, Sea the Stars, Zarkava: these names sound like the titles of far-off sci-fi films. However it would seem that the world of Irish horseracing also has a taste for the exotic, as these are the names of some of Ireland's most famous racehorses.
But none are so famous, and so notorious, as the greatest horse of them all: Shergar. Perhaps the greatest racehorse to have ever lived, what happened to Shergar almost eclipses his mighty achievements in racing.
Who was Shergar? And what happened to the most famous racehorse in the world?
Off to a Flying Start
Owed by no less a personage than the Aga Khan, a billionaire and the spiritual head of more than 15 million Ismaili Muslims, Shergar was destined to be special from the start. When the Khan announced in 1978 that he would send some of his yearlings to Britain for training, Shergar followed the next year, to be raised by some of the greatest trainers in the world.
Shergar was a thoroughbred bay colt racehorse who was reputed to have been easy to break and well-known for his good temperament. But it was for his blistering pace and strength that Shergar would become truly famous.
The Khan believed that the young horse was ready to compete after a year of training, and Shergar ran his first race accordingly in September of 1980. He won the race by two and a half lengths, a brilliant start, and managed to close his first short year of racing with a second-place finish in his second race. 
Pegged as one to watch after his first year he was catapulted into the eyes of the racing world when in June 1981 he won the Epsom Derby by a gigantic ten lengths. This was truly unexpected, the longest winning race margin in history by an unknown rookie horse. 
Three weeks later he had another memorable win, winning the Irish Sweeps Derby by a comfortable four lengths. A mere month later he again struck gold when he came first in King George VI and Queen Elizabeth Stakes, again by a margin of 4 lengths.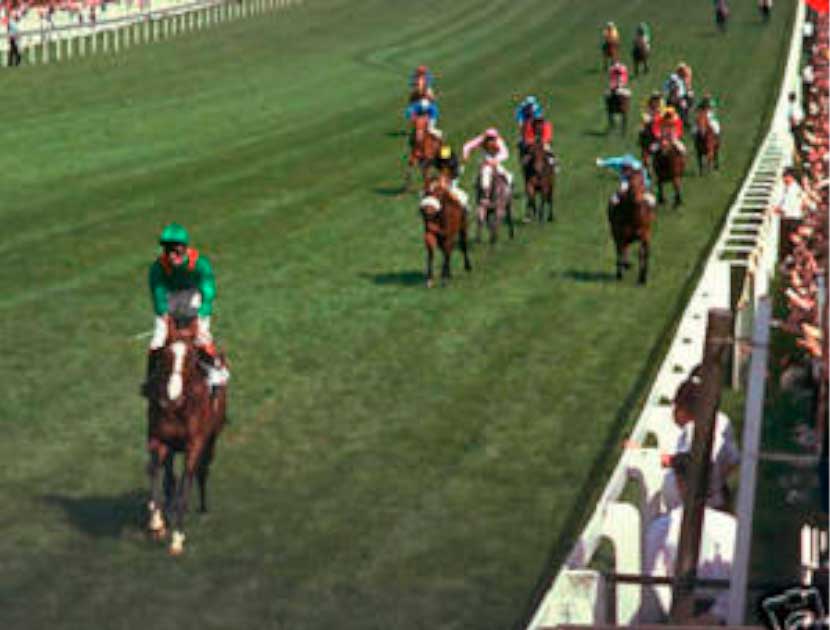 Shergar was an easy horse to spot on the racehorse with his four white "socks", white blazing marking on his face, and tongue hanging out of his mouth as he ran. What made him special was not just his large margin-winning successes but rather the seeming ease at which he did so.
An astute businessman, the Khan retired Shergar after he placed fourth in his final race of the season the St Leger Stakes at Doncaster. Retiring the three-year-old thoroughbred while he still had good stats meant ensured his earning potential as a stud was sky high. 
A Hero's Welcome to the Emerald Isle
Newly crowned the European Horse of the Year and streets ahead of the competition, Shergar was hot property, It is reported that his owner the Aga Khan turned down big offers to stud him in the United States, instead opting to retire him at Ballymany Stud Farm, County Kildare in Ireland where his busy rutting season was to start in 1982. This was not before he received a well-deserved hero's welcome to Ireland, being paraded down Newbridge main street in October of 1981.
Milton Toby, a writer who specialized in equine law and thoroughbred racing wrote that Shergar was "a national hero in Ireland. … one of the most recognizable sports personalities—horse or human—in Ireland."
Khan sold 40 shares at $120,000 each for his services impregnating mares and created a syndicate with the members. After a successful first year studding, he produced 36 foals, 17 colts, and 19 fillies. The most successful of his progeny was "Anthaal", who was sold for 3.1 million guineas and went on to win the 1986 Irish St. Leger by a comfortable 5 lengths. 
By February 1983 Shergar was in high demand with 55 mares already lined up for his second studding season. He was expected to rope in at least £1 million for his shareholders over the coming season. But none of this ever took place. 
Can You Steal a Thoroughbred?
"We have come for Shergar. We want £2 million for him.", demanded the assailants. 
This is what the head groom of Ballymany Jim Fitzgerald heard after he was ambushed on the evening of February 8th 1983 by a group of three masked men. The crew entered his house, on the stud farm grounds, demanding that he led them to the stable where Shergar was being kept. After the assailants locked his family into a room and threatened him at gunpoint, he hastily obliged. 
Fitzgerald asserted that the group was at least six strong, possibly nine, but apart from one they were nonviolent. The groom was forced to lead Shergar into a horsebox which the assailants had waiting, after which he was blindfolded and himself forced into a car. He recalls being driven around for about four hours before he was abruptly thrown out of the vehicle. 
Fitzgerald had been freed just 20 miles (32 km) from the stud, and was told only two things: first, that the gang would contact him shortly, and that they would use the code word "King Neptune" to confirm that it was truly them. The second, more concerning, instruction was to refrain from contacting An Garda Siochana, the Irish police, lest he risk having his family murdered.
Over the course of the next few hours a series of calls were made between the shareholders, the horse's vet, an ex- Irish Army captain, and the Irish Minister for Justice as how to move forward in the face of this emergency. At 4:00 am, over seven hours after the horse-napping Fitzgerald managed to contact Aga Khan in Switzerland. He decided that it was time to contact the police, but the situation was now direr as the trail had gone cold. 
The little information they had came from Fitzgerald, who couldn't identify any of the gang members but recalled that one man had a northern Irish accent, and another seemed to have experience with horses. Not a lot to go off.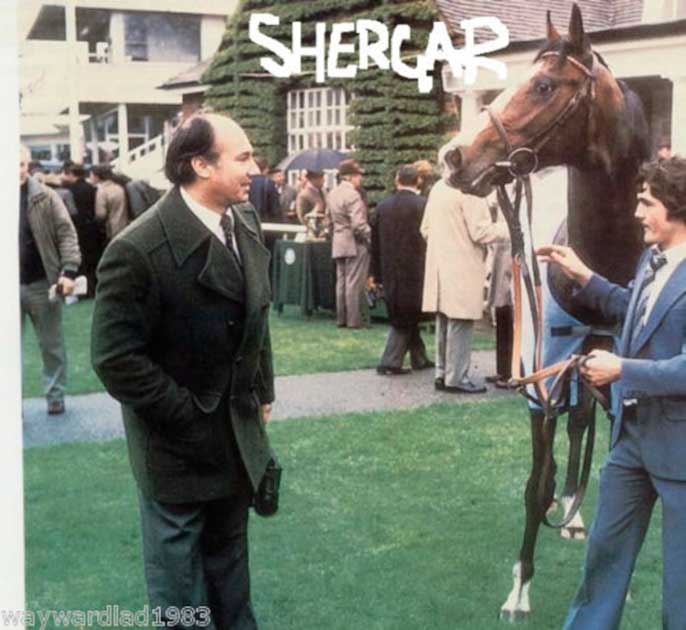 Adding to the already difficult investigation the gang had taken Shergar the day before Geoff's racecourse sale. This was a big event in the equine calendar with many horseboxes being driven on Irish roads, making finding which box contained Shergar almost impossible. 
The kidnappers did make a few attempts to contact the Khan demanding a ransom of £2 million. Ever cautious of the police tracing their phone calls they repeatedly hung up the phone before 90 seconds passed. The Khan decided not to co-operate with the gang, believing that if he paid them, it would label the Irish racehorse industry as profitable and put it at risk to similar crimes.
And then, just like that it was over. Shergar, the finest racehorse ever to have lived, was never seen again.
Whodunnit?
A few outlandish theories still circulate as to who was behind the cruel crime. One of the more bizarre ones was the Colonel Gaddafi used the mafia in New Orleans to enact his plot of horse-napping. However it is plausibly and widely believed that the cash-strapped Provisional Irish Republican Army (IRA) were behind the kidnapping of Shergar as a pattern of kidnappings had begun to emerge in the 1980's.
This is backed up by the statement that Former IRA Intelligence chief Kieran Conway made to the BBC. He asserted that, "There was just a shortage of cash, bank robberies and the like were more difficult than they had been in the early 1970s – they had to get it somewhere so they turned to kidnapping," 
Several statements made by former IRA members and informants paint a picture of the most likely end to Shergar's short life. 
Sean O'Callaghan, a jailed IRA informant, reported that he heard stories that the racehorse was killed just 24 hours after he was taken from Ballymany. Apparently, the inexperienced gang members had severely underestimated the strength of the five year old stud, so when they lost control of him they cruelly shot him dead.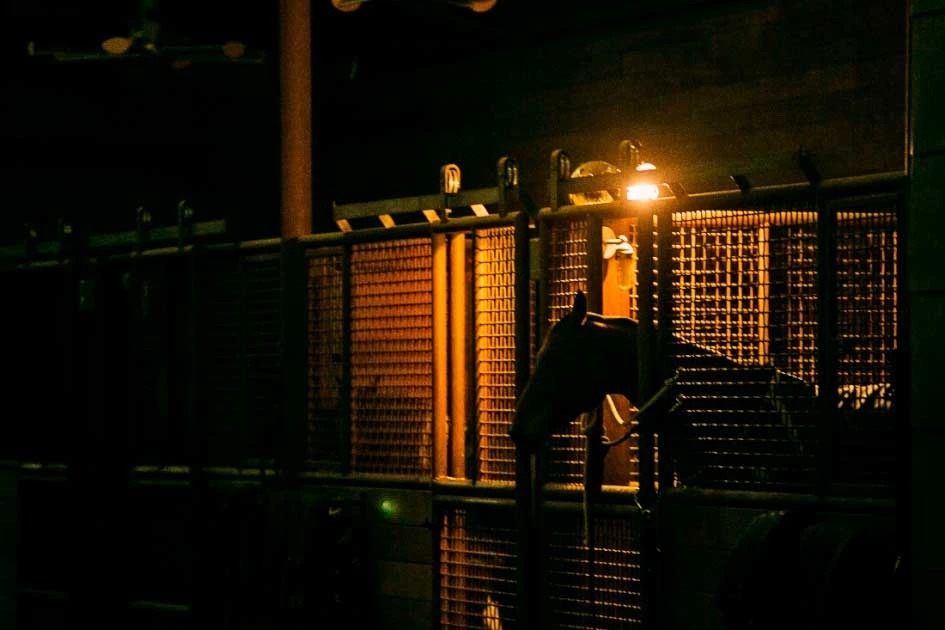 A theory that was later was cooperated by a former IRA member in interview he gave with the Sunday Telegraph: "Shergar was machine-gunned to death. There was blood everywhere and the horse even slipped on his own blood. There was lots of cussing and swearing because the horse wouldn't die. It was a very bloody death." 
The IRA have never formally admitted to the kidnapping or death of Shergar and without his remains there is no way to way to put the various theories to rest. In a country that been witness the many atrocities carried out by the IRA in the 1980s this one although not the most horrific somehow has remained in the minds of the nation.  
Top Image: Nobody knows for sure what happened to Shergar after he disappeared. Source: Михаил Гужов / Adobe Stock.
By Roisin Everard 
References 
The Irish Times, 2022. Sporting Controversies: The brutal, sad and mysterious tale of Shergar. Available at: https://www.irishtimes.com/sport/racing/sporting-controversies-the-brutal-sad-and-mysterious-tale-of-shergar-1.4249747
History.com, 2022. Irish race horse stolen. Available at: https://www.history.com/this-day-in-history/irish-race-horse-stolen 
The BBC, 2022. Who kidnapped the Derby-winner Shergar and why? Available at: https://www.bbc.com/news/uk-northern-ireland-44383969