We know so much of what happened in the past through the recovery and study of archaeological items. Dinosaur bones, cave paintings depicting fire and hunting, as well as primitive tools provide us with a good idea of what prehistoric life may have been like.
As time progressed and humans began to evolve and develop languages, people began to write. Our knowledge has only grown from cuneiform, Egyptian hieroglyphics, and Greek texts made by historians of the time. We are able to read, learn, and interpret what these ancient works were about.
What is frustrating about the history of humans is that before cultures began to write, we do not know what the cultural practices were, what archaeological items represented or their purpose, or if the small non-tool items were used in a religious tradition of some kind. Humans do not like not knowing things. It sends us searching for answers, speculating, and coming up with theories from the logical to the illogical in this desperate need to learn from our past.
One of these puzzling and ancient items that we do not know anything concrete and verifiable about are the dogū figurines made in prehistoric Japan. Will we ever truly know what these dogū were for?
The Jōmon Period
Dogū, which translates to "earthen figure," are small clay figures with humanoid or animal features that were created towards the later part of the Jōmon period of prehistoric Japan. What makes dogū figurines so fascinating is that scholars do not know what these little figures were created for or what they represent. 

The Jōmon period was a truly long time, a period in Japanese history that spanned from 14,000 to 300 BC. At that time, the people in Japan were hunter-gatherers. Early agricultural communities began to form through the period due to a shared Jōmon culture which had become moderately sedentary by the end of the period.
It was during the start of the Jōmon Period that the first forms of pottery in the country developed. In 1998, an American orientalist and zoologist, Edward S. Morse, found the first pieces of pottery from the Jōmon period.
It was Morse who gave the time period its name; Jōmon translates from the word "cord-marked." The style of pottery from the early Jōmon culture was decorated by pressing cords into the wet clay to form designs/textures. 
We do not know the purpose and significance of dogū figurines because writing in Japan began in the 6th century AD, a long time after the dogū were created. Dogū were created only during the Jōmon period, and by the time the next period of Japanese prehistory occurred, the dogū figures were not made anymore.
All theories and interpretations of what the dogū represented to their purpose are speculations and one of the many reasons why these little clay figures are so mysterious. There are several different styles of dogū, and the style found by archeologists largely depends on where the artifacts were found and at what time range it was that the dogū was created.
Why these styles developed is also part of the mystery of the dogū.
The Dogū
Dogū are small and range in size from 10cm to 30cm (4in to 11in), and the vast majority of dogū found have the appearance of a female body. Common features include big eyes, small waists, wide hips, and sometimes large bellies like that of a pregnant woman.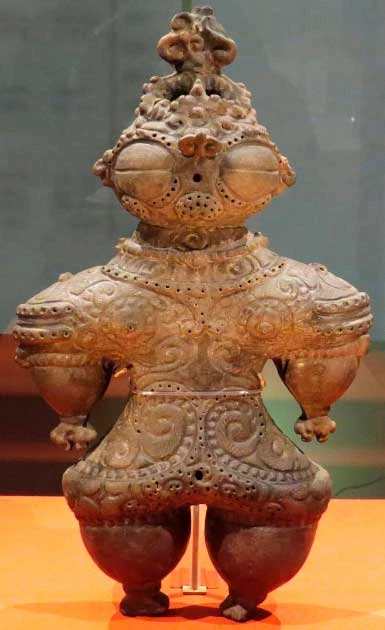 Many scholars believe that the figurines were representations of a mother goddess because the dogū resemble other neolithic figurines like the Venus of Willendorf. There is a possibility that the dogū were items that were related to fertility and shamanistic rituals. 
Dogū have been found that look as if the figure is wearing swimming goggles or have distinctly heart-shaped faces. What is also intriguing is that most of the dogū found have markings on the face, shoulders, and chest that may indicate tattooing.
There are four different appearances of dogū: "pregnant woman type," "horned-owl type," "goggle-eyed type," and "heart-shaped/ crescent eyebrow type." The goggle-eyed type, also called Shakōkidogū, has become so well-known and recognizable that many Japanese people think of the Shakōkidogū when someone mentions dogū figures.
The google-eyed type of dogū got its name from the word shakōki, which literally translates to "light-blocking device." The goggles are similar in appearance to the traditional snow goggles of the Inuit and Yupik aboriginal peoples of Alaska and Siberia.
It is rare to find an unbroken dogū. Most of the found dogū are missing a leg, arm, or another body part. While some are broken, there have been dogū found that indicate the limb was cut off intentionally. 
Yes But What Were They For?
We will likely never know the true purpose of the dogū due to the lack of written language at the time the figures were created. That being said, there are a few different ideas that scholars have about what their purpose might have been.
The most widely held belief is that the dogū was connected to fertility rituals. The very distinct female appearing dogū looks like a pregnant woman, with large breasts and a big round stomach, which is why many believe these clay figures were related to fertility. 
It is believed that dogū were made and owned by women (there is no proof that they were made by women or who would own them, so this is purely speculation) and are symbolic of the regeneration of life and reproduction. Scholars believe that dogū "may have been used for protection against the risks of childbirth, illness and death, or they may have been used in fertility rites to make their chances of having babies or giving birth to healthy babies more successful."
While many dogū are more abstract, with bodies or shapes that are genderless or animalistic, there has yet to be found a single dogū that illustrates any masculine features. This is why the theory of dogū as reproductive-related items is so commonly held.
There is another kind of Jōmon period ceramics that may support the idea of the figures being fertility-based or representative of a mother goddess; these artifacts are known as sekibō. Sekibō are stone rods that have been carved into a phallic shape.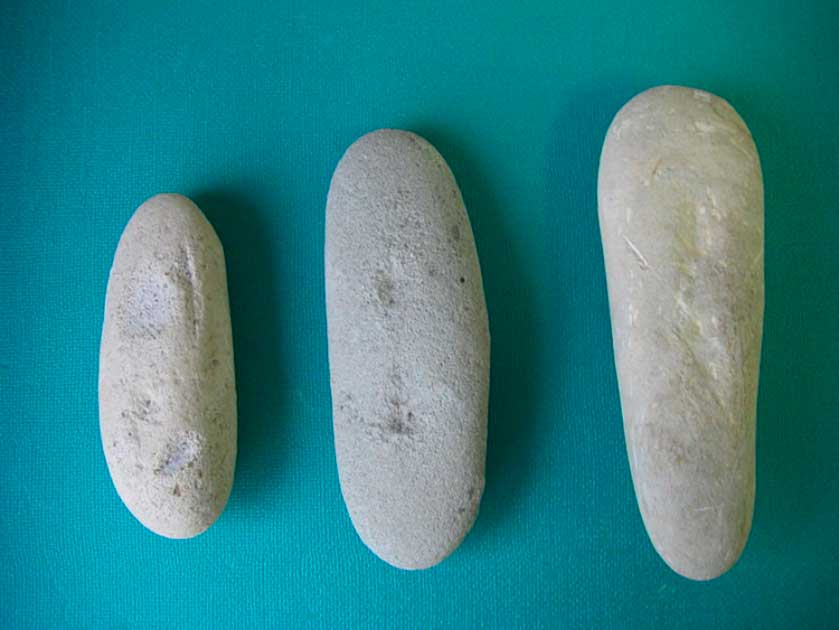 Many believe these rods were meant to be complementary objects to the dogū and were used by shamans in sympathetic magic ceremonies. Sympathetic magic is a primitive or magical ritual that uses objects resembling or mimicking the actions of a spirit symbolically tied to the event or person over which influence is sought.
Another idea about what the dogū were for relates to death and dying. There have been graves discovered from the time period where shattered pieces of dogū have been found. They were believed to be purposely destroyed for an offering/token/part of a death practice.
While the presence of shattered dogū in graves is significant, the dogū found in areas where habitation occurred are largely in one piece. This may signify that the broken dogū used for death rites had a different use or meaning.
The theory is that the broken pieces of dogū found in graves had something to do with the presence of an ancestry cult. The dogū and sekibō are thought to be items of worship that, along with fertility protection, were connected to the deceased's ability to manifest or communicate with the living once the dogū and sekibō have been destroyed.

The final theory about what the dogū represent is that they are statues made of aliens who visited the land at some point. While jumping to the alien conclusion often seems insane, there are a few things to consider.
The figurines from the period and most of the dogū recovered do not have features that a normal human would have. They have small bodies and arms, big heads that are strangely shaped, and the goggle-eye type of dogū looks a bit like a human wearing goggles or … a spacesuit.
Some figures' "tattoo-like" designs seem a bit advanced for that early in history. Maybe something that the aliens did or caused? While the alien theory still sounds like a bit of a wacky explanation and theory, we do not know what the dogū were created and used for.
With the lack of existence of written language from prehistoric Japan, we can't entirely dismiss the alien theory. What the dogū were used for and why they stopped being created at the end of the Jōmon period will forever remain a mystery.
Top Image: Dogū are some of the most enigmatic artifacts ever found, leaving archaeologists guessing as to their purpose or even what they depict. Source: fotoriatonko / Adobe Stock.
By Lauren Dillon