The order of succession for the English throne can be traced back through history for over a thousand years, but it has not always been a smooth process. While most of the time the crown passed smoothly from one generation to the next, this is not always true.
Kings such as Richard II and Edward II were deposed and murdered. Kings such as Richard III were killed on the battlefield and replaced by the victor, Henry VII. Charles I was even executed on the order of Parliament, as England briefly flirted with the idea of life without a monarch.
But perhaps the least well known of all the kinks in the royal line of succession occurred in 1688, where a Dutch stadholder (an official rank similar to an English Duke) was invited to replace the legitimate king of England. This bloodless change in power was known as the Glorious Revolution.
A Problem with the King
In 1688, England had a problem. The previous decades had been a fraught one for the English monarchy, and they weren't out of the woods yet, as the growing power of Parliament and the English people clashed with the old feudal order and the divinely-anointed (and alarmingly all-powerful) king.
Things had first come to a head with Charles I, whose increasingly heavy-handed interventions in Parliamentary affairs (an area of politics he had no right to involve himself in) had sparked the English Civil War. The royalists lost the ensuing conflict, Charles was beheaded, and England became a state without a monarch.
The problem however was that the victorious English proletariat, thrust into absolute power, fragmented under disagreements as to how to order their new democracy. Oliver Cromwell, the victorious Parliamentarian war leader, was a clear choice to lead once Charles was dead, but his actions increasingly suggested he saw himself as a sort of replacement king.
Cromwell's vision for England lasted little longer than his death, and his attempts to ensure his son succeeded him when he died in 1659 smacked of monarchism. The Parliamentarians eventually relented and, faced with the power vacuum following Cromwell's death, they invited Charles's son, Charles II, back with his powers somewhat curtailed.
However, a new problem with the monarchy was coming to the fore, first with Charles but then critically with his successor, James II. The new problem was also a very old one, and revolved around Catholicism.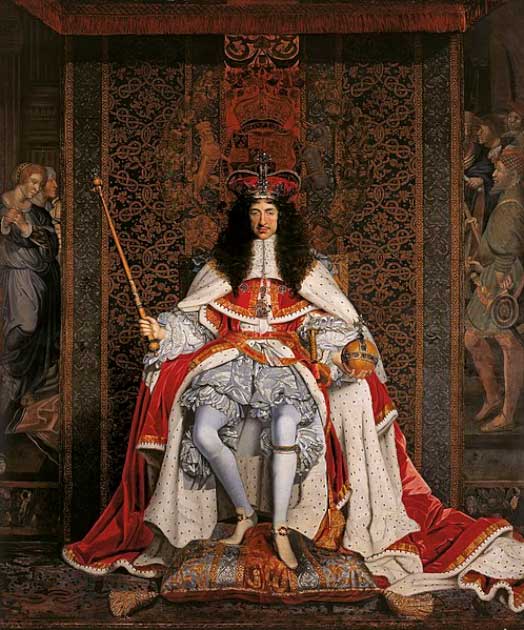 Henry VIII had split with the Catholic church over a century earlier, and under this daughter Elizabeth I the country had become firmly Protestant. A Catholic monarch as titular head of the Church of England would create a religious schism which could result in civil war once again.
Out With The Old…
In truth, the monarchy faced mounting problems long before James became king. Charles II, when restored to the throne, had been given powers to raise taxes and support himself on the understanding that he remained Protestant.
This worked, for a time. Charles could only impose additional taxes with the approval of Parliament. However, despite his powers being limited, Charles was still the king and had sweeping control over other aspects of policy. And in matters of foreign policy, this meant war with Holland.
War is costly, and the conflict took the support of all of the extra taxes authorized by Parliament. During this war, Parliament ceased the additional funding, but Charles II was committed, keeping on borrowing and spending to win it. By 1671, all of Charles II's income was dedicated to paying interest on his debts, with barely enough left over to cover his regular expenses.
Parliament denied authorizing any additional funds to Charles II, and trapped by his debts, turned to the French. Under the secret Treaty of Dover in 1671, Charles joined forces with the French king Louis XIV against Holland and received financial support from France. However, in return, he committed to become Catholic.
Charles had now positioned himself against a friendly Protestant nation he had previously publicly supported, and renounced the religion of which he was the titular head. The stage was set for a religious crisis and Parliament, blindsided by the king's actions, had to act again.
Parliament, with the support of the English aristocracy, attempted to block the succession of Charles's brother James, also a Catholic, to the throne, reasoning that they could sort the whole mess out once the ageing Charles was dead. In response, Charles flirted with disaster by drawing on his ancient powers to dissolve Parliament, and his final years as king were spent in deadlock.
…And In With The New
Stymied in their attempts to preserve a Protestant nation, Parliament were unable to prevent James II acceding to the throne in 1685. Their worst fears had come to pass, as their monarch was now openly Catholic, and showed none of Charles's pragmatism and will to compromise.
James declared that his son and heir would also be raised as Catholic, expanded his private army to cement his power and recruited Catholic officers. It seemed that once again, the king needed to be removed. The solution, in Parliament's eyes, lay in the king's daughter Mary.
Mary had been living in Holland, and on the invitation of Parliament, she returned to the English coast on 5th November 1688. But she didn't travel alone. Mary brought her husband, William of Orange. And William of Orange brought his army.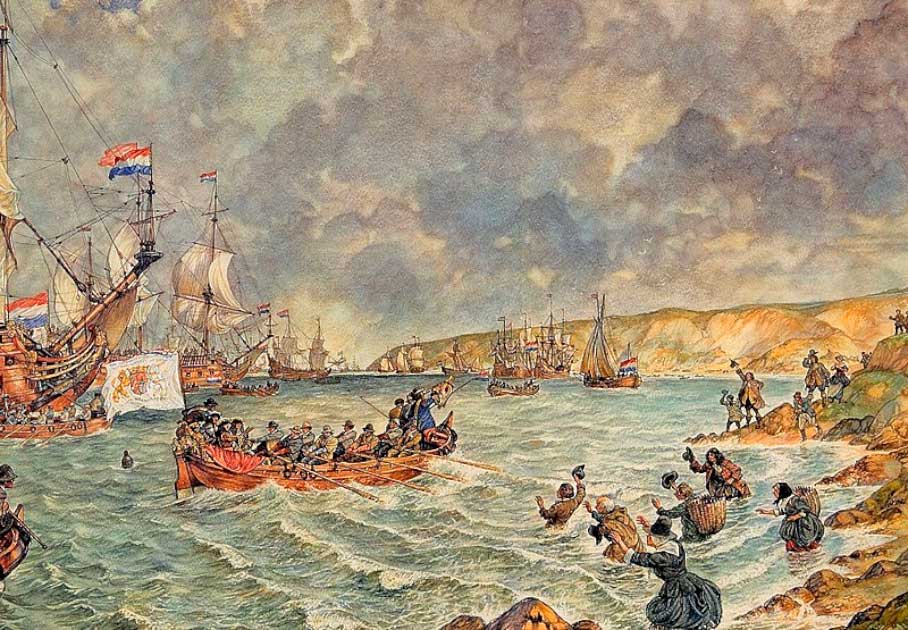 The army of James II was sufficient for domestic control but, facing hardened Dutch forces, it started to crumble. James was defeated and he knew it, but William graciously allowed the king to escape to France. Parliament considered the fleeing gesture of James II as his abdication.
On that basis and nothing more, James was replaced by William III and Mary II who took over the throne of England on February 13, 1689. Mary claimed the throne as James II's daughter, but William demanded that he become king and possess the power. Authority was then shifted completely to William when Mary died in 1694.
A Bloodless Revolution?
And just like that, a Dutch king was on the English throne. Although the so-called "Bloodless" revolution avoided another civil war, and although this ensured the monarchy was kept in the family through Mary, this was not the end of the conflict.
James and his descendants continued in their attempts to reclaim the crown for many more years. Only with the decisive Battle of Culloden at which James's grandson, "Bonnie" Prince Charlie was defeated, did the attempts of the Catholics to win the crown finally cease.
Top Image: William and Mary are welcomed as the new monarchs in a "Glorious Revolution". Source: Wellcome Trust / CC BY 4.0.
By Bipin Dimri