In New York, the Long Island Serial Killer (LISK) has been operating for almost twenty years. He has killed, mutilated, and disposed of at least ten victims along the highway near Gilgo Beach. Also known as the Craigslist Ripper and the Gilgo Beach Killer, the notorious serial murderer remains one of the most elusive and high-profile criminals of the modern age. 
Discovery of the Long Island Serial Killer
The mystery of the Long Island Serial Killer began in 2010 with a woman named Shannan Gilbert. Shannan was a 24-year-old sex worker who advertised her escort services primarily through the personals site, Craigslist. In May 2010, she visited the home of a client in Oak Beach, Long Island, who she'd met through the website. It was the last client Shannan would ever see.

The last sighting of Shannan was by her client's neighbors, who claimed they'd spotted Shannan running away screaming for help in the early hours of the morning. Shannan also made a 911 call at around 5 am, claiming that "they were going to kill her."
Police searched Shannon's last known location after being reported missing. The search was unsuccessful, but in December 2010, a police officer on a training exercise made a different grisly discovery. Along the highway located near Gilgo Beach, he found the rotting remains of a woman, her body wrapped in a burlap sack.
Three More Victims of the Gilgo Beach Killer

This gruesome find prompted a thorough search of the same stretch of highway. Unfortunately, there was still no sign of Shannan. Things took a horrific turn when they located three additional bodies only two days later. All the victims disposed of in the same manner as the first.
You May Also Like: The Story of H.H. Holmes, America's First Serial Killer
All of the corpses were women, fully clothed but missing their shoes. Now with four bodies, police began suspecting the worst. Was the area a dumping ground for a serial killer? And what had happened to Shannan Gilbert?
Connections
Autopsies helped uncover the identities of the four victims. They were:
Maureen Brainard-Barnes, 25.
Melissa Barthelemy, 24.
Megan Waterman, 22.
Amber Lynn Costello, 27.
In addition to all being women in their twenties, the police learned that they were all sex workers who advertised themselves via Craigslist, just as Shannan Gilbert had. Maureen and Melissa had disappeared in 2007 and 2009, respectively, while Melissa and Amber were only reported missing in late 2010. All of the women reportedly died of strangulation.
A Further Six Victims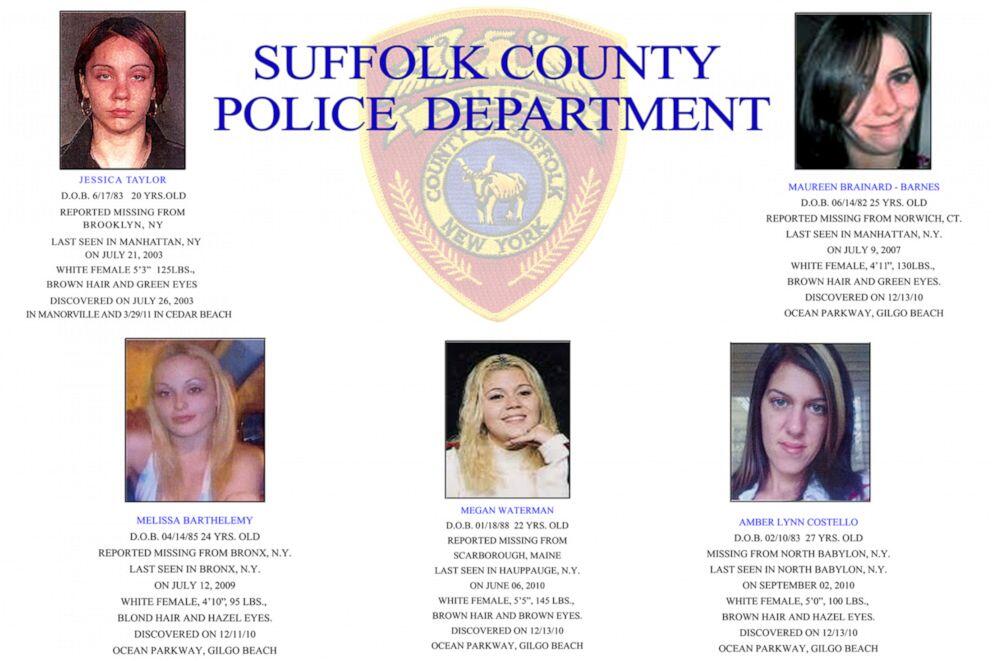 The police now had an apparent reason to believe these deaths may be the work of a serial killer. They extended their search of Gilgo Beach around two miles in every direction, spilling over into Nassau County.
March and April 2011 saw police find yet more human remains two miles east of Gilgo Beach. However, there were some notable differences this time around.
You May Also Like: The Golden State Killer Was the Original Night Stalker and Visalia Ransacker
Four torsos were discovered, along with two sets of partial remains. Amongst the findings were four women, all were matching the same victimology profile as the previous bodies. Only one was able to be identified by name, and that was Jessica Taylor, a 20-year-old sex worker who had worked in Manhattan and Washington D.C. Only her skull, hands, and forearm were found at Gilgo Beach, the rest discovered 45 miles away in Manorville, New York, in late 2011. This discovery was a notable deviation in modus operandi from the previous victims.
Baby Doe and John Doe
Things became increasingly more complicated when two of the victims turned out not to be female, adding further mystery to the killer's motives.
You May Also Like: Finland's Unsolved Lake Bodom Murders
Police found the skeleton of a baby girl, somewhere between the ages of 16 and 24 months, wrapped in a blanket and showing no signs of trauma. Later, officials identified the child as the daughter of another victim. Exactly how and why the baby died remains unknown.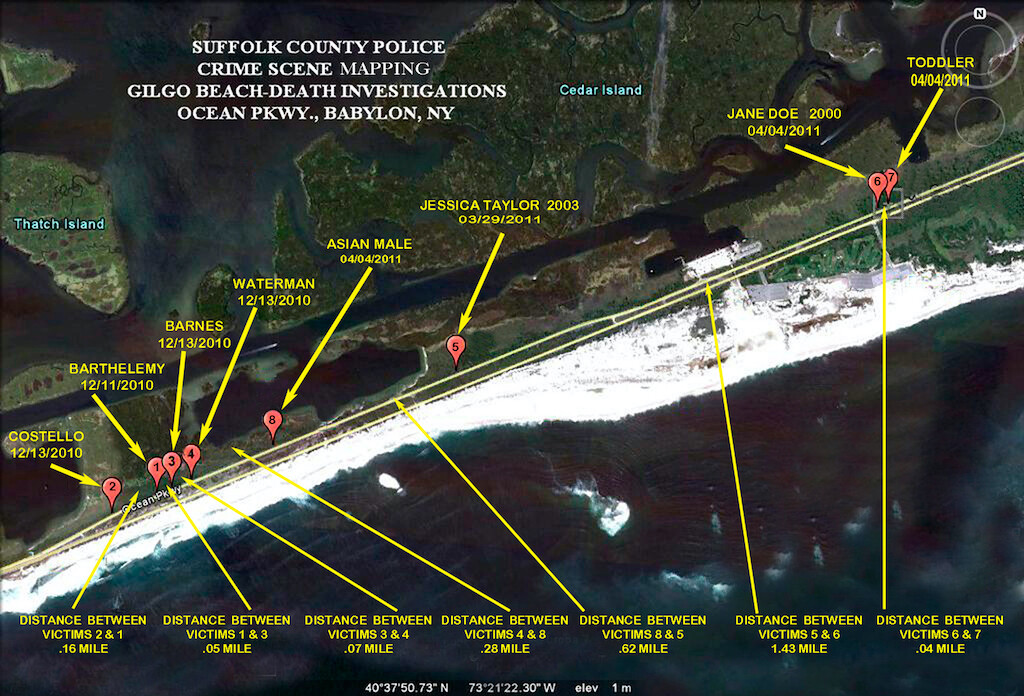 But even stranger still was the discovery of the killer's first male victim. Although he dressed in women's clothes, he was undoubtedly a man and, most likely, a local sex worker. His true identity remains unknown.
This discovery bought the Gilgo Beach Killer's total victim count up to ten. There were obvious similarities in the victimology and the killer's disposal method. However, there are also enough discrepancies to provide reasonable doubt that more than one person might be responsible for these deaths.
Piecing Things Together
Some of these newly discovered victims had dismembered bodies. DNA analysis assisted forensics in matching some of the remains with other body parts found throughout New York.
The remains of "Jane Doe 3", an African-American woman as well as the mother of Baby Doe, had first been found as far back as 1997 in Lakeview, New York. The discovery of "Jane Doe 7's" teeth and skull matched a set of dismembered legs police discovered on Fire Island, New York, in 1996.
Police now had confirmation that the Long Island Serial Killings stretched much farther back than they first realized. The person responsible for these brutal murders might have had been operating for fifteen years.
Shannan Gilbert Found
In the wake of the ten new bodies, the search for Shannan Gilbert fell off the radar. However, in December 2011, she was finally located.
You May Also Like: The Servant Girl Annihilator Murders of Austin, Texas
Around a mile from where she was last seen alive, police found the remains of a young woman in a marshland. It was Shannan Gilbert.
Shannan fit the victim's profile (in her twenties, female, sex worker, advertised via Craigslist, found near Gilgo Beach). But police found no clear connections linking her to the other victims. The official explanation for her death is that she became lost on the way home from her clients' house, possibly intoxicated, and drowned in the dense marshland.
Speculation about what truly happened to Shannan has been rife since confirmation of her death. Several factors dispute the official story of her drowning, including the fact that an autopsy on Shannan's body showed signs of strangulation. Additionally, Shannan's corpse was discovered facing upwards, which is incredibly rare in drowning victims. Lastly, the 911 call which Shannan made on the night of her death has never been made public.
LISK Taunted Victim's Families
In 2009, the police may have spoken directly to the Long Island Serial Killer on the phone.
One of the victims in the first batch of four bodies was Melissa Barthelemy. She originally went missing in July 2009, but due to her lifestyle, her mother believed that there was no cause for concern and that Melissa had simply moved to another city.
But things took a bizarre turn when Melissa's younger sister, Amanda Barthelemy, began receiving calls from Melissa's phone shortly after Melissa vanished. When Amanda answered, it wasn't Melissa on the other end. It was a man.
Amanda assumed that Melissa had lost her phone. But the caller began to taunt Amanda by telling her that Melissa "was a whore" and that he was going to "watch her rot."
The police attempted to trace these strange calls, but they could only narrow it down to Times Square, New York. However, once the caller knew that the police were aware of his general location, the calls suddenly stopped.
Long Island Serial Killer Suspects
The chilling truth is that the police may have already interviewed the Gilgo Beach killer. As of 2020, there have been four significant suspects in the Long Island Serial Killings. However, investigators officially cleared two of them.
Joseph Brewer, the man who hired Shannan Gilbert on the night of her death, was an obvious candidate. Police have subsequently ruled him out as a suspect. On the night Shannan died, Brewer claimed that she arrived at his residence erratic and scared for her life, and fled the premises before they engaged in any sexual activity.
Dr. Peter Hackett, a married father of two, also became a suspect in Shannan's death. He made some strange phone calls to Shannan's mother following Shannan's disappearance. He claimed that he "ran a home for wayward girls" and had taken Shannan in, but later retracted these statements to claim he had never even met Shannan. Police found her body in the marshland near Hackett's home. Despite these bizarre instances, police cleared Hackett of any involvement.
James Burke, the Suffolk County Chief of Police, remains a strong candidate. Burke was a regular escort user with a criminal history and often engaged in aggressive, violent sex. Interestingly, he attempted to block an FBI probe into the Gilgo Beach murder case. He was found guilty and sentenced to four years in prison in November 2016, where he currently resides.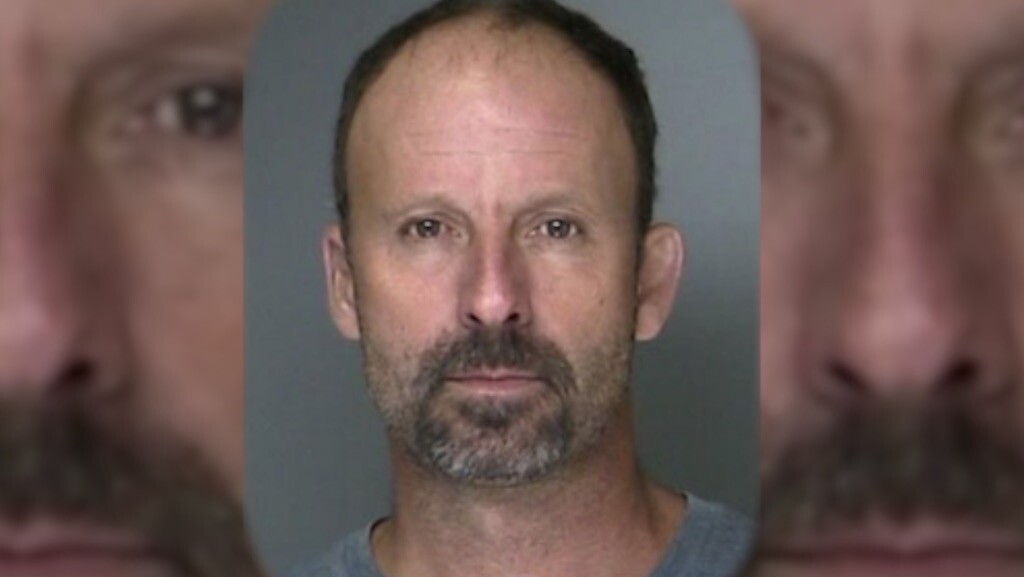 The last primary suspect is John Bittrolff, a married carpenter convicted in 2017 of murdering two prostitutes in the early nineties. He was a resident of Manorville, where three of the Long Island Serial Killer victims turned up. His murder victims shared eerie similarities with the Gilgo Beach victims. Furthermore, one of Bittrolff's victims was friends with Melissa Barthelemy. Melissa's phone also reportedly made several calls to an unknown person in Manorville when police checked her records.
More Than One Serial Killer?
The differences in modus operandi between the two batches of bodies suggest that the Gilgo Beach victims may be the work of more than one person. While the first four were strangled, wrapped in burlap sacks, and then dumped, the second batch showed a much more violent side to the Long Island Serial Killer.
A peculiar fact is that several bodies discovered in the second batch had been placed there first. This timeline indicates the Gilgo Beach Killer devolved from mutilating and dismembering to simple strangulations. The likelihood of this is low, given that serial killers often become more sadistic and experimental as they rack up a higher victim count.
Unfortunately, the truth is still unknown. There are several theories out there, ranging from lone killer theories to this being the work of three different people. In January 2020, new evidence from the LISK case became public. It involved a black leather belt which police believed belonged to the person (or one of the persons) responsible.
The belt bore the letters HM or WH and found during the initial stages of the investigation back in 2011. Police are appealing to the public to see if anyone recognizes the item.