Ever since man first looked up at the stars he has wondered whether he was alone in the universe. For decades scientists and astronomers have been searching for signs of intelligent life other than ours, somewhere out there.
And for decades they've pretty much come up short. Every time a new earth-like planet is found the internet is filled with articles claiming this could be the one.
One of the planets the internet has latched onto in recent years is Proxima B, an exoplanet found orbiting Proxima Centauri, our sun's closest neighbor. Some scientists believe Proxima B could have the building blocks for life. So how excited should we be?
What is Proxima B?
Proxima B is an earth-sized exoplanet (a planet outside our solar system) found orbiting the red dwarf star Proxima Centauri. Proxima Centauri is the closest star to our sun which makes Proxima B (as well as the disputed Proxima c and d) the closest known exoplanet to us, at around 4.2 light years away.
Most excitingly, Proxima B orbits Proxima Centauri at a rough distance of 7.5 million km (4.6 million mi), which puts it in that star's habitable zone. This means it is believed to be just the right distance away from its star for water to exist on the surface. Too far away and planets freeze, too close and they boil.
The discovery of Proxima was a long time in the making. As early as 2008 and 2009 Proxima Centauri was a prime target for scientists looking for exoplanets similar to Earth.  Proxima Centauri is a dwarf star and planets are particularly common around dwarf stars, averaging at around 1-2 planets per star. Around 20-40% of these red dwarfs have a planet within their habitable zone.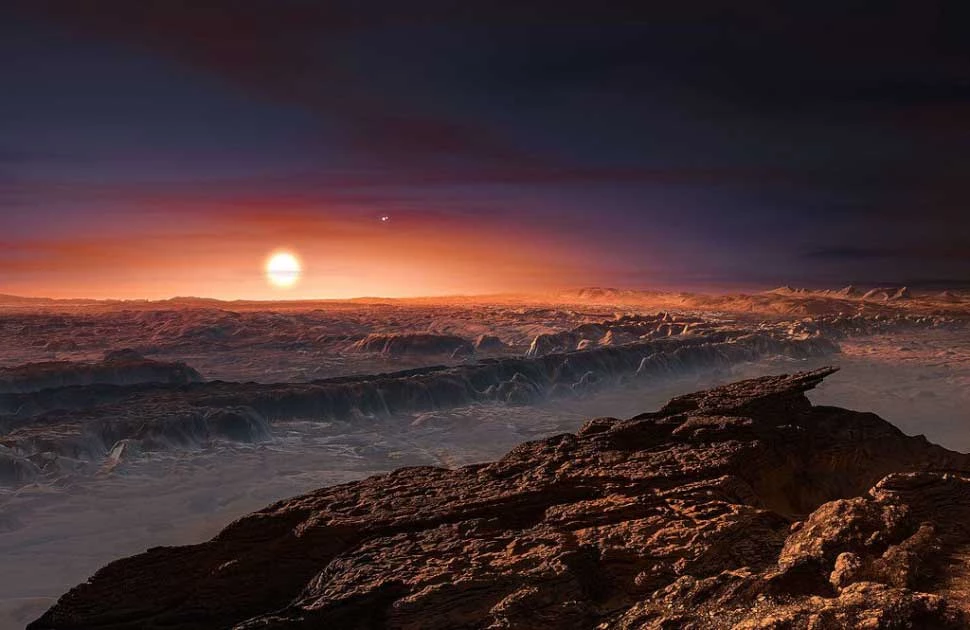 Early observations made at the European Southern Observatory in Chile found anomalies in Proxima Centauri which astronomers struggled to explain. It was suggested the cause of these anomalies may be an exoplanet.
In January 2016 a team of astronomers created the Pale Red Dot project to try and prove this theory. On 24th August 2016, the ESO (European Southern Observatory) confirmed the existence of the planet now known as Proxima B.
The planet's official "discovery" caused much excitement in planetology circles. The fact that Proxima is relatively close (by galactic standards) to Earth and could potentially be hospitable had people's imaginations racing.
A World of Water and Alien Life?
People really, really want the answer to this question to be yes. But the truth is astronomers don't know anywhere near enough about Proxima B to be able to give a definitive answer. Instead, what we have is a fair amount of assumptions built on guesswork and guesswork built on assumptions, with what little data we have thrown in.
So let's break down what we do know.
The biggest positive is that Proxima resides in its star's habitable zone. This is the region surrounding a star where it is possible for a planet's surface to contain liquid water. The existence of liquid water on the surface of a planet is one of the prerequisites for life (as we know it) forming.
The second prerequisite is the existence of an atmosphere. Unfortunately, this is where things become less hopeful.
While scientists cannot be sure, the chances that Proxima B has any atmosphere at all, let alone one that might support life don't look great. Much of this is to do with the fact the planet orbits a red dwarf, which is very different from our sun.
Red dwarfs shine much less brightly than stars like our sun and as such Proxima B only receives around 65% of the radiation that we do on Earth. One would think this would be a good thing but the problem is the kinds of radiation Proxima B receives.
Proxima B receives much heavier doses of both UV radiation and X-rays from its star (10-60 times more than we do). Sadly, UV radiation and X-rays are great at evaporating atmospheres. Hydrogen is great at absorbing these types of radiation's energy, which in turn heats the hydrogen.
The hydrogen atoms then speed up and escape the gravitational field of the planet. Even worse, any water that exists is split into hydrogen and oxygen particles. As the hydrogen heats up and escapes it can drag with it other important elements like oxygen and nitrogen.
It is also believed, due to how close Proxima B is to its star, that it is likely battered by stellar winds (gasses ejected from a star's surface) that are anywhere from 10 to 1,000 times stronger than those experienced by Earth.  If Proxima lacks a strong enough magnetic field, these solar winds would easily strip it off any atmosphere the radiation hadn't already destroyed.
It is also unclear how long Proxima B has been in the habitable zone. It is believed that the star's habitable zone was once millions of miles further out but has contracted over time, bringing Proxima B into its sphere of influence.
This means that when it was first formed Proxima B may have been far out of the habitable zone, too close to its sun. During this roughly 180 million-year period, it would have been too close to its sun for water to condense. Combined with the high levels of UV radiation this means most of Proxima B's hydrogen and oxygen may have been permanently lost.
A Candidate for Colonization?
IF, and it's a big if, Proxima B does have surface water and IF it does have a suitable atmosphere it's possible that someday in the distant, distant future humans could colonize the planet. Temperatures on Proxima B (if it has an atmosphere) would be cold but manageable and the planet's mass is believed to be only 17% more than ours, meaning gravity would not be a problem.

But 4 light years is a long, long way. For example, it would take Voyager 2 (which launched in 1977) 75,000 years to reach Proxima B. While technology has obviously advanced in the last 50 or so years, even with modern technology there is no way we could reach Proxima within anywhere close to the average human lifespan.
But humans are industrious. Scientists are already hard at work thinking up ways we could one day reach nearby exoplanets. For example, some scientists believe solar sails could get us close to 20% of the speed of light. 
This would get us to Proxima in around 20 years (if we could work out how to safely decelerate and avoid being smashed to pieces by tiny particles when moving at that speed). Various other projects exist such as the Breakthrough Starshot, which aims to get man-made objects to Proxima B within the 21st Century.
One for the Future
It would be easy to become despondent when looking at the list of negatives facing Proxima B. But the fact is nearly everything we think we know about Proxima B is just supposition. All we really know is that it probably exists, and it might have surface water. We'll have to wait for further advances in technology before we learn anything more.
The Universe is an unimaginably big place and we're learning new things about it every day. We once thought planets like our own, which resided in a star's habitable zone were vanishingly rare. Now we know otherwise. With every discovery made it seems more and more likely that we may not be alone. The challenge will be getting to our new neighbors.
Top Image: Artist impression of how Proxima B may look as an arid, rocky "super-Earth". Source: ESO; M. Kornmesser / CC BY 4.0.