History is littered with the deeds of great men, with their deeds, their lives and their deaths providing much of the driving force which led to the world we live in today. Far fewer, in the male dominated world of the past, are the records of the great women of history, and those who are remembered today are great indeed.
One such was Shammuramat, queen of the great Assyrian Empire. Despite the prejudices of the time, this visionary leader inherited an ailing empire and, within her lifetime, had both secured and expanded it. She left the Assyrians of the third great "Neo" Assyrian empire on a firmer footing than ever before.
Her deeds are recorded in stone, and the greats of history record her achievements as ranking alongside those of the great men of history. The Memorial stele (stone slab) of Shammuramat, discovered at Assur, the great capital of the Assyrian Empire, stands testament to her importance. Herodotus talks of her, as does Diodorus Siculus at some length. 
Many legends grew around this great Queen. It was said that Shammuramat was born to a goddess, and her bewitching beauty enslaved the king of the Assyrians, Ninus in legend and Shamshi-Adad V in reality. Taking her as his wife (her previous marriage to an army officer proved little more than a wrinkle) she was elevated to royalty and, when her husband died, Shammuramat took charge and ruled the kingdom for several years.
It is said that she may have been the legendary Semiramis, the founder of Nineveh and Babylon, two of the great cities of the ancient world. Holding her throne against all challengers (and all suitors), she was able to pass it on in peace to her younger son, Adad-Nirari III. 
How was she able to achieve such greatness in a male-dominated world?
A Legendary Warrior Queen
Shammuramat is well known for her deeds as queen, but her origins are less clear and even her name is not recognizably Assyrian. Born around 850 BC, it is plausibly suggested that she was a foreigner, perhaps a princess who was introduced at the court of the Assyrian king.
But the kingdom she found herself in was not a happy one. The previous king, Shalmaneser III, had ruled for 35 years and his death left a succession crisis. Many vied for the throne, and in the struggle that followed the death of the old king the Assyrian Empire was brought to its knees.
The new king, Shamshi-Adad V, had taken six years to cement his authority and his position was far less secure than that of his predecessors. But in Shammuramat he had found a powerful ally.
Sadly, much of her history as consort of the king has not survived, perhaps because her involvement in the resurgence of the Assyrians was not recognized. Shamshi-Adad is known to have campaigned against the Mesopotamians and won a great victory against the king of Babylon. But only after his death do we see her actions with any clarity.
She is remembered as the only woman to rule the Assyrian Empire outright, holding immense power and fame, all of which she gained in her lifetime. She also must have had a very strong influence on the Assyrian court, which explains how she took control of the throne after the death of her husband. In that era, women were not admitted by choice to take on authority within the Assyrian Empire.
More Than A Regent?
It seems that the accession of Shammuramat to the throne was one of necessity. She does not appear to have been regent as her son was likely not a minor when her father died, so it seems that the Assyrian court, either under her thrall or in recognition of her abilities, turned to her to lead them.
Nor was she the power behind the throne. A boundary stone in modern day Turkey attests to the expansive policies of her son, but also credits her as an equal with him in bearing responsibility for the expansion of the Assyrian Empire. For the mother of the king to be mentioned in his lineage is very unusual; for the mother to be given equal credit is unique.
Sadly, there is very little information on what Shammuramat actually did in her reign. Later legends attest to her as being both a builder and a great warrior, fortifying and expanding the Neo Assyrian empire. Her military career may even have started while her husband was alive. 
But there is no practical verdict upon what she did throughout her reign before handing over the throne to her younger son. Research and historical excavations are still in pursuit of determining more about the Assyrian Empire and its hidden secrets about its only woman ruler. 
Even without verdicts, it is said that she was able to stabilize the entire empire and stop a civil war. She did all of it for her son to secure his rule and her legacy. Pushing west, she conquered Medes and perhaps parts of Armenia, before disappearing from history aged about 50 on the full accession of her son. 
The Legend of Semiramis
Clearly a great leader in her own right, the legends began to grow and Shammuramat began to turn into the legendary figure Semiramis. The half-divine daughter of Goddess Derceto, this (likely Mesopotamian) figure was cursed to fall in love with a mortal and life her life among men.
Derceto, often depicted as a mermaid, was one of the chief Syrian deities and Semiramis came from great stock indeed. Semiramis is said to have fallen in love with Ninus, a legendary figure who bears no resemblance to Shamshi-Adad V. Although Ninus is said to have founded Nineveh, in most stories it is his wife who is the focus.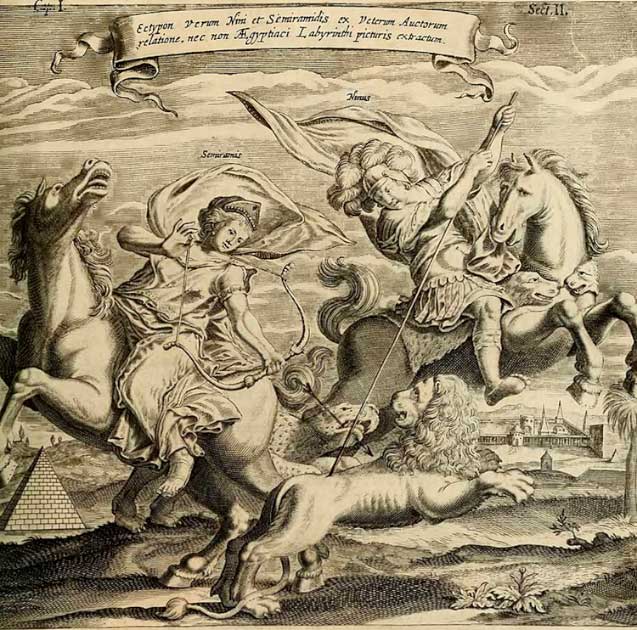 Semiramis herself later found Babylon after the death of Ninus. Taking control of the empire as a demigod, she led the Assyrians on a successful expansionist campaign which secured their boundaries, defeated their foes and brought in a new age of peace and prosperity.
Later legends, typically looking to smear her reputation as a successful women, are more lascivious and patently untrue. She is said to have had sex with a horse, and to have been killed by her son after trying to sleep with him. None of this exists in the early legends, although she was said to kill her lovers lest they amass too much power.
In either guise Shammuramat, or Semiramis, remains one of the most controversial figures in all of ancient history. There is an ongoing discussion over whether Shammuramat was a model to be idolized or not. Was she truly as great as the stelae record, or did she take advantage of the Assyrian weakness to stage a coup and set herself up as queen?
Nonetheless, the fact that these stelae exist are a testament to her power, however won. To rule Assyria as a queen was enough, perhaps, to elevate her to legend.
Top Image: Shammuramat as semiramis, legendary queen of Assyria. Source: Cesare Saccaggi / Public Domain.
By Bipin Dimri