Malden Island is a low, arid, and uninhabited atoll in the heart of the Pacific Ocean. 1,500 miles (2,400 km) south of Hawaii and more than 4,000 miles (6,400 km) away from the nearest sizeable land mass, South America, it is one of the 32 atolls that form the Republic of Kiribati.
The island itself is tiny, a sanctuary for seabirds on their long journeys across the ocean. Windswept, deserted and desolate, the island is one of the most isolated places on the planet. It is the last place you would expect to find evidence of a lost civilization.
And yet, amidst the screaming seabirds and tough vegetation there are ruins, here. At some point in its history, Malden Island was inhabited by an unknown people, who built stone structures, and who mysteriously vanished long ago.
Why did they settle on Malden Island, so far from anybody else? Who were these people, and where did they go?
A Tiny Island in a Vast Ocean
Malden Island, also called Independence Island in the 19th century, actually has a surprising amount of history for so small a place. Aside from the enigmatic stone structures, the island was once used as a site of nuclear weapons testing conducted by the British around the 1950s under Operation Grapple.
Today, Malden Island and the surrounding waters are protected, a sanctuary for breeding seagulls and other marine birds. Only the structures which remain reveal that the island was anything other than another deserted atoll. But it is these structures which intrigue, their presence, their purpose and their creators unknown.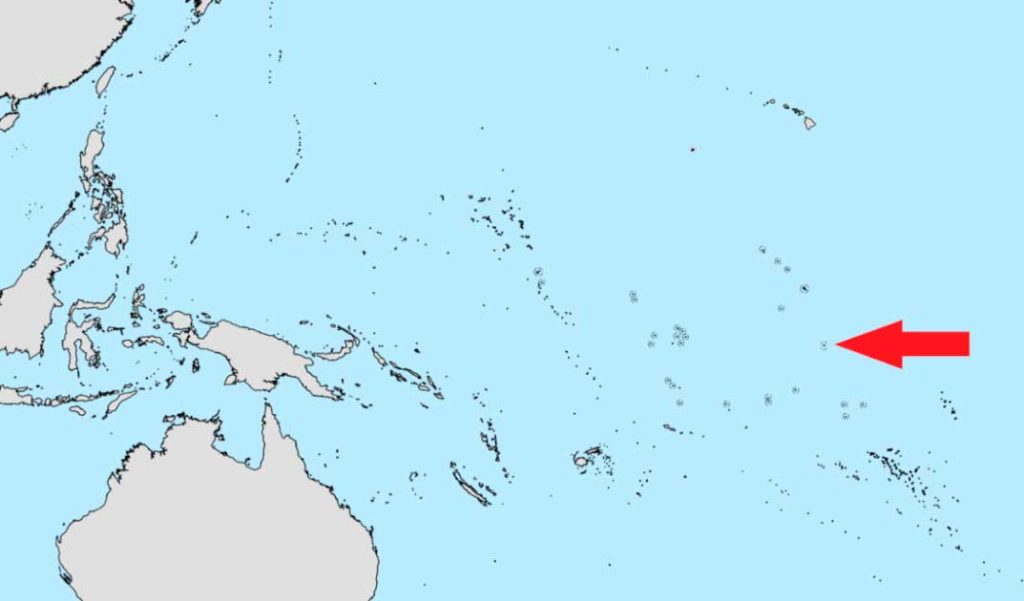 Some 40 stone "temples" dot the island. These stone temples bear a resemblance to the structures found on Nan Madol in Pohnpei, in Micronesia some 3,400 miles (5,500 km) away. Why some of those people would leave to cross a vast expanse of water and select Malden Island to settle however, will forever be a mystery.
Historians are also quick to note that the structures could have come from elsewhere, for example identifying a distinct Polynesian resemblance to some of the structures, suggesting a Polynesian influence. Others note a Melanesian influence, while still others note that there are clear differences between Malden and all these cultures, too.
But wherever the settlers came from, they came from far away. Many historians believe that the island could be where the Polynesian religious beliefs evolved into a newer version, and so we can see mixed influences around the structures. 
These stone structures are present on the beach ridges, mainly on the south and north sides of the island. 21 sites in total have been identified to date, and alongside the temples there are houses and graves which point to permanent occupation. Noting the lack of large vegetation on the island, it may be that stone was used simply as it was the only option, and that these structures have therefore survived by chance.
And, in truth, it would not require many settlers to have constructed all the structures found on the atoll. Current estimates suggest that as few as 100 people could have crossed the ocean to build these temples, although it is considered more likely that there were double that number on the island at its peak.

The lost people of Malden Island might have used these ceremonial ruins for religious and gathering purposes, such as meetings. On the other hand, there are also many stone-paved roads leading to the sea on Malden Island. These roads today are damaged and look like they lead to nowhere.
These stones are semi-polished and look different from other rocks. How the people fashioned these rocks is also not clear, as there are no significant stone polishing tools found on Malden Island. There are only remains of shell blades present on the Island. It would seem we don't know how the structures were built, either. 
Such stones have been found in other similar structures found on other Pacific Islands, and perhaps answers may be found in Polynesian legends. The people believe that the Islands in the Pacific Ocean are the last traces of an earlier continent named Mu or Lemuria, that had sunk many centuries ago. They also believe that their people crossed the great ocean, being led to islands by the gods, to whom they then offered thanks.
Are these temples places of worship to these gods, built in gratitude by a people many weeks at sea? Did they not choose Malden Island so much as chance upon it?
Rediscovery of Malden Island 
Malden was rediscovered on 13 July 1825, by Captain of HMS Blonde, the 7th Lord Byron, who was leading a mission from Honolulu in Hawaii to London. Named for the chief navigator Lt. Charles Robert Malden, who was the first one to land on the Island and explore it, the ruins were visible and noted from the start.
Absent any evidence of population, there was a rush of fanciful theories as to who build them. Some believed they were made by a nautical offshoot of the Inca, no doubt recognizing in the stone structures an echo of the master masons of the Andes. Others believed the temples were built by Chinese explorers, or even shipwrecked mariners thankful to have survived.

However, when the island was first studied in 1924 by a Honolulu archaeologist, the conclusion that the island was previously inhabited by Polynesian people became clear. It seemed that these people were not just passing through, but had lived there for generations, before disappearing.
There is still much to learn about the island, and current knowledge barely scratches the surface of what was built there. Perhaps in the future we will learn more of the enigma of the buildings, and perhaps answer the question of who lived here, long ago.
Top Image: One of the ruins on Malden Island as discovered in 1825, with HMS Blonde in the background. Source: Robert Dampier / Public Domain.
By Bipin Dimri