"An artist should suffer." So said performance artist Marina Abramović in her 2011 piece titled "An Artist's Life Manifesto". The nature of performance art is to use the body as the site of the art whereby one creates a collective experience for both artist and viewer. But how did Abramović's daring use of suffering confront the viewers, incite feelings of discomfort rather than awe?
"We are always suffering from something"
The Serbian artist was born in 1946 in the Yugoslavian city of Belgrade. Until the age of six Abramović grew up with her grandmother as her parents were Yugoslav partisans during WWII.
Abramović has discussed her rigid and occasionally violent upbringing in interviews. When asked about where some of the themes of discomfort in her performance pieces come from, she responded , "I come from the Balkan culture. We are always suffering from something. If we're not suffering on a personal level, we're suffering for the universe in general."
In 1965 she was accepted into the Academy of Fine Arts in Belgrade where she studied figurative painting. Over the course of her studies the subjects in her paintings began to take on more abstract forms. During her postgraduate studies in the Academy of Fine Arts Zagreb, in Croatia she found painting was an inadequate tool to express her conceptual concepts. 
Abramović started to investigate how sound and performance create immersive spaces, which enabled her work to speak about concepts she was struggling to articulate in her paintings. This shift in her work was chiefly brought about by her time spent at the Student Kulturni Centar. At this artist hub within Belgrade she was surrounded by young fledging artists experimenting in the world of conceptual art.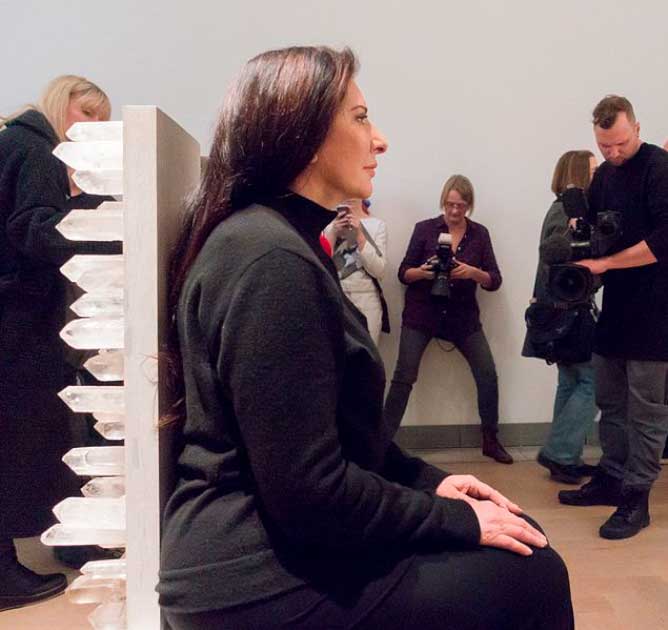 After earning her master's degree in 1973, Abramović began teaching at the Academy of Fine Arts in Novi Sad whilst also developing her first notable body of work. In Belgrade Abramović met Joseph Bueys, an unorthodox, culturally subversive artist who was exploring the obsessive and unsettling rituals through the medium of durational performance. This encounter was to have a profound impact on Abramović's early works. 
The Rhythm Series: A Shocking Debut
The Rhythm Series consisted of set durational performance pieces performed between 1973-1974. Each piece was devised to push the limitations of her body further and further, concurrently challenging the viewers boundaries.
During the first performance in the series in 1973, known as Rhythm 10, Abramović sat at a table with her hand on the table, fingers spread wide apart. Beside her were twenty sharp knives. She attempted to move from little finger to thumb stabbing the space in between her fingers.
Any time she stabbed herself she would pick up a new knife and start over. "Just like with Russian roulette, it's about courage, foolishness, desperation and soberness," explained Abramović.
After using all the knives once, cutting herself twenty times, she watched a video recording of herself with the knives, noting each time she cut her hands. For the second part of the performance, she attempted to recreate the performance exactly the same. Stabbing herself at the same intervals.
This visceral performance left the viewers unsettled as by them being present in the room with her they were licensing this self-harm. Speaking about the performance Abramović claimed that "Once you enter into the performance state you can push your body to do things you absolutely could never normally do." 
Rhythm 5, 1974
Abramović constructed a huge communist star for her second piece, which she set afire with petroleum at the opening of the performance. She then cut and burned her nails, "purifying" herself by tossing them into the fire. Once she completed the purification process, she stepped inside the star and lay on the ground.
Up to this point the viewers said they were observing the performance with caution but what transpired next confronted the social contract between viewer and artist.
After a few minutes of lying inside the burning star Abramović had still not moved her body. Owing her stillness so part of the performance nobody had noticed that the artists had fallen unconscious. Not until the flames touched her unreactive body did the audience panic. Three onlookers pulled her out of the flames, thankfully preventing the Rhythm 5 performance from becoming deadly.
Viewers left the space feeling the helplessness of the artist who had been trapped in the center of the burning star. Due to the relationship between viewer and viewed this left the audience themselves with a visceral feeling of vulnerability. Her violent act raised questions around what the bounds of the human body are.
Years after the Rhythm Series, during an interview as part of a retrospective exhibition of her body work Abramović revealed how she had come to accept death. In her formative childhood years, she witnessed her grandmother lay out various burial outfits.  According to Abramović, this early experience helped her come to terms with the idea of mortality and taught her that there is nothing to be feared.
During an interviewed by curator Carrie Scott Abramović claimed that "Each day you are closer to your death…You have to be ready for your death. There are three I want to do: not to die angry, not to die in fear, and to die consciously." 
Rhythm 0, 1974
Rhythm 0 was the culmination of her five-part performance series. In this final artwork Abramović dramatically relinquished all control, leaving herself at the mercy of the viewers. On entering the gallery, the viewers were confronted with Abramović who was lying flat on a table. Surrounding her was 72 random items, including lipstick, a comb, a mousetrap, saws, nails, scissors, alcohol and a loaded pistol.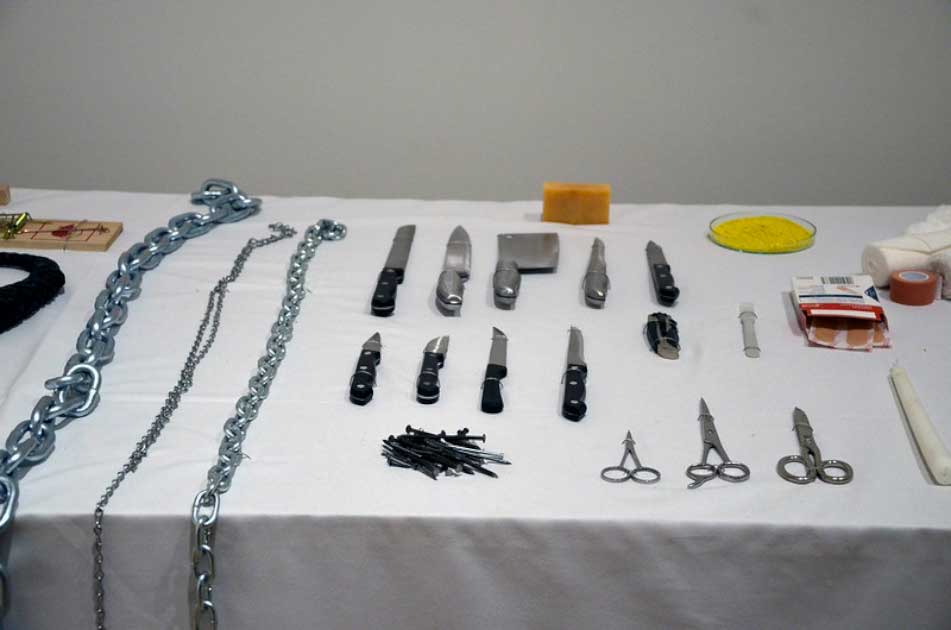 As there were no rules, the viewers were therefore presented with a situation where they could choose whether to follow societal norms or not. What transpired was a situation whereby one act would lead to another, each time giving permission to enact something a little more audacious. By the end the artist had been stripped down naked and stood in the gallery with a loaded gun pointed at her head. 
Security personnel intervened, ending the performance as they feared for the artist's safety. Abramović did very little herself but made use of the environment's stillness and lack of restrictions to illustrate how people naturally have propensity for violence. The artist and viewer were tightly intertwined in this final work; they were both necessary for the piece to advance.
Looking back on Rhythm 0 Abramović notes, "What I learnt was that, if you allow the public to decide, they could kill you. I felt really attacked: they cut my clothes off, they scraped rose thorns across my stomach, one person held the gun to my head before another took it off him."
Why did Marina Abramović's Art Provoke?
The art world was stunned by Abramović's Rhythm series, which divided many people opinions. These early pieces were viewed by some as the sadistic attention-seeking works of an exhibitionist. Others alleged that she was a satanic cannibal. 
Many viewed the provocative performances performed on the body as ground-breaking. People were amazed at how he used her body as the canvas to directly confront the viewer. 
In fact, those who looked at her work with revulsion or discomfort demonstrate how successful it was. She played with concepts of empathy and vulnerability in order to disturb the audience and make them revaluate their own boundaries in society, control, and the body.
And ultimately with Rhythm 0, it was not the artist who shocked. It was the audience.
Top Image: Marina Abramović with German performative artist Ulay. Source: Marina Abramović / CC BY 3.0.
By Roisin Everard 
References
Britannica, 2022. Marina Abramović. Available at: https://www.britannica.com/biography/Marina-Abramovic
Guggenheim, 2022. Marina Abramović. Available at: https://www.guggenheim.org/artwork/artist/marina-abramovic 
The Guardian, 2022. Performance artist Marina Abramović: 'I was ready to die'. Available at: https://www.theguardian.com/artanddesign/2014/may/12/marina-abramovic-ready-to-die-serpentine-gallery-512-hours