Warfare often drives innovation. However, not all of these innovative ideas always work out. Weird prototypes for tanks are not unusual but one of the strangest, and one about which we know almost nothing, is the German Kugelpanzer.
This was a spherical tank that was built by the Germans during World War II and was captured by the Soviet army in Manchuria in 1945. There is only one left as an example, and it is on display in Moscow at the Kubinka Tank Museum.
Down the years there has been much debate about its uses and strange appearance, as it looks nothing like any other tank. Why did the Nazis build such an odd machine?
What Is It? 
This strange tank is known from a single prototype that was captured by the Red Army in 1945 during their recapture of Manchuria. It is comparatively lightly armored, covered in only 5 millimeters of steel, and it traveled on rollers that were 1.5 meters in diameter.
It is built in such a way that it looks like it was manned by one person sitting in it like a motorcycle. The driver would be able to peer out on the battlefield through a slit and be able to fire a machine gun from his position inside. 
The Kugelpanzer had a two-stroke 25 horsepower engine that managed to power the strange design. It was steered using a runner wheel on an extension which jutted from the rear like a tail, which likely gave it more stability. After investigation, an article published by the magazine Russian Popular Mechanics suggested that the spherical tank would not be there to win races as it could only reach a brisk pace of 5 miles per hour.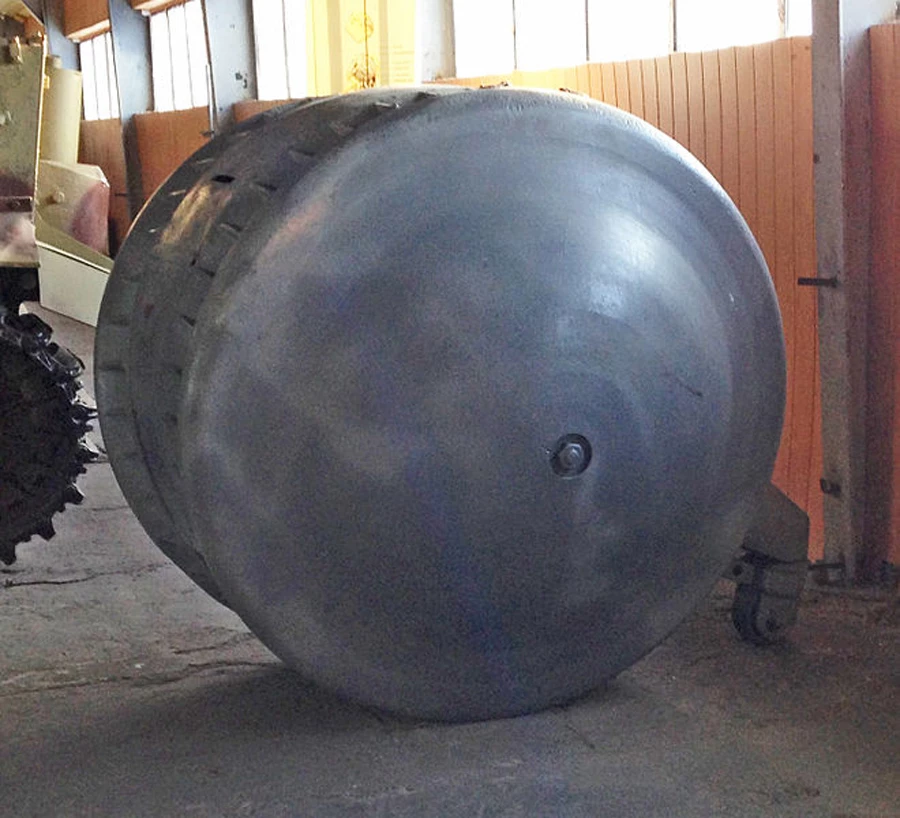 There now exists a plaque at the museum where it is stored that claims the Kugelpanzer were designed to be reconnaissance vehicles. The light armor and single machine gun meant it was not likely to make a huge impact on a World War II battlefield.
A reconnaissance use is also plausible as it would not need to be super quick in this role. Light combat tasks would not have been a problem for it, but it is unlikely to have been designed for tank-on-tank warfare. 
Why So Different?
Whilst the purpose of the Kugelpanzer can only be speculated it has been thought that as well as reconnaissance it was expected to be able to complete light combat tasks such as artillery observation and cable-lying. However, it has also been proposed that the tank may have been created as a suicide vehicle that could ram into enemy troops and tanks.
This would not be unusual as at the time the Japanese deployed a number of suicide weapons such as the manned torpedo, the rocket-powered flying bomb, and Shinyo motorboat units. This has been disputed though, and the German origin of the vehicle suggests that this would not be the case.
Albert Speer, the war production minister, is known to have convinced Adolf Hitler to reject specific strategies including suicide attacks, using arguments that such suicide missions were not part of Germanic warrior culture. Instead unmanned vehicles were preferred, such as the V1 flying bomb. 
The Nazi regime did transfer incredible amounts of technology to Japan throughout World War II using submarines. This included designs such as the Komet rocket fighter, a radical if impractical interceptor aircraft. The Kugelpanzer, whether shared with the Japanese or not, was however not likely to be designed for suicide attacks.
Theoretically, the large wheel designed for the Kugelpanzer would be a benefit in traversing soft ground, as well as the design offering a low center of gravity. This would help the machine climb over obstacles such as ditches.
Germany was not the only state to have thought about this. Russia and the United States are also reputed to have had designs of similar machines. The US-designed the Texas Tumbleweed Tank which was showcased in 1936 in the Popular Mechanics magazine. These abilities suggest that the Kugelpanzer may have been more of an infantry support unit rather than a reconnaissance unit. 
Similar Ideas
This was not the first time that machines were developed in this fashion. In Germany during World War I, the Treffas Wagen was designed in a similar way. It had large wheels (approximately 3.35 meters or 11 feet in diameter) packed in a narrow-armored body.
It was similarly armed as well, with a 20-millimeter cannon attached on the front and machine guns on the side for eliminating enemies in the trenches. It did not see action however as it was superseded by an A7V tank.

The Russians also had a go at building a similar style vehicle which was built in 1915. It used a huge 9-meter (29.5 feet) diameter tricycle wheel formation as opposed to the usual treads. It was 12 meters (39 feet) wide and was meant to have multiple cannon turrets, but development was abandoned after the intended 250-horsepower motor was not powerful enough to push the tank for cross-country mobility. 
These larger and less mobile versions of the Kugelpanzer may have inspired the World War II creation but it is easy to see why it had to be adapted from the static trench warfare of the First World War. Having a large, armored unit that could traverse the battlefield between the trenches would be incredibly useful.
However, the speed and mobile nature of World War II required a different beast. In addition to this, the new German "Blitzkrieg" style of warfare was rapid and destructive, and required any armored vehicle to be maneuverable and fast. 
An Unknown Oddity
But, after all, we can only guess as to the strange World War II contraption, as there is a total absence of evidence and records concerning the Kugelpanzer. Other than its plaque in the Moscow Museum there is little known about it.
However, it does give an insight into the world of the Nazi scientific thought. Their extreme sciences and research pushed almost into the world of science fiction, and this can be seen through this bizarre design. Thankfully, a spherical tank never appeared on the battlefield for either side.
Top Image: What was the Kugelpanzer designed for? Source: Alan Wilson / CC BY-SA 2.0.
By Kurt Readman