Romulus was the legendary founder of Rome. Traditionally, along with his brother Remus, he was the son of Rhea Silvia who was herself the daughter of Numitor, the king of Alba Longa.
Alba Longa is said to have been the same city as the ancient city of Latinum, and perhaps even the oldest city in the entire Latin kingdom. But what was Romulus's story and how did he found Rome? And what happened to this first, and greatest, of Romans?
Romulus's Birth and Family
Numitor, Romulus's grandfather, was said to have been displaced by his own brother Amulius. Having usurped Numitor, Amulius then forced Rhea to become a vestal virgin and swear an oath of chastity, in order to prevent any potential claims to the throne from being born.
The legend goes however that the god of war, Mars, had other ideas. Visiting Rhea in her seclusion, he fathered twins named Romulus and Remus.
Amulius was wary of both Rhea's claims and the newborn threats to his throne. He attempted to have the twins drowned in the Tiber River, but they survived and floated downstream until they reached a point where a sacred fig tree grew on the banks, named the Ficus Ruminalis.
It is said that here, a she-wolf and a woodpecker (both of whom are sacred to Mars) suckled and fed the twins until they were found by the herdsman Faustulus. And it was on this spot that they would found their great cities.
The twin boys were raised alongside each other, and each made adventurous friends. After they had avenged themselves on Amulius for the wrongs done to Numitor and Rhea, they chose to create two great cities on the banks of the Tiber.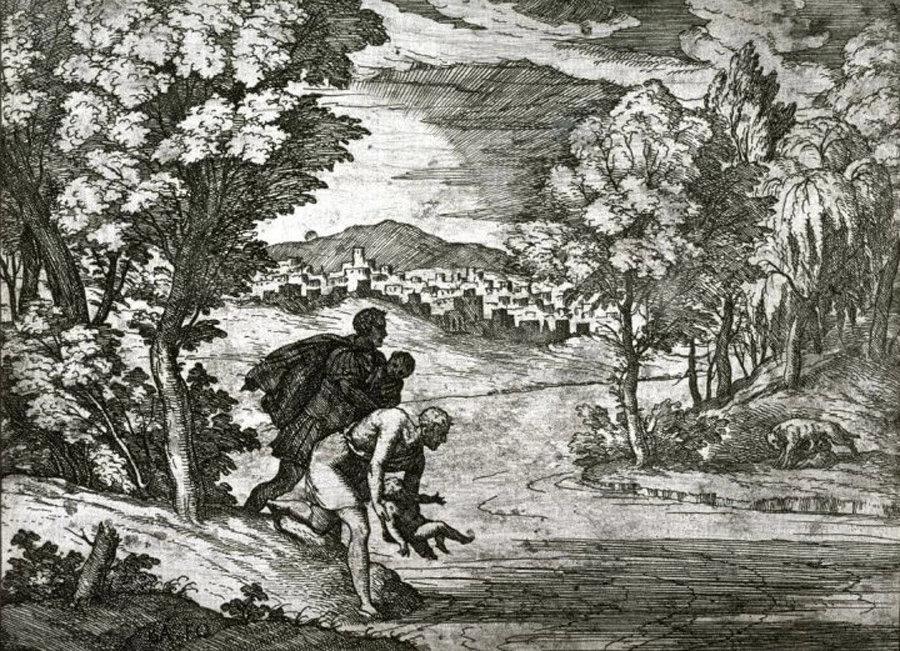 Romulus chose to found his city on the Palatine Hill whilst Remus situated himself on the Aventine Hill opposite. However, it was not long until a petty quarrel led them to come into conflict. Remus, in mockery at Romulus's incomplete walls, jumped over them to show how small they were, and in a fit of rage, Romulus slew his brother.
Founding of Rome
Now alone, Romulus first sought to fortify the Palatine. He made sacrifices to the gods in order to help him. The city's boundaries were planned out using a furrow that he plowed, and with his grandfather's help, Romulus addressed his new followers and became their king.
Romulus divided the populace into three tribes known as the Ramnes, Titienses, and Luceres which helped to organize the taxation and military procedures. Each tribe was presided over by an official called a tribune and was divided again into ten curia or wards that were controlled by a curio.
This structure was replicated in his new Roman military. Romulus also chose 100 men from leading families to establish the Roman senate, responsible for the administrative rule of the city under him.
Finally, Romulus sought to encourage growth in his city, so he outlawed infanticide and established an asylum for fugitives on the nearby Capitoline Hill. Freemen and slaves were allowed to claim protection and seek Roman citizenship.
However, this was not enough. An influx of new blood was needed for the nascent city to grow, and Romulus once again displayed a brutal directness in his solution.
The Rape of the Sabine Women
Romulus's new city found itself filled with adventurous young single men, attracted by the opportunities. His plan to save fugitives did swell Rome's population, but attracted far more men than women.
Romulus sent envoys to neighboring cities to allow intermarriage between them. Unfortunately, all of them were rejected. Thus, in order to swell the women population of Rome, Romulus announced a festival and invited all the neighboring cities. Many attended including those known as the Sabines.
As the festival went on, the Romans began to kidnap the marriageable women among their guests. This outraged their neighbors, but they were somehow unable to find common purpose in this and unite against Rome.
Romulus fought against the foreign forces and conquered his neighbors providing women to marry the men of Rome. The Sabine army did eventually retaliate but were forced to retreat when the women who had been abducted came between the army of Rome and the Sabines.

This was only the first in a string of aggressive moves that the Rome of Romulus made against its neighbors. Over the following years it expanded its territory, conquered nearby cities and established itself as the dominant force in the region.
The Mysterious Death of Romulus
After a reign of 37 years, Romulus suddenly disappeared. It was said to have happened when Romulus was inspecting his troops on the Campus Martius, an area in Rome during a violent storm. As the winds grew more fierce, Romulus was apparently picked up by a whirlwind, never to be seen again.
Much of what is known about Romulus bridges the gap between reality and myth. Was he a real person? It would seem so. Was he the son of Mars? Probably not.
So it is with the story of his death. The ancient Roman historian Livy claims that Romulus must have in fact been murdered by senators who were inspired by their jealousy. However he hedges his bets and does allow for a more divine explanation, suggesting Romulus may have instead been raised to the heavens by the gods.
Whilst it is impossible to say definitely what happened to Romulus, over the centuries that followed he came to be deified by the Romans, worshipped as the deity "Quirinus". This name is said to have two origins. One is said to have been from "he of the quirium" referring to the ancient Sabine settlement that combined with Rome during his reign.
However, it could also relate to the word "covirium", which meant the "assembly of men" which would again indicate Romulus' role in establishing Rome. In his new role as the semi-divine founder of their great city, much of the truth of the story of Romulus gave way to mythologizing.
If you believe the more down-to-earth option, that Romulus was murdered by his senators, then the reason that no body could be found would seem to indicate that the murderers tore apart Romulus's body to prevent him from being found.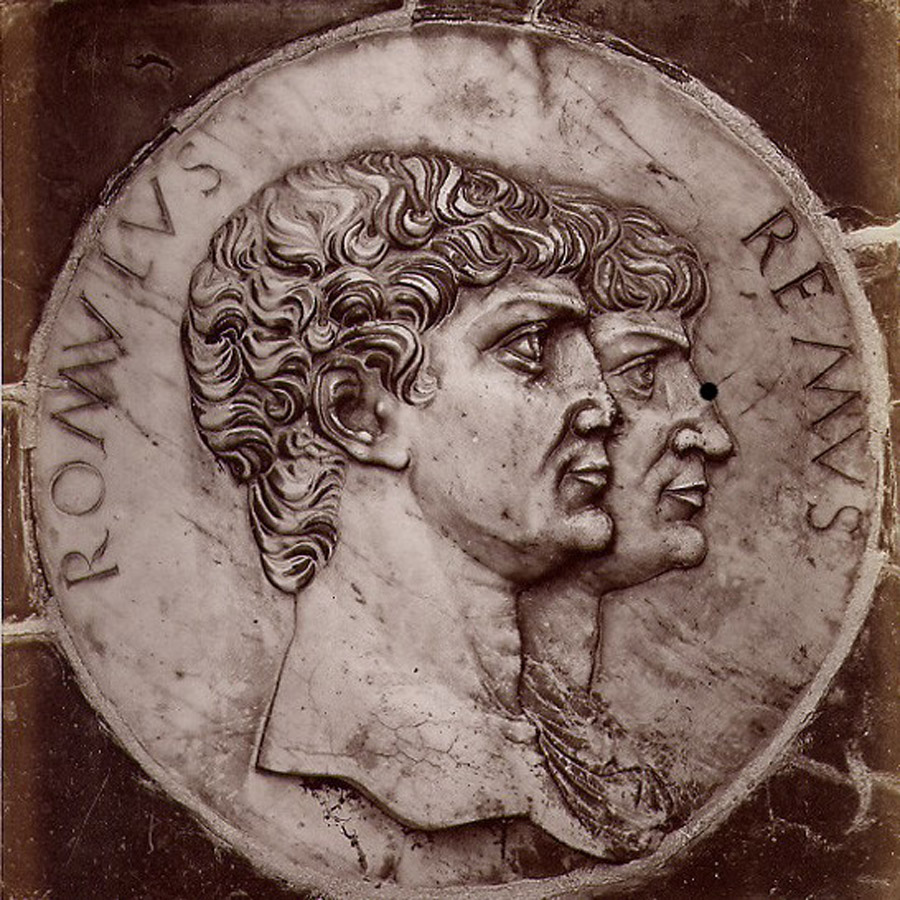 There are lurid details which support this version of events, such as descriptions of the senators smuggling pieces of his body away concealed under their togas. Regardless of what happened, there is no doubt that Romulus was able to live on through his god form.
The founding of Rome by Romulus encapsulates many of the mythical elements that surround the Greek stories of founding their cities. There is a potential here that later Romans sought to compete with the Greeks and as such created their foundation myth that not only had the tragic beginnings and justified endings but also a deity founding it. 
The raising of Romulus to the status of a god gave Rome a sense of privilege and allowed them to justify their conquests around the world. Whether or not Romulus disappeared into a tornado or was murdered by his rivals, he was seen as a legendary figure who created a great city, and a great empire.
Top Image: Statue of the wolf suckling Romulus and Remus on the Capitoline hill in Rome. Source: Anatoly Rivlin / Adobe Stock.
By Kurt Readman