There have been many bizarre causes of death throughout history, some tragic, some comical. Unusual circumstances of death come up from time to time because what affects the human body cannot be predicted easily.
In the 1800s, when medical science lacked many of the modern advancements we benefit from today, causes of death would often baffle people. When death comes, it comes under different guises for each person, and unpicking what ultimately caused them to die could be time consuming, vague, and confusing.
One such example of a baffling death befell the 12th President of the United States, Zachary Taylor. His mysterious death baffled many at the time, but with the benefit of hindsight it seems the puzzle may have finally been solved. Could Taylor have been killed by the cherries he was eating?
Cherries And Milk: A Recipe for Death? 
Zachary Taylor was born in 1784 and survived multiple wars, earning distinction in the U.S. Armed Forces. He fought in the wars against Native Americans as well as the Mexican War, surviving both to become the President of the United States in 1849.
However, his time as President of the United States of America lasted only for a little over a year, 16 months to be precise. And it seems that it was ultimately cherries and iced milk that took the President's life.

Zachary Taylor was sworn in as the President on March 4, 1849. He died on July 9, 1850. Less than a week before, the day after the Fourth of July celebrations that the President went for a walk near the Potomac River before heading to the White House. When he returned to the White House, he decided to eat a large amount of fruit, which included a high number of cherries, to stay hydrated and healthy in the summer months.
The day passed, and that night the President complained of severe abdominal pain. His condition only worsened the next day and in the days after that. President Taylor had developed a high temperature and diarrhea, and was treated by his doctor with opium and mercury chloride.
The doctor had hoped that the formulation would ease some of his symptoms. However, the medicine did not work on President Taylor, and his condition continued to deteriorate. On the night of July 8, a night before his death, it was as if President Taylor knew he would not survive and said he would not be surprised if the illness took his life soon. He seemed ready to die and had given up on recovering from the illness. 
It was possible that his physician did not diagnose the disease properly. Even today, what caused Zachary Taylor's death is disputed. Some doctors believe that President Taylor died from the consequences of heatstroke, while others believe that the President died because of cholera and food poisoning.
Cholera was very prevalent in America in the 1800s. There are also speculations that the President was, in fact suffering from acute gastroenteritis, an inflammation of the gastrointestinal tract. The infection of gastroenteritis or cholera could both have been from eating raw fruits and milk.
The drinking of iced milk on a hot summer day, paired with acidic fruits such as cherries, could have also led to food poisoning in the patient's body which later turned into a lethal form of cholera or gastroenteritis. Many physicians believe that the pathogen entered the President's body via either the milk or water he had drunk.
On the other hand, many modern doctors believe that the entire ordeal faced by President Taylor before his death was further worsened by the ineffective methods of treatment administered to him. For example, the mercury compounds that were administered to the President were ineffective and might have increased his chances of death.
As a person, President Taylor was a very sturdy and battle-hardened man. It was, therefore, a shock that a military veteran who recovered from battle injuries and trauma met his end through cholera and gastroenteritis so fast that even his physicians could not determine the cause of death properly. 
A Tough Man for Such an Unexpected End
Growing up in Kentucky, Zachary Taylor was commissioned into the U.S. Army in 1808. His career in the military would be a very successful and decorated one, lasting more than forty years in service.
In the war of 1812, Zachary Taylor was promoted to the rank of an army major as a result of his defense of Fort Harrison against a rebel attack. He even went on to fight in the Black Hawk War and led an aggressive campaign successfully.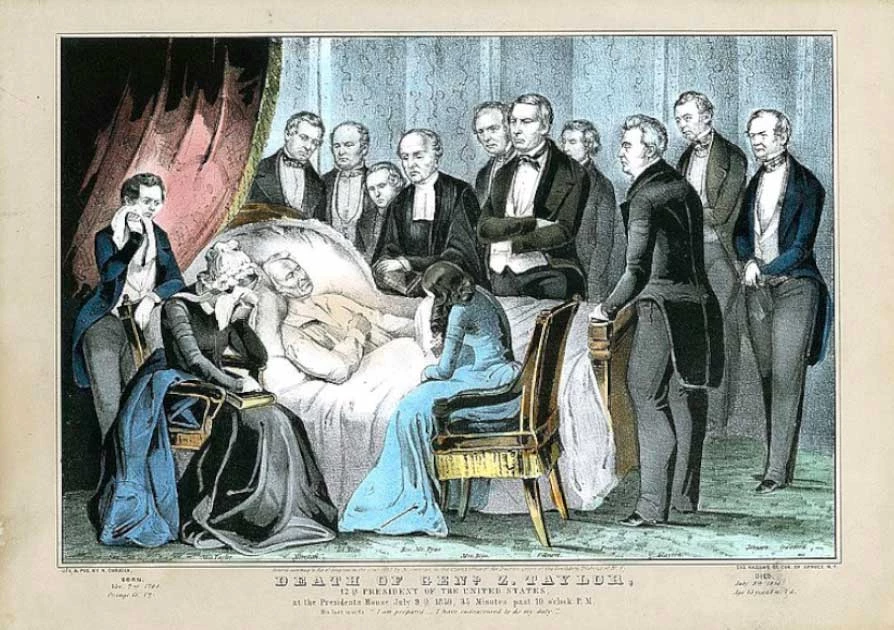 It is an irony that he was given the nickname "Old Rough and Ready" as a recognition of his long military career and his experience on the battlefield. He was ready for any challenge, whether political, military, or physical. What he was not ready for was an internal illness that rapidly killed him. 
Taylor became a national hero after the Mexican-American War in 1846. His reputation as a military veteran and a principled man who rose to the status of national hero won him the Presidency in 1849. 
The day after his death, Vice President Fillmore was sworn in as the next President of the United States of America. Although it was ascertained that President Taylor had died entirely from natural causes and illness, there were assassination theories that floated after his death.
Many rumors flew around about the dead President killed by poisoning at the hands of Pro-Slavery politicians. However, there is also evidence that many members of his cabinet also suffered from the same type of illness at the same time. 
What actually caused the death of President Taylor remains ultimately unknown, sealed in his coffin at his family burial ground in Louisville, Kentucky. The ingestion of raw cherries and fruits, combined with iced milk, seems to have been what killed him. 
Top Image: Poisoned by a meal of cherries? Zachary Taylor's death was unexpected and baffled his doctors. Source: Роман Sv / Adobe Stock; Joseph H Bush / Public Domain.
By Bipin Dimri