The Greek historian Herodotus is one of our most useful sources on the ancient world. His writings are usually reliable and provide us with much-needed insight into ancient events and places, where he is often the only source we have.
So when he tells of an ancient "labyrinth" hidden beneath a pyramid, which he claimed to have seen with his own eyes, such descriptions are not easily dismissed. His description of the labyrinth however created a problem for modern historians: either Herodotus went off the deep end and decided to make the whole thing up, or such an unusual and unexpected structure really existed.
Many had considered this description to be a rare instance of unreliability from the ancient historian. However, recent discoveries have thrown doubt on this interpretation and led archaeologists to ask themselves: did this ancient labyrinth really exist?
A Lost Labyrinth?
Herodotus, who lived during the 5th century BC, writes that he visited the labyrinth himself during his travels in Egypt. While there, he claimed to have counted three thousand rooms with walls covered in hieroglyphs and paintings, making up a funerary complex and hidden beneath a pyramid.
Describing the pyramid in the second book of his Histories, Herodotus wrote "This is a work I've never seen before, a work that defies description. For if someone put together the Greek buildings and displayed their labors, they would appear to be less effort and expense than this Labyrinth. Even the pyramids are beyond description, and each one was on par with the Greeks' vast and mighty monuments."
Herodotus was not the first historian who described ancient Egypt's labyrinth. Many ancient historians, including Manetho Aegyptiaca (3rd century BC), Diodorus Siculus (1st century BC), Strabo (64 BC – 19 AD), Pliny (23 – 79 AD), and Pomponius Mela (c 43 AD), described the vast structure, with at least two of them claiming to have visited the labyrinth themselves.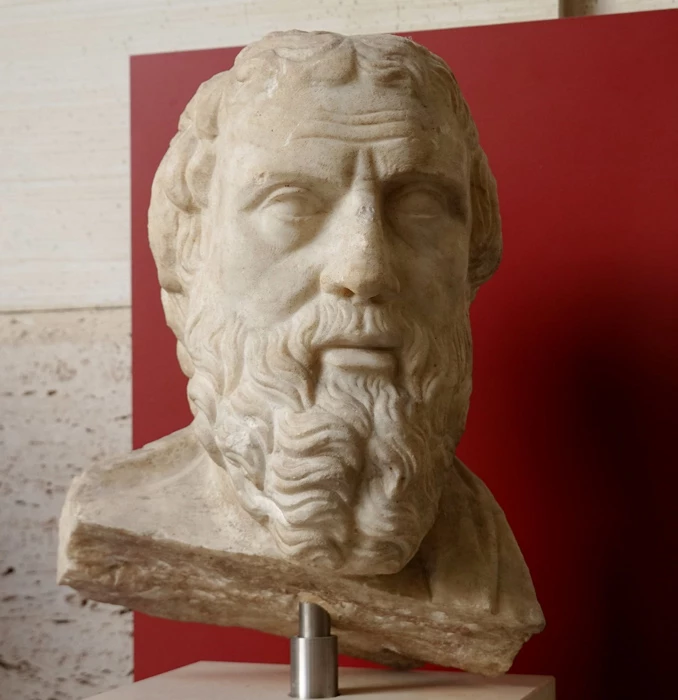 But it is important to note that the builders of this complex did not consider it a labyrinth, in the modern sense of the word. Herodotus names it as such, after the legendary Greek labyrinth built by Daedalus for King Minos of Crete, where the mythological minotaur dwelt at the heart of an elaborate maze of tunnels.
Labyrinths were not initially intended to be confusing however, merely expansive and complex. The original, names for the "labrys" or ceremonial axe used by the Minoan civilization, was more likely a sprawling palace complex.
Frescos on the island of Crete depict young men acrobatically jumping over charging bulls for sport, and it is not inconceivable to see in such daredevil stunts the origin of the minotaur myth. The Minoan palaces were commonly large and with a central open area where such events could take place, and so the men could fight a giant bull at the heart of the labyrinth.
Sealed and Haunted
What we call "labyrinths" have been built throughout history however, and for many reasons. Malevolent spirits may have been trapped in prehistoric labyrinths, or ritual dances may have taken place there. Many Roman and Christian labyrinths are found at building entrances, where it may similarly have been used to ward off evil.
Carl Schuster and Edmund Carpenter present various forms of the labyrinth in their cross-cultural study of signs and symbols, Patterns that Connect, and suggest various possible intentions in their construction. Some could form a sacred processional path to the home of a sacred ancestor, similar to some theories on the Nazca Lines and also, perhaps, depicting the ancestor himself.
For example, the labyrinth is regarded as a sacred symbol, a helpful ancestor, and a divinity in some Indian cultures. They might be keeping its original meaning in this way: the ultimate ancestor, evoked here by two continuous lines connecting the living to the dead.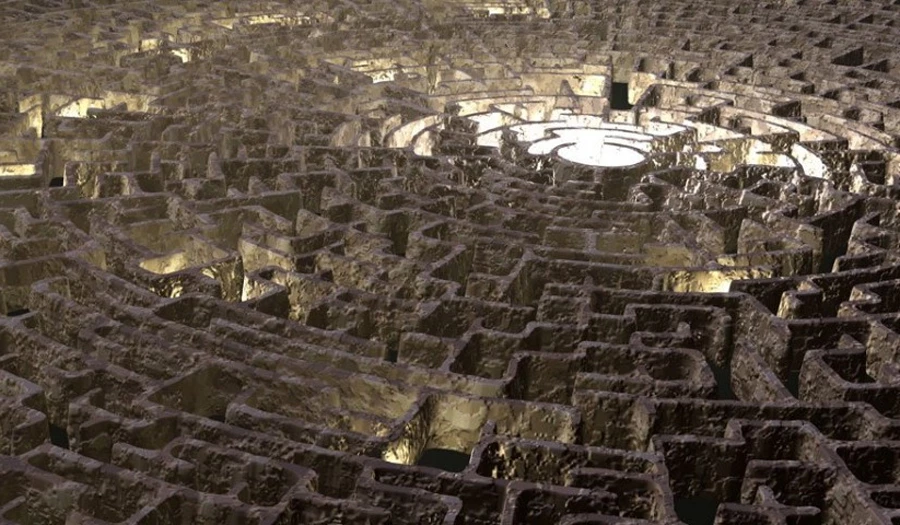 Schuster also notices the general motif of the labyrinth being a shelter for a trickster; in India, the demon Ravana rules over labyrinths, Sumatran Bataks believe the trickster Djonaha dwells in a labyrinth, and for Europeans it is often a cage, to trap whatever monster is hidden at its heart.
Herodotus Vindicated?
All this means it is important to see the Egyptian structure as Herodotus did, through his cultural lens and with an understanding that he is interpreting what he sees. The labyrinth as he describes it appears to be a large complex of rooms associated with a tomb.
And, amazingly, such a structure has been recently discovered which appears to be the very labyrinth Herodotus describes. In 2008, archaeologists using ground penetrating radar near the well-known pyramid of Hawara discovered a massive complex of rooms hidden beneath the sand.
Herodotus was meticulous in describing the structure and the complex at the Pyramid of Hawara (constructed by Amenemhet III) fits exactly, both in location and construction. It seems that the ancient historian was once again telling the truth.
The intriguing underground structure is located less than 100 kilometers from Cairo, and comprises around 3,000 rooms packed with magnificent hieroglyphs and murals, just as Herodotus described.
The Labyrinth at Hawara
What then was the original purpose for which this huge complex was built? Amenemhat III, the last great ruler of Egypt's 12th dynasty at the height of the unified Middle Kingdom period, built the pyramid in the 19th century BC: when the site was visited by Herodotus it was already more than a thousand years old.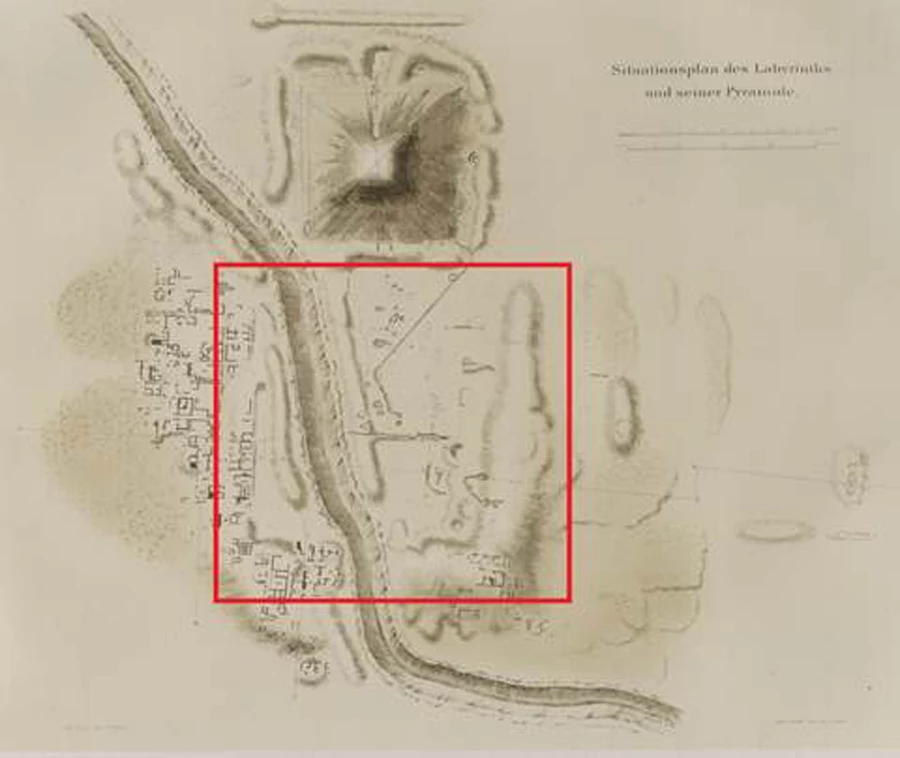 Of the labyrinth itself however, little remains. It appears that much of the great structure was demolished by later Egyptian dynasties, pillaging for its dressed stone and other building materials. What remains now is little more than a ghostly outline on the landscape.
It seems clear that the labyrinth was originally a huge mortuary temple. The Egyptians, ever obsessed with death and the afterlife, would have used its many rooms for funerary rites and cult worship of the dead pharaoh associated with the nearby royal tomb.
Little may remain of this massive structure, built by the Egyptians to honor their dead. However, thanks to modern archaeologists and ancient historians, we are able to piece together and reconstruct what this building must have been like, and once again bring the ancient lost labyrinth of Herodotus to life.
Top Image: Was the huge labyrinth described by Herodotus real? Source: Digital Storm / Adobe Stock.
By Bipin Dimri