Pious, just and noble, Eric IX of Sweden is often put forward as the model for ideal kingship. Yet the reign of this 12th century king was short-lived, and he died a violent death.
However, the impact he left on medieval Sweden was unlike any other. Ruling Sweden from 1155 to 1160, when his death cut his rule short, the Holy King of Sweden is considered by the Catholic church to be a saint and a martyr.
In his short rule, he introduced many reforms in national religion and brought forth the spread of Christianity in his realm. In his tumultuous reign period, he squashed many rebellions successfully but was eventually assassinated by rebels of his own court.
How could one rule so justly and so well, and yet still fall to traitors? This is the story of the slain King Eric IX of Sweden. 
Roots and Early Life 
Eric IX Sweden is believed to have Geatish roots, giving him the same lineage as the legendary hero Beowulf. He was born into a noble family in Sweden and lived most of his life in Västergötland, in the extreme south west of the country.
The roots of the House of Eric can be traced back to this land of hills, plains and castles, where Eric IX's ancestors are buried. His early life is said to have passed in the manor of Eriksberg in central Västergötland.
Eric IX of Sweden is identified in later Swedish legends as the son of Jatvard or Eric Jedvardsson. According to records of the 14th century, Eric IX's mother was Cecilia, a daughter of king Blot-Sweyn, but we know little more than the names. Jatvard is not a Swedish name, and Eric's parentage may have included English blood.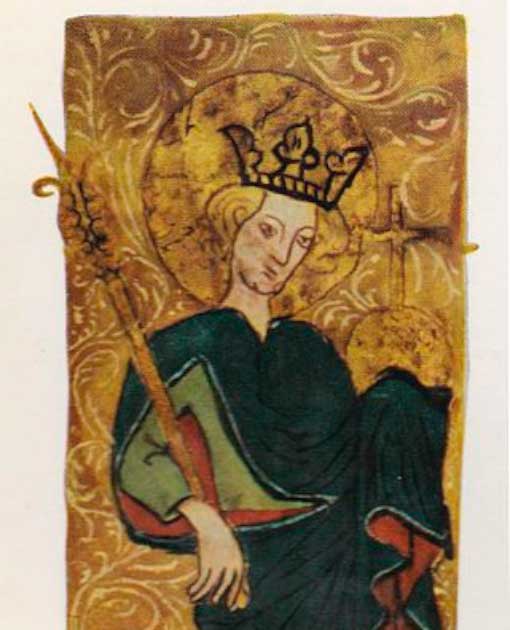 The timeline of King Eric IX's reign is not completely clear, as it is sometimes believed to start from 1150. According to legends, King Eric IX was anointed as the King of Sweden unanimously by the noble families of Sweden when there was a sudden vacancy on the throne.
Perhaps "vacancy" is too passive a word. Surviving accounts of his reign tell that Eric IX was a rival King to King Sverker I, who ascended the throne in 1132. Sverker I was murdered on Christmas Day in 1156 by a faithful retainer. Perhaps regicide was the thing at the time.
The legends say that Eric IX Sweden had royal blood and was the rightful King of Sweden, and after 1156, King Eric IX became the undisputed King of Sweden, and every province recognized his kingship. It is believed that the King had made his right to the throne stronger than before by marrying the Danish princess Christina Björnsdotter who was the granddaughter of a powerful king. 
According to old accounts that date back to his rule, King Eric IX was a fair and just ruler and was a devout Christian. He wholeheartedly supported the church and led a crusade to spread Christianity to Sweden's rowdy pagan neighbor, Finland.
It is believed that Eric IX Sweden was the leader who sowed the early seeds of Christianity in Finland. Eric IX led a crusade against the natives of Finland and conquered them. He then asked the English Bishop Henry of Uppsala to remain in Finland and continue the work of spreading Christianity in the country. 
Back home, Eric IX was responsible for codifying the law of Sweden and creating the letter of the law for citizens. The King was very religious and a strong believer in Jesus Christ. He observed prayer sessions and fasts in the name of Jesus Christ. 
Trouble Brewing 
The trouble for Eric IX of Sweden arose some years after his ascension to the throne of Sweden. As is often the case when the crown is not passed down by inheritance, there were other princes and nobles who were in line for the throne and thought they had a superior claim to the throne.
Danish prince Magnus Henriksson was one such contender who went on to conspire against King Eric IX. It is said in legends that Magnus used grand gifts to win Eric's retainers, and promised to attract Swedish nobles and start a rebellion against Eric IX's rule. It is believed that Karl Sverker, a relative of the murdered Sverker I and member of the chief rival house to the House of Eric also joined with Prince Magnus to assassinate the pious King.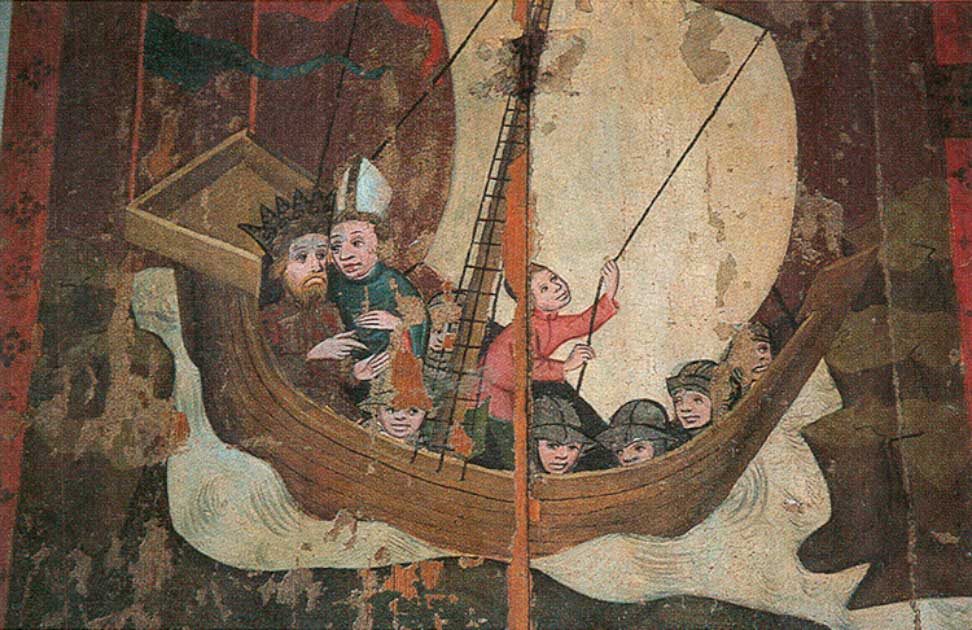 The King remained unaware of this conspiracy to assassinate him, and one day a joint army accosted him near Uppsala at a church that was constructed on his instruction. At the time of the enemy's approach, the King was in prayer and sat through Mass to the end.
After the Mass was over, he armed himself and set forth with some of his most trusted men. But his prayers were for naught, and the final battle for King Eric IX was gruesome. His men were killed, and the rebels swarmed him, isolating him.
They pulled him off his horse and threw him to the ground. There, utterly helpless and outnumbered, the King was taunted and cut multiple times. This torture went on till he was half dead on the ground. In the end, the rebels beheaded the King, putting an end to his misery. 
The mutilated remains of King Eric IX were buried at the Old Uppsala Church, a church that he constructed at the burial ground of pagan kings. After his death, he was recognized as a saint and protector of the Faith by the Catholic church.
Today his remains rest at the present-day Uppsala Cathedral, where they are enshrined. There have been many scientific and historic studies that have happened on the bones of Eric IX. According to these studies, Eric IX was a healthy and fit person.
His remains still show the many cut marks and deformities that arise from wounds of battle. It is believed that the final battle that Eric IX fought left him with severe wounds indeed. There is neck vertebrae damage to the body that could only be possible if the King was tortured after he was overpowered in battle.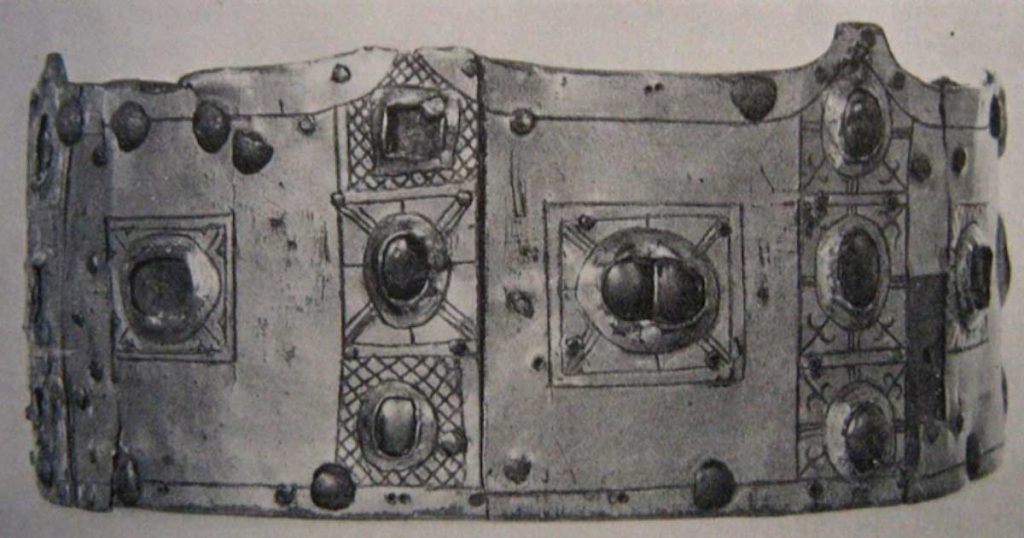 His skull is clearly decapacitated from the body, and legends do indeed tell that he was beheaded. His crown however was recovered from the battle site and is still preserved. This is one of the oldest crowns of Sweden, and no older crown survives from the Swedish medieval period. 
Gone by not Forgotten 
After the death of King Eric IX, Sweden went through some tumultuous times. However, it was the son of King Eric IX who defeated his rival houses, established the unified kingdom of Sweden and consolidated the House of Eric for years to come. He ruled for many years, starting from 1173. 
Although the House of Eric, founded by Eric IX, would continue to exist as a ruling house for a hundred years, the rival House of Sverker was ever there to challenge them. Both houses produced kings until the rivalry finally ended when Eric XI died childless in 1250.
This Holy King, brought down by political machinations, nonetheless changed Sweden forever. He is still seen as a legendary king, a just ruler, and a Christian martyr.
Top Image: Eric IX of Sweden would rule for only four years, but change Sweden and Scandinavia forever. Source: Serikbaib / Adobe Stock.
By Bipin Dimri
Catholic Online, 2022. St. Eric IX of Sweden. Available at: https://www.catholic.org/saints/saint.php?saint_id=439 
Mediealists.net, 2022. Unlocking the secrets to Sweden's Holy King. Available at: https://www.medievalists.net/2014/04/unlocking-secrets-swedens-holy-king/ 
Prigg, M, 2016. The horrific death of a saint revealed. Available at: https://www.dailymail.co.uk/sciencetech/article-3495578/The-horrific-death-king-revealed-Saint-Erik-Sweden-taunted-cut-repeatedly-having-head-chopped-outside-church.html