In the village of Săpânța on the Northernmost border of Romania, a cemetery can be found like no other in the world. Bright colors and jovial tombstones greet the visitor, and charming paintings and epitaphs depict, uniquely and poetically, the people buried there. It has become an open-air museum and is a national tourist attraction. 
The "Cimitirul Vesel" or "Merry Cemetery" houses over 800 wooden crosses that bear the life stories and final moments of those buried below. Yet why did this strange tradition start and what does it all mean? 
A Local Carver with a Sense of Humor
Stan Ioan Pătraș was born in Săpânța in 1908. By the age of 14 in the 1920s, he had begun to carve crosses for the local cemetery. Over the years Pătraș started to add phrases to the carvings, and by 1935 he had begun to carve clever and ironic poems written in the local dialect about the deceased.
His poems were very different the usual formal, somber writing found in cemeteries. They were composed in slang and rough phrasing, describing how the individual died accompanied by a painting of the deceased. 
Pătraș began to develop careful symbolism in his paintings and poems. Green represented life, yellow represented fertility, red for passion, and black for death. Each color was always set against a deep blue, named after the village of Săpânța.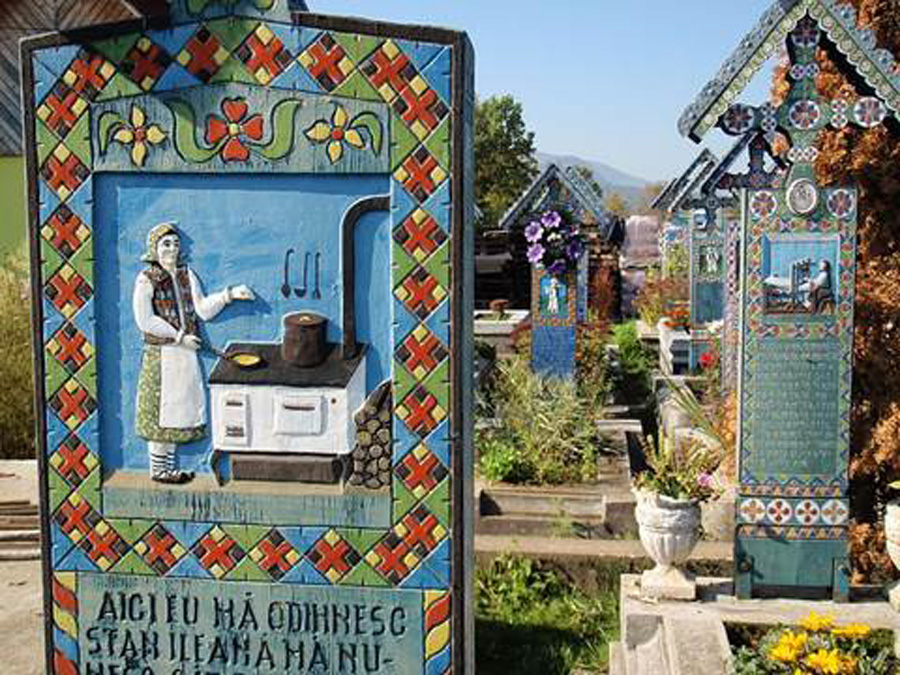 Pătraș is said to have believed that the blue color represented hope, freedom, and the open sky. White doves were used to represent the soul whilst a blackbird could represent a tragic or suspicious death. Whilst this symbolism developed, Patras began to impart his dark sense of humor onto the crosses.
A History of the Dead 
Coming from such a small town, few secrets could be kept. Often salacious details of the newly deceased would be included on their grave crosses, offering a fair, if candid, representation of the individual.
The inscriptions would often pick an aspect that was well known about the deceased, as well as any openly known details that had circulated as gossip in the village. For example, the local town drunk has a grave showing a black skeleton dragging him down, while he drinks from a bottle labelled "real poison."
Pătraș singlehandedly created over 800 of these pieces of folk-art gravestones over 40 years, composing, carving and painting each one. He transformed the cemetery and, near the end of his life, it began to be known as the Merry Cemetery. It was then discovered by a French journalist who publicized it to the outside world. 
Sadly, Stan Ioan Pătraș died in 1977. He carved his own cross and epitaph before he passed away. However, this has not meant the end of this wonderful tradition. Pătraș bequeathed his house and work to his most talented apprentice, Dumitru Pop who has continued to add to the cemetery.

More than this, Pop has added the house of Pătraș to the Merry Cemetery as a museum workshop. Following in the tradition, Pop does everything himself, even picking the oak for the grave slabs and felling the trees on his own. 
How are they Made?
Wood is the natural choice in Săpânța. In fact, many of the houses are still made from dovetailed logs holding above them wooden sheathed shingles. The oak trees of the nearby forest provide great timber for carving. 
The carvings are completely by hand, crafted by chisels at a bench in an open room alongside an old cowshed. A table for slicing planks is the only change that Pop has added to the workshop since his master has passed on.
These planks are then painted and placed on the graves. The paints, unfortunately, weather and often need repainting every 15 years or so, a task that falls to Pop's apprentices.
Famous Epitaphs
This cemetery hosts some very interesting epitaphs. Pătraș's own epitaph reads: 
"Ever since I was a little kid
Stan Ion Pătraș was my name
Listen to me, my good people
Because I will tell no lie
All the days I have lived
I wished no harm to anyone
Only good, as much as I could  
No matter for whom
Oh, this poor world of mine
Living through it was so hard"
Another talks about a strange and difficult relationship with a mother-in-law. It reads: 
"Underneath this heavy cross
Lies my poor mother-in-law
Three more days she would have lived
I would die, and she would read (this cross)
You, who here are passing by
Not to wake her up please try
For if she comes back home
She'll criticize me even more
But I will behave so well
That she won't return from hell
Stay here, my dear mother-in-law"
Even the town drunk received a flattering one: 
"Here I rest
Stefan is my name
As long as I lived, I liked to drink
When my wife left me
I drank because I was sad
Then I drank more
to make me happy
So, it wasn't so bad
that my wife left me
Because I got to drink
with my friends
I drank a lot,
and now, I'm still thirsty
So you who come
to my resting place
Leave a little wine here"
All of these epitaphs show the dark comedy and yet good humor of those who live in this town. The colorful accompaniments even allow those who can't read Romanian to appreciate the humor.
Pop maintains that no one has ever complained about the work. The families appreciate the truth, and these graves allow for the deceased to be remembered in a more jovial and vivid way.
The Merry Cemetery
The Merry Cemetery is certainly unique, a place that celebrates the joy and honesty of life in an upbeat and jocular fashion completely at odds with western tradition. Ordinarily, when someone dies their best self is presented, and only good memories are shared.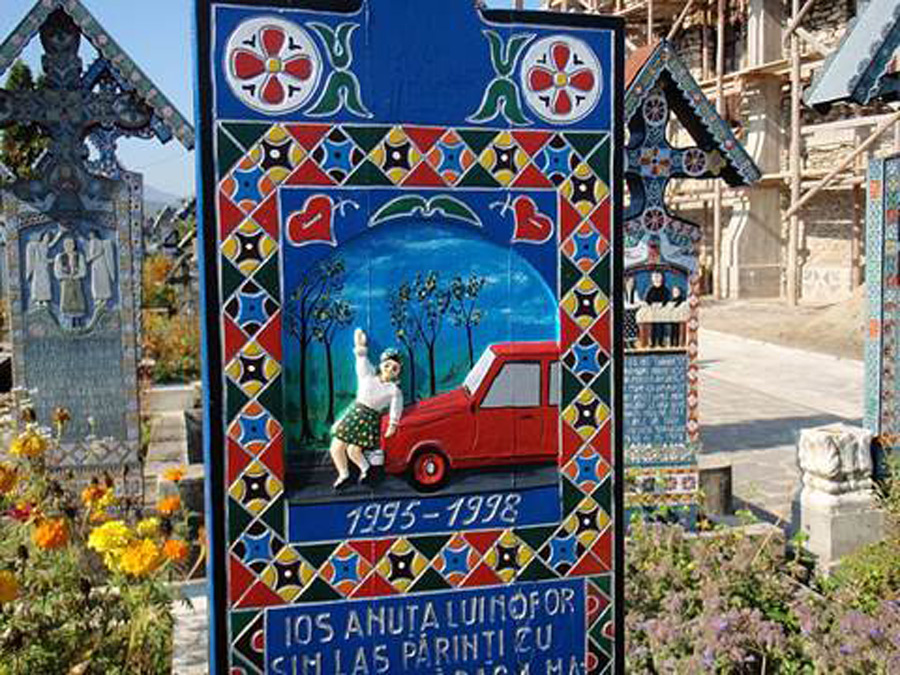 Yet this is at best only half the picture. The Merry Cemetery gives a happy reminder of the full picture. It is believed that Stan Pătraș was inspired by the Ancient Dacian culture of celebrating life rather than mourning death. Truly this special place follows the axiom "if you don't laugh, you will cry."
By Kurt Readman
Top Image: The Merry Cemetery. Source: Marian Gabriel Constantin / CC BY-SA 2.0.