Many unusual, or special places have earned the title "heaven on earth". Singled out generally for their natural beauty or peaceful environs, such places are typically seen as a representation of what heaven would seem like, but are distinct from the "real" heaven as conceptualized, they resemble heaven but are not actually divine.
Except one, maybe. What if the gateway to heaven was once a real place, and what if that place exists today? Such was the hidden, fantastical land of Shangri-La, an earthly paradise that was literally considered as such: a gateway to heaven.
Different mythical tales revolve around this heavenly place, but it owes this specific version of this name to the novel Lost Horizon written by James Hilton. In the novel, the novelist changes the name of the Tibetan paradise Shambhala name into Shangri-La. The name and concept of Shangri-La have become so famous that modern people relate it to a lost paradise or heaven that many search for even today. 
Shangri-La: Fact or Fiction? 
What Hilton described in his famous novel was not all fantasy of his own invention, as the idea has been borrowed from age-old Tibetan myths of Shambhala. But what is the reality behind these legends and how can one reach this paradise on earth?
If anyone set out to find this fictional place that Hilton talks about, the problem is not in finding Shangri-La, but in identifying which is the true location. Some would direct you to the modern Shangri-La City in China, although this name dates back only as far as 2001.
Others may also direct you to Hunza in Pakistan. Here you will find an oasis many believed to be the place where Hilton stayed for a brief time, and on which his descriptions are based. Again however, this may be inspiration for the novelist but it could hardly be the right place.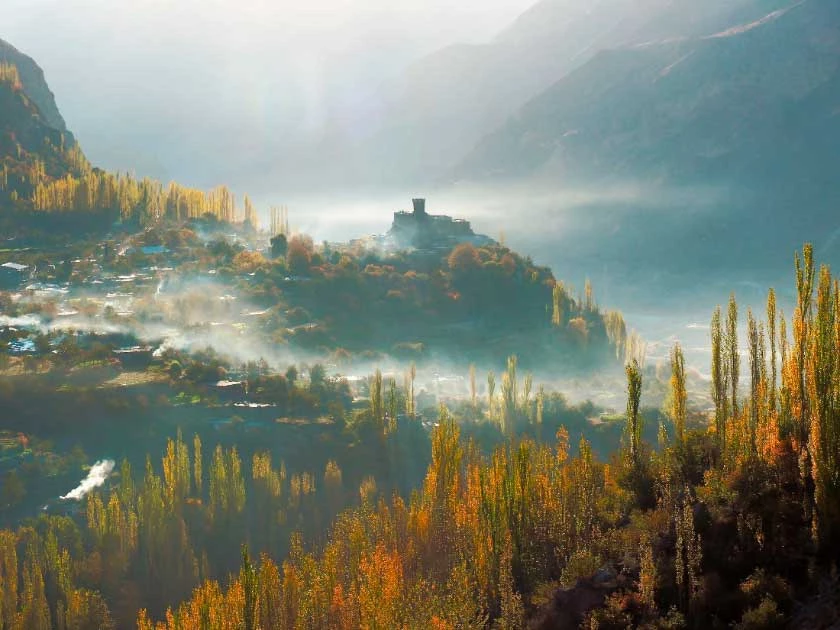 The Shangri-La valley or the "Shambhala kingdom" has Indo Tibetan origins and strong associations as a sacred place of South Asian culture and spirituality, it is believed that the most accurate location of Shangri La is near the Indo Tibetan border of Arunachal Pradesh. Hidden amongst the mighty Himalayas, themselves hugely important in Indian and Tibetan spirituality, the original name of the valley is Shambhala.
Therefore, it is possible that this mysterious gateway to heaven might be part of a greater sacred landscape of the Himalayas. The mysterious kingdom of Shambhala is thought to be located on a remote high plateau of Tibet, protected by the lofty peaks of the Himalayas and shrouded by clouds. 
Unsurprisingly, Hilton chose such a dreamy landscape as the backdrop of his hugely popular novel, and it was later turned into a movie. The myths and landscapes of Shangri-La do feel like they are straight out of a movie script. 
Shambhala, Kingdom of Peace and Knowledge 
The myth of Shambhala is truly ancient, with the earliest forms of the story being recorded in India in 962 AD. The origin of this story is from a Buddhist text that was retranslated and preserved from Tibet.
According to this story, there is a high land behind the mighty Himalayas that is blessed with peace and harmony, ruled by an age-old dynasty of Buddhist monks who live to great ages, often more than 100 years. The people of this land live in the shadow of the Himalayas, isolated from the outer world and worldly possessions.
These people hold the key to the ancient secret of long life and to the purest of Buddhist teachings on peace, and it is said that the monks and people are waiting for the day when the world is tired of violence and is ready to live in peace. Only then will the monks reveal their true location and identity and spread the word of the Buddha.
The myth also says that this paradise is ruled by a clan of enlightened "kings" who are waiting for the evils and violence in the wider world to reach a peak. Only then will they come out with a great army and destroy anyone who is consumed with war and greed. 
Such stories are clearly couched in the language and behaviors of past centuries. Warlike kings conquering weaker countries to bring them to peace and enlightenment sounds somewhat contradictory, not least against the peaceful monks who guard the secrets of Shambhala. However, to earlier generations it was powerfully believable.
The myth was indeed so prevalent and repeated with such conviction that people and historians believe the lofty Himalayas could be hiding a secret paradise, secluded and safe from the outer world. This mysterious place is said to be the source of all enlightened knowledge, wisdom and peace in the world.
Even the name Shambhala comes from a Sanskrit root word that means place. Inspired by this, many western travelers have tried to find the true location of Shangri-La or Shambhala in the desire to uncover the true meaning of peace and knowledge.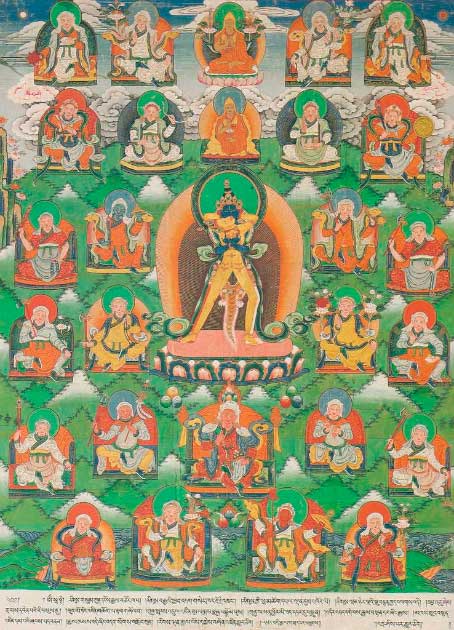 The first attempts to find Shangri-La may have come in the late 1500s or early 1600s when western visitors to the Great Mughal King Akbar's court came to hear stories about a mystical paradise beyond the Himalayas. Many believed that the Kingdom of Shambhala thrived in the shadow of a white crystal mountain, where a palace stood tall beside a crystal clear lake. 
In this palace, a line of wise monks and kings guard the sanctity of the world's wisdom and peace. Many travelers from ancient times to medieval times have tried to find the mystical land of Shambhala.
However, it is believed that the place can only be found by a person who has a pure heart and a clear mind. Only when a person walks on the path of spirituality after shedding all his materialistic possessions and desires only Shangri-La is able to find it. Western explorers struggled, accordingly.
How to Find Shangri-La? 
If it is Tibetan spirituality that is being discussed, there is really only one man to go to, and indeed the great Dalai Lama has acknowledged the possible existence of the land of Shangri La. He says that the sacred land of Shambhala dates way back in history, to the dawn of Buddhism as a religion.
The first king of Shambhala is said to have met the Buddha and gained teachings about Kalachakra or the Wheel of Time. The hidden teachings and higher understanding related to the Wheel of Time were then believed to have been given to him for safeguarding purposes.
Many believe that the mythical Shangri La still houses the teachings of the Wheel of Time, safeguarding the texts and the secrets they contain against outside corruption. The Dalai Lama also suggests that visitors to this holy land should not be so quick to dismiss the teachings that can be learned there, but on a more practical level he also notes that no one really knows where Shangri-La is.
 The secret of Shangri-La was therefore safe with ancient monks who believed that their ancestors came from the earth's depths. This shows that Shangri La might be an otherworldly place with supernatural beings who are different from ordinary humans. 
Some believe that Shangri La or Shambhala is another world, while others believe that Shambhala is just a piece of imagination described by religious historians. However, the Dalai Lama believes that the journey to Shambhala starts as an ordinary external exploration but ends with success when the traveler discovers his inner spirituality and clarity.
An enlightened person has to use his mind's eye to find Shambhala and reach it in its true form. Since few people today are able to complete such a difficult journey, Shangri-La remains shrouded in mystery. Does it exist? Maybe, but as to whether we can reach it or not: that is down to us.
Top Image: Is Shangri-La hidden amongst the high Himalayas? Source: Romolo Tavani / Adobe Stock.
By Bipin Dimri