Marco Polo is renowned across the globe for being a merchant, traveler, and an expert on the Mongols. He traveled extensively from his home in Venice, Italy: down the silk road and throughout the Mongolian empire. There, he found himself in the employ of Kublai Khan, grandson to the famous Genghis Khan, the founder and first ruler of the Mongol empire.
Marco's book "The travels of Marco Polo" was recorded between 1298-99 whilst in prison with writer Rustichello da Pisa. The book was written in Franco-Italian and then translated in many other languages throughout the 14th century.
The travels as recorded in this book had a profound impact on Western Europe and later explorers. Christopher Columbus is recorded to have owned a well-worn copy of Marco Polo's travel writings.
How did a simple merchant end up as a member of the Mongol court?  This is the story, or potentially the tall tale, of the merchant from Venice: Marco Polo.
Family Beginnings 
Marco Polo was born in 1254 in Venice. His father Niccolò Polo was based there but spent much of his time traveling to Asia with his brother Maffeo. They were successful jewel merchants whose journeys into the continent to the East had already brought them into contact with Kublai Khan and the Mongols.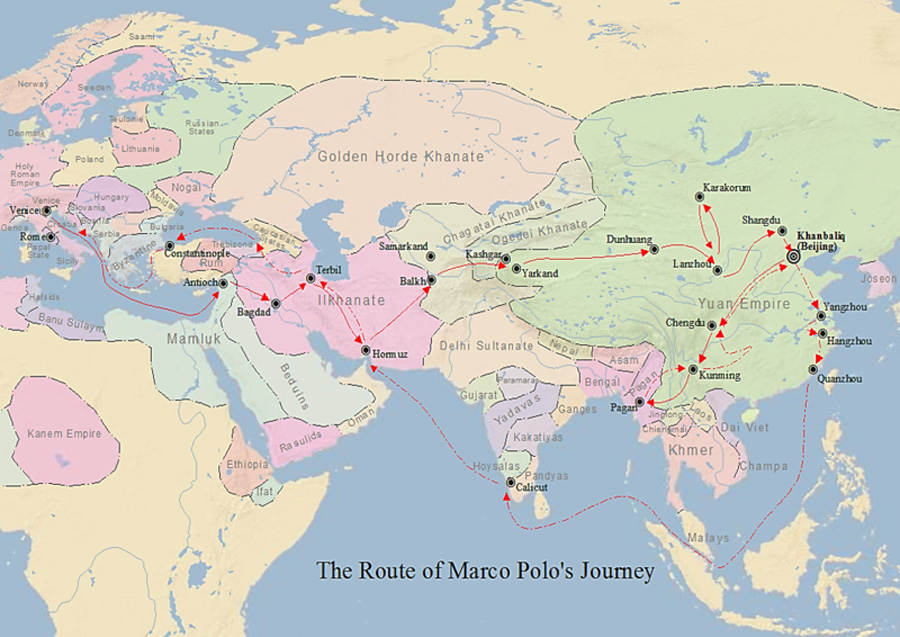 As father and son, the Polo family had spent little time together until Marco's mother died when Marco was just 5. He had to wait a further 10 years to meet his father, who brought him on his next voyage.
The Silk Road And Kublai Khan
Marco, Niccolò, and Maffeo set sail across the Mediterranean Sea, before traveling overland across Armenia, Persia, Afghanistan, and the Pamir Mountains (in modern day Tajikistan). From there, they tackled the formidable Gobi Desert and the route into China where they met Kublai Khan. 
By the time they were granted an audience with the Khan, their journey had taken approximately four years to complete. One contributing factor to this was a year's rest in the Afghanistan mountains, in which Marco was beset with illness. It was perhaps malaria; however, he recorded that he recovered, aided by the climate.
Kublai Khan welcomed the merchants into his marble and gold summer palace at Xanadu. Marco described the magnificent palace as a place of opulence and exquisite art. It featured painted marble with figures of men, beasts, birds, and flowers.
Kublai Khan invited the trio to attached themselves to his court and to immerse themselves in Chinese culture and the language. Marco was appointed as a special envoy, granting him the ability to travel throughout Asia. He distinguished himself so well that he was given the governing title of a Chinese city and earned a seat on the council of the emperor.
In all, the merchants spent more than 17 years in Mongol China. The Polos had become extremely rich and of such high status, that they were entrusted to escort a Mongolian princess, Cogatin, to a Persian prince.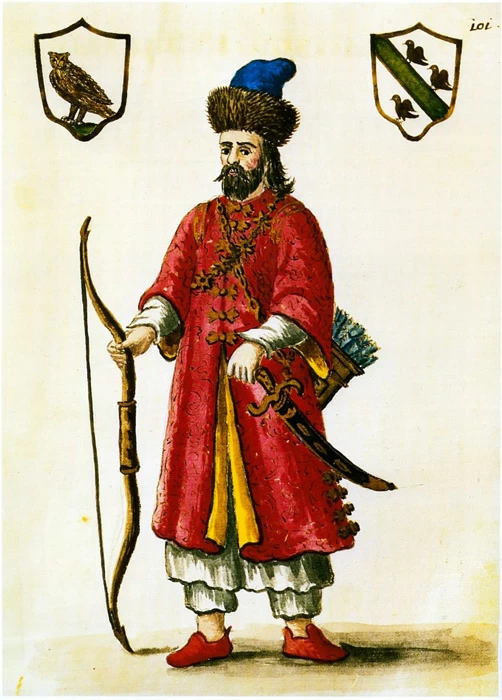 Unfortunately, on the trip, many of the crew died and upon reaching Persia, they found the bride's husband to be also dead. To make matters worse, in their absence Kublai Khan had also passed away. The Polos were thus left vulnerable to local rulers whom they were forced to pay off to ensure their safety.
Recognizing the changing political climate, they set out for home. Managing to skirt too much more trouble, they arrived back in Venice in one piece.
War And Imprisonment
Upon arriving back in Venice, the Polos arrived to a home they did not recognize. Venice was at war with its longstanding rival Genoa, and they were once more thrust into the action.
Marco, utilizing his newfound, albeit slightly diminished, wealth, funded his own warship, as was the custom in Venice, and began to take part in the war effort. His military career however was short-lived, and he was quickly captured and imprisoned in Genoa.
Marco found himself imprisoned for approximately two years, sharing a room with the author and poet Rustichello. It was during this time that Marco told his cellmate of his travels and the wondrous things that he had seen and done. Rustichello dutifully recorded the stories, until they were released in 1299 when the war ended.
Marco Polo settled down after prison and had a family, all the while attempting to revive his business. Rustichello on the other hand went on to publish the writings that would make Polo famous, in French and recorded by hand as the printing press had not yet been invented.  Today there are still 130 surviving copies of this original text, in various languages and each with its own unique details.
Too Much Adventure To Be Believed?
Despite its wonderful details and clear popularity, few believed the tales of Marco Polo and Rustichello. The pair faced many questions about the truth of the account and were accused of embellishing the truth to boost sales.
Many modern authors agree that much of the detail of his journey appears to have been fabricated. Others argue that it may be true but contain exaggerations to enhance Marco Polo's own importance. Marco certainly plays an unexpectedly central role in Kublai's reign in his own account, and yet plays a minor one when examining Mongol evidence.
However, many historians have analyzed Marco's travel account and admit that it does hold some truth. The traditions and customs of Kublai Khan seem to have been recorded faithfully, and agree with contemporary Mongol sources and other evidence.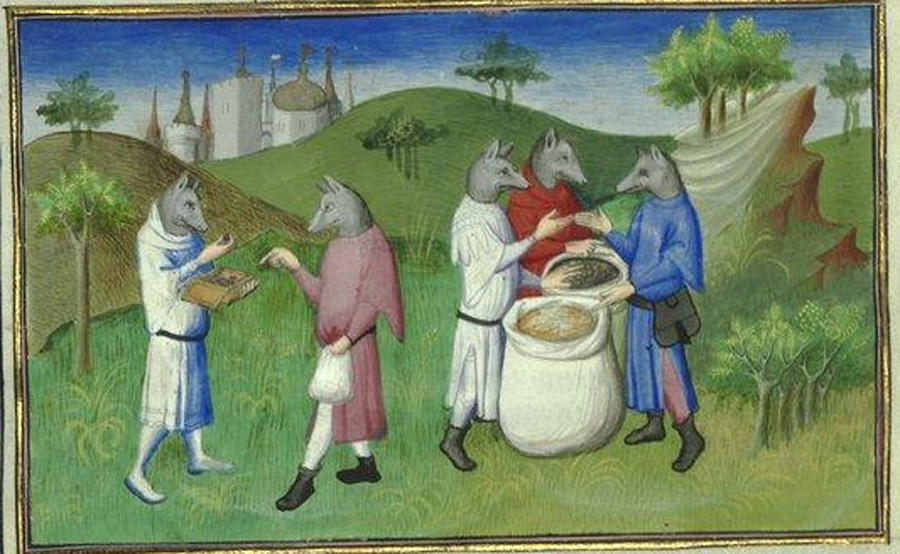 Marco also writes of the inventions of paper money, the use of coal as power, and many other important innovations that were happening in the far east. However some passages in his writings do display pure fabrication, such as his fantastical account of the Kingdom of Lambri.
The Legacy Of A Storyteller
The work itself is nicknamed "Il Milione." Some have suggested that this comes from Marco's nickname of the same spelling, but it is also said that he was called this because in his stories he records the millions of things that he saw in the Mongol Empire. This may therefore have been a dig at the credibility of the account.
Marco Polo's reputation as a tall tale teller and a rogue merchant has subsequently damaged the credibility of his story. Whilst the book was undoubtedly popular and has remained so down the centuries, rumors have also spread that Marco Polo never traveled to the far east at all.
The fairest view and probably the one accepted by most historians are that Marco Polo did travel throughout the far east, first as a merchant and then as an envoy for Kublai Khan. He likely inflates his own importance but that does not take away from the achievement of his travels.
His influence however is beyond doubt. Without Marco Polo, Christopher Columbus may never have sailed the seas.
Top Image: Marco Polo was the first to describe the riches at the end of the Silk Road. Source: Nithid Sanbundit / Adobe Stock.
By Kurt Readman