Cave paintings have been found in numerous locations around the world, most commonly dating back to the ice age, or the Upper Paleolithic, which lasted from around 40,000 to 14,000 years ago. The first painted cave acknowledged from this period is in Altamira in Spain and most examples have been found in France, Spain Portugal, England, and Italy.
Usually, the paints consist of red and black pigments. This is because they were made using various accessible metals. The engravings were often made using fingers against softer walls, or with flint tools for harder surfaces.
The images that are represented in the caves are mostly animals. A couple of rarer markings show humans and some depictions of isolated genitalia, with some handprints such as in the famous Gargas cave in the Pyrenees mountains of France.
But what is strangest about some cave paintings, especially those found in France, is that they depict animals realistically, but with extra heads and legs. Why would the ancient painters do this?
Paint What you Know
Animal figures always constitute the majority of images in caves from all periods. Typically, especially in the French cave paintings, the animals represented were the most formidable creatures of the time such as mammoths, lions, tigers, and bears.
Paintings from later in the period show evidence of human adaptation of their landscape. Other, more domestic animals such as horses, bison and ibex became more prevalent along with sea creatures and birds. The horizons of Neolithic man were expanding.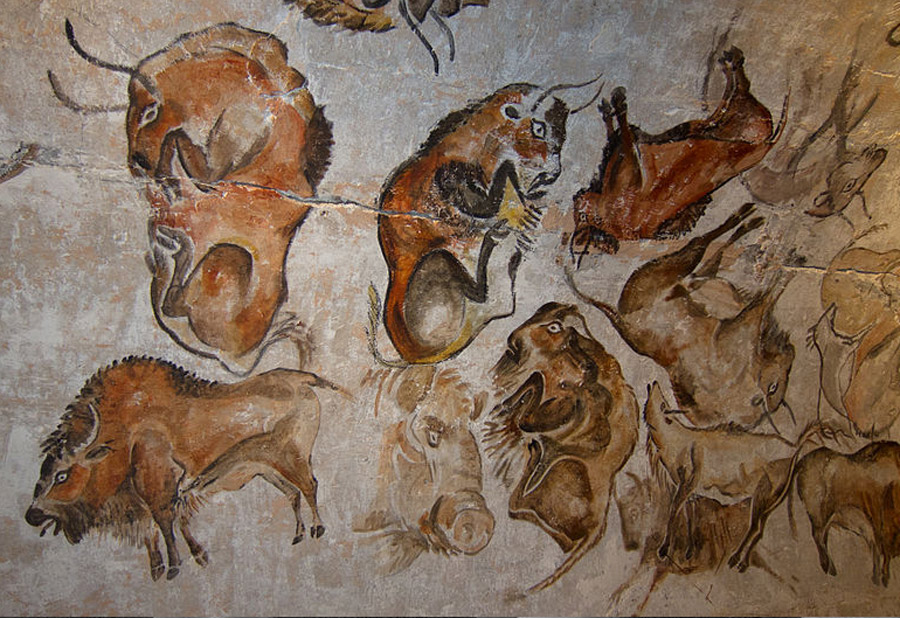 The function of the art has been debated over the years, but most historians and archaeologists have agreed that cave art is generally considered to be symbolic or religious, or even both. Whilst the exact meanings of the art will remain unknown, some experts believe that the art may have been created within the framework of shamanic beliefs and practices.
For example, an individual may go into a deep cave for a ceremony in which a shaman would enter a trance state to contact the spirit world to encourage benevolent behavior from the spirits. It certainly seems typical for this art to be viewed in a certain way: in semi-darkness, illuminated only by flickering torch light.
Human Evolution
Rock art gives us a great insight into the first humans that saw and occupied the world in a way recognizable to people today. Studies of fossils and genetic mapping conclude that Homo Sapiens evolved 200,000 years ago in Africa. Though whilst they may have looked like modern people, they may not have thought exactly like them.
As humans evolved, they made use of tool-making that allowed them to dominate the slightly less evolved hominin species that co-existed with them. The ability to make tools, think ahead, and plan showed that the homo sapiens had a higher order of consciousness.
This was a huge competitive advantage in the wilderness and allowed the species to survive and thrive in harsh environments that killed other similar species. This higher order of consciousness also opened the door to spiritual realms.
There is a long history in every culture or imaginary realms, spiritual worlds, and emotional connections infusing lives. This has led to visual representations of things that have been remembered or imagined.
The ancient art style of rock and cave art is a marker of a cognitive shift within the species. It is evidence of the early human mind being active and vibrant in pre-history.
Dating the Rock Art
Rock art is very difficult to date, unfortunately. Radiocarbon dating can be used on the trace amounts of organic material used in the paints, but this can be unreliable and may not give an accurate date range for the art.
The further back the carbon goes the less accurate the data is. Also, some cave paints use no organic material and as such cannot be dated by this method. This is a particular problem for iron oxide ochre that is often used.
The archaeologist and geochemist Dr. Maxime Aubert has been working to make dating more accurate. Aubert looked instead at dating the rock rather than the pigment in the paintings.
He did this by measuring the radioactive uranium present in many rocks in trace amounts. The decay of uranium in the rocks is at a known rate and so scientists can compare the different elements in the rock to reveal its age.
Aubert developed a new way to work out their minimum and maximum ages. He began by analyzing thin layers cut from the cave wall less than a millimeter thick. From there, a spectrometer was used to begin getting dates for the rock. This was more accurate and could provide a date for the paintings, allowing us to be certain of the point in human evolution when these were made.
Could The Paintings Be Animations?
One thing that is noticeable about much of the cave art that is still in existence today, is that many of the animals have multiple heads or legs. The animals themselves are recognizable but these extra limbs create an otherworldly feel to them.
Marc Azema, a researcher of the paleolithic and a filmmaker, believes that this was intentional to create some of the earliest examples of animation. He claims that the artists designed the images to create a system of graphic narrative that could depict several events happening to a singular animal or a group of them.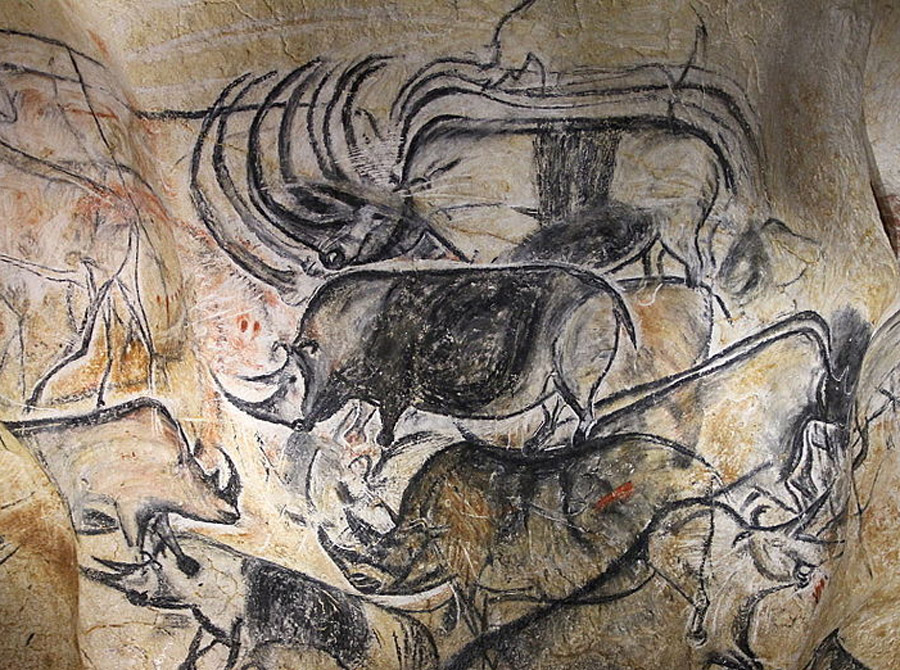 Azema came to this conclusion by changing the way that these cave paintings have been viewed. Traditionally, researchers have viewed these images straight on as they come across them.
However, Azema claims that this is not how they would have been viewed. The cave paintings were more likely to be viewed from the flicker of firelight and when viewed like this, the extra limbs create an animation effect.
There is a surprising amount of other evidence for this theory. The famous cave art in Lascaux, France, was discovered with over 100 stone lamps surrounding it.
Bringing a torch to these famous paintings it is easy to see why this theory is so persuasive. The animals are often painted to follow the natural curves of the rock, and the most mobile aspects of the animal, the head, tail and legs, are the most commonly repeated.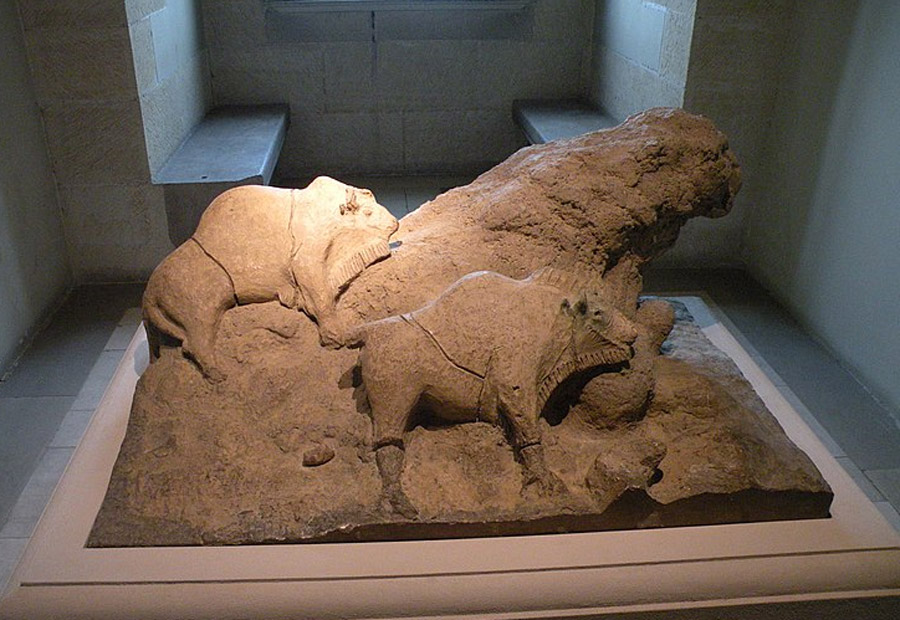 With the imperfect light source and the ritual or ceremonial context, the animals would appear to move as first some parts and then others of the paintings were revealed. These early animations may have also served as a way to entertain and transmit allegorical messages, a surprisingly sophisticated form of entertainment for our ancestors.
Who knows what else our cave-dwelling forebears did for entertainment as they first learned to tame their environment and bend it to their will.
Top Image: The paintings come alive when viewed by firelight. Source: Gorodenkoff / Adobe Stock.
By Kurt Readman