In modern society, instances of duping and deception are common. In fact, deception and fraud are so common that people take extensive precautions to make sure that they do not face deceit. However, the practice of duping someone has been going on for a long time in human society. Whether people deceive someone for their own benefit, or sometimes just for the fun of fooling someone, fraud and deceit are as much a part of the human character as the virtues that counter them.
If fooling someone was a crime, we would not be celebrating April Fools' Day in jest every year. However, sometimes, jokes and pranks get out of hand and can lead to damage to those involved. While most practical jokes are harmless and executed on a small scale, the most famous pranks in the world were sometimes on a much larger scale.
These practical jokes are so famous that even after hundreds of years, people remember them. In fact, people also mention these instances as examples of clever trickery. Such examples of deceit had so much impact at the time that people remember them as hilarious incidents, and marvel that such a thing could have even happened.
On the other hand, such instances where one party is completely fooled by the other also serve as warnings when dealing with suspicious people. Successful practical jokes always push us towards being on our guard so that no one can take undue advantage of our trust and naivety. 
While some of the most famous practical jokes in the world were harmless, and indeed hilarious, others often had more far-reaching consequences.
Instances of Fraud and Deceit in History
One such historical instance of deception was that of Professor Johann Bartholomeus Adam Beringer. Professor Beringer had come into the possession of some carved stones, later called "Beringer's Lying Stones". This article will discuss who Beringer was, and how he went from a respected professor at 27, to lending his name to a group of fake fossils that would go on to be remembered as one of geology's earliest recorded practical jokes.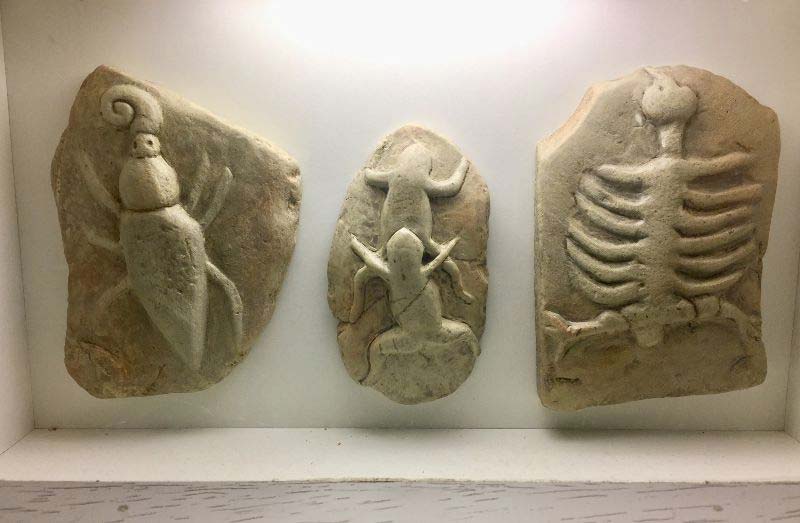 Some of the "fossils" discovered by Beringer (MBq / CC BY-SA 4.0)
Beringer's lying stones serve as cautionary tale that even the most obvious frauds can manage to fool the experts. Fake fossils continue to be a problem for archaeologists and paleontologists. One of the earliest cases of such deception in the history of fossil discovery, it serves as a powerful example of how disruptive a problem fake fossils can be.
Who was Professor Beringer?
Dr. Johann Bartholomeus Adam Beringer was born in 1667, the son of German physician, Ludwig Beringer. At the young age of 27, Dr. Johann Beringer became a professor at the University of Wurzburg. Although he was young, he must have shown promising talent because he was appointed as a professor only a year after completing his doctorate in medicine at the same University.
Beringer's climb through the university ranks was swift. He went on to become the keeper of the botanical garden, a huge responsibility because of the dependency physicians had on botanical medicine and the plants he grew. His new role as the keeper of botanical gardens pushed his curiosity towards researching Natural History.

The University of Wurzburg (hajotthu / CC BY 3.0)
The Professor soon expanded his research towards different types of interesting objects found in nature. He collected anything that he found in nature and considered interesting. This was his method of finding more about natural marvels and delving deeper into natural history. A part of his keen interest lay in "petrifactions", or modern-day natural fossils. In his time at the botanical gardens, he found several remains of flora and fauna during his studies. Even his lectures included mentions of petrifactions and natural fossils.
An Authority on Fossils
In a short span of time, Beringer rose through the university to hold many high-ranking positions. It was because of his academic knowledge and acumen that he pioneered research on many obscure topics, like "oryctics". During his time, oryctics referred to objects uncovered from the depths of the earth, including fossils.
Beringer's eccentric interests covered many different streams of research, hinting at the curiosity and ingenuity he possessed. In addition to his work on oryctics, he held the post of Chief Physician of the Julian Hospital, and served as the Dean of the Faculty of Medicine at the University.
With so many powerful positions in academia, it is unsurprising that Professor Beringer had earned quite a reputation for himself. Professor Beringer was also an advisor and Chief Physician to the Prince Bishop of Wurzburg, a powerful position in society. His positions and rank garnered Professor Beringer the reputation of an eminent scholar and medical professional, all while he was still very young.

Christoph Franz von Hutten, Prince Bishop of Wurzburg (Unknown Author / Public Domain)
Success Attracts Jealousy
However, his meteoric rise through the university ranks and his reputation as an eminent scholar made many believe that he was arrogant. His success created jealousy, and it was easy for such an academic genius who was always involved in prominent research and studies to come across as cold and arrogant. People often believe that fame breeds arrogance.
Professor Beringer's immediate rivals were the ones working with him. His growing popularity in academic circles was noticed by his colleagues, principally J. Ignatz Roderick, the university professor of geography, algebra, and analytics, and George Von Eckhart, the university librarian. Both men were unhappy with Professor Beringer's fame and reputation. They resented him secretly and wanted to teach him a lesson for his arrogance.
What happened next and how they targeted Professor Beringer has gone down in history. These people worked closely with Professor Beringer and knew about his keen interest in fossils. They also knew the locations where Beringer habitually searched for fossils. Using this information, they planted fake petrifactions to fool Beringer into believing that he had made a significant discovery.
Given that Professor Beringer was very serious about his research on petrifactions and fossils, it was a particularly brutal and damaging prank. However, even Roderick and von Eckhart may not have predicted how far the prank went.
Beringer's Lying Stones
Beringer was very serious about finding new fossils and petrifactions, even hiring local teenagers to aid his search. Three of these teenagers were 17-year-old Christian Zanger, and two brothers, Niklaus and Valentin Hehn.
Meanwhile, Roderick and von Eckhart plotted to prank the Professor. Knowing that the Professor was searching for fossils in the lime deposits of Mount Eibelstadt, they planted fake fossils on the mountain. Roderick carved natural figures into limestone so that the stones looked natural. He also added carvings that resembled Hebrew and Arabic inscriptions. Some of the stones even had the Hebrew name of God inscribed into them, suggesting support for the Bible in the archaeological record!
Apparent Hebrew Text in the Fossil Record (Johann Bartholomeus Adam Beringer / Public Domain)
Because the pranksters knew that nature and natural elements fascinated Professor Beringer, they carved plants, birds, and stars onto the stones. Such was the dedication of the pranksters to the hoax that they planted nearly 2,000 carved stones in and around Mount Eibelstadt, starting from 1725. The irony in this entire story is that the pranksters planted the fossils with the help of Beringer's own diggers, including the three boys hired to search for carved stones. It is also possible that these boys knowingly led Beringer to the sites where they planted the carved stones.
In hindsight, the plan would not have been a success without the help of Beringer's digging team. Only when Beringer's trusted team of diggers helped, the pranksters were they able to plant and show the fake fossils to Beringer. However, only one of the boys was totally in with the pranksters and knew the whole plan.
The Trap is Sprung
The team executed the plan, and initially, the boys showed up with three fake fossils. The naïve Professor Beringer fully believed that the objects were true fossils. Beringer ordered the teens to continue searching for more fossils, and to his pleasure, they brought in more and more. However, the diggers were careful not to bring in the fake fossils in bulk.
The fake fossils contained a mixture of the plausible and fantastical (Johann Bartholomeus Adam Beringer / Public Domain)
Professor Beringer, on the other hand, put the carved stones he had discovered on display. Beringer would also say that even though he had frequented the mountain, he had not found such remains before. Moreover, he overlooked the strange aspects and increase in volumes of fossils as a marvelous discovery. The teenage diggers earned a reputation for themselves as prolific professional excavators. People sought their services after the excavation.
Many of the Professor's colleagues raised questions about the stones' authenticity. However, when they accompanied the Professor to the mountain and dug up some of the fossils, they were also convinced of the authenticity of the stones. Mount Eibelstadt did in fact contain some real fossils, which were uncovered by Professor Beringer's team and which helped convince people of the authenticity of these new discoveries.
A Reputation Destroyed
However, this only resulted in the lying stones being masked by the true fossils. Although Beringer did make some legitimate discoveries, the sheer volume of the lying stones diluted the truth and severely damaged his credibility. Beringer even constructed explanations to support the authenticity, and the apparent divinity, of the stones. It was like someone bending his own mind to accept a lie as the truth.
Beringer was so sure of his discoveries that he compiled his findings in the book Lithographia Wirceburgensis. However, when word reached his pranking colleagues that he intended to publish the book, they tried to undo their deeds. They tried to spread the word about how the stones were false from the beginning.
Frontispiece to the Lithographia Wirceburgensis (Johann Bartholomeus Adam Beringer / Public Domain)
The pranksters also started a rumor that they had sold the stones to Beringer, and eventually even told Beringer the truth about the lying stones. However, Beringer was so convinced by the hoax that he did not believe them. Instead, Beringer believed that his colleagues were trying to discredit him.
He went ahead with publishing his work. However after its publication, at some point he realized that the stones were fake. By the time he realized this, it was too late. He tried to recall the printed sheets, which may have even caused his eventual bankruptcy. The whole incident ruined his reputation. He eventually filed a court case against his pranking colleagues and the three diggers. In his court case proceedings, the court referred to the stones as "lying stones". Hence, the fake fossils have been referred to ever after as "Beringer's lying stones".
A Prank Taken Too Far
Beringer spent the rest of his life trying to rebuild his previously spotless reputation as an academic scholar and researcher. He stayed on the staff of the University for the following thirteen years, publishing two more books in his career. The court found his colleagues as guilty of fraud and duplicity, but Beringer could not regain his reputation, and the lying stones remained as a personal and professional stain. People remember Professor Beringer even today for his grave mistake, not for his other works.
Beringer's lying stones still exist and sit preserved in museums around the world. Even though known to be fakes, the stones are preserved just the same as any other genuine fossil. The way these stones are displayed in museums is the irony of the whole story. Beringer's lying stones might not be true fossils, but they are the reminder of man's deceit, and its far-reaching and unforeseen consequences. Today, evidence of natural history's earliest recorded prank serves as a warning, albeit a very funny one.