This is the story of one man's remarkable journey. From a humble Greek secretary, Eumenes rose to become one of the most powerful men in the ancient world.
The secretary of Alexander the Great, Eumenes rose in the tumult after the early death of the legendary conqueror to lead a remnant of Alexander's great armies. Carving out an empire for himself, he became a great leader in the middle east before his betrayal and death.
How did he manage this miraculous transformation? How did a secretary, little more than a scribe, emerge as a key player in the wake of Alexander?
Destined for Greatness?
Eumenes was born in 362 BC in Cardia, Thrace, on what is now the Gallipoli peninsula. While some sources state that Eumenes was of noble origin, others say he came from a poor family.
He found favor in the Macedonian court, initially the private secretary of Philip II, the one-eyed king of Macedonia, for seven years. After Philip's death in 336 BC, the 26-year-old Eumenes became the private secretary of Philip's son, Alexander.
Eumenes was said to possess great agility and strength, with a fierce intellect to complement his physical qualities. He was a diplomatic courtier, a good administrator, and proved himself an outstanding military leader and politician.
While serving Alexander the Great, he was able to reach new heights that no other Greek could. Alexander recognized the capabilities and military talent of Eumenes, and he became entrusted with important assignments.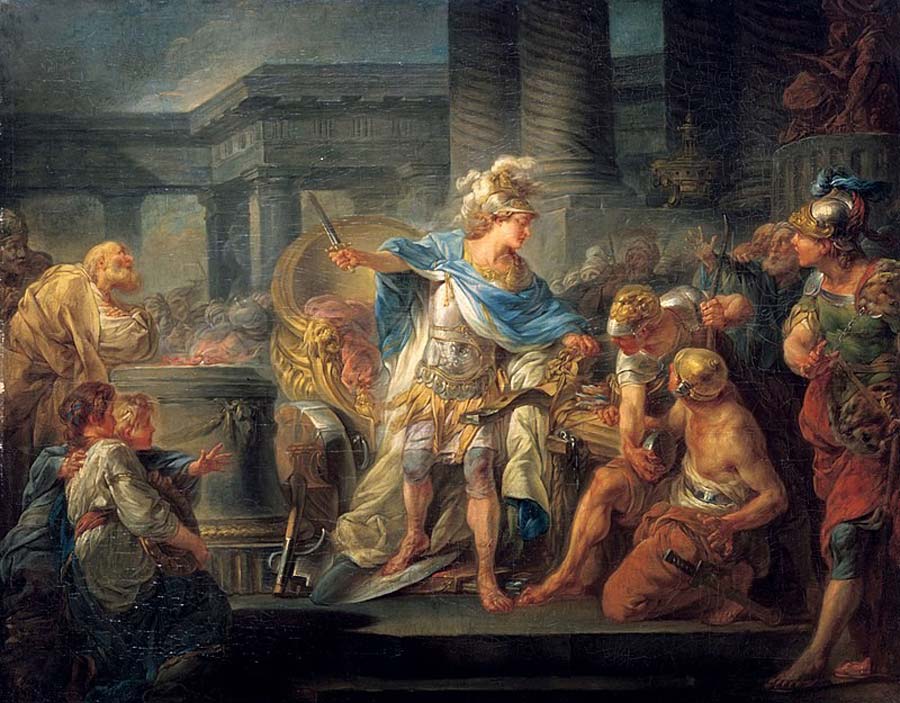 In recognition of his abilities, Eumenes was even given the position of "hipparchon" in the Macedonian army, a tactical leader in charge of cavalry. The exceptional military talent enabled Eumenes to rise from the position of a secretary to a great leader. 
After Alexander the Great's Death
In 323 BC, Alexander the Great died. After his death, Eumenes was awarded control over Cappadocia and Paphlagonia, two kingdoms or "satrapies" of ancient Anatolia. But there was a small problem: these kingdoms had not yet been conquered.
By the order of Perdiccas, supreme commander in the chaos after Alexander's death, two generals named Leonont and Antigonus were to accompany Eumenes in order to capture this territory. However, they refused. Perdiccas sent his army anyway, conquering these regions and installing Eumenes as satrap. 
It was not long before Eumenes was challenged by a rival Macedonian faction led by Antipater, the regent of Alexander's empire. Antipater sent Neoptolemus, the satrap of Armenia, along with the legendary general Craterus to defeat Eumenes.
Eumenes rose to the challenge. At the Battle of the Hellespont in 321 BC, Eumenes sent the bulk of his forces, including his crack troops, against the flank held by Craterus. Seeing the great general fall in battle, Antipater's forces lost heart and were utterly defeated. Both Craterus and Neoptolemus were killed.
Out on a Limb
Eumenes had little time to enjoy his victory, as in 320 BC, Perdiccas was murdered by his own soldiers in Egypt. After the death of Perdiccas, the generals of Macedonia condemned Eumenes to death.
Antigonus and Antipater were assigned as the executioners of Eumenes, and in 319 BC, Antigonus marched along with his army to Cappadocia. In a fierce campaign, he drove Eumenes back to a fortress named Nora on the border between Lycaonia and Cappadocia in south eastern Anatolia. Eumenes was held in Nora for over a year until the death of Antipater caused another succession crisis.
The regency of Alexander's empire was left by Antipater to Polyperchon, a friend, and not his son Cassander. So, Cassander allied with Antigonus, and two other Macedonian leaders named Ptolemy and Lysimachus.
On the other hand, Eumenes allied with Polyperchon, finding legitimacy in Antipater's old power structure. He cunningly escaped from Nora and gathered a small army. Marching south to Cilicia, he formed an alliance with the famed Macedonian Silver Shields.
The Silver Shields were Alexander's invincible foot troops, seasoned veterans and professional, full time warriors. They lived for war, to the extent that even their families travelled with them on campaign. 
In 317 BC, Eumenes left Cilicia and marched south east into the Levant, toward Phoenicia and Syria. On Polyperchon's behalf, he started raising a naval force. Meanwhile, Antigonus was heading east to confront Eumenes. Forewarned, Eumenes escaped conflict. 
Eumenes in the Middle East
Eumenes started travelling around the satrapies of the ancient middle east, looking for support. He met with limited success, but managed to draw enough support to face the Macedonian army of Antigonus.
Surprising Antigonus as his army forded the Kopratas river, Eumenes was able to surround and kill about 4,000 enemy soldiers, forcing a hasty retreat. Eumenes wanted to pursue Antigonus to seize on the advantage, but his new allies did not want to travel so far to the west.
After an indecisive but bloody battle in 316 BC, Antigonus and Eumenes would meet again the following year at the Battle of Gabiene. Eumenes won the battle, forcing Antigonus to again retreat, but in this victory he had made a fatal error.
The Death of Eumenes
Although Eumenes had won the battle, during the course of the fighting some of Antigonus's cavalry had broken off and captured Eumenes's baggage train. This would ordinarily be a large but recoverable situation for Eumenes, but his baggage train included 30 years of plunder, as well as the families, of his elite Silver Shields.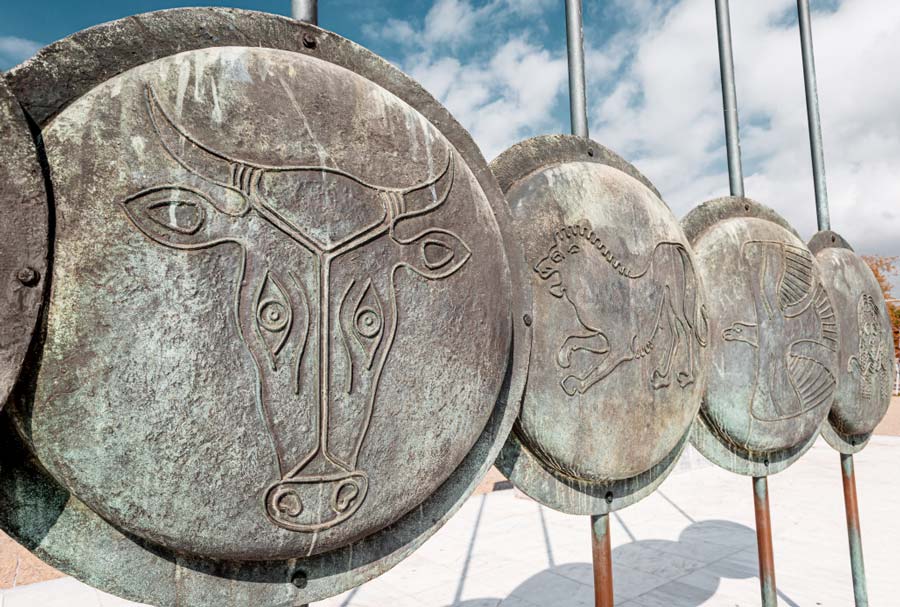 Seeking the return of their riches and their families, a leader of the Silver Shields went to negotiate with Antigonus. They were promised the return of everything, but on the condition that they would have to give him Eumenes. The Silver Shields agreed to the offer.
So, the Silver Shields arrested Eumenes along with his officers and handed them over to Antigonus. Finally, the war came to an end. With Eumenes a captive under guard, Antigonus held a council in order to decide what to do.
Antigonus, along with his son, was not inclined to kill Eumenes. However, a majority of people in the council wanted the execution of Eumenes. So, the decision to execute him was finally made.  
Eumenes was made to starve for a period of three days by Antigonus. And, when the time came, Antigonus sent an executioner in order to dispatch him. The body of Eumenes was given to his friends in order to burn the body with honor.
The ashes were kept in a silver urn and sent to his wife and children. And so ended the life of one of the great generals of history, a lowly scribe who became one of the most powerful men in the world. 
Top Image: Eumenes rose in the chaos following the death of Alexander the Great. Source: Stanislav / Adobe Stock.
By Bipin Dimri