Zoologist, botanist, explorer and doctor Georg Wilhelm Steller is one of the most important figures in the history of marine biology. Much of his adult lie was spent in expeditions to the far frozen north, where, he came in contact with many rare animals that are no longer seen.
These animals seem particularly elusive, having either become extinct since Steller's discovery, or remaining undiscovered by modern zoologists. Sailing near the North Pacific Ocean, the zoologist reported the sighting of two animals in particular which would fasciate those who came after: Steller's Sea Cow and Steller's Sea Ape.
There are still doubts about whether Steller saw new, different creatures of the sea or was describing other existing species of animals. Were these creatures real, or some mistake on the part of the great zoologist? What had Steller seen?
A Life in Search of the Undiscovered 
To be clear, Georg Steller was responsible for discovering many extant marine animals in addition to these two strange cryptids. With an odd habit of naming animals after himself, Steller also discovered Steller's Eider Duck, Steller's Jay, Steller's Sea Eagle and Steller's Sculpin, a type of fish. He also discovered a mineral, which he unsurprisingly named Stellerite.
Many of these were discovered in Steller's extensive expedition. In 1740, the 30 year old Georg Steller joined the Russian crew of the St. Peter and Captain Vitus Bering on the Great North Expedition. The Great North Expedition is a very important part of European history as it ended with the discovery of the Bering straits (named for the captain), and Alaska beyond, and led to the Russian Empire's expansion.
Apart from the political and geographical impact of the Northern Expedition, it was a triumph of natural discovery. Steller went on to describe the sighting of dozens of new species, although it is unlikely that he solely discovered the species he described as the area that has been inhabited since time immemorial. Like Hiram Bingham with Machu Picchu, it was only a discovery for the western world.
So, what about these two strange creatures then? Do we know what Steller might have seen?
Steller's Sea Ape
Steller's Sea Ape is classified as a marine animal and is often called a sea monkey by those who have studied Steller's records. The animal is said to have a 1.5 m (5 foot) long body and a dog-like head.
It also had long, drooping whiskers that made it look like a seal, and tall fins like a shark. Steller has described the nature of this animal as playful and inquisitive. Steller claimed that he had played with the puppy-like creature for hours. After observing its physical features and behavior for 2 hours, the zoologist tried to shoot it and take its carcass for further observation.
He, however, missed aim, and the creature escaped. It is a little suspicious that a creature that played around the ship for two hours could not be killed and collected. The doubtful nature of the happenings also raises questions on whether the creature was part of Steller's imagination, or really something new.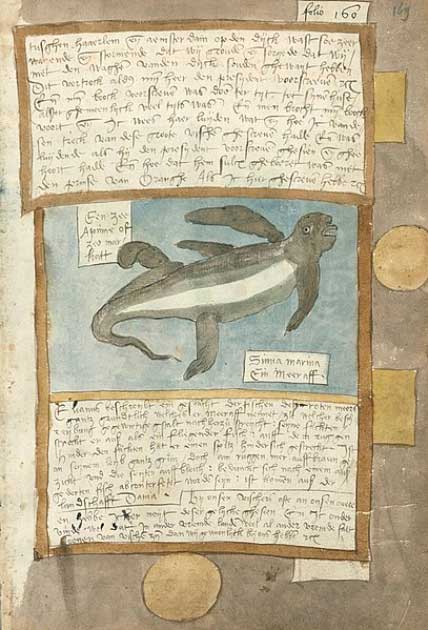 There have been many attempts at classifying the creature into different families, but none have been successful. There are also theories and speculation that Steller saw a Northern Fur Seal instead of a Steller's Sea Ape, but then Steller should have known what he was looking at.
The idea of a sea ape is far from new, they have been referenced in documents going back to the 16th century where they are called Simina Marina Danica. However, there have been no sightings of the Steller Sea Ape after Steller's singular description, and barring another confirmed sighting most think Steller was simply mistaken.
Some sources also say that the Steller Sea Ape could have simply been another species known to science, hiding in plain sight. This would require that Steller was mistaken however, unlikely given his expertise. Since the Sea Ape was so well described and observed from close quarters by the zoologist, it is unlikely that he did not know what he was describing. And what he was describing is unknown to science 
To know the nature of Steller's description, it is important to know the nature of the expedition Steller took and the impact that might have had on the man. The Northern Expedition might have succeeded but was maligned with loneliness and disease.
Steller failed to be part of the expedition when it launched for the first time in 1738. Instead, he joined the voyage two years later after tracking the ship's path from land. In the months and years Steller spent on the ship, he was only allowed ashore for brief periods.
This small window of time is when he described most of his observed creatures. The ship's crew, including the captain, were by this time struggling with scurvy. It is possible that, overcome by the loneliness and despair he saw on the ship, Steller looked at the sea on the 10th August 1741 with his imagination running wild, and described a fur seal or an otter as a sea ape. 
Steller's Sea Cow 
Three months later, the ship was wrecked on the shore of Bering Island. Twenty-nine crewmen, including Captain Bering, died from the wreckage's impact or from the rampant scurvy. On Bering Island, Steller was to make his next extraordinary discovery: the Steller's Sea Cow.
Large, slow and docile, this marine mammal was fascinating the Steller and the surviving crew for an entirely practical reason. He and the rest of the crew hunted and ate the sea cow for survival. This was a sad sign of things to come: the Sea Cow was so unable to respond to predation from man that it was hunted to extinction within 30 years.

Steller's Sea Cow was the first of the modern marine mammals to be extinct because of humans. During the eight months of struggle on Bering Island, the zoologist wrote an account of the animals they spotted during the voyage. Interestingly, the Sea Ape did not appear in these official reports published by Steller.
Steller kept voyaging in the high arctic for two more years. However, after that, he was recalled to St. Petersburg. He died of a fever in November 1946 while returning to St. Petersburg, aged only 37. His documents and essays reached St. Petersburg and were published after his death. 
Did Steller's Sea Cow exist? Certainly, as we have the remains to prove it. But the animal Steller saw is also almost certainly extinct, killed so like so many new species by explorers and exploiters who did not appreciate how fragile the world into which they were trespassing truly was.
On the other hand, the Sea Ape that Steller described might have been a figment of his imagination that he used to break away from the dreary reality of the ship. Could it be real? Possibly, but probably not.
Top Image: Georg Steller measuring a Steller's Sea Cow, which we know for certain existed. Did the Sea Ape, too? Source: Leonhard Stejneger / Public Domain.
By Bipin Dimri