Vincent van Gogh was a Dutch Post-Impressionist artist who became one of the most famous artists in the history of Western art after his death. Van Gogh is widely known for his struggles with mental illness, psychotic episodes, and severe depression.
Vincent van Gogh was worried about his mental health and was known to institutionalize himself for months and years at a time. However, as commonly seen with depression, he often neglected his physical health, had a poor diet, and drank heavily.
In the single decade in which van Gogh was active as an artist, he created well over 2,000 works of art (900 oil paintings and 1,100 drawings or works on paper). The bulk of his work was made during the last two years of his life. To produce that large of a volume of artwork, it was calculated that he would produce a new work of art every 36 hours without missing a day.
Some myths about van Gogh's life continue to exist today. Things like the tales of Vincent van Gogh cutting off his ear for a girlfriend or how he would eat yellow paint to be happy inside because yellow is a happy color are often exaggerated and sensationalized.
His death by suicide is something that is widely agreed upon. He was known to be depressed, and death by suicide sadly makes sense. But what if van Gogh didn't die by suicide but rather by murder? Have we been wrong about the death of Vincent Van Gogh for the last 132 years? 
The Death of Vincent van Gogh
Vincent van Gogh died in the early hours of the morning on July 29, 1890, in his room at the Auberge Ravoux Inn in the village of Auvers-sur-Oise, ten miles north of Paris, France. The cause of death was complications from a self-inflicted gunshot wound to his stomach (accounts and language vary about where exactly he was shot, but historians agree that it was in his torso below his heart).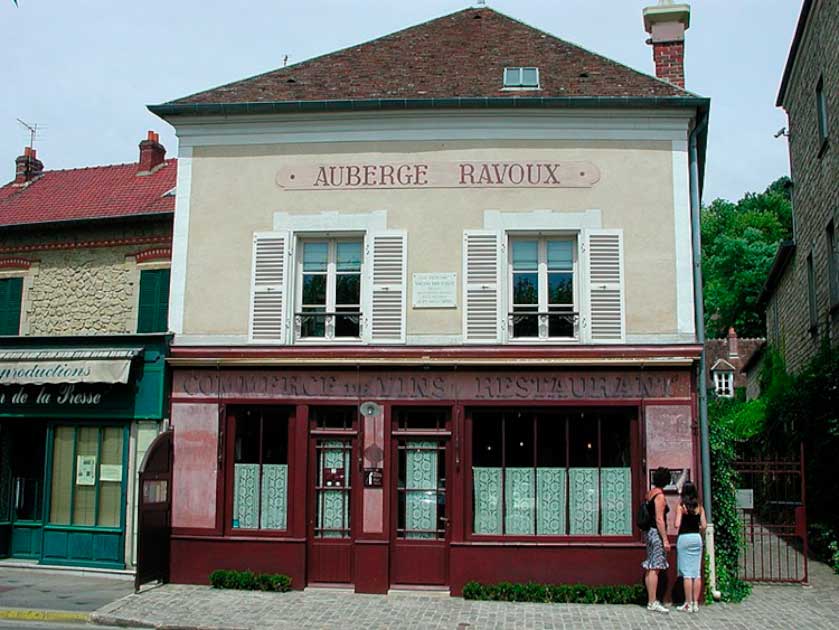 Vincent van Gogh left the inn on July 27, 1890, to paint in a nearby wheat field. He returned to the inn later than he usually did and was said to be holding his stomach and had trouble going up the stairs to his room. 
The innkeeper heard van Gogh moaning and found him curled up on his bed. When asked if he was ill, van Gogh revealed his gunshot wound and said he had tried to commit suicide. The local doctor was not in the village that evening, and van Gogh's friend and physician, Dr. Gachet, was called to treat the dying artist.
Gachet dressed the wound but left, feeling it was a lost cause and death was imminent. When questioned by police on the morning of the 28th of July, van Gogh told the authorities, "My body is mine, and I am free to do what I want with it. Do not accuse anybody, it is I that wished to commit suicide." 
Vincent van Gogh's beloved brother Theo recounted how his brother told him how he felt moments before he died. Theo wrote in a letter to his sister Lise "He himself wanted to die. When I sat at his bedside and said that we would try to make him get better and that we hoped that he would then be spared this kind of despair he said 'La tristesse durera toujours' (The sadness will last forever). I understood what he wanted to say with those words."
The death certificate of Vincent van Gogh lists his cause of death as suicide. But in 2011, the cause of death was questioned. 
The Murder Theory
In their 2011 biography, Van Gogh: The Life, authors Steven Naifeh and Gregory White Smith provided a unique hypothesis into the real cause of the artist's death: murder. The killer was believed to be a 16-year-old boy named René Secrétan, who had a penchant for dressing like an American cowboy (including a gun).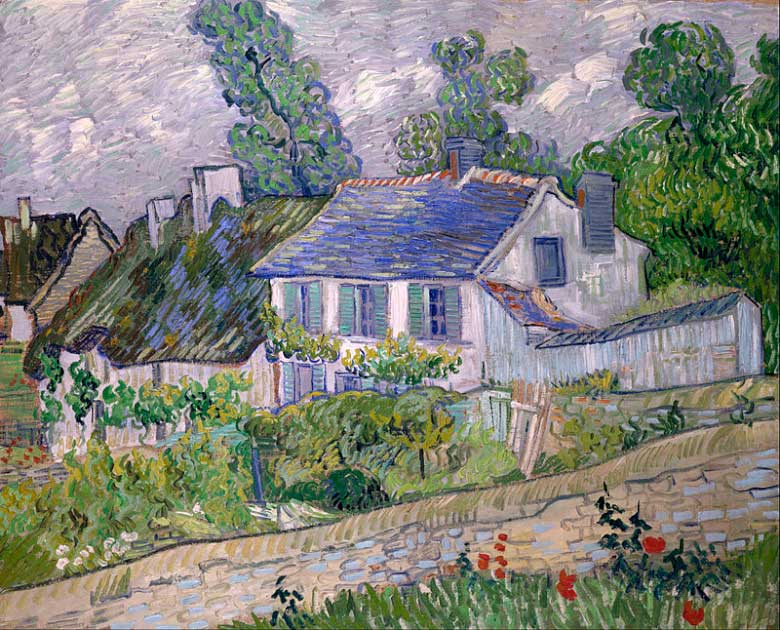 Rumors in Auvers-sur-Oise at the time of Vincent van Gogh's alleged murder were that Secrétan and some of his friends would relentlessly bully the struggling artist. The murder theory posits that van Gogh and Secrétan got into some sort of physical altercation, and the teen shot Vincent van Gogh. 
Supporters of the murder theory cite several different clues as to why the death of Vincent van Gogh was murder rather than the widely accepted death by suicide. One clue was the rumors that Secrétan and his friends would bully the artist when he would walk from the village to the fields to paint.
Secrétan was your typical 16-year-old boy, loud, annoying, ran with a posse of other teen boys, and would pick on people. A depressed and mentally ill struggling artist seems like the perfect target for the antics of teenage boys. Many cite the fact that van Gogh told police not to accuse anyone of the gunshot as a sign he was covering for the child. 
The second clue used to support the theory of the murder of Vincent van Gogh was a lack of a suicide letter. Throughout van Gogh's life, he was a prolific letter writer and was incredibly close to his brother Theo.
Theo and Vincent sent countless letters to each other, and if Vincent van Gogh was going to commit suicide, it should be assumed that there should be a suicide letter left behind in his room. No such letter was found, even after van Gogh died. The letters Vincent van Gogh would send to his brother and others illustrate the feelings of an incredibly depressed man; however, his artwork reflected the opposite. 
In the months before his death, Vincent van Gogh's paintings were full of color, portraits of his friends, and several studies on the innkeeper's daughter. In July, the month he died, his paintings reflected the beauty of the wheat fields on Auvers-sur-Oise.

These paintings are full of light and look nothing like his famous Starry Night, which was painted while he was staying at the asylum near Saint-Rémy-de-Provence. Some supporters of the murder theory cite the mood of his paintings at the end of his life as a reason why he was not depressed enough to try to kill himself.
Then there is the location and angle of the fatal gunshot. Vincent Di Maio, a handgun expert, claimed that the angle at which the bullet entered van Gough's abdomen was far too awkward to be suicide. If Vincent van Gough wanted to end his life, why would he have shot himself in his abdomen and not in a more typical place such as the temple or under the chin?
The murder theory is compelling, but solid evidence has not been found. 
Why the Murder Theory Doesn't Fit
The murder theory suggests that the 16-year-old  René Secrétan killed van Gogh potentially during a bullying incident gone very, very wrong. Sure René Secrétan was known to be a bit of a bully, but the 37-year-old Vincent van Gogh could handle himself against a teen.
Van Gogh had a history of hallucinations and blackouts (he was unable to remember periods of time or things he did during the blackout), and the most well-known fact about van Gogh, his missing left ear, is proof of what he was capable of. 
The ear incident occurred due to a physical fight between van Gogh and fellow artist Paul Gauguin. Gaugin and van Gogh often fought; the latter was known to throw glass bottles of absinth at Gaugin. According to Gauguin, van Gogh had a blade in his hand and began to hallucinate, causing a fight between the two men, and it culminated in most of van Gogh's left ear being cut off.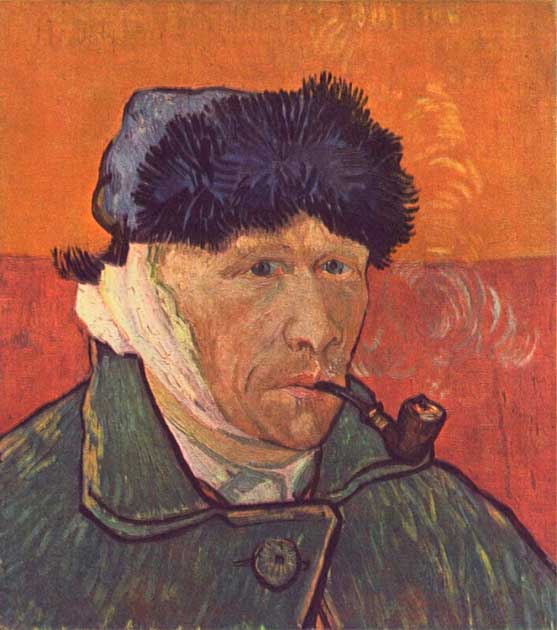 In his compromised mental state, van Gogh picked up the ear, gave it to a prostitute (not his girlfriend) in the village, and ran home. The next day van Gogh had no memory of losing his ear. 
Even though Vincent van Gogh was depressed, he could have chased the 16-year-old boy away, and it is unlikely that the adult van Gogh would have put up with bullying from a child. By van Gogh telling authorities that he was the one who shot himself and not to accuse anyone is not proof that he was trying to protect a kid who supposedly bullied him relentlessly.
All that statement means is that there was nobody to blame for the shooting but the dying man himself. He said he had tried to commit suicide, and that was the cause of his injury. 
The lack of a suicide letter doesn't indicate that van Gogh was murdered either. Yes, he was a prolific writer and sent many letters to Theo, but the murder theory doesn't look at letters written before van Gogh died. In a letter written to Theo dated April 30, 1889, van Gogh wrote, "If I was without your friendship I would be sent back without remorse to suicide, and however cowardly I am, I would end up going there." 
Van Gogh was known to be incredibly depressed and put immense pressure on himself as an artist. It is easy to see how a mentally ill man producing new works of art every 36 hours non-stop could finally be driven to take his own life. Not all people who commit suicide write letters to say goodbye, it is prevalent, but it is not always the case in suicides. 
The argument about van Gogh being happy or more positive because the paintings made during his 70-day stay in Auvers-sur-Oise looked "lighter" is ridiculous. The yellow hues and bright blue sky of the wheat fields he painted before his death do not indicate anything about van Gogh's emotional or mental state.
The colors reflected his environment in the French countryside; many of his works of art are full of light, life, and contain many different colors. This argument for the murder theory seems to imply that people with depression or mental illness cannot paint happy things.
Depression looks different than how movies and books describe it. It doesn't always look like crying all the time or looking so sad that someone is obviously depressed. Many people suffer from depression and suicidal thoughts/ideations and present themselves as happy and hopeful people. Depression isn't about being sad; it is a feeling of emptiness and loneliness that eats away at your mind and soul. 
But what about the fatal shot not being in an expected location for a suicide attempt? Again, it is essential to remember that not every suicide will look the same. There is no textbook on how to end your life, and no standard method is used.
In his letter to Theo mentioned above, Vincent van Gogh says he would commit suicide, and "however cowardly I am, I would end up going there." Being shot in your abdomen is not good, and many essential organs can be damaged such as the stomach, which results in death.

He lived for two days before dying, indicating massive internal damage was done, and he told the doctor, the police, and his brother that he had tried to commit suicide. As easy as suicide may seem to those who have thankfully not attempted it, it isn't a guarantee that you will die. Humans are surprisingly hard to kill, and van Gogh's failure to cause immediate death is an example of such a situation. 
Another major point that the murder theory ignores is that everyone who knew Vincent van Gogh believed he had tried to commit suicide. His family, friends, and doctors felt that the cause of death was suicide.
He was known to be depressed, suicidal (even though he was religious and suicide is a sin in most religions), threatened to drink turpentine used to make the oil paint he used on several occasions, and mentally unwell. In a letter written by a friend of van Gogh recounted the final hours of the artist's life, it is stated, "…when Dr. Gachet told him that he still hoped to save his life he said 'Then I'll have to do it over again.'" 
The idea that van Gogh was murdered only gained attention in 2011 with the publication of a book about Vincent van Gogh by authors Steven Naifeh and Gregory White Smith was the first time such claims were made. Until then, van Gogh's death was considered a suicide.
René Secrétan, who the authors accused as the murderer of van Gogh died in 1957 and could not defend himself. He was interviewed shortly before he died at 82 and said he never fired the gun and had an alibi.
If René Secrétan was guilty, why would he be willing to be interviewed about the death of van Gogh almost 70 years after it happened, and he was not considered a suspect? Secrétan would gain nothing from that interview and had no reason to lie about his alleged involvement.
Academic Reception
Steven Naifeh and Gregory White Smith's book, which suggested the death of van Gogh was murder is a work that is not considered a reputable source of information. Art historians, psychologists, and historians fascinated with van Gogh all have said the murder theory was a creative suggestion that is not based on the truth.
When the academic community from several different disciplines agrees and says a theory is nonsense, it is not credible. Steven Naifeh and Gregory White Smith's murder theory is compelling and can seem like a strong argument. The theory falls apart when it is investigated deeper.
Murder can not be proven, and although the details of what happened in that wheat field on July 27, 1890, are fuzzy, it is widely believed and can be verified in primary sources that a suicide attempt caused the death of Vincent van Gogh. 
If you are struggling with thoughts of suicide, please call the National suicide prevention and crisis hotline, which can be reached 24 hours a day at 1-800-273-TALK (8255). Help is always available. To find your country's suicide hotline and other resources, please visit this website: https://faq.whatsapp.com/3243110509092762/?locale=en_US
Top Image: Recent theories that Vincent van Gogh's death was in fact murder seem to misunderstand mental illness and depression. Source: Vincent van Gogh / Public Domain.
By Lauren Dillon
References
Van Gogh Museum. Why Did Vincent van Gogh Commit Suicide? Van Gogh Museum, Amsterdam. Available at: https://www.vangoghmuseum.nl/en/art-and-stories/vincent-van-gogh-faq/why-did-vincent-van-gogh-commit-suicide
Nolen, W, et al. 2020. New vision on the mental health problems of Vincent van Gogh; results from a bottom-up approach using (semi-)structured diagnostic interviews. International Journal of Bipolar Disorders. 8. Available at: https://journalbipolardisorders.springeropen.com/articles/10.1186/s40345-020-00196-z
Bailey, M. 2019. Van Gogh's suicide: Ten reasons why the murder story is a myth. The Art Newspaper. Available at: https://www.theartnewspaper.com/2019/09/06/van-goghs-suicide-ten-reasons-why-the-murder-story-is-a-myth
Van Gogh, T. 1890. Letter from Theo van Gogh to Elisabeth van Gogh Paris, 5 August 1890. Van Gogh's letters. Available at: http://www.webexhibits.org/vangogh/letter/21/etc-Theo-Lies.htm
Van Gogh, V. 1890. Letter from Vincent van Gogh to Theo Van Gogh Auvers-sur-Oise, c. 10 July 1890. Van Gogh's letters. Available at: http://www.webexhibits.org/vangogh/letter/21/649.htm