Well-behaved women seldom make history, a phrase that has been proven true time and time again. Often it is the women who rebel, and who have gone against their time's social, gender, and societal norms are the ones who are most well remembered. 
Examples include the suffragist and civil rights activist Ida B. Wells and Nobel Peace Prize winner Malala Yousafzai. There was also Irina Sendler, a woman who saved 2,500 Jewish babies from the Warsaw Ghetto (twice the amount of people saved by Oskar Schindler).
Irina Sendler is just one of the under-recognized women from history whose stories deserve to be told. Another under-recognized woman was the legendary Julie d'Aubigny. 
Who was Julie d'Aubigny? 
Julie d'Aubigny is among the list of history's coolest women and yet most have never even heard of her. Historian and author Ben Thompson provides the best description of Julie d'Aubigny in his blog Badass of the Week as follows:
"Julie d'Aubigny was a 17th-century bisexual opera singer and fencing master who killed or wounded at least ten men in life-or-death duels, performed nightly shows on the biggest and most highly-respected opera stage in the world, and once took the Holy Orders just so she could sneak into a convent and bang a nun."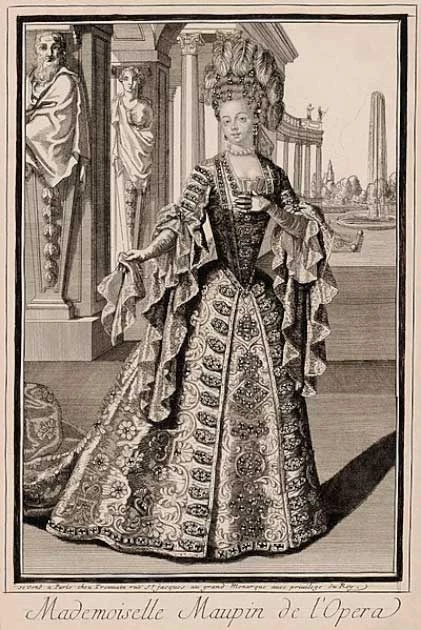 Her life is still shadowed in mystery, but her reputation as a beautiful, dangerous, strong, and daring woman has remained for all these years. So, who was she?
Julie d'Aubigny was born in France sometime between 1670 and 1673. Her father was named Gaston d'Aubigny and served as the secretary of Louis de Lorraine-Guise Comte d'Armagnac, who was the Horse Master of Louis XIV, the Sun King himself.
Her father was in charge of the training of the King's Squires and educated Julie d'Aubigny in the same way. She was trained in the art of fencing, horseback riding, gambling, and academic subjects that were only taught to boys at the time. By age 12, Julie was said to have been so talented with her fencing skills that she would compete against grown men and defeat them.
The start of her scandalous personal life began when she was either 14 or 16 when she became the mistress of her father's employer, d'Armagnac. He later arranged a marriage for her to cover up their affair.
She married Sieur de Maupin of Saint-Germain-en-Laye and became known as La Maupin or Madame de Maupin. Not long after their wedding, her husband was sent to work in the south of France, and Julie d'Aubigny stayed behind. 
Les Années à Marseilles
Around 1687 the teenaged Julie d'Aubigny ran away to Marseilles with a fencing master that she had become involved with romantically. The two would earn money by putting on fencing demonstrations where Julie would challenge men in the audience to fight her.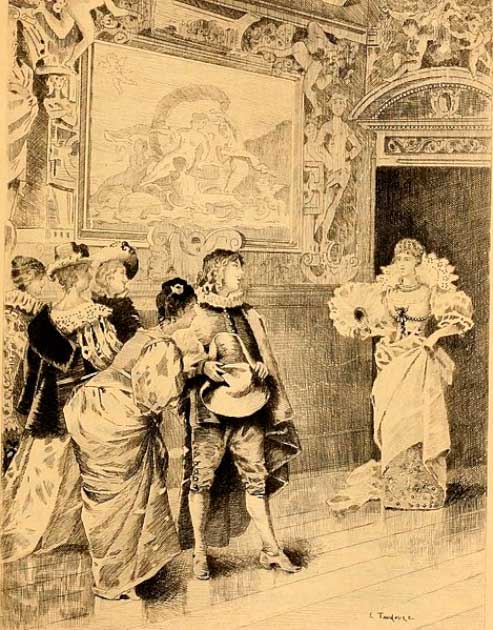 She would sing a song about how weak they were before swiftly defeating them. During one such demonstration, a man didn't believe Julie was a woman (she often dressed in men's clothing) because she was too skilled at the art of fencing.
Allegedly, in response to his doubt, she took off her shirt to prove that she was most certainly a woman. But it was during her time in Marseilles that Julie d'Aubigny would find her next vocation, as she began her career as an opera singer. 
Julie became the star of the Marseille Opéra, performing as a soprano and then as one of the opera's first contralto singers. Singers in the contralto vocal range have the lowest voice for female singers; for men, this range is known as countertenor.
Using the stage name La Maupin, she often would perform as other legendary women from history, including Medea, Diana, and Pallas Athena. Julie d'Aubigny had no formal operatic training but was a naturally gifted vocalist. And it was thanks to the opera that Julie had one of her most notable relationships with a woman.
The Female Lovers of La Maupin
Julie became involved in a relationship with an unnamed fan from the opera. For the time this was scandalous indeed, and to avoid social humiliation, the girl's family sent her to a convent in Avignon, which of course did nothing to deter Julia d'Aubigny from continuing the relationship.
According to several accounts of her life, Julia d'Aubigny then became a nun to enter the convent where the girl was sent, specifically to continue their relationship. In order for Julie and her lover to escape, they exhumed the body of a recently deceased nun and placed it in the bed of the unnamed woman. 
Julie set the convent on fire to disguise the body and ran off with her girlfriend. They were on the run for a few months, but it couldn't last and her lover returned to her own family shortly after. 
Behavior such as this was no joke, and Julie d'Aubigny was sentenced to death in absentia for this crime, only to be pardoned by Louis XIV later upon her eventual return to Paris. Julie d'Aubigny taste for both sexes continued, and she was known to challenge men to duels over stealing their wives and girlfriends, which she always won.
Most provocatively of all, when Julie attended a ball at Louis XIV's palace she arrived dressed as a man and began dancing with all the women. It seems that whatever else she was, she would not pretend to be something she was not.
According to accounts of this event, Julie d'Aubigny, without shame or care, passionately kissed one of the women she was dancing with. This upset three noblemen in attendance. In response, she essentially said, "let's take this outside," and beat all three men in a three-against-one duel, leaving them with multiple stab wounds.
She then returned to the party as if nothing had happened but was, one again, sentenced to death because dueling was recently outlawed. Happily she was pardoned again (death sentences seem a little less fatal in pre-revolutionary France) and went about her life.
There are also tales of Julie d'Aubigny defending the honor of girls in the opera and fighting in duels against men for making passes at her fellow singers. According to a historian, Julie fell passionately in love with a soprano singer in the opera and "tried to kill herself, threatened to blow the Duchess of Luxembourg's brains out, and ended up in court for attacking her landlord."
Bisexual Icon
Julia d'Aubigny had many male lovers as well, including the Elector of Bavaria and a French nobleman who was said to be Comte d'Albert. d'Albert is said to have challenged Julie to a duel (he did not realize she was not a man), and she won the duel and seriously injured the man.
In a strange show of remorse, Julie nursed d'Albert back to health and then seduced the man. As a result of this close intimacy the two became lovers for a time.
In France at the time, homosexuality was illegal, and cross-dressing wasn't illegal but seen as immoral and inappropriate for both women and men. It should be noted that men at this time wore heels, makeup, elaborate clothing, and wigs which were seen as fashionable and a sign of wealth and class. Julie had no qualms about going against the social norms of her time.
There are varying accounts of Julie d'Aubigny's later life. Some report that after her lover Madame la Marquise de Florensac died from illness at the start of the 18th century, she joined a convent and died four years later at age 33.

In other reports, Julie settled down, returned to Paris, and reconnected with her husband. While back with her husband, she continued her career as a star of the Paris Opera until she died in 1707 at the age of 37 of unknown causes. Her final performance in the opera was said to have occurred in 1705, after which she officially retired from performing.
Although most accounts of the life and times of Julia d'Aubigny are secondary accounts and come from others often after her death, some of the specific details of her personal and public life may have been embellished.  Other parts of her life are unknown, including when she was born and where she was buried upon her death.
One thing is certain about La Maupin, she did what she wanted, when she wanted, and with whomever she wanted, which has made her stand out in history as a bold and awe-inspiring woman.
Top Image: Julie d'Aubigny lived her life the way she wanted, and was sentenced to death more than once for her behavior. Source: Master1305 / Adobe Stock.
By Lauren Dillon