In February, 2008, a young realtor named Lindsay Buziak met an unknown couple to see a house in Victoria, British Columba in Canada. And that was probably the place where she was killed, suddenly, unexpectedly, and as soon as she arrived.
But, strangely for a murder committed in a residential area in broad daylight, that is about as much as we know. Lindsay's phone activity suggests that the entire crime was committed within just 3 minutes of her arrival at the house. Who killed her, and why she was killed in such an organized and professional manner, remains mysterious.
But there is some evidence out there, and a picture of the events that day can be pieced together. The story that emerges is one of a carefully laid trap, with the murderers luring Lindsay Buziak to the house where she was about to be killed.
The Phone Call
Lindsay was 24 years old and a busy realtor. A few days earlier she had received a call, speaking to a woman with a Mexican or Spanish accent. The woman wanted to discuss relocating to Victoria, following a job offer she had received there.
The caller gave a list of amenities that she said she and her husband were looking for. Lindsay circled the date, 1st February, in her diary and started to put together viewings for the caller.
The caller was looking for a large property. She had requested 3 bedrooms, 3 bathrooms, and separate housekeeper quarters. She was ready to pay 1 million dollars for the house, but the catch for all of these requirements was that she needed it in just 3 days.
But for whatever reason, Lindsay did not record the name of the caller. Lindsay named this client  "Million Dollar" and referred to her only as this in her diary and notes.
Lindsay was also unsure of how this lady got her personal number. Documents which came to light in 2020 show that Lindsay tried to contact some of her existing clients to see if they knew of this strange caller. But no one was able to help her.
Lindsay nevertheless decided to go ahead with the property viewings, sending a list of homes and some suggestions to the woman on 1st February, the following day. Lindsay then gave an address to the woman to meet: 1702 De Sousa Palace. The property was large, situated in a cul-de-sac.

This address was in the Victorian suburb of Saanich, in the Gordon Head neighborhood. The meeting was then set to commence at 5:30 PM on 2nd February.
The Viewing
On the day of the meeting, Lindsay left her office for a lunch date with Jason Zailo, her boyfriend, between 3-4 PM. Jason and Lindsay left the restaurant after lunch at around 4:20 PM, leaving Lindsay just over an hour to get to her meeting.
Jason then returned to work and Lindsay then went to change clothes before heading out for the viewing. Lindsay called Jason to inform him that she was leaving to meet the clients. Jason was concerned about her meeting with clients she did not know, and asked to follow Lindsay for this property visit, to which she agreed.
Once on his way, Jason found he could not locate the property using his car's GPS system, and so called Lindsay to ask for directions. He could hear the clients arrive during the call, with Lindsay confirming "I will see you in a bit. I gotta go. The Mexicans are here." Lindsay then hung up.
Two witnesses that day also saw the "Mexican" couple walking to the De Sousa property. Lindsay greeted the man and woman in the driveway and went into the property with them. The time was 5:29 PM.
Less than ten minutes later at 5:38 PM, Jason texted Lindsay saying that he was just a few minutes away from the property. Lindsay never replied or answered that text, but at 5:41 PM, a call was placed from Lindsay's phone to a friend.
This was odd, as Lindsay had not been in touch with this friend for a long time, and would not ordinarily make private calls when with clients. The voice mail from the recording sounded a bit muffled, but was of no use to investigators.
The Murder
Jason, with a friend named Cohen, entered the street the property was on. They saw Lindsay's car in the driveway and then looked at the house, glimpsing a man through the front door window. They were unable to see his face and assumed he was the client Lindsay was with.
Jason and Cohen then decided to sit in the car, waiting for around 10 minutes. Jason then turned around the car and parked it on the neighboring street, named Torque Drive. They again waited for around 10 minutes before Jason texted Lindsay to ask if she was okay, before phoning her. Lindsay never replied.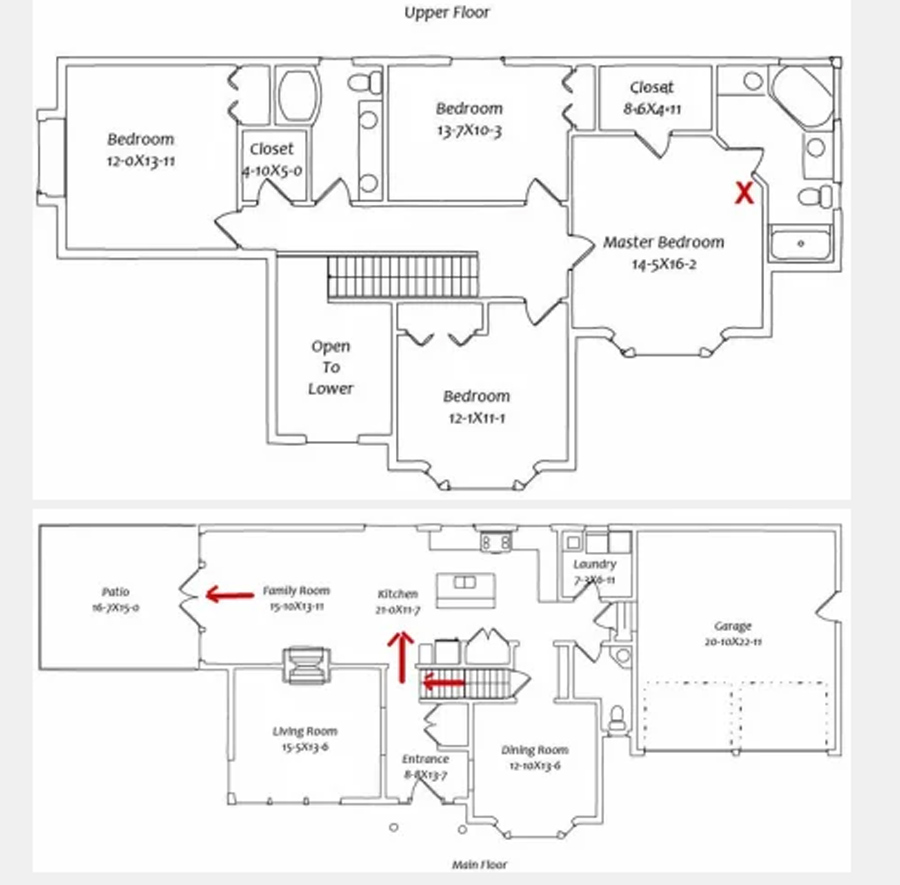 Jason and Cohen then approached the property, and found that the front door was locked, which they thought was unusual. Jason then called 911 to inform them about the situation. Jason and Cohen then entered the property from the back door to search for Lindsay.
Jason found Lindsay's body in a pool of blood, upstairs in the master bedroom. She had been stabbed 40 times before dying of blood loss, and nobody else was in the house. Jason asked Cohen to call 911 again and tried CPR on Lindsay, but it was too late to save her.
Conclusion
And that's all that is known. Who the clients were, where they went, or why they killed Lindsay, have never been answered. Lindsay did not seem to have any enemies, nor did she seem to expect any danger when she visited the property.
There are other strange aspects to the case also. If this was a contract killing, as suggested by the foreign accents, why was Lindsay stabbed 40 times? If a crime of passion, who were the killers?
Witnesses provided the sketch of a woman, whom they saw entering the house, and they also said that the man was 6 feet, white, and had dark hair. But no further details were available and no progress into catching the suspects has been made.
Lindsay had deleted her chat messages from her phone, which investigators thought was strange.  There is hope that investigators using new technologies and working alongside the US FBI may eventually find the answers Lindsay's family needs, through DNA analysis or other trace evidence.
But for now, Lindsay Buziak was just a real estate agent killed without warning, and for no known reason. Why did someone go to such lengths to have her killed? And where are her killers now?
Top Image: Lindsay's murder remains unsolved. Source: Prathaan / Adobe Stock.
By Bipin Dimri