In the late 19th century, spearheaded by such entrepreneurs as the famous P. T. Barnum, people with unusual features or appearances became hugely popular as circus attractions for the curious public. The suffering of the individuals displayed at such shows, both due to their conditions and the way in which they were treated, were often overlooked.
One such person was Ella Harper, known as the "camel girl." Ella Harper was born with a rare medical condition known as congenital genu recurvatum, that made her knees bend backward, much like those of a camel. She used to walk on all fours, using her hands as well as her legs. Her life in the circus made her famous, but that is not the whole story.
The Early Life Of Ella Harper
Ella Evans Harper was born on the 5th of January, 1870, in Hendersonville, Tennessee, the daughter of William Harper and Minerva Ann Childress. Her father was a farmer and a popular stock raiser in Sumner County during that time.
She also had a twin brother named Everett. However, he died when he was just 3 months old. Ella's parents had three more children named Sallie, Willie, and Jessie. 
Life In The Circus
According to the historical records, Ella Harper started her career at the circus in October 1882, when she was just 12 years old. Initially, she did shows in and around St. Louis and New Orleans. However, gradually she started traveling to a number of states in the latter years.
Pretty soon, she started attracting and capturing the attention of people. The public showed a remarkable interest in Ella Harper, driven by curiosity about her condition. 
Her unusual appearance soon led to bigger things. The showman W.H. Harris saw her, and in 1886, he invited her to become a part of his "Nickel Plate Circus." During these performances, Ella was accompanied by a camel, so the audience could compare her backwardly bending knees with those of the animal.
She was effectively used as a prop on the stage to make a comparison with the camel. Nevertheless, the audience of the circus was quite amazed by her appearance. From there on, she was given the nickname "The Camel Girl" and was considered as half human and half camel. 
The strange girl attracted new fans and people flocked to her performances. She started appearing on a number of advertising posters. Before every performance of Ella Harper, pitch cards were distributed among the audience that explained her condition.
In the pitch cards, it was written that she was known as the camel girl as her knees turned backward, and that she was capable of walking best using her feet and hands, as shown in the picture. The cards stated that she had been touring extensively for the past four years but was going to quit the circus in 1886 as she wanted to continue her studies and urged audiences to see her while they had a chance. 
She was able to earn a salary of $200 per week, which provided her with the funding for her education. In today's money, the amount would come up to $5,000 per week, a sizeable sum even now but a fortune at the time. 
Towards the end of 1886, the 16-year-old Ella Harper decided to quit her career in the circus in order to pursue her education. She retired from the public eye is known to have led a very private life. For quite some years, not much information was available about Ella Harper. It appeared to the public that she had suddenly disappeared.
After The Circus
The 1900 census records that Ella Harper had returned to Sumner County, Tennessee, and lived there with her mother and one of her nieces. Her father had died in 1890 due to a house fire, and Willie, her brother, also died five years later.
While living there, Ella Harper fell in love with Robert Savely, a schoolteacher and photography shop bookkeeper. According to the civil records, Ella married Robert in 1905, when she was thirty-five years old.
One year after their marriage, a baby girl was born to the couple. They named her Mabel Savely. However, the couple experienced a tragic event in which they lost their only daughter when she was just six months old.
Several years later, Ella Harper and her husband Robert relocated to Davidson County, which is near Sumner County. There they made room for Ella's mother, and the three of them lived together. After losing their daughter, Ella Harper and her husband failed to conceive again.
So, they decided to adopt a baby girl from a local shelter in 1918. The couple named the baby girl Jewel Savely. However, she also died at three months of age.
The Death Of Ella Harper
During 1920, Ella Harper and her husband had moved to live in Nashville, Tennessee. According to the records, Ella died on the 19th of December, 1921, at 8:15 in the morning. She was suffering from colon cancer and died at her home. She died when she was fifty-one years old.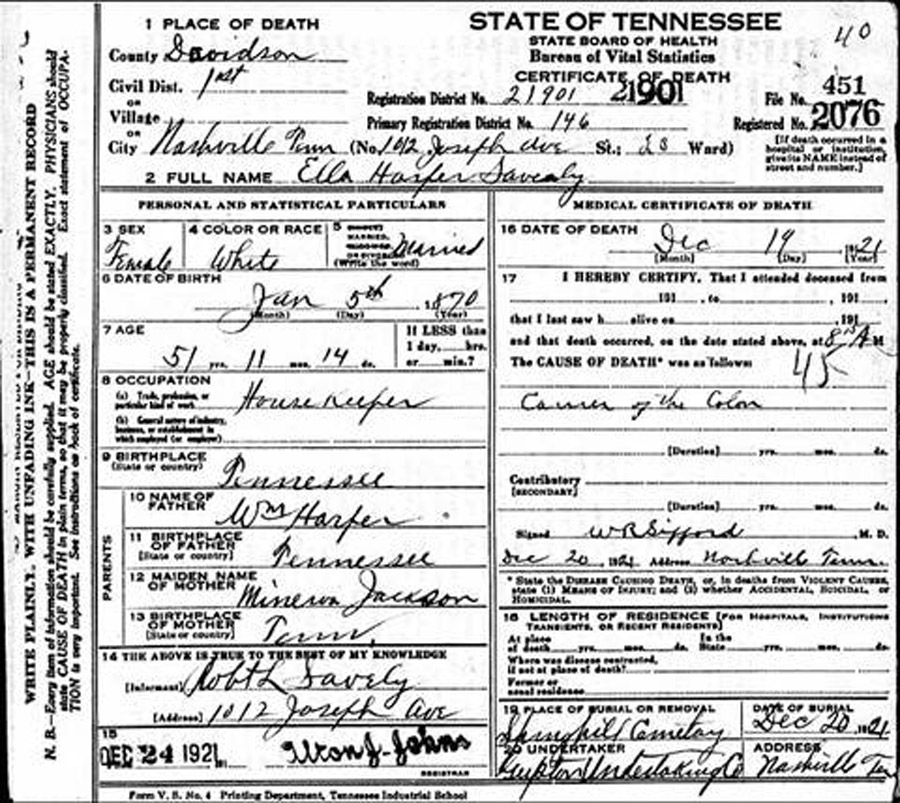 Ella Harper was buried in the Spring Hill Cemetery in Nashville. The Spring Hill Cemetery is located at Gallatin Pike near the Nashville National Cemetery, and is one of the largest cemeteries in the area.
According to some sources, Ella Harper was buried next to her children. Her grave is located within the plot of the Harper family in the old historic section of the Spring Hill Cemetery. Minerva, Ella Harper's mother, died in 1924.
Ella had been able to make a considerable amount of money and escape the circus, and found happiness in the man she loved, even if it was tinged with sorrow.
Top Image: Ella Harper, from her 1886 Nickel Plate Circus pitch card. Source: Unknown Author / Public Domain.
By Bipin Dimri