Tales of swashbuckling pirates, high adventures on the seven seas, and buried treasure have always entertained us. Legendary pirates like Blackbeard, Calico Jack, Gráinne Ní Mháille, and more can be found in many books, movies, music, and video games.
One such legendary pirate was Captain Kidd. The story of his transition from pirate hunter to hunted pirate has led to many exciting searches for his treasure. It is believed that Captain Kidd, like many pirates, buried his treasure in an unknown spot before his death. Modern-day treasure hunters have scoured the world in search of Captain Kidd's treasure, hoping to become rich beyond their wildest dreams.
The Infamous Captain Kidd
William Kidd was born in Dundee, Scotland at some point in 1645. Not much is known about Kidd's early years. Historians have confirmed that he moved to New York City when it was under English control, where he worked on ships and became a privateer.
A privateer is a private person or vessel that has been commissioned to engage in maritime warfare. At this time England was fighting a war against France, and acting under this license, Kidd had considerable latitude to attack French vessels, effectively operating as a pirate under the protection of the British government.
In 1689, the 43-year-old William Kidd was hired as a crew member on a ship in the Caribbean and made way to the Nevis, a British colony. There are two different versions of what happened on that ship.
The first version is that the crew mutinied to oust the original Captain, and Kidd was elected, or possibly appointed by the governor of Nevis as the new captain. The second version is that Kidd was hired to be the ship's captain directly. Whichever was true, William Kidd became Captain Kidd and the crew on the ship renamed it the Blessed William.
The Great Voyage and the Adventure Galley
On December 11, 1965, the 1st Earl of Bellomont, Richard Coote (governor of Massachusetts, New Hampshire, and New York) came to Captain Kidd with a request. Captain Kidd was asked, as a privateer, to attack pirates, anyone who associated with pirates, and any French ship he came across.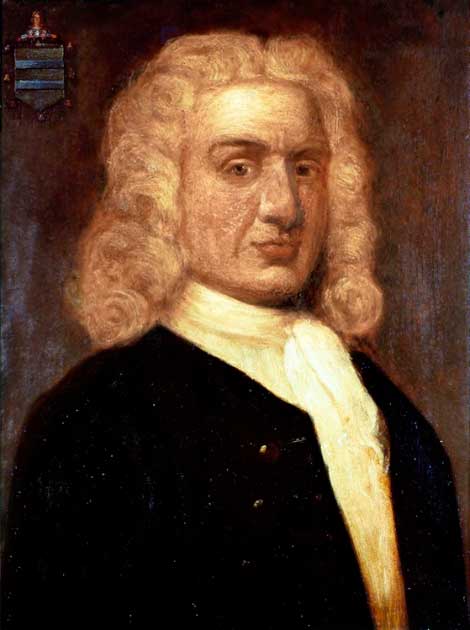 The job was supported by the Crown and wealthy men in England, which meant Captain Kidd had to honor Bellomont's request. Denying the request would be seen as treason against the Crown.
In 1696, King William III of England gave Captain Kidd a letter that authorized Kidd as a privateer. This letter was effectively a "Get Out of Jail Free" pass authorizing Kidd to attack, destroy, and loot other ships. With the letter in hand, Captain Kidd and his crew set sail on a ship known as the Adventure Galley.
And, at first, his piratical adventures were a disaster, with Captain Kidd failing to attack and capture other pirates or enemy ships. Several vessels were out of bounds of his commission and he could not attack, so the crew of the Adventure Galley became irate.
After a cholera outbreak on the ship killed some of the crew, other men left Captain Kidd's employ and the crew remaining began to threaten mutiny. After one of his associates, a man named William Moore told Captain Kidd to attack a ship that was not at war with England and that doing so would be considered an act of piracy, Kidd killed Moore. This murder was the start of the demise of Captain Kidd.
From Privateer to Pirate
Following Moore's murder, Captain Kidd began to attack non-enemy ships and on January 30, 1698, he struck gold. Captain Kidd captured the Quedagh Merchant full of East Indian goods like gold, silver, satins, and silks. Word of the theft of this amazing treasure reached England however, and Kidd was branded as a common pirate. 
The Quedagh Merchant was an Indian ship hired to transport goods from the French East India Company by Armenian merchants. The Quedagh Merchant was a French ship ordered to attack the English, but the captain of the ship was a man from England who had acquired sea passes guaranteeing the legal protection of the Company.  And when Kidd kept the ship and the treasure, this made him a pirate.
Captain Kidd and his crew stopped at Madagascar in the spring of 1698. With a dwindling crew, Captain Kidd decided to return to New York City. Captain Kidd did not know he was a wanted pirate and learned the 1698 Act of Grace did not apply in his case.
The Act gave a royal pardon to pirates who were in the Indian Ocean if they renounced piracy. It was however specified in the act that Captain Kidd and another pirate were exempted from the protection of the Act, and Kidd was arrested. 
Trial and Treasure
Captain Kidd stood trial in England upon his return. He was found guilty of five acts of piracy and the murder of William Moore. On May 23, 1701, Captain Kidd was hanged…twice. The noose broke and Kidd was still alive, the second attempt at hanging was successful. Captain William Kidd took the location of a rumored buried treasure with him to the grave. 
A gruesome memento of Kidd's untimely end survives to this day in London, on the banks of the Thames. In Wapping can be found the Captain Kidd pub, and above the entrance hangs a noose, a morbid reminder of the fate of the pirate.
Many myths and legend surround the history of Captain Kidd, and one such legend was that the pirate buried his treasure before returning to New York. Captain Kidd did bury some treasure on Gardiners Island, just off the coast of Long Island, New York. It has been said that Governor Bellomont found the treasure, unearthed it, and sent it to England as evidence in Kidd's trial. 
Many people think that the rest of the treasure can be found in a shipwreck in many different locations. This has inspired treasure hunters to search for the treasure for many years. An underwater explorer team led by Barry Clifford claimed to have found "the remains of the Adventure Galley" and Captain Kidd's treasure near Madagascar's coast.
In 2015 the team found a 100 lb (50kg) solid bar of silver at the site, confirming that the shipwreck was Captain Kidd's. Captain Kidd's treasure has been searched for on Oak Island, Thimble Islands in Connecticut, Rahway River in New Jersey, Phú Quốc, and Island in Vietnam.
False Treasure?
The UNESCO organization studied the bar and through testing, determined it was over 90% lead. There was, in fact, zero silver detected at all, and they concluded that the bar was only a lead ballast from the building of a port on Sainte-Marie Island, near Madagascar.
Clifford disagrees with the experts at UNESCO and is adamant that he found the treasure. There was nothing found that could indicate the date or allow scientists to verify that the ship was, without doubt, Captain Kidd's.
Some people believe that the wreck off the coast of Madagascar truly is the site of Captain Kidd's missing treasure. Barry Clifford does have a history of success, discovering the first verified pirate shipwreck in 1984. That alone is enough support for people to doubt UNESCO's claim.
Others do not believe Clifford's claims. In 2014, Clifford claimed to have found and identified one of Christopher Columbus's ships near Hati. Again, UNESCO disproved the claim and was able to determine that the ship Clifford found was from a later period, not 1492 (which he strongly disagrees with as well). Either way, if Kidd left treasure behind, it is still out there, waiting to be found.
Top Image: Has all of the treasure of Captain Kidd been found? Source: Howard Pyle / Public Domain.
By Lauren Dillon
References
Leopold, T. 2015. Capt. Kidd's treasure found off Madagascar, report says. CNN. Available at: https://www.cnn.com/2015/05/07/world/feat-captain-kidd-treasure-madagascar-barry-clifford/index.html
Indiana University, 2007. Captain Kidd's Shipwreck of 1699 Discovered. Indiana University. Available at: https://www.sciencedaily.com/releases/2007/12/071213162036.htm
Livingston, R. A secret agreement between pirate hunters, 1696. A spotlight on a Primary Source by Robert Livingston, William Kidd, and Richard Blackham. Gilder Lehrman Institute of American History. Available at: https://www.gilderlehrman.org/history-resources/spotlight-primary-source/secret-agreement-between-pirate-hunters-1696